4.94 / 5 Average Review Score
Team of Experts Available 24/7
Licensed and Insured Guides
Recently Booked Hunting Guides Near Littlefield, Tx
Top Types of Trips in Littlefield
"Our Damn Good Guides go above and beyond to provide you an incredible trip, and we've handpicked every single one. We're passionate about the outdoors and about empowering people to find the perfect-match guide for the trip of a lifetime, every time."
Jonathan and Attison | Co-founders | Austin, Texas
Hunting Guides Near Littlefield, Tx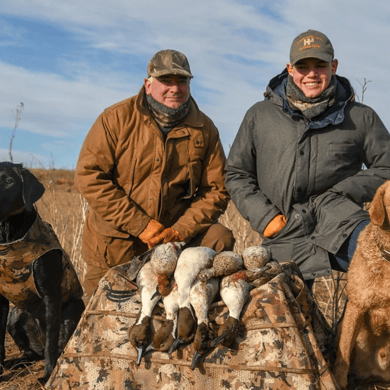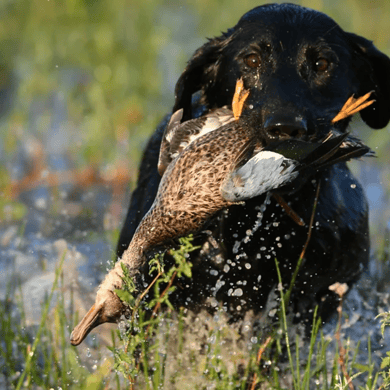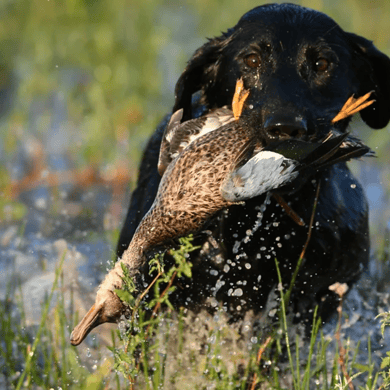 The majority of our duck hunt are conducted over playa lakes which are shallow depressions that fill by rainfall. Most are no more than 2 feet deep and can range in size from 1 to 10+ acres. Duck hunts are conducted during the morning only as we have found that afternoon hunts are not very productive. It is possible, given the right conditions to hunt ducks in dry fields. We hunt our ducks with full body floater decoys and hide in layout blinds, A-frames, and laying under goose decoys. We will decide witch method will work the best given the circumstances. Normally you will have the chance to kill some bonus geese and cranes. Morning duck/afternoon crane hunts are a awesome way to spend a day in the Texas panhandle. Recommended shot sizes for ducks are #2-#6 shot. If you have your own private party then feel free to bring your dog but do so at your own risk. We have seen dogs ruin a hunt and if it happens we will not be responsible. If you are on a mixed party hunt under no circumstances may you bring your dog. This would be potentially unfair to the others on your hunt. Duck hunting in the panhandle is complicated, yet rewarding, Our ducks roost over water and often times feed in grain fields. We hunt the ducks when they return to water witch is usually in the very early morning so be prepared! Given the right cloudy, cold conditions we are able to hunt them in the dry fields where they feed. The most common choice is a 12 ga with 3" shells and #2 steel shot with an improved cylinder or modified choke. People have had success with 20 gauges. Full chokes and large shot are not needed. They actually hurt your chances as your pattern will be very small at the typical ranges we shoot at. Hevi -Shot and similar products are great and will really smack the birds but they are not necessary. We are hunting wild birds and nothing is for sure. Also many times shots are missed. Many people are not used to shooting with heavy clothes on or from a reclined position. Even though geese and cranes are large birds they have a relatively small kill zone and you need to be on target to bring them down. No matter how good the hunting is there is going to be the occasional bad day. That being said we want you to be happy. If for some reason you have an unsuccessful goose hunt due to our error then you will have the option of paying half price and walking away, or paying full price and coming back for free another day. Unsuccessful hunts will be determined by the staff on a case by case basis. Often times the success of a hunt can not be judged on the bag. If a party has plenty of shooting opportunities at birds that are in range but does not have a large bag then it is not an unsuccessful hunt. On average 95% of goose hunts shoot 2 or more birds per person and 90% shoot limits. In the past 6 years we have only had 3 hunts that did not shoot a single bird. Read More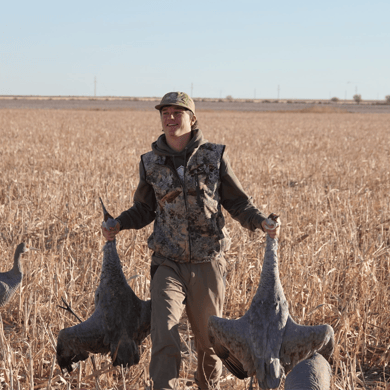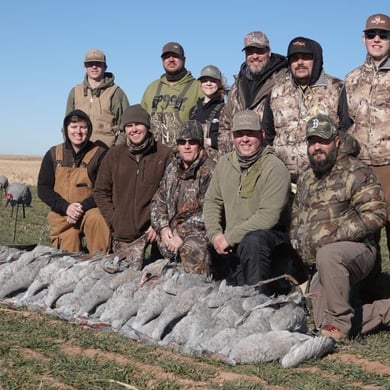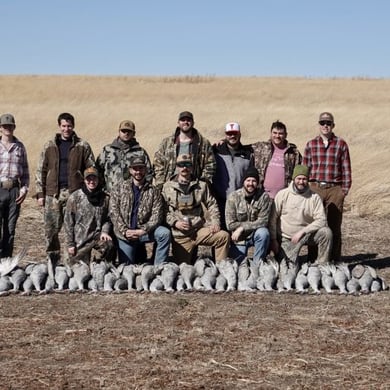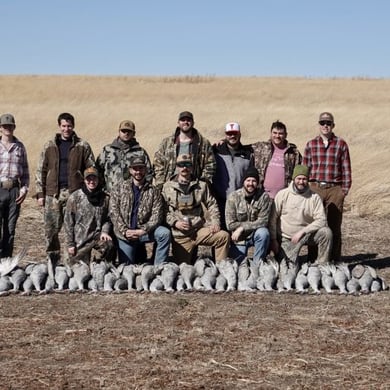 Embark on the Ultimate Sandhill Crane Hunting Expedition! Discover the thrill of sandhill crane hunting in the heart of the nation's premier wintering grounds. Join us for an unforgettable adventure amidst the breathtaking landscapes as these majestic birds make their annual migration. Our exclusive hunting trips take place in the prime sandhill crane habitat, where flocks of these magnificent creatures converge from October to February. Immerse yourself in the excitement of the chase as you set up in carefully concealed A-Frame blinds, strategically positioned for optimal success. Experience the art of deception with our top-tier equipment, including full body Deception Decoys, SX Decoys, and Divebomb Industries silhouettes. Feel the rush as your decoy spread lures these elegant birds within range, offering you the perfect shot opportunity. Safety and satisfaction are our top priorities. Our intimate group sizes, with a minimum of four hunters, ensure a personalized and enjoyable outing for all. With a bag limit of three sandhill cranes per hunter, you'll have ample chances to secure a remarkable trophy and create lasting memories. For ammunition, we recommend BB-2 shot shells or up to 4 shot if using lead, ensuring you're well-equipped for a successful hunt. Our experienced guides will provide expert advice and assistance to make your hunting experience truly exceptional. Don't miss this incredible opportunity to be a part of the sandhill crane hunting tradition in one of the nation's most prized wintering locations. Book your spot now and get ready for an adventure that promises heart-pounding excitement and unparalleled rewards. Read More
Sandhill Crane Takedown!
1 - 16 People
From $94 / person
See all trips in Littlefield
Everything to Know About Booking a Hunting Guide in Littlefield
What are the best hunting trips in Littlefield?
All guides on Captain Experiences are licensed, insured, and vetted by our team. You can access their reviews, click through trip photos, read bios to get to know them, and preview trip details like species, techniques, group sizes, and more.
What types of hunting trips are common in Littlefield?
Crane hunting is the most popular in Littlefield as well as upland hunting and duck hunting.
The most commonly sought after species in Littlefield are: 1. canada goose, 2. snow goose, 3. sandhill crane, and 4. specklebelly goose.
The most common hunting techniques in Littlefield are shotgun hunting, decoy hunting, and hunting from a blind but calling and rifle hunting are popular as well.
How much does a Littlefield hunting trip cost?
in Littlefield prices can range anywhere from an affordable $350 to $3,000 and up, but the average price for a half day trip in Littlefield is $3,065. The average price for a full day trip in Littlefield is $4,035.
What month is best for hunting in Littlefield?
The most popular season for hunting in Littlefield is winter, and most hunters book their trips 47 days in advance.
Where can I look through all Captain Experiences trips?

See here to browse all the trips we offer.

;