Tampa Bay tarpon fishing is one of the most popular and exciting fishing experiences that Florida has to offer. Tarpon are a prized game fish that are known for their size, strength, and acrobatic jumps. In this blog, we will cover everything you need to know about Tampa Bay tarpon fishing, including the fishing seasons, areas to fish for them, and fishing techniques.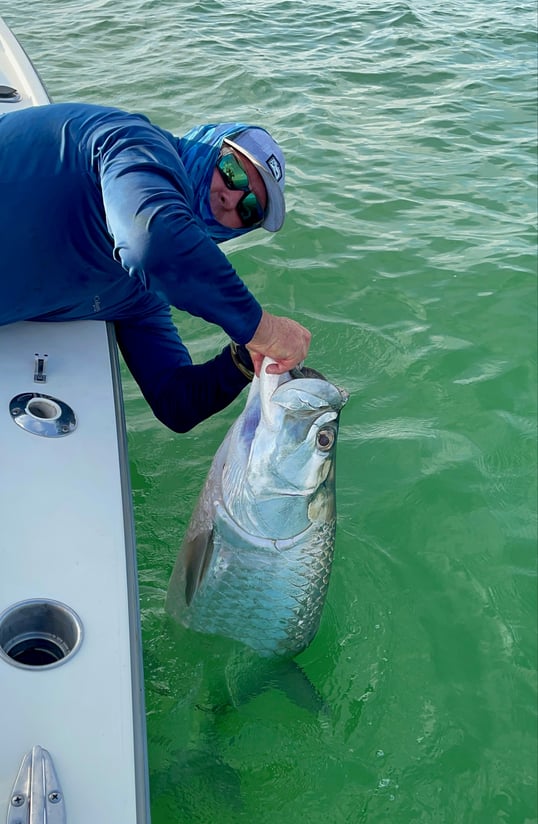 When Can I Fish For Tarpon In Tampa Bay?
Tampa Bay is known for its year-round fishing opportunities, but tarpon fishing is best during the summer months. The tarpon migration typically starts in late April and continues through September. The peak season is in May and June when thousands of tarpon make their way to the area.
Where Can I Fish For Tarpon Near Tampa Bay?
Tampa Bay is a large body of water covering an area of approximately 400 square miles (1,000 square kilometers), but a few of the best spots to find tarpon in the bay are:
1. Boca Grande Pass
This is the most famous tarpon fishing spot in the world. It is located on the Gulf of Mexico side of the state, just south of Tampa Bay. Boca Grande Pass is a natural funnel that connects Charlotte Harbor with the Gulf of Mexico. Tarpon congregate in this area to feed on crabs and baitfish.
2. Egmont Key
Egmont Key is a small island located at the entrance of Tampa Bay. The area is known for its shallow waters and sandy beaches, which are ideal for tarpon fishing.
3. The Skyway Bridge
The Skyway Bridge is a popular fishing spot for both locals and tourists. The bridge spans Tampa Bay and is known for its deep waters, which are perfect for tarpon.
Fishing Techniques For Catching Tarpon
Tarpon are known for their size and strength, so it's important to use the right gear and fishing techniques. Here are some tips for Tampa Bay tarpon fishing:
1. Use heavy tackle
Tarpon can weigh up to 200 pounds, so it's important to use heavy tackle that can handle the weight and power of the fish.
2. Live bait
Tarpon prefer live bait, such as crabs and shrimp. Live bait should be fished on a circle hook with a leader.
3. Jigging
Jigging is an effective technique for tarpon fishing. A jig can imitate the movement of a crab or shrimp, which can entice tarpon to strike.
4. Sight fishing
Sight fishing is a popular technique for tarpon fishing. Look for rolling tarpon on the surface of the water and cast your bait in their direction.
Book A Tampa Bay Tarpon Fishing Trip
Tampa Bay tarpon fishing is an unforgettable experience that every angler should try. Remember to fish during the summer months, choose the right fishing spot, and use the proper gear and techniques. If you're in search of a day out fishing for tarpon, book a trip with one of our multiple professional fishing charters in Tampa. We offer unmatched fishing trip experiences with local, vetted fishing guides that know the best locations and techniques for catching tarpon in Tampa Bay.