Port Aransas is an ideal beach vacation destination for both families and fishermen. Port Aransas (known as "Port A") provides amazing saltwater fishing opportunities for anglers seeking both offshore and inshore fishing adventures. Anglers can catch many saltwater species found along the Texas Coast in the Port Aransas area. These species includes inshore fish such as speckled trout, redfish, flounder, black drum, sheepshead, sand trout, and more. Offshore species near Port A include red snapper, kingfish, cobia, Spanish mackerel, shark, tuna, mahi mahi, wahoo, and sailfish to name a few.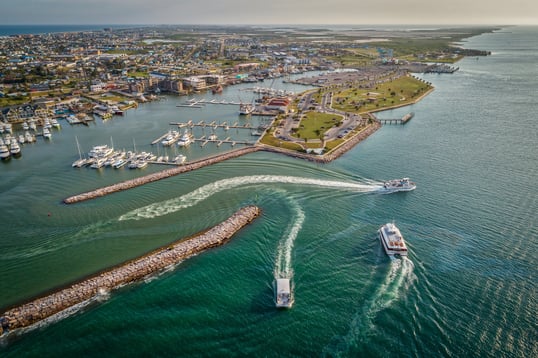 Anglers in Port Aransas are also known to catch the rare tarpon near and just beyond the jetties during the summer and fall seasons. These giant fish were once so plentiful in Port A that the region was previously known as Tarpon, Texas before the name Port Aransas was adopted. Fishing has remained a big part of the Port Aransas culture, and anglers from all over enjoy the wide variety of saltwater species that can be caught at any time of the year.
Port Aransas is an extremely popular fishing destination in the State of Texas. Port Aransas is located along the Middle Texas Coast. Corpus Christi is the nearest major city. Corpus Christi is on the mainland and has a commercial airport. Port Aransas is the main city on Mustang Island, a barrier island that is located across Corpus Christi Bay. It is a short drive from Corpus Christi to Port Aransas if you are arriving by plane.
If you are looking for an ideal location that both the family and the fishermen will enjoy, then Port Aransas is a great choice. Everyone has a good time in Port Aransas, and the town's popularity is apparent by the crowds during the busy times of Summer and Spring Break. Neither too big nor too small, Port Aransas is just the right size coastal town for anyone's ideal fishing adventure.
The boat launch and fish cleaning areas in Port A are second to none, and there are excellent restaurants and lodging options throughout the town. Fishing guides target both inshore and offshore saltwater species, and the popular jetties and piers hold a variety of fish. Most of Port Aransas is open to golf cart driving, which instantly provides a fun-loving, vacation town vibe. With a solid mix of beach and bay activities, Port A is a terrific town for tourists who like saltwater adventures.
Introduction To Fishing In Port Aransas
Because Port Aransas is located on the northern tip of Mustang Island, it is surrounded by fishable water. Inshore bay fishing and offshore fishing are equally popular. Major inshore bays in the Port A area include: Aransas Bay, Redfish Bay, and Corpus Christi Bay. The Upper Laguna Madre is a short drive away. Trout, redfish, flounder, and other prized saltwater fish can be found in all the bays in the Port Aransas area at any time of year. Offshore fishing is available in the Gulf of Mexico following a quick boat ride through the local jetties.
Port Aransas inshore fishing is focused on redfish, speckled trout, black drum, and flounder. The area is particularly well-suited to redfish, and anglers have plenty of opportunities to battle these shallow water predators in the waters around Port A. Sand trout and sheepshead are also favorite targets of some Port Aransas anglers. The Texas Parks and Wildlife Department recognizes these records for inshore species in the bays surrounding Port Aransas:
Offshore fishing near Port Aransas offers the chance to catch even larger species of fish. With big tuna, mahi mahi, and wahoo, Port Aransas's offshore waters regularly produce fish weighing 20 to 200 pounds. Port Aransas's offshore fishing offers anglers a chance to explore the blue waters of the Gulf of Mexico in pursuit of all kinds of deep sea giants.
Additional deep sea species in Port A are kingfish (also known as king mackerel), red snapper, tarpon, sharks, and billfish. Kingfish are hard fighters, and these toothy speedsters patrol Port Aransas's offshore waters during the summer and early fall. Trolling near structures such as the gigantic cargo ships which are anchored a few miles offshore is a great way to target Port A's large kingfish.
Red snapper, tuna, billfish, mahi mahi, and wahoo are generally caught further offshore from Port Aransas, but these species are within striking range for all-day fishing adventures on the faster charter vessels. Tarpon are a near shore species that can be caught as close as the jetties during the late summer and fall.
Fishing Guides in Port Aransas
As a popular angling destination along the Gulf Coast, Port Aransas has many professional fishing guides available for your next excursion. You can book a Port Aransas fishing trip with both inshore (bay fishing) and offshore (deep sea fishing) guides who will meet you at the Port Aransas Harbor area located right in town. Captain Experiences offers a selection of fishing guide charters in Port Aransas including:
Port Aransas Inshore Bay Fishing Guides
Port Aransas Deep Sea Offshore Fishing Guides
Captain Experiences also offers specialty fishing guides in the Port Aransas area including:
Port Aransas Kayak Fishing
Port Aransas Flats Guides
Port Aransas Jetty Guides
Port Aransas Nearshore Guides
Port Aransas Fly Fishing Guides
Port Aransas Flounder Gigging Guides
Port Aransas Luxury Deep Sea Fishing Guides
Port Aransas Family Focused Fishing Guides
Whatever type of outdoors adventure you dream of doing during your trip to Port A, Captain Experiences can help you find a professional fishing guide for a successful and memorable fishing trip. Our professional fishing guides are excited to show you the outdoors and enjoy a day on the water targeting any species of fish that can be caught in Port Aransas.
Types of Fishing in Port Aransas
If you are going to Port Aransas, then spending a few days enjoying saltwater fishing is a must. Port A offers a wide selection of fishing adventures that are appropriate for both serious anglers and vacationing families.
Some of the fishing options for your Port A fishing adventure include:
Deep sea fishing on a private charter
Bay fishing with a personal fishing guide
Surf fishing along the miles of beachfront
Jetty fishing (from a boat or on foot)
Bay fishing on a large party boat
Deep sea fishing on a large party boat
Kayak fishing on nearby flats
Pier fishing in the channel or surf
Fly fishing from a skiff
Flounder gigging at night
With so many opportunities to catch a fish along the middle of the Texas coast, it is no wonder that everyone likes visiting Port Aransas. The only tricky part is deciding what type of fishing experience you want to enjoy. Here are some tips to help you select the fishing excursion that is best for your party.
The first choice that anglers need to make when fishing Port Aransas is between two general categories of fishing:
Inshore fishing, also known as bay fishing, or
Offshore fishing, also known as deep sea fishing.
Inshore Fishing in Port Aransas
Inshore fishing, also known as bay fishing, in Port Aransas focuses on favorite inshore species of the Gulf of Mexico such as redfish, speckled trout, flounder, and black drum. Other fish such as sheepshead, sand trout, gafftopsail catfish, and more are also regularly caught while inshore fishing in Port A.
Inshore fishing in Port Aransas can include a variety of techniques such as drifting, wading, anchoring, kayaking, fly fishing, and more. There is really no wrong way to fish for key species such as specks (speckled trout) and reds (redfish) because these fish can be found in different habitats. Port A offers access to fishable water that include jetties, channels, sandbars, spoils, shorelines, back lakes, and grass flats.
One popular way of fishing for inshore species is bait fishing. For bait, live shrimp and croakers are favorite choices of both fish and fishermen. Casting a live shrimp under a popping cork or with a weight to a promising looking pothole or shoreline is an excellent fishing method for anglers targeting speckled trout and redfish throughout the Port Aransas area. Other live bait options include using small croaker, mullet, pinfish, mud minnows, and more. Dead shrimp or cut bait is also a great option for most inshore species including redfish and black drum.
Soft plastic baits that imitate live shrimp or baitfish are the most popular lures for the Port Aransas area. These soft plastics come in a wide variety of shapes and colors. Other popular lures include top water baits, soft body lures such as Corkies, hard body lures, spoons, and more. When the weather is overcast and warm, speckled trout and redfish will explode on topwater lures in the shallow water. If you are lucky enough to be fishing when there is a good topwater bite, that will be some of the most memorable days you can have fishing the shallow waters around Port Aransas.
When it comes to inshore bay fishing, Port Aransas offers some outstanding opportunities for drifting or anchoring near spoils, sandbars, and other structures that can hold the fish. Wade fishing along the shorelines, fishing from piers, and even kayak fishing are popular alternatives to drifting and anchoring from a boat. Redfish and speckled trout can be caught by lucky anglers in the Port Aransas area using any of these inshore fishing methods.
Offshore Fishing in Port Aransas
Deep sea fishing is at the top of many people's bucket list for things to do while visiting Port Aransas. Species that you might catch offshore from Port A include red snapper, mahi mahi, wahoo, amberjack, kingfish, blackfin tuna, and many more. There is no better way to enjoy the blue waters in style than to hire a private charter to take you and your party fishing. Offshore fishing gives you a chance of landing a big fish on a special occasion like that once in a lifetime family vacation or while entertaining clients during a business retreat. Captain Experiences offers a great selection of private deep sea fishing charters for your angling enjoyment in Port A. For offshore fishermen, Port Aransas offers access to many of the prized species found in the Gulf of Mexico. A few of the offshore species that can be caught outside of Port Aransas include:
Red snapper
Kingfish
Cobia
Shark
Tuna
Mahi Mahi
Amberjack
Wahoo
Sailfish
Marlin
Tarpon
Tarpon and sharks can be caught close by at the Port Aransas jetties. Kingfish, red snapper, and cobia are generally a little further offshore. Tuna, mahi mahi, amberjack, wahoo, sailfish, and marlin are several miles offshore.
When offshore fishing from the Port Aransas area, the choices you make regarding how you fish will play a big factor in which type of fish you catch. Kingfish are frequently caught while trolling or drifting baits below the surface of the water. Red snapper are caught at or near the bottom of the sea floor hanging around a variety of structures such as offshore reefs and rigs.
If you are new to offshore fishing, it is certainly best to learn from experienced fishermen so that your fishing technique will be appropriate for the type of fish you hope to catch.
Deep Sea Fishing on a Large Party Boat
There are also several large party boats that take large groups of people deep sea fishing out of Port Aransas. You can reserve a ticket on one of these large party boats at a couple of locations along the Port A marina. Some of these trips may last 12 hours, and other trips can take the entire weekend. The types of fish that you can catch will vary depending on the length of your trip and the time of year that you go fishing.
Port Aransas offers a few large party boats that can accommodate 40 or more people. There is also a bay fishing party boat charter that is affordable, but there are some limitations to the locations and species of fish that you can catch on the large bay fishing party boats.
Charter Fishing in Port Aransas
If you decide to book a private charter fishing trip in Port Aransas, one of the first things that you will notice is that there are a lot of options. Captain Experiences knows that booking a fishing charter for the Port Aransas area gives you choices, and we have experts that can help guide you to the right choice.
Fishing charters can be booked for both inshore and offshore angling adventures. The typical inshore bay fishing boat is 18 to 26 feet in length and can accommodate 1 to 6 people. That size is just about perfect for a small group of friends or an average-sized family. With bay fishing in Port A and the surrounding waters, you will likely be targeting redfish, speckled trout, black drum, flounder, and more. There are a variety of bay fishing styles for both beginners and experienced anglers. Your fishing guide will help you along the way. Most guides provide all the fishing equipment that you will need for a successful day on the water. Bay fishing is extremely popular, and trips can be taken in just a few hours or last all day. At Captain Experiences, we would love to help you find an inshore bay fishing guide the next time you visit Port Aransas.
Offshore charters will be on larger boats typically ranging from 25 to 50+ feet in length. Some boats offer nearshore trips for species a few miles off the beach, and other charter fishing vessels can take you to fishing destinations 20+ miles away from Port A. The variety of fish that you can catch from Port Aransas is extensive.
Pricing for private fishing charters varies. A half-day inshore fishing charter for Port Aransas may be a few hundred dollars, and a full day on a luxury deep sea fishing vessel will cost more. Captain Experiences offers clear pricing at all levels for anglers who are seeking a guided fishing trip in the Port Aransas area.
Whether you are looking for a trip for your family or a large group, Captain Experiences would be thrilled to help you navigate the waters of selecting the best Port Aransas fishing guide.
Kayak Fishing Near Port Aransas
If you are looking to kayak fish while you are visiting Port A, that is also an option. There is some kayak fishing access on Mustang Island within a short drive. The waters a few miles away in the communities surrounding Port Aransas offer more opportunities for kayak fishermen. Rockport is less than 20 miles away from Port Aransas, and Aransas Pass is even closer. Both Rockport and Aransas Pass have access to flats that kayakers dream of fishing. Redfish, speckled trout, and flounder are the preferred species for most kayak anglers. Captain Experiences can assist you in finding a kayak fishing guide when you visit Port Aransas.
Fly Fishing from a Skiff
Fly fishing is at its best when you can get into the skinny water of a back lake or the flats with a smaller, lightweight boat such as a skiff. Redfish are the key species for fly fishermen, who will be hoping to see a tail break the surface or spot the large fish cruising the shallow grass flats before sight casting just where the fish is likely to swim. Speckled trout, black drum, and other species can also be caught during a day of fly fishing. To find a fly fishing guide near Port Aransas, just search the opportunities available at Captain Experiences.
Flounder Gigging after Dark
If your days in Port Aransas are too busy for fishing, then you may still be in luck. Flounder gigging is a nighttime activity in which you ride at the front of a flat bottom boat with special lights designed to shine into the water. This is a unique adventure that most anglers never get the opportunity to enjoy. Port Aransas and the surrounding communities such as Aransas Pass have flounder gigging opportunities for anglers. To book a nighttime fishing adventure that you won't soon forget, look on the Captain Experiences website to find out which guides offer this fishing excursion.
Jetty Fishing in Port Aransas
Whether you are hiring a fishing boat charter or walking the jetty rocks on your own, Port Aransas has two excellent jetties that are easy to access. Fishing the jetties is popular at all times of the year, and many of the inshore bay fishing guides take their anglers out to the jetties. Fishermen can reach the south Port A jetty by car. It is easy to park and walk the rocks to find an available fishing spot. Another option that is unique to Port Aransas is the Jetty Boat, which shuttles anglers across the channel to the more remote north jetty on San Jose Island. If you venture to the north jetty, then make sure that you bring all the equipment and supplies that you will need for a day at the coast. There are no commercial services on San Jose Island.
Nearshore Fishing in Port Aransas
When you are researching fishing excursions for the Port Aransas area, you might come across the term nearshore fishing. Nearshore is basically the first few miles of water past the jetties and beaches. Species such as tarpon, sharks, bull reds, and kingfish could be the target saltwater fish species in Port Aransas's nearshore waters. Check with your fishing guide to understand which fish you are pursuing when booking a nearshore fishing trip.
Surf Fishing in Port Aransas
Port Aransas is a beach town, and it has miles of public beaches that are accessible to everyone. Driving along the beach is permitted in most areas, but make sure that you purchase a beach parking permit. Many of the same fish that can be found in the bay are also caught in the surf. Speckled trout, redfish, sharks, jacks, whiting, and even the occasional pompano can make an appearance along this stretch of the Texas coast. You never know what you might catch while fishing the surf.
Pier Fishing in Port Aransas
There are several fishing piers available for anglers in Port Aransas. Right in the middle of Port Aransas beach is the Horrace Caldwell Pier that allows anglers easy, convenient access to fishing. The Corpus Christi Ship Channel that connects the City of Corpus Christi with the Gulf of Mexico runs along the edge of Port Aransas, and there are shore and pier fishing opportunities along this channel. Other piers and jetties are within a short drive. The same key species such as redfish, trout, and drum that can be caught from a boat are also within range of the popular fishing piers and shorelines in the Port Aransas area.
Best Lures and Best Baits for Fishing Port Aransas
The best baits and lures to use in the Port Aransas area will depend on what type of fish you are trying to catch. Here is a quick overview of some of the more popular lures and baits for fishing Port Aransas. Live shrimp are one of the most effective baits for catching a variety of inshore species. Live shrimp are generally fished in three different ways: under a popping cork; with a weight; or free shrimped with just a hook. All popular inshore species will eat live shrimp: redfish, speckled trout, black drum, sheepshead, flounder, and more are big fans of live shrimp.
You can purchase live shrimp and other bait near the Port Aransas marina. If you book a private fishing charter, your professional fishing guide should provide all the bait and lures that you will need while fishing.
If you cannot get live bait, locally caught frozen shrimp is a good option. Redfish, black drum, and other common inshore species are happy to eat shrimp dead or alive. Offshore baits for bottom fishing include squid and a variety of small bait fish. Offshore baits for trolling typically include ribbonfish, cigar minnows, and more. The bait for offshore fishing is usually sold frozen at the local bait shops. Trout and redfish will eat a wide variety of lures. Top waters, soft plastics, hard body lures, saltwater flies, spoons, and soft body lures can all entice a strike from a large speckled trout or an upper slot redfish.
It is no wonder that Port Aransas is a top destination for anglers of all types. From deep sea to shallow flats, there is a chance for everyone to catch the fish of a lifetime. Professional guides are available to take anglers of all skill levels on a variety of fishing excursions. Captain Experiences offers a great selection of highly rated fishing guides available for charter.
Species of Fish in Port Aransas
The main inshore fish species targeted by Port Aransas anglers include speckled trout, redfish, flounder, black drum, sheepshead, sand trout, and more. The two prized game fish that stand out from the rest of Port Aransas species are redfish and speckled trout. Other fish such as flounder and black drum are regularly targeted in Port Aransas as well, but speckled trout and redfish are more the consistently sought after and caught by both fishing guides and recreational anglers.
The offshore fish in the Port Aransas area include the species that you would regularly find in the Gulf of Mexico. These fish include red snapper, kingfish, cobia, jack crevalle, shark, tuna, mahi mahi, amberjack, wahoo, sailfish, marlin, and tarpon. Some of these fish such as tarpon and sharks can be caught near the Port A jetties. Kingfish and red snapper are a few miles offshore. Cobia, tuna, mahi mahi, amberjack, wahoo, and billfish prefer deep water a few more miles from the Port Aransas coastline.
Redfish Fishing in Port Aransas
Redfish are the number one type of fish that inshore anglers pursue throughout the Port Aransas area. Reds are one of the hardest fighting fish that you can catch while inshore fishing. The grass flats in this stretch of the Texas coast are perfect habitat for reds. Redfish tend to be a bit bigger than speckled trout. The 2023 slot size limit for redfish is 20 inches to 28 inches in Texas. Redfish will eat live bait, dead bait, and a variety of lures. With redfish, anglers often just cast out their bait to a promising looking sand pocket and wait for the bite. Soft plastics and spoons are good lure choices when fishing for reds with artificial lures.
Speckled Trout Fishing in Port Aransas
Speckled trout are another popular Port A fish. Trout can be caught in many fishing environments: jetties, saltwater lakes, reefs, shorelines, flats, passes, surf, channels, and just about anywhere else you choose to fish in the inshore saltwater areas around Port Aransas. Live shrimp are the number one bait, and soft plastic shrimp imitations attached to a jig head are the main lure of choice for anglers throwing artificial lures in Port Aransas.
The legal size limit and daily bag limit for keeping speckled trout to eat is set annually by the Texas Parks and Wildlife Department. The limit on all fish do change from time to time, so make sure you check for the latest information.
Flounder
Flounder are a prized fish because many anglers consider these flat fish to be the tastiest table fare of the inshore species. Flounder live on the bottom of the bay floor and frequently bury themselves in the sand or mud to help camouflage their next attack on an unsuspecting bait fish. Flounder like to hang around drains, grass points, and channels where they can easily access their prey.
Port Aransas is a great place to fish for flounder. Flounder typically migrate from the backs of coves and lakes in the fall towards the Gulf of Mexico. Flounder repeat this pattern in the spring. Limits on flounder can vary, and the season can be closed at certain times of the year.
Black Drum
Black drum are related to red drum, which are better known as the popular redfish that we all love to catch. Black drum are hard fighting fish that primarily feeds along the bottom of the bay and along the Port Aransas jetties. Black drum, often referred to simply as drum, are a delicious fish to eat if you catch one that is not too big.
Sheepshead
Sheepshead are a toothy fish that many anglers love to target along the Port Aransas jetties and other structures. Certain times of year tend to be better for catching large numbers of sheepshead as they congregate along the jetties and similar formations.
Red Snapper
Red snapper are caught on deep water structures offshore from Port Aransas. There are different state and federal regulations related to keeping red snapper, so anglers will need to be apprised of all the rules before putting any red snapper in the cooler. Red snapper are strongly desired as one of the best tasting fish found anywhere.
Kingfish
Kingfish are an excellent sport fish. Port Aransas kingfish can get large, and it is always exciting to see the line burning away from the reel when a kingfish starts to run. Use care when catching kingfish because these fish are mighty toothy.
Shark
Shark can be caught both nearshore and offshore in the Port Aransas area. The surf, jetties, and piers are all popular locations for fishermen pursuing sharks. For those anglers who target large sharks, Port Aransas is a great place to try your luck at catching the next Jaws. The 512 pound Texas state record bull shark was caught near Port A.
Tuna
Blackfin tuna are the predominant species in the Port Aransas offshore water, but yellowfin tuna are also caught. Tuna put up a great fight, and it is truly a special treat to dine on fresh tuna.
Jack Crevalle
Jack crevalle, also known as jackfish, are one of the hardest fighting fish around. Jackfish are a wide-roaming species that can be caught inshore, nearshore, and offshore. If you are interested in catching big fish just for the sport of it, this is the fish for you.
Mahi Mahi
Mahi mahi or dolphin are exciting fighters and wonderful fish to eat. In addition, mahi mahi are one of the prettiest fish that you will ever see. The beautiful colors fade quickly, but the memories of catching mahi mahi can last a lifetime. Offshore charters regularly target mahi mahi in the Port Aransas area.
Tarpon
Known as the Silver King, tarpon are another unique species that many anglers put on their bucket list. Tarpon regularly weigh 70 pounds and more. Tarpon make spectacular leaps through the air in their all too often successful attempts to shake the hook out. Port Aransas was previously known as Tarpon, Texas, so it remains a good destination for tarpon fishing.
Wahoo
Wahoo are known for being extremely fast, and these fish can get quite large as well. Wahoo live in deep waters off the coast of Port A. Wahoo are also one of the best tasting offshore fish available.
Marlin
Marlin are a classic big game fish. Blue marlin are the largest billfish regularly caught in the Port Aransas area and throughout the Gulf of Mexico. Billfish of all species are found in deeper waters, and a longer offshore charter is recommended.
Sailfish
Another billfish, the sailfish are likely the most commonly caught billfish species in the Gulf of Mexico. Sailfish can make great jumps and put up a great fight for the anglers lucky enough to hook into one of these fish.
Popular Fishing Spots in Port Aransas
As a major fishing destination along the Middle Texas Coast, Port Aransas has many famous and popular fishing spots.
List of Fishing Spots Near Port Aransas
The Port Aransas contains numerous inshore fishing locations for anglers including grass flats, shorelines, piers, beaches, channels, jetties, sandbars, and spoil banks. For offshore fishermen, deep water reefs, rocks, shrimp boats, and tankers are popular fishing areas.
Some of the main areas that you may be fishing when visiting Port Aransas include:
Aransas Bay
Mud Island
San Jose Island
Estes Flats
Redfish Bay
Corpus Christi Bay
North Jetties
South Jetties
Port Aransas Surf
The Upper Laguna Madre
Port Aransas Offshore Rig and Rock Fishing
Port Aransas Offshore Shrimp Boat and Tanker Fishing
Aransas Bay, Mud Island, and San Jose Island
Aransas Bay is a major body of water to the northeast of Port A. Aransas Bay contains a few large reefs plus some spoil areas. These deeper water spoils and reef areas are popular fishing spots for anglers targeting speckled trout during the heat of summer. At other times of the year, fishermen can find fish along the miles of shoreline at the edges of Aransas Bay.
Mud Island is a long, narrow island with popular fishing locations on all sides. The tips of Mud Island are particularly good during the spring and fall months. Despite the name, much of Mud Island is surrounded by grass and hard sand. There are certainly some muddy areas, which are best for holding fish during the cold winter months. A few channels that cut through the middle of Mud Island can be productive for trout, redfish, and flounder.
San Jose Island is the major barrier island separating Aransas Bay from the Gulf of Mexico. For fishing guides and anglers with shallow water boats, there are several back lakes along San Jose Island that can be accessed through channels or guts connected to Aransas Bay. Experience is needed because these back lakes and channels can be just a few inches deep, and some areas can only be accessed by airboats. These back lakes and channels hold fish throughout most of year, but when it gets too hot or too cold during the extremes of summer and winter, then the fishing may slow down.
The entire shoreline of San Jose Island is a popular fishing location, especially during the spring and early summer months. Traylor Island runs along the southwest edge of Aransas Bay, and this island also contains many ideal shoreline fishing locations with a mixture of grass beds, channels, and sand potholes.
Estes Flat and Redfish Bay
Estes Flats is large grass flat that lies just on the other side of Traylor Island from Aransas Bay. Redfish roam the vast flats in search of their next meal. Because the grass beds in these shallow flats are ideal fish habitat, efforts have been made to protect the seagrass.
Estes Flats is northeastern part of the [Redfish Bay State Scientific Area] (https://tpwd.texas.gov/landwater/water/habitats/seagrass/images/updated_rfbssa.jpg), and responsible boating is required to prevent uprooting of the seagrass. Redfish Bay extends south and west towards Port A, and the entire area is full of grass flats that are ideal habitat for the namesake fish.
Corpus Christi Bay
Corpus Christi Bay separates Port Aransas from the mainland. This bay has excellent locations for drift fishing and anchoring for a mixed bag of both speckled trout and redfish. Knowledgeable guides and locals can find the best areas for fishing this wide open area.
In general, the shorelines of Corpus Christi Bay are excellent areas for fishing in the spring, fall and winter months. The deeper structures in the middle of Corpus Christi Bay offer good habitat for speckled trout during the heat of summer.
North Jetties and South Jetties
Port Aransas has two great jetties that provide year-round opportunities for catching many different species of fish. The North Port Aransas Jetty is located on the south end of San Jose Island. The South Port Aransas Jetty is located on the north end of Mustang Island. A channel that connects Corpus Christi with the Gulf of Mexico runs between the Port Aransas jetties.
The North Port Aransas Jetty can only be accessed by boat. The South Port Aransas Jetty can be accessed by both car and boat.
Fishing the Port Aransas jetties offers opportunities for all anglers to catch several species of fish using a variety of different methods. Some species, such as redfish and black drum, tend to stack up along the base of the jetties. Dead shrimp and a heavy weight are a popular rig for catching these fish along the Port Aransas jetties.
Speckled trout seem to gather closer to the water surface. Using a popping cork or free lining live bait is often a good technique for catching trout along the Port Aransas jetties. Many other species of fish can be caught at the Port Aransas jetties including sharks, sheepshead, and bull reds. Half the fun of fishing the jetties is that you never know what you might catch on any given cast.