It's obvious that anglers love a good fishing trip. With so many places to fish and fish to catch, it's hard to decide where to take a trip. We've made it even harder, because now you have to somehow choose between the items on this list. Check out 9 of the best and most unique fall fishing destinations below.
What is Captain Experiences?
We're on a mission to Unlock the Outdoors for everyone. With thousands of Damn Good Guides across the US and beyond, our platform makes booking quality, vetted guides quick and easy.
Check out our trips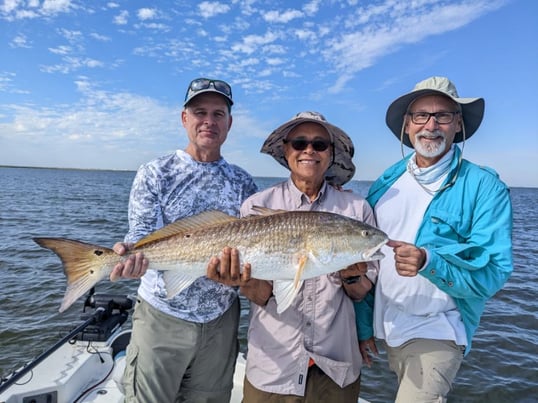 The Florida keys (and Key West in particular) are known around the world for their incredible fishing opportunities. It's no secret that big league fish live here. It's on every list because it truly is a perfect bucket list location for any angler, and the Florida Keys have everything from skinny water to spear fishing. Hidden from the limelight, backcountry fishing off the keys is an experience that doesn't get enough recognition. Head into the everglades and target redfish, snapper, and trophy snook. With a permitted guide you can get off the beaten path and fish a spot you'd never find on your own.
It's hard to describe how incredible the waters are surrounding Hawaii. Kona in particular has been called the Marlin capital of the world, which isn't something just any fishing spot can claim. Once you leave the harbor, the ocean floor drops to a depth of a few thousand feet almost instantly. This puts you on the pelagic species feeding grounds. Not only are you in a great place to catch fish, but you are in an area that routinely catches giants. Hundreds of grander marlin have been caught in Hawaii but these aren't the only fish that run in these waters. Tuna, wahoo, Mahi, and countless other amazing fish roam this area. With so many massive and delicious fish 5 minutes from the dock, this is an anglers paradise. If you are serious about offshore fishing, then Hawaii should be your next trip. You can check out the top charters here.
If pristine water and powerful gamefish is what you are looking for, then a trip to South Padre Island is a must. This happens to be just about the only place to catch snook in Texas. With tarpon also visiting these waters, inshore fishing South Padre Island offers the opportunity to land some bucket list fish for a Texan. South Padre Island also has a reputation for excellent offshore fishing which has a lot to do with favorable underwater geography. It is closer to the continental shelf than any other port in Texas. This provides easy access to the giants that lurk in the depths. With trophy fish in both the inshore and offshore waters South Padre Island should be on every angler's (and especially every Texan's) short list.
Perfectly located at the tail end of the Mississippi Delta, Venice has enough opportunities to fill several lifetimes of fishing. The endless bayous, canals, and bays are an inshore anglers dream and produce massive fish year after year.
If you are looking to enhance your inshore experience, take a trip to the backcountry with a fly rod. Tarpon pass through Venice on their annual migration through the gulf. Tarpon are infamous for their fickle nature, but if they are not biting there's a good chance you'll be covered up in speckled trout and redfish anyways.
But we all know you came here for the offshore stuff. Driving out all the way to the end of the Mississippi Delta makes deep water a short boat ride away which means more time fishing. Most anglers that go to Venice for an offshore trip have one thing in mind—yellowfin tuna. Big yellowfin patrol these easily accessible waters in schools with other tuna species. This has earned Venice the nickname "tuna capital of the gulf". Check out our Venice trips if you're looking to get in on the action.
Speckled trout have a loyal following among anglers across the United States. Baffin Bay is a hidden gem in Texas that continually provides top notch trout fishing every year. Located in the upper Laguna Madre system about 30 miles south of Corpus Christi, this underrated area is fairly remote and can be difficult to navigate.
With massive private ranches occupying both sides of the bay, there is no public access for miles in any direction, meaning both that a trip to Baffin will take a while by boat from Corpus, and that you're guaranteed an untouched spot to cast your line.
The potential in this bay really shines when it comes to fishing for redfish and speckled trout. Baffin Bay is the source of both the redfish and speckled trout Texas state records. With fishing this good, it's the perfect spot to break some personal records.
South Carolina Lowcountry should be one of the first places that comes to mind if for no other reason than fly fishing for tailing reds. Out of Charleston, inshore and offshore fishing opportunities are fantastic, but fly fishing in the maze of intertidal creeks and flats that surround the city might just be the best. Spotting tailing redfish in these brackish waters and presenting them with an assortment of flies is a rewarding experience any angler would be lucky to have. It doesn't matter whether you hook into a giant redfish on a popper or a streamer, you will be dying to come back.
Located in the middle of Florida's west coast, Clearwater is an ideal location to catch fish year-round. Endless bays, inlets, and clean water create unbelievable inshore fishing opportunities. During the warmer months snook, tarpon, and redfish all use these waters and make for an explosive day on the water.
If you want offshore action, head out in the fall and target kingfish and big grouper. Clearwater is known for catching giant kingfish during their annual migration to spawning grounds, and has huge red grouper located close offshore. This is one of the best year-round vacation spots for the angler, and it won't be hard to convince the family to stay in nearby St Petersburg or Tampa.
Destin's close proximity to the continental shelf makes for easy access to some of the most incredible offshore fishing in the gulf. This is the number one most popular fishing city in the US, and it deserves a spot on this list.
Nicknamed the billfish capital of the gulf, monster billfish are caught here every year, while tuna, mahi mahi, red snapper, and grouper are also found offshore from Destin and are a blast to catch. If inshore fishing is more your speed, sharks can be caught in Destin year round, and tarpon, redfish and speckled trout are all present as well. Destin is a robust fishery with opportunities for every angler and is always worth the a trip.
Much of the east coast is known for its summer striper fishing. With that being said, Chatham might be the best in the world. If you want to catch a huge striper, you want to fish Chatham—this is what they are known for. When the water temps start to cool off, false albacore and bonito push closer to shore and are always a blast to catch on fly or conventional tackle.
Over the years Chatham has also become famous for its tuna fishing opportunities. And we aren't talking just any tuna, but the legend himself—the bluefin tuna. This prized fish may be the best eating tuna in the world. This beast can grow well over 500 lbs and fight for hours. They are a delicious prize the size of a small car. The waters around Chatham have some of the most rewarding sportfishing in the world, and it's no wonder anglers come from around the world to fish here.
The Best Places to Fish in the Fall
While we couldn't include every amazing fishing spot, these places have some of the best fishing opportunities and experiences available. With so many great places to fish and so many amazing fish to catch, even if you don't make it to one of these bucket list destinations, take a trip and get out there. There are plenty of places waiting for you.