The Galveston area provides a wide variety of wonderful saltwater fishing opportunities for anglers seeking both offshore and inshore fishing adventures. Anglers can catch all the major Gulf Coast saltwater species in the Galveston area. This includes inshore species such as speckled trout, redfish, flounder, black drum, and other species. Offshore species including red snapper, kingfish, ling (also known as cobia), and shark can be caught within ten to twenty miles from the Galveston beach, and further offshore you can catch tuna, mahi mahi, wahoo, sailfish and more. Anglers in Galveston are also known to catch some of the largest tarpon in Texas during the heat of summer and early fall.
Because the size of its fishable water and the size of its fish, Galveston is one of the most popular fishing destinations in the State of Texas. Galveston is located along the Upper Texas Coast, and it is approximately a one-hour drive south of the city of Houston, Texas. The name Galveston can refer to a lot of things: the city, the island, the county, and the bay system all share the name Galveston. Fortunately, all these places are in the same general geographic region, and you can simply refer to the whole area as Galveston.
Introduction To Fishing In Galveston
The Galveston Bay complex consists of four major bays including: East Galveston Bay (East Bay); Trinity Bay; Galveston Bay; and West Galveston Bay (West Bay). Trout, redfish, flounder, and other prized saltwater fish can be found in all four of bays in the Galveston area at any time of year. These bodies of water are so large that you cannot fish all the popular fishing locations that Galveston has to offer at the same time. Galveston just too much water to cover. Planning your Galveston adventure in advance will lead to better success in catching that fish of a lifetime on your next fishing excursion.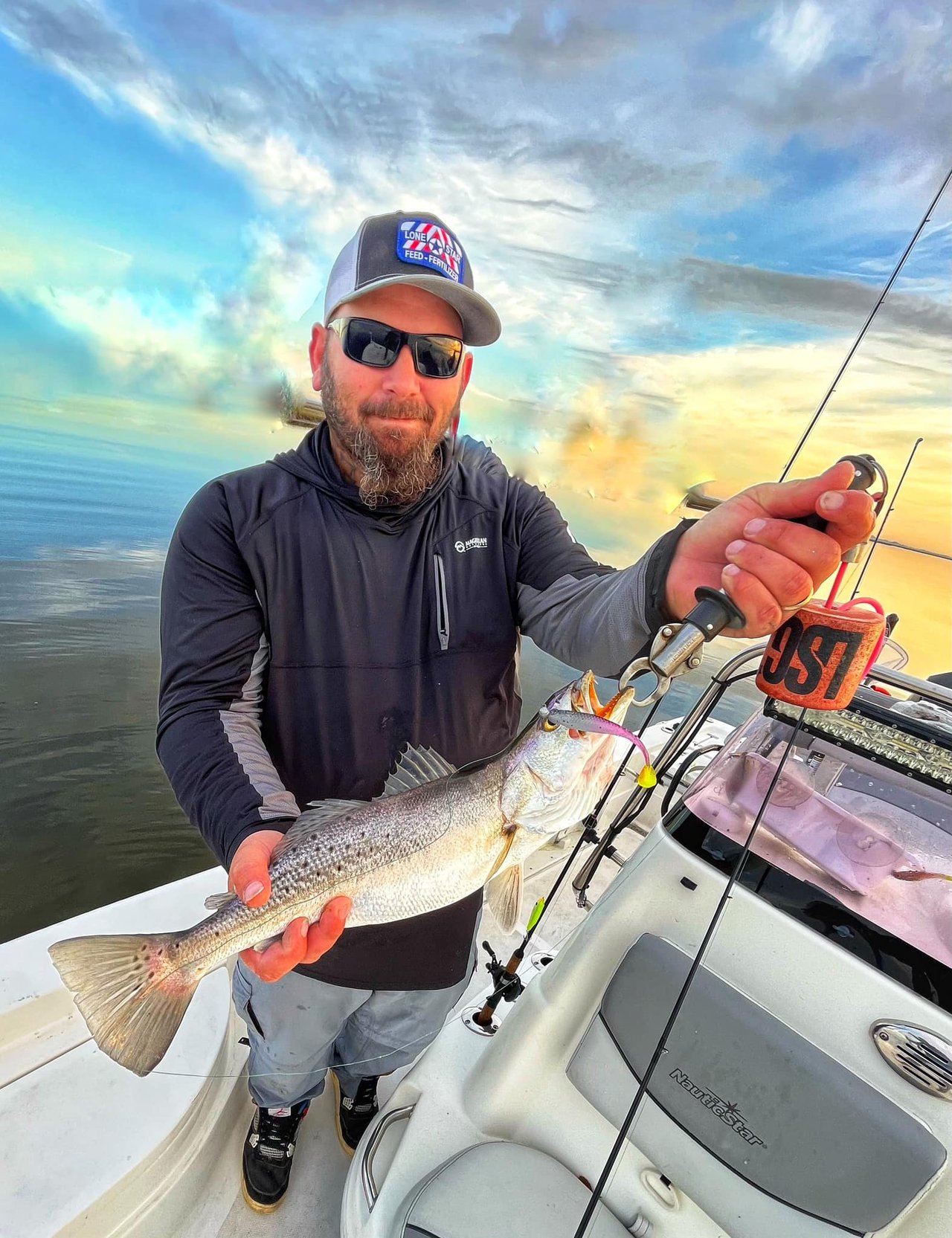 Galveston inshore fishing is focused primarily on speckled trout. The average sized speckled trout that you catch in Galveston just seems a bit larger than the average speckled trout from other areas. Redfish, flounder, black drum, and sheepshead are also key species for the Galveston Bay system. The Texas Parks and Wildlife Department recognizes these records for inshore species in Galveston:
Offshore fishing from Galveston offers the chance to catch even larger fish. From tuna to tarpon, Galveston's offshore waters regularly produce fish weighing 20 to 200 pounds. Galveston's offshore fishing offers anglers a chance to catch one of these sea monsters or perhaps some of the best tasting fish around such as red snapper, mahi mahi, or wahoo.
Kingfish are a great fighting fish, and these toothy speedsters patrol the waters just offshore Galveston in good numbers throughout the summer months. For long-range offshore fishing trips, Galveston is the nearest port to the famous Flower Garden Banks. The Flower Garden includes protected coral reefs so anchoring is not allowed, but the area surrounding the Flower Garden offers some unique deep sea fishing opportunities. Billfish, mahi mahi, and wahoo are generally caught many miles offshore from Galveston. Kingfish and red snapper, which are seasonal in Federal waters, can be caught less than 15 miles offshore.
Fishing Guides in Galveston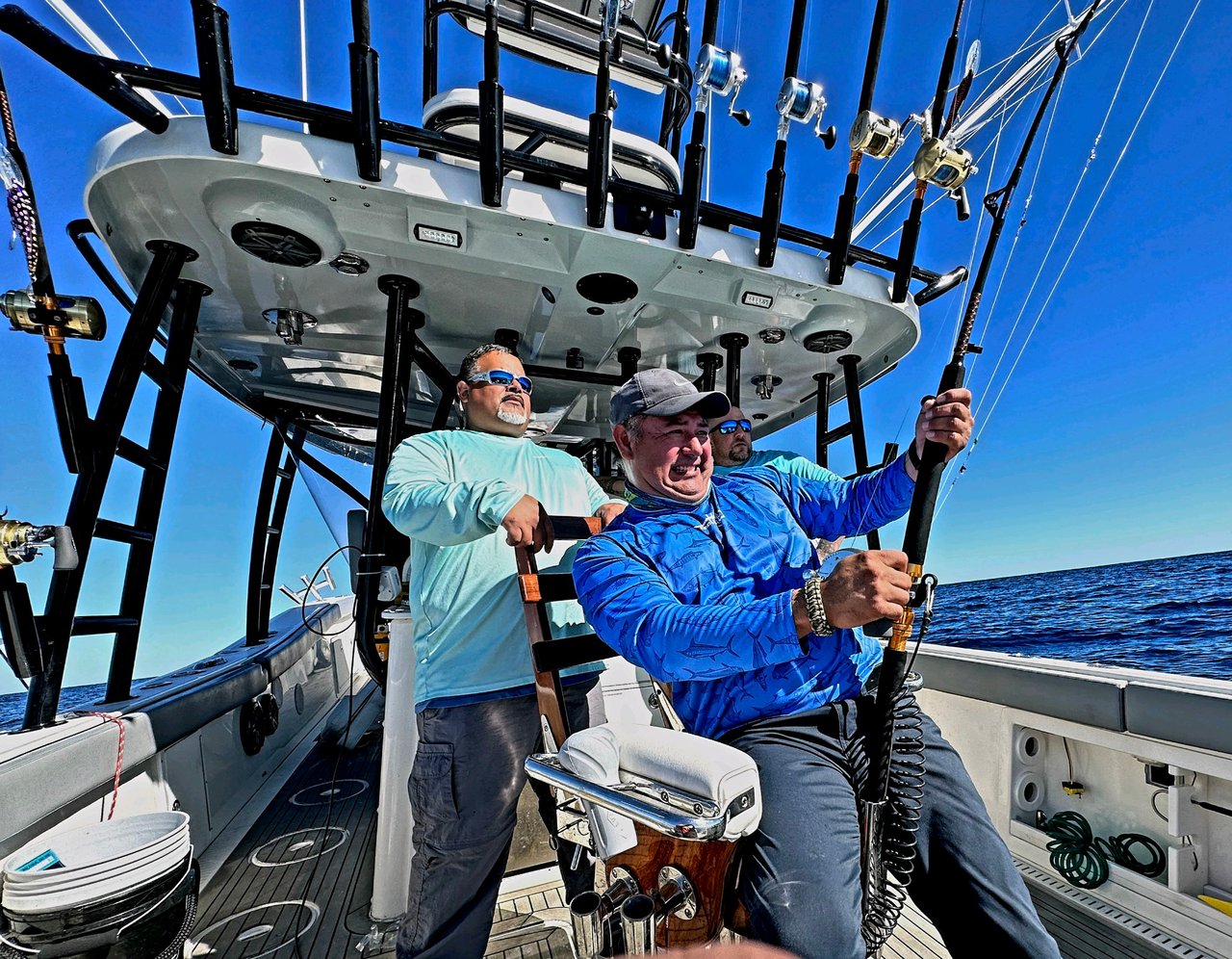 As one of the more popular destinations along the Gulf Coast, Galveston has many professional fishing guides available for charter for your next trip. You can book a Galveston fishing trip with both inshore and offshore guides who depart from multiple locations throughout the Galveston area. Captain Experiences offers a wide selection of professional fishing guide charters in Galveston including:
Galveston Inshore Bay Fishing Guides
Galveston Jetty Fishing Guides
Galveston Offshore Fishing Guides
Captain Experiences also offers several specialty fishing guides based out of the Galveston area including:
Galveston Flounder Fishing Guides
Galveston Tarpon Guides
Galveston Trophy Trout Guides
Galveston Fly Fishing Guides
Galveston Tarpon Guides
Galveston Shark and Bull Redfish Guides
Galveston Bowfishing Guides
Galveston Luxury Deep Sea Fishing Guides
Galveston Family Focused Fishing Guides
Galveston for Beginners Fishing Guides
Whatever type of fishing you dream of doing on your next outdoors adventure, Captain Experiences wants to help you find a professional guide that can make your dreams come true. Professional fishing guides should be as excited as their customers about the opportunity to get outdoors and enjoy a wonderful day on the water. At Captain Experiences, we know that Galveston is a fantastic destination for both inshore and offshore fishing. For help booking a top-quality fishing guide in Galveston, visit us at captainexperiences.com.
Types of Fishing in Galveston
Galveston is located along the Texas Coast and borders the Gulf of Mexico. Galveston is an island, and the waters between the island and the mainland are bays that offer many inshore saltwater fishing opportunities. The body of water that borders the outside of Galveston Island away from the mainland is the Gulf of Mexico. The Gulf of Mexico provides anglers with many offshore saltwater fishing opportunities.
The first choice that anglers need to make when deciding to fish Galveston is which of the two general categories of fishing opportunities do you wish to pursue:
Inshore fishing, also known as bay fishing, or
Offshore fishing, also known as deep sea fishing.
Inshore Fishing in Galveston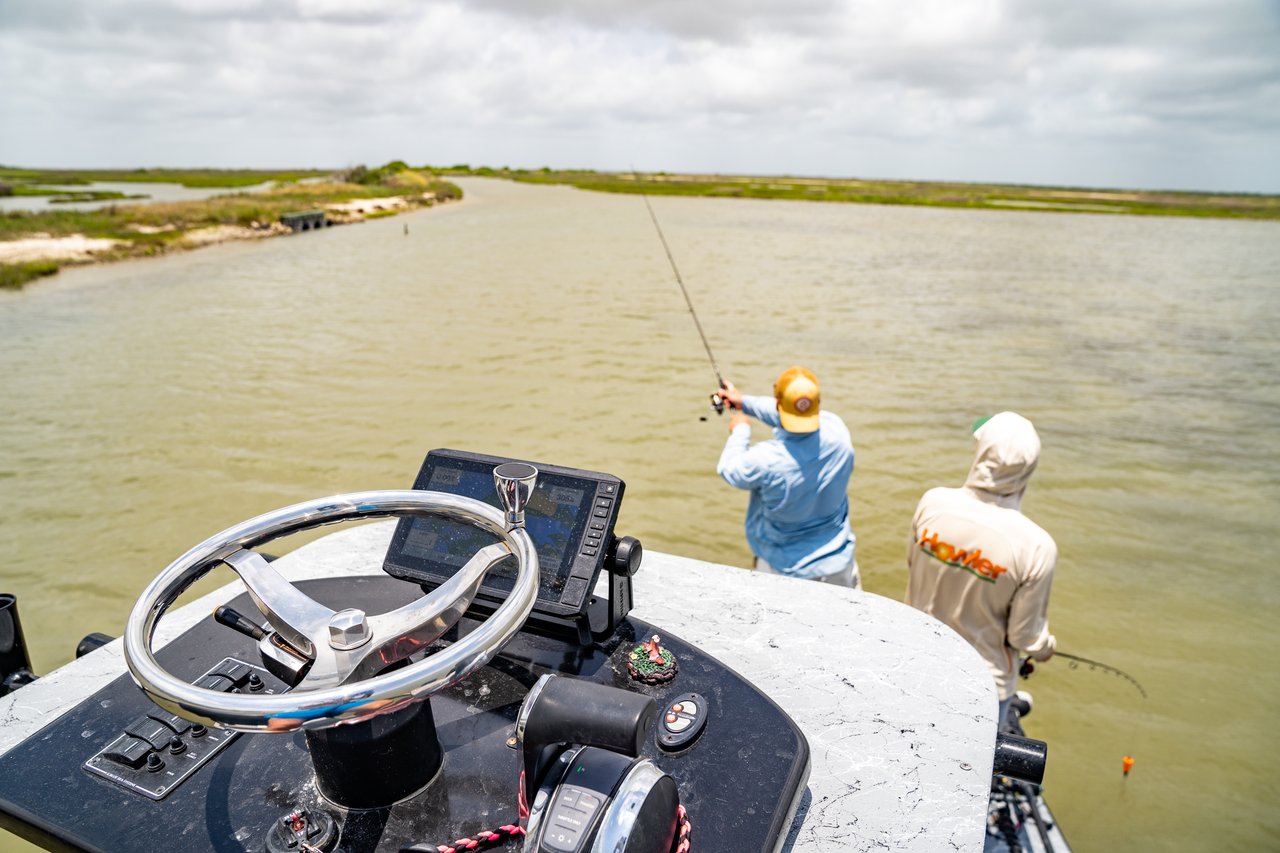 Inshore fishing, also known as bay fishing, in the Galveston area primarily focuses on the favorite inshore fish species that live in the Gulf of Mexico such as redfish, speckled trout, flounder, and black drum. Other fish species such as sheepshead, sand trout, gafftopsail catfish, and more are also regularly caught while inshore fishing in Galveston.
Inshore fishing in Galveston can include a variety of techniques including drifting, wading, anchoring, kayaking, and more. There are several fishing piers available for anglers in different areas of Galveston. Most of the inshore fish species that anglers target can be found around structure, near sandbars, along grass lines, or simply chasing schools of baitfish through open water. There is really no wrong way to fish for key species such as specks (speckled trout) and reds (redfish) because these fish can be found in a variety of different habitats and water depths.
The most popular methods of fishing for inshore species include using bait (live or dead) and fishing with lures. For bait, live shrimp is a favorite of almost any fish that you may encounter. Drifting or anchoring while using a live shrimp under a popping cork may be the single most popular fishing methods for anglers targeting speckled trout throughout the Galveston area. Other live bait options include using small croaker, mullet, pinfish, mud minnows and more. Dead shrimp is also a great option for the majority of inshore species including redfish and black drum.
Soft plastic baits that imitate a live shrimp or baitfish are the most popular lures for the Galveston area. These soft plastics come in a wide variety of shapes and colors. Other popular lures include top water baits, soft body lures such as Corkies, hard body lures, spoons, and more. When the weather is overcast and warm, speckled trout and redfish will explode on topwater lures in the shallow water. If you are lucky enough to be fishing when there is a good topwater bite, that will be some of the most memorable days you can have fishing the shallow waters around Galveston.
When it comes to inshore bay fishing, Galveston offers some outstanding opportunities for drifting or anchoring near oyster reefs and other structures that can hold the fish. Wade fishing along the shorelines, fishing from piers, and even kayak fishing are popular alternatives to drifting and anchoring from a boat. Redfish and speckled trout can be caught by lucky anglers in the Galveston area using any of these inshore fishing methods.
Offshore Fishing in Galveston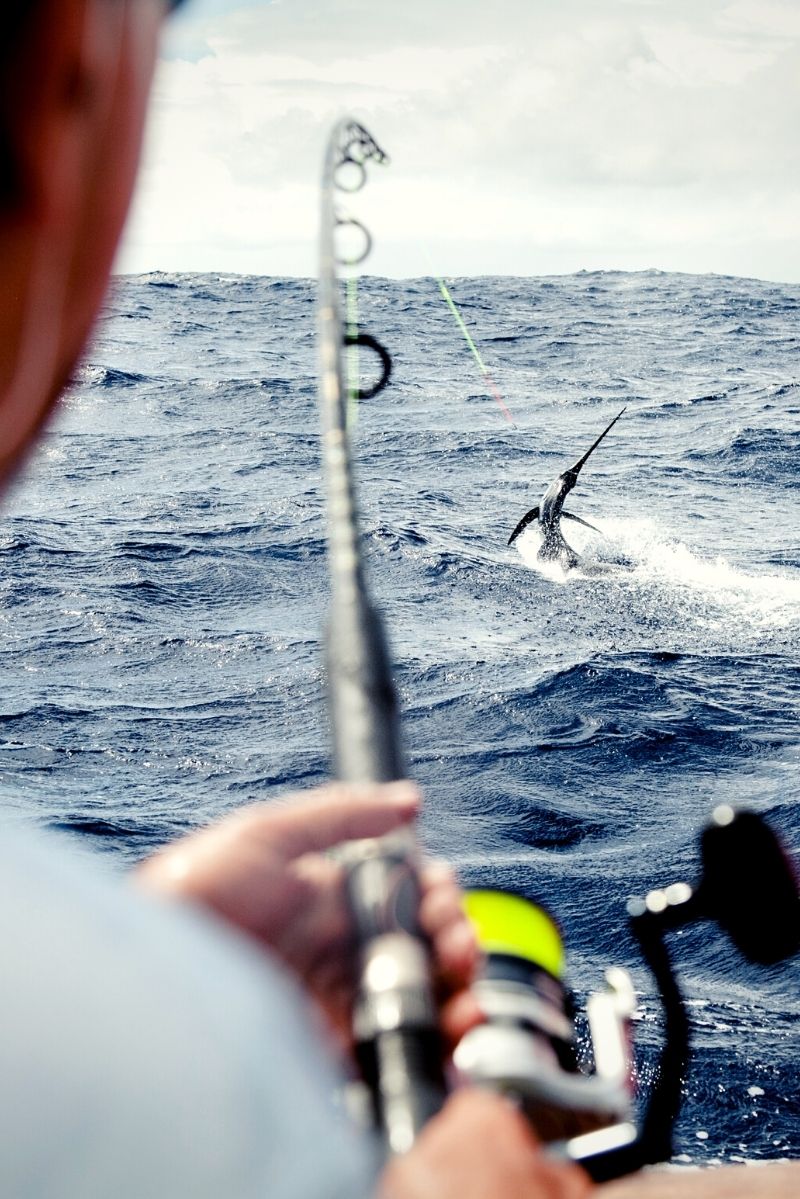 For offshore fishermen, Galveston offers access to many of the prized species found in the Gulf of Mexico. A few of the offshore species that can be caught outside of Galveston include:
Red snapper
Kingfish
Cobia
Shark
Tuna
Mahi Mahi
Amberjack
Wahoo
Sailfish
Marlin, and
Tarpon
The water depth increases gradually as you travel away from Galveston into the Gulf of Mexico. Many of these popular offshore species prefer different water depths and temperatures, and these preferences will dictate how far offshore you must travel in order to increase your chances of catching your prized fish.
Tarpon and some sharks can be caught within a few miles of Galveston's popular beaches. Kingfish are generally a little further offshore, but during the calmest days of summer even kingfish can follow the bait and blue water closer to shore. Red snapper and the occasional cobia can be caught a dozen or so miles from Galveston Island during certain times of year, but these species are also caught much further offshore. Tuna, mahi mahi, amberjack, wahoo, sailfish, and marlin generally preferred the deeper waters, and these sportfish are encountered many miles offshore from Galveston.
When offshore fishing from the Galveston area, the choices you make regarding how you fish will play a big factor in which type of fish you catch. Kingfish are frequently caught while trolling or drifting baits below the surface of the water. Red snapper are caught at or near the bottom of the sea floor hanging around a variety of structures such as offshore reefs and rigs.
Tarpon often hit a live bait, and sharks are more frequently caught using some type of dead bait. If you are new to offshore fishing, it is certainly best to learn from experienced fishermen so that your fishing technique will be appropriate for the type of fish you hope to catch.
Charter Fishing in Galveston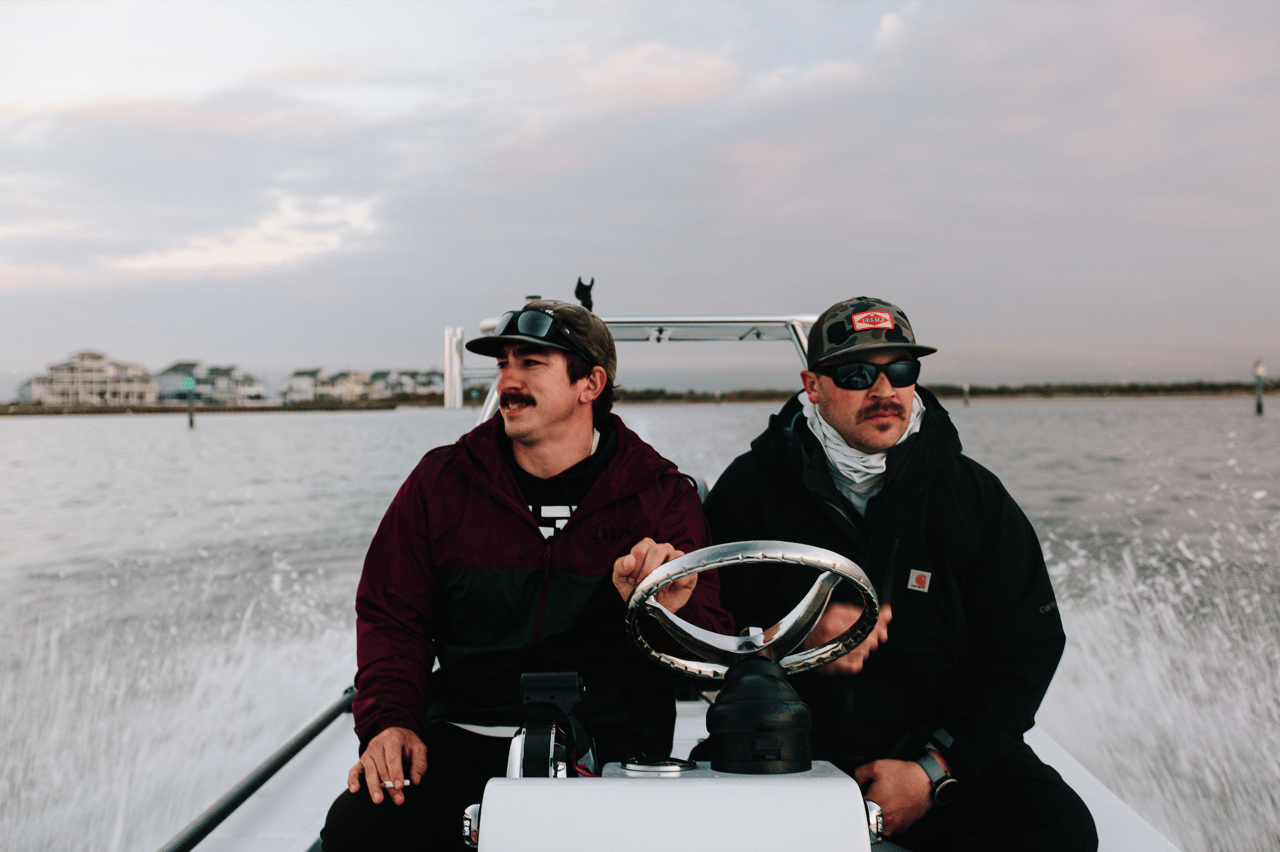 If you decide to book a charter fishing trip in Galveston, one of the first things that you will notice is that there are a lot of options. Because it is such a popular angling and beach tourist destinations, Galveston has many professional fishing guides that cater to a variety of anglers. Some of the things that you will need to consider when hiring a professional fishing guide include: how many people are in my group, how long do we intend to fish, what type of fish am I hoping to catch, what is my price range for a fishing charter, and where will I be staying while visiting Galveston.
Captain Experiences knows that booking a fishing charter for a vast body of water such as the Galveston area is complex, and we have experts that can help guide you to the right choice when you are ready to book a fishing trip. You can find several tips for booking a fishing charter and a selection of highly-rated Galveston fishing guides at CaptainExpereinces.com.
Most private inshore fishing charters are allowed to take groups up to 6 people on a day of fishing, but groups of 3 to 4 people are much more common. The inshore fishing boats are typically in the 19 to 26 foot range, and this size boat usually provides enough room for up to 4 people to comfortably fish at the same time. Larger offshore boats can sometimes take larger fishing parties. Always check with your fishing guide to understand how many people can go on a charter trip. Also, Galveston has a few non-private party boats that can take dozens of fishermen from multiple different fishing groups.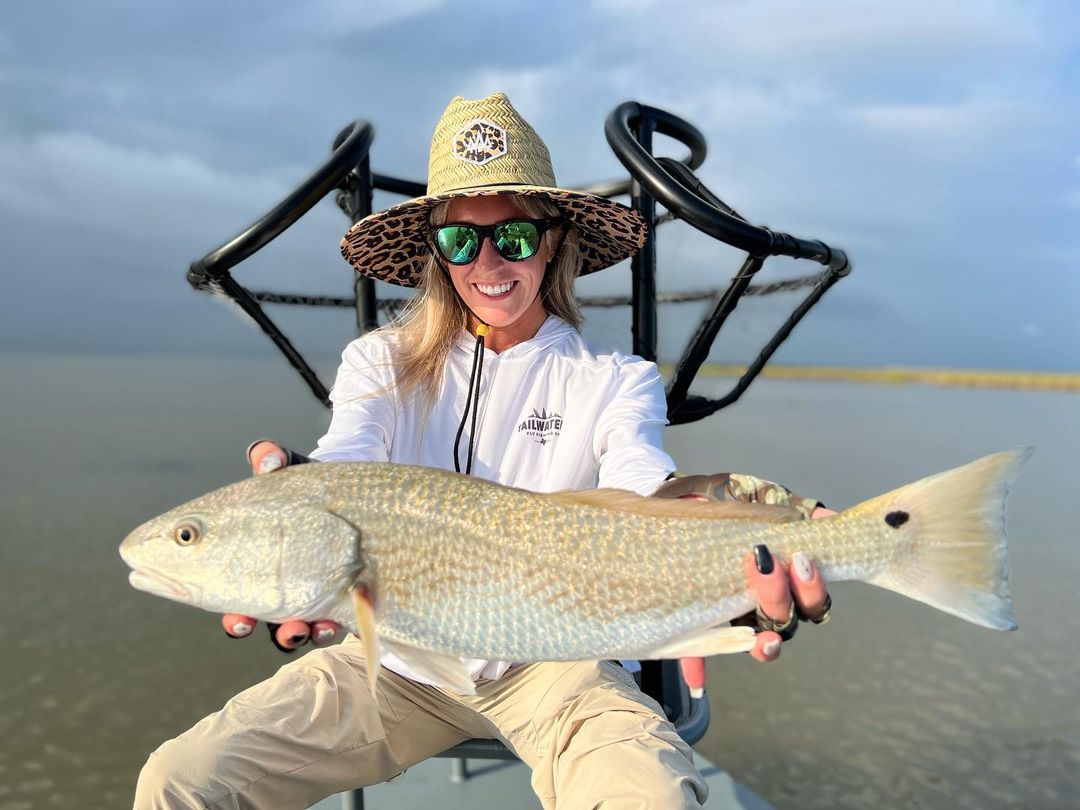 Some private charters give fishermen the option between choosing a half-day trip or a full-day trip. A half-day is usually around 4 hours, and a full day of fishing is usually about an 8 hour adventure. Inshore fishing and jetty fishing can be quite productive on a half-day trip. For deep sea fishing charters, additional hours are needed because there is travel time in getting to the most productive fishing waters.
When planning a charter fishing trip in Galveston, you need to know that different private charter guides specialize in catching different species of fish. Many inshore guides will fish for several species such as speckled trout, redfish, flounder, and black drum. However, there are several Galveston area guides that focus on a type of fish such as seasonal Tarpon, bull redfish, sharks, or red snapper. The longest deep sea fishing charters will usually target multiple offshore species of fish on a single trip.
Pricing for private fishing charters varies. A half-day inshore fishing charter for Galveston may be a few hundred dollars, and a full day on a luxury deep sea fishing vessel will obviously cost more. Captain Experiences offers clear pricing at all levels for anglers who are seeking a guided fishing trip in the Galveston area.
Where you stay in Galveston can also make a difference in which fishing guide would be best for next Galveston charter. The majority of Galveston bay fishing charters leave from somewhere on Galveston Island, but there are multiple marinas and boat ramps preferred by fishing guides. Some fishing guides that fish the Galveston area are not located on Galveston Island. There are many marinas and boat ramps on the mainland that offer access to fishing in the Galveston area. Make sure you understand where your guide like to meet up with anglers before you book your trip.
Whether you are looking for a trip for your family or a large group, Captain Experiences would be thrilled to help you navigate the waters of selecting the best Galveston fishing guide.
Kayak Fishing Near Galveston
If you are looking to kayak fish while you are visiting Galveston, that is also an option. There are several kayak access points available in Galveston. The shorelines of West Bay, East Bay, and Trinity Bay offer some excellent opportunities for kayak fishermen to hook into a speckled trout or redfish. Captain Experiences can assist you in finding a kayak fishing guide in Galveston if you do not already have all of your own kayak fishing gear. Kayaking is growing trend amongst anglers, and kayaks are a great way to enjoy the beauty of the outdoors.
Fly Fishing from a Skiff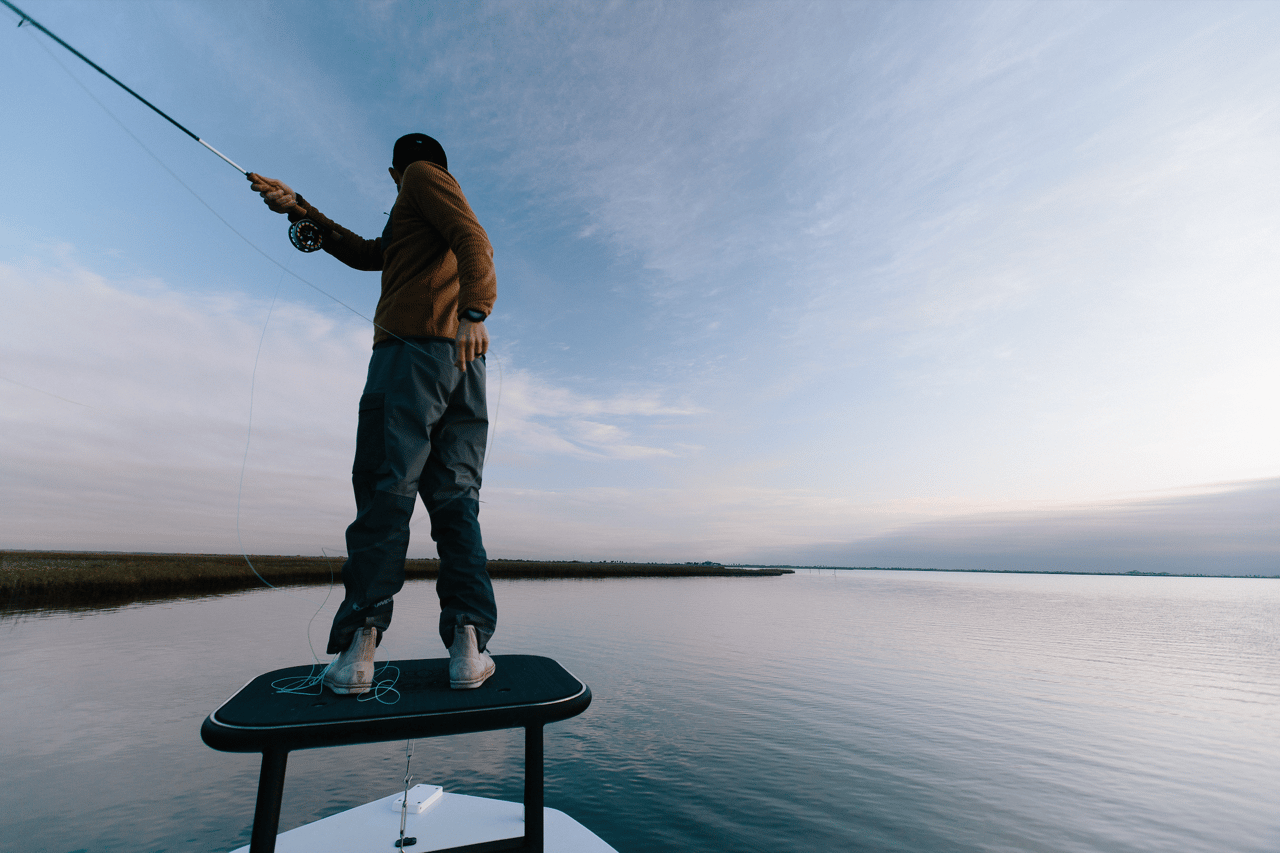 Fly fishing is at its best when you can get into the skinny water of a back lake or the flats with a smaller, lightweight boat such as a skiff. Galveston is not a classic fly fishing destination, but that does not mean that there are not any fly fishing opportunities. Most of the Galveston Bay complex is a few feet deep, so fly fishermen typically focus on the shallow edges of coves, marshes, and a handful of small back lakes. Redfish are the key species for Galveston fly fishermen. Spotting a large redfish cruising the shallow grass flats before sight casting is a once in a lifetime experience for many anglers.
Flounder Gigging after Dark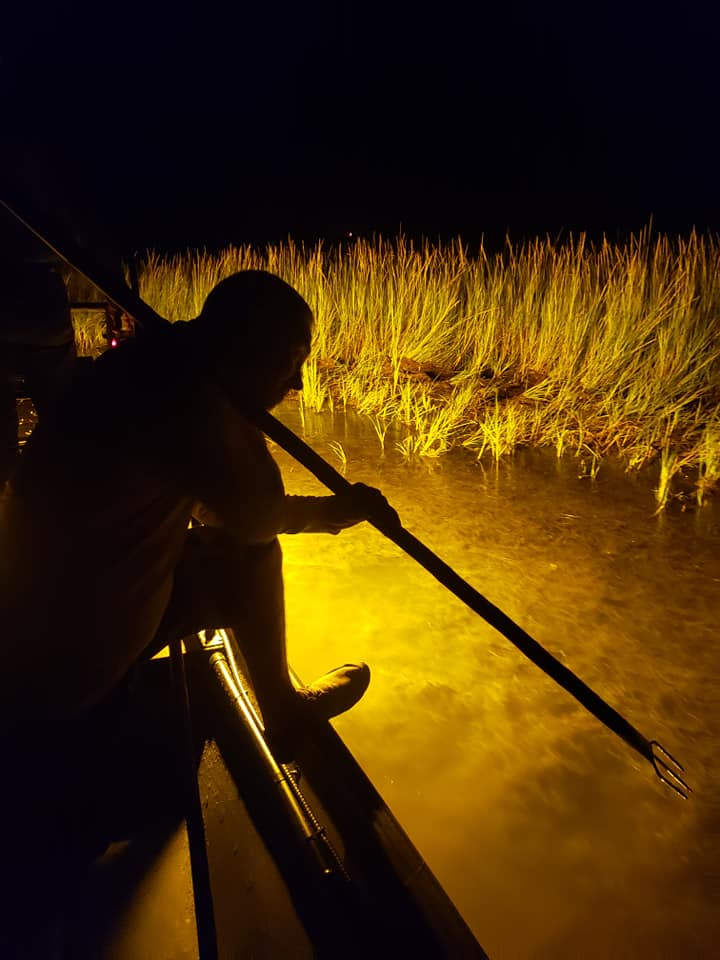 If your days in Galveston are too busy for fishing, then you may still be in luck. Flounder gigging is a nighttime activity in which you ride at the front of a flat bottom boat with special lights designed to shine into the water. This is a unique fishing adventure that most anglers never get the opportunity to enjoy.
Jetty Fishing in Galveston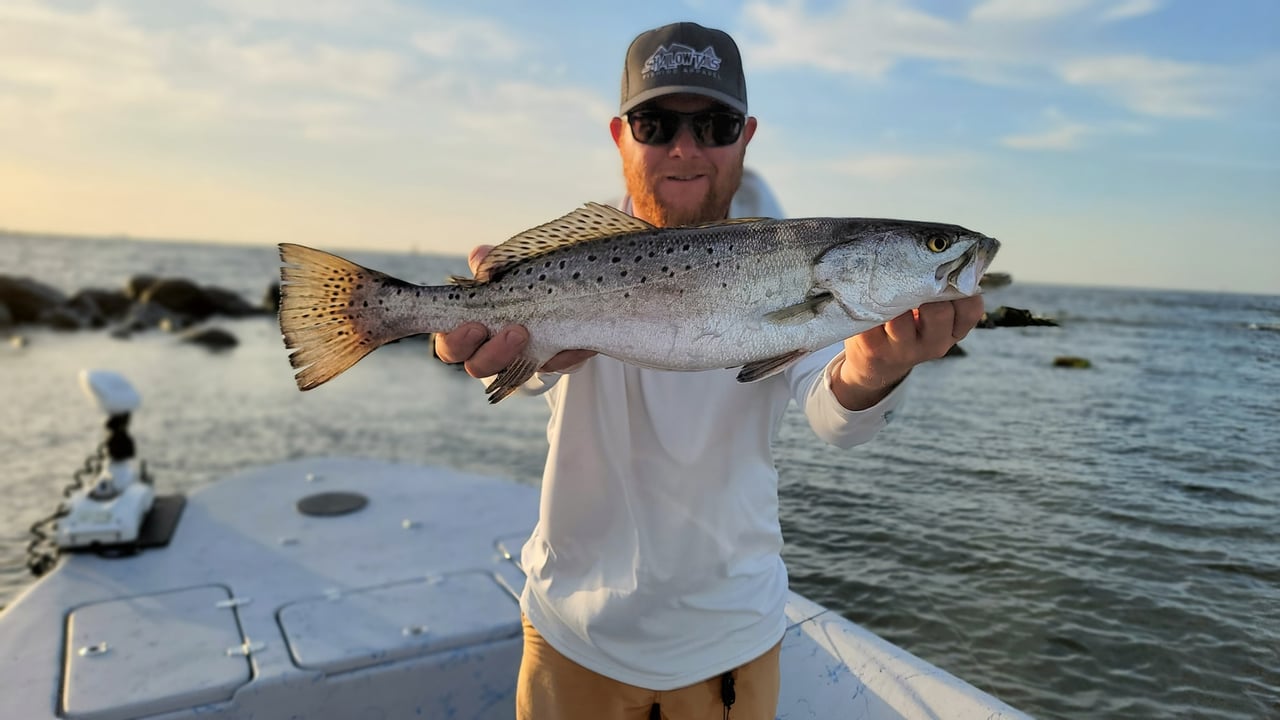 Galveston has two excellent jetties that offer excellent fishing opportunities. The jetties are the sets of rocks that extend from the tip of the island into the Gulf of Mexico. There is one jetty on Galveston Island and a second jetty across the channel on the Bolivar Peninsula. Fishing the jetties is popular at all times of the year, and many of the inshore bay fishing guides take their anglers out to the jetties.
Nearshore Fishing in Galveston
When you are researching fishing excursions for the Galveston area, you might come across the term nearshore fishing. Nearshore is basically the first few miles of water past the jetties and beaches. Species such as tarpon, sharks, bull reds, and sometimes kingfish could be the target saltwater fish species in Galveston's nearshore waters depending on the time of year. Be sure to check with your fishing guide to understand what is expected when booking a nearshore fishing trip.
Surf Fishing in Galveston
With miles and miles of beaches, Galveston offers anglers the opportunity to surf fish for redfish, speckled trout, whiting, sharks, jack crevalle, croaker, or any other species that might be swimming in the waves. When the summer seas are calm and water runs a clear blue-green color all the way to the beach, that is your best chance of catching speckled trout in the surf. Caution is needed when wade fishing the surf because of the potential for undertow and moving sandbars, so make sure to use a life jacket and obey any warnings.
Pier Fishing in Galveston
Galveston has a number of public fishing piers that attract anglers throughout the year. Some of the most popular fishing piers are large structures that extend right out from the beach into the Gulf of Mexico. When the bull reds are running in the surf, these piers can get exciting. The Galveston Fishing Pier and the 61st Street Fishing Pier are two large and popular surf fishing piers. Other piers offer access to different parts of the Galveston Bay complex including piers at Seawolf Park near Galveston and in the San Leon area if you are on the mainland near Clear Lake.
Best Lures and Best Baits for Fishing Galveston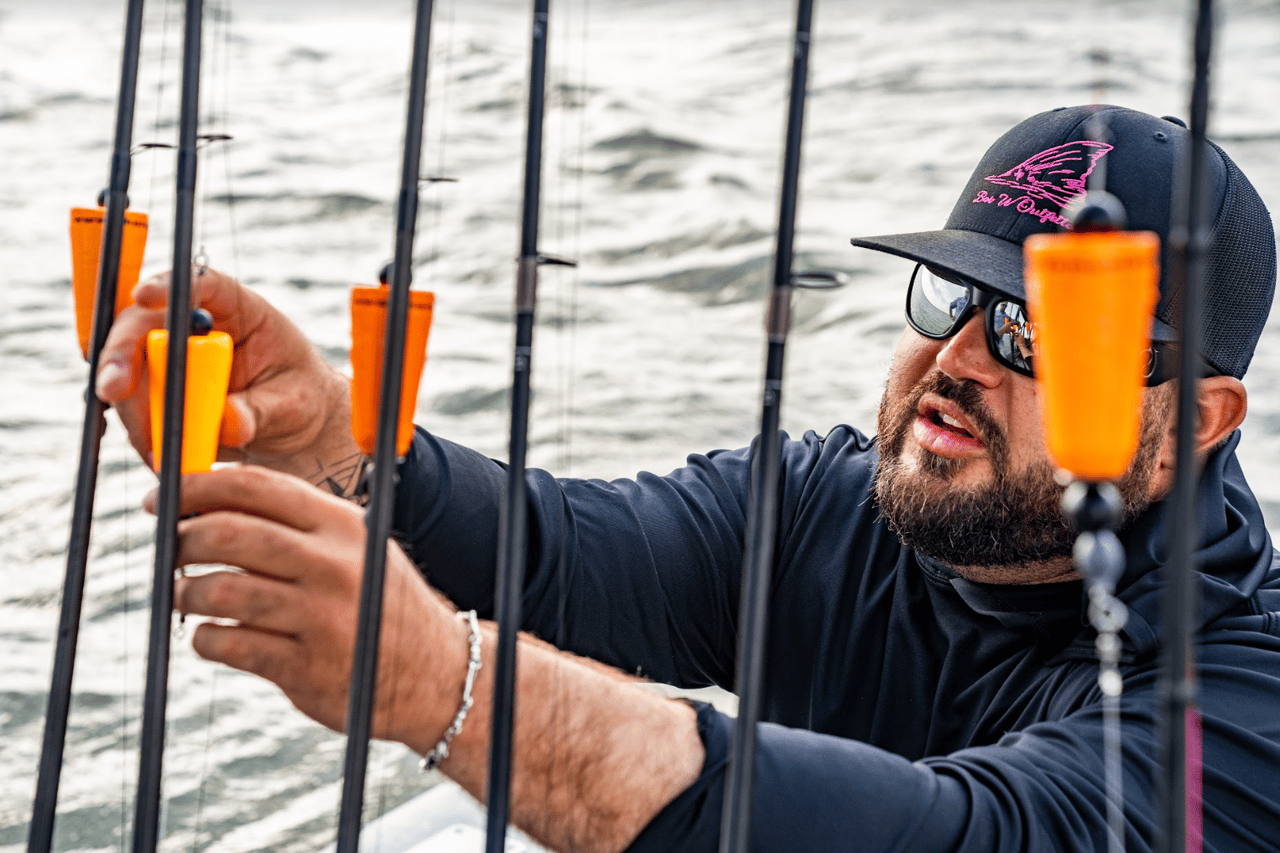 The best baits and lures to use in the Galveston area will depend on what type of fish you are trying to catch. As you would expect, the baits and lures for offshore fishing and inshore fishing are different. Here is a quick overview of some of the more popular lures and baits for fishing Galveston.
Live shrimp are one of the most effective baits for catching a variety of inshore species. Live shrimp are generally fished in three different ways: under a popping cork or similar float; with a weight to get the shrimp near the bottom; or free shrimped with just a hook and no weight or bobber. All the popular inshore species will eat live shrimp: redfish, speckled trout, black drum, sheepshead, flounder, and more are big fans of live shrimp.
You can purchase live shrimp from one of the many bait shops in the Galveston area, and you will need some type of bait bucket and possibly an aeriation device to keep the shrimp alive. Live croaker and mullet are also popular redfish and speckled trout baits, and live mud minnows are a great bait for flounder. If you book a private fishing charter, your professional fishing guide should provide all the bait and lures that you will need while fishing.
If you cannot get live bait, fresh dead shrimp or locally caught frozen shrimp is a good option. Frozen imported shrimp or farm-raised shrimp can carry diseases that threaten the local shrimp populations. Speckled trout typically prefer live bait, but redfish, black drum, and other common inshore species are happy to eat shrimp in any condition. Offshore baits for bottom fishing include squid and a variety of small bait fish. Offshore baits for trolling typically include ribbonfish, cigar minnows, and more. The bait for offshore fishing is usually sold frozen at the local bait shops.
One of the exciting aspects of using lures to catch reds and trout is that you never know what lures will be the best. Trout and redfish are like largemouth bass in that they will eat a wide variety of lures. Top waters, soft plastics, hard body lures, saltwater flies, spoons, and soft body lures can all entice a strike from a large speckled trout or an upper slot redfish. There are a few lures that might favor one species over the other, but those lures are the exception.
Species of Fish in Galveston
The main fish species targeted by Galveston anglers include speckled trout, redfish, flounder, black drum, sheepshead, gafftopsail catfish, jack crevalle, Spanish mackerel, sand trout, and more. The two prized game fish that stand out from the rest of Galveston species are redfish and speckled trout. Other fish such as flounder and black drum are regularly targeted in Galveston as well, but speckled trout and redfish are more the consistently sought after and caught by both fishing guides and recreational anglers.
The offshore fish in the Galveston area include the species that you would regularly find in the Gulf of Mexico. These fish include red snapper, kingfish, cobia, shark, tuna, mahi mahi, amberjack, wahoo, sailfish, marlin, and tarpon. Some of these fish such as tarpon and sharks can roam surprisingly close to Galveston Island. Kingfish and red snapper are further offshore. Cobia, tuna, mahi mahi, amberjack, wahoo, and billfish typically prefer deeper waters that many miles from the Galveston coastline.
Speckled Trout Fishing in Galveston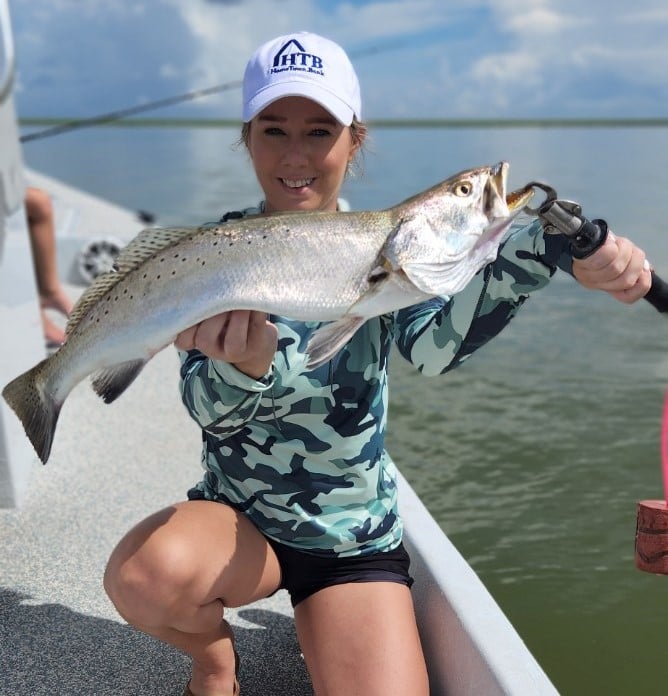 Speckled trout are the number one type of fish that inshore anglers pursue throughout the Galveston Bay system. Trout can be caught in many fishing environments: jetties, saltwater lakes, reefs, shorelines, flats, passes, surf, channels, and just about anywhere else you choose to fish in the inshore saltwater areas around Galveston can hold speckled trout in good numbers. Live shrimp are the number one bait, and soft plastic shrimp imitations attached to a jig head are the main lure of choice for anglers throwing artificial lures in Galveston. There are so many ways to catch speckled trout in Galveston, that we just can't list all the ways.
A big trout over 25 inches long is truly a trophy. Those who target large speckled trout know that these fish can be few and far between. However, Galveston is a great location to pursue large trout as well as the more common keeper sized fish.
The legal size limit and daily bag limit for keeping speckled trout to eat is set annually by the Texas Parks and Wildlife Department. The limit on all fish do change from time to time, so make sure you check for the latest information. The 2023 limit for speckled trout in Galveston is 5 fish per day between 15 and 25 inches. Anglers can retain one speckled trout over 25 inches per day, and this fish does count towards the daily bag limit. Anglers who follow good conservation practices help keep the fish populations healthy for their next fishing adventure.
Redfish Fishing in Galveston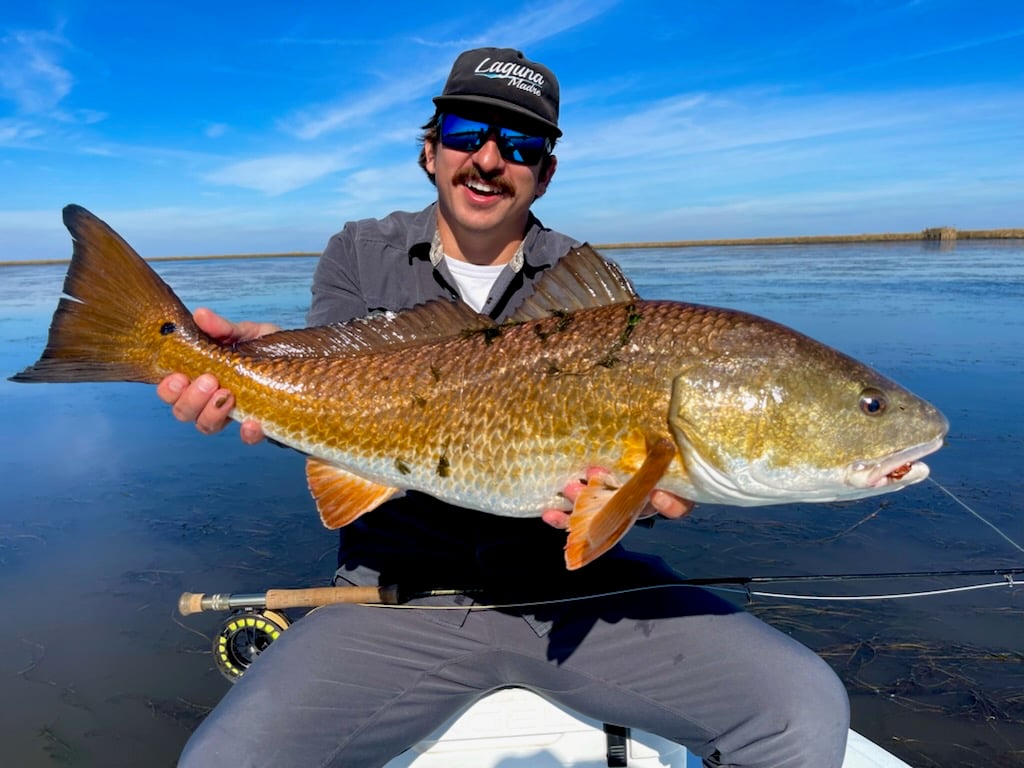 Redfish are one of the hardest fighting fish that you can catch while inshore fishing. Chances are that if you caught both redfish and trout during a day of fishing, your average redfish pulled a lot harder than your average speckled trout. This is no surprise as redfish tend to be a bit bigger. The 2023 slot size limit for redfish is 20 inches to 28 inches in Texas.
Redfish are often caught in the shallower, more marshy areas of the Galveston Bay complex. But redfish are equally at home along any Galveston shoreline, reef, or similar structure. Redfish can be caught in the same ways as speckled trout, but redfish generally prefer a bait closer to the bottom. If you are primarily targeting redfish using bait, then you will likely be better off using a weight than a cork when fishing the relatively deep waters of Galveston Bay.
Redfish will eat live bait, dead bait, and a variety of lures. With redfish, anglers often just cast out their bait to a promising looking and wait for the bite. Soft plastics and spoons are good lure choices when fishing for reds with artificial lures.
Flounder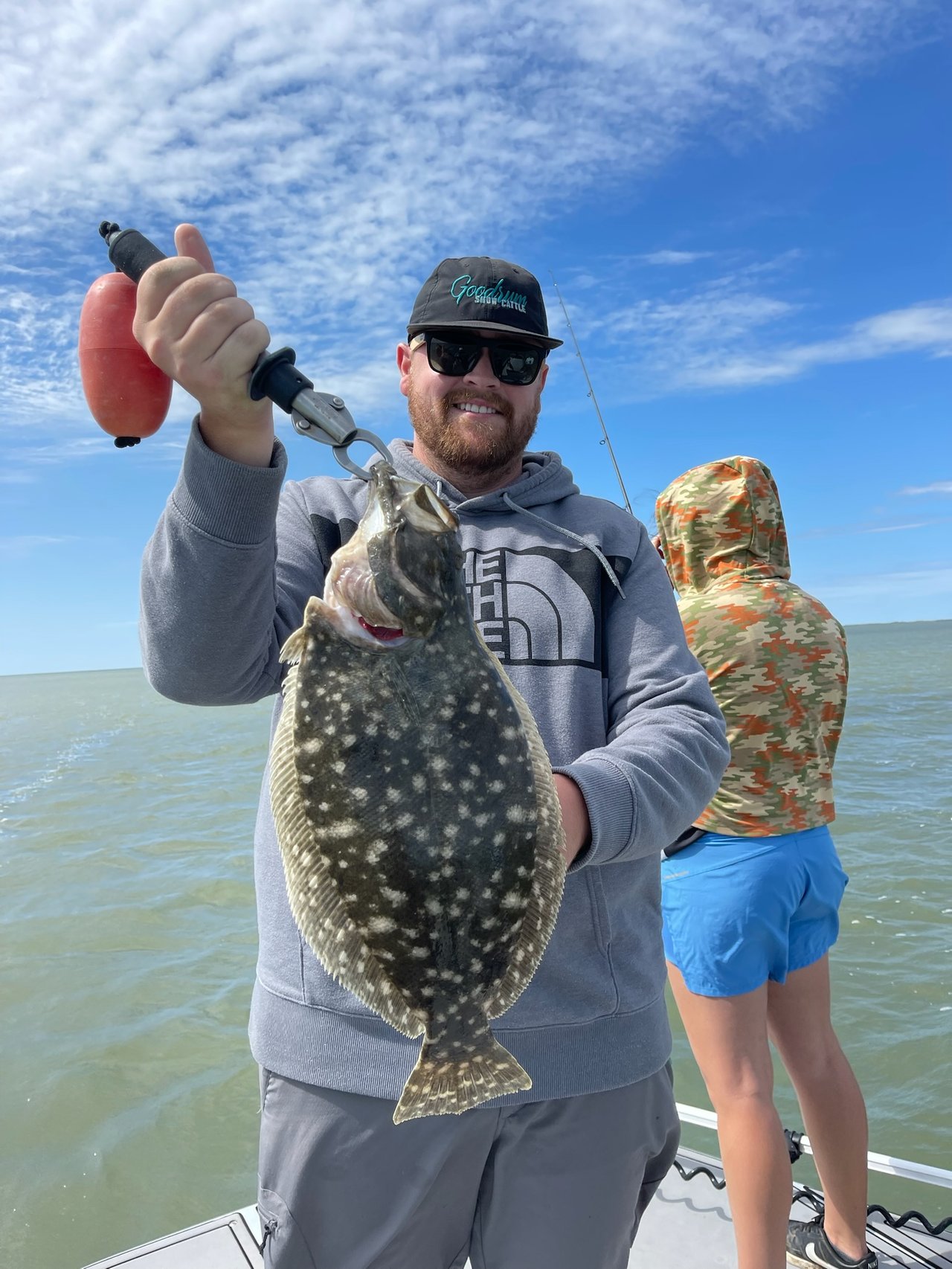 Flounder are a prized fish because many anglers consider these flat fish to be the tastiest table fare of the inshore species. Flounder live on the bottom of the bay floor and frequently bury themselves in the sand or mud to help camouflage their next attack on an unsuspecting bait fish. Flounder like to hang around drains, grass points, and channels where they can easily access their prey.
Galveston is a great place to fish for flounder. Flounder typically migrate from the marshes in the fall to the Gulf of Mexico. Flounder repeat this pattern in the spring. Texas has closed the flounder season during parts of the fall migration in recent years, so make sure you abide by the changing rules and regulations. Seawolf Park has historically been one of the best locations to target flounder moving between Galveston Bay and the Gulf of Mexico.
Black Drum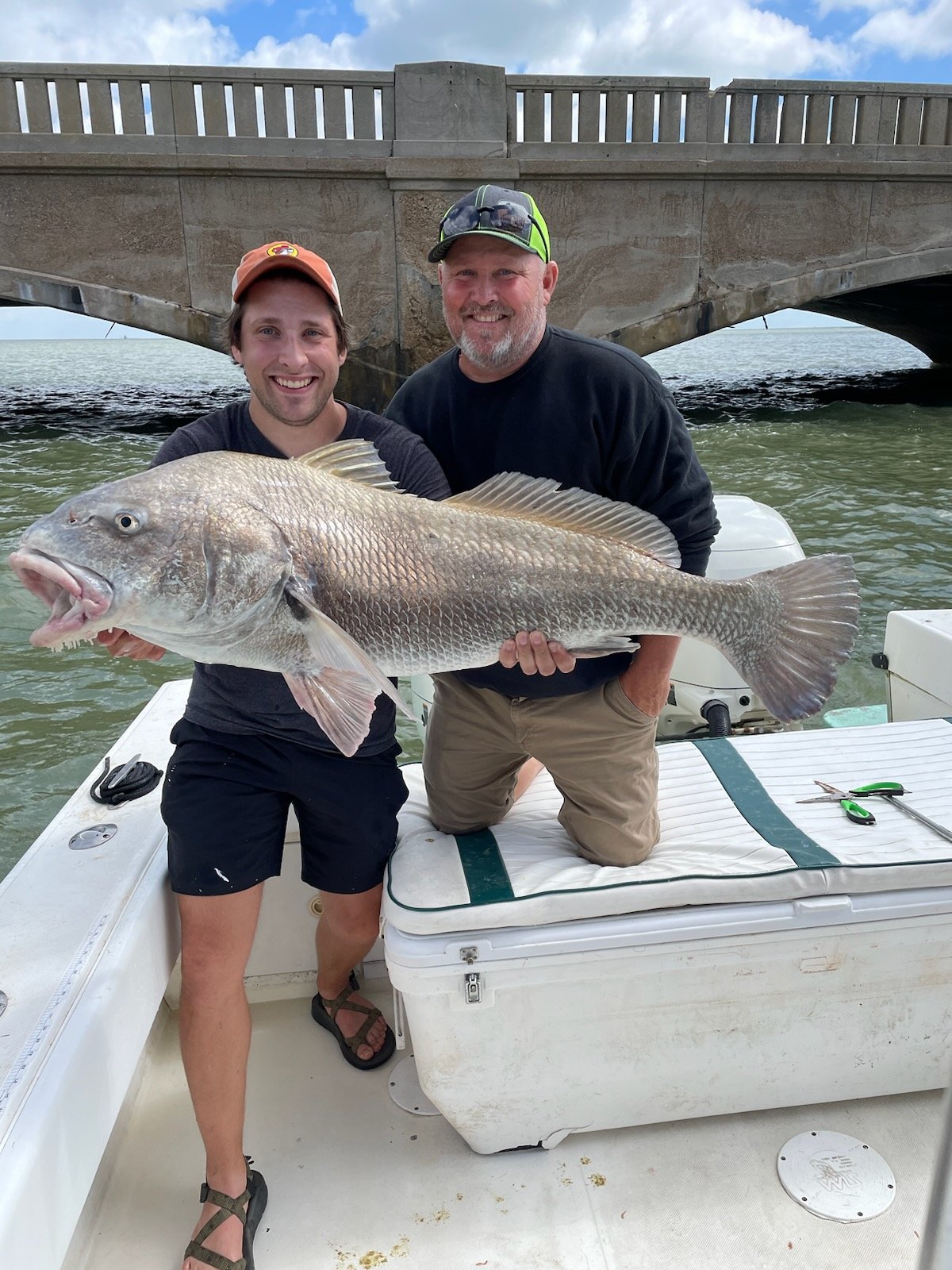 Black drum are related to red drum, which are better known as the popular redfish that we all love to catch. Black drum are hard fighting fish that primarily feeds along the bottom of the bay and along the Galveston jetties. Black drum, often referred to simply as drum, are a delicious fish to eat if you catch one that is not too big.
Sheepshead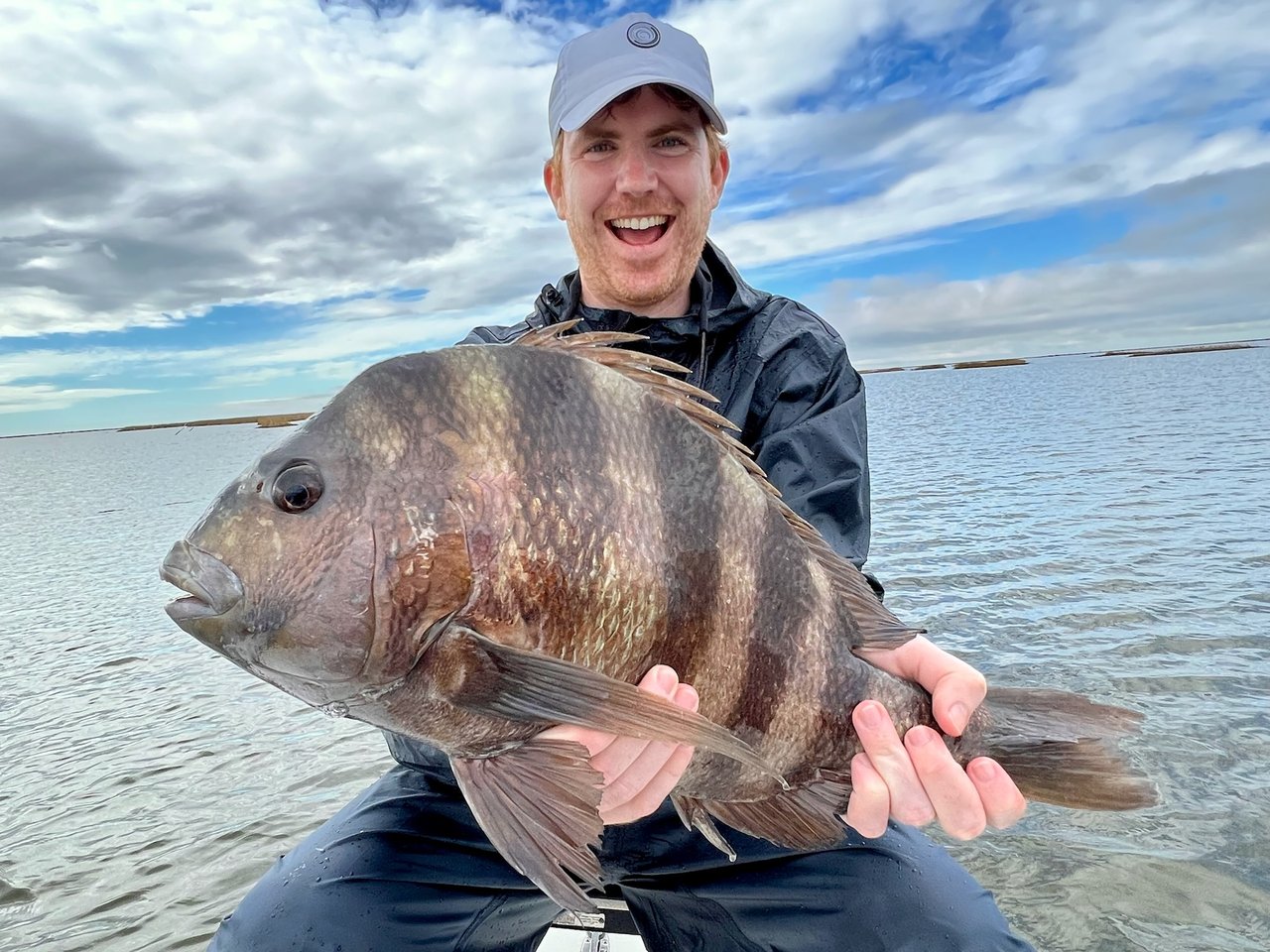 Sheepshead are a toothy fish that many anglers love to target along the Galveston jetties and other structures. Certain times of year tend to be better for catching large numbers of sheepshead as they congregate along the jetties and similar formations.
Red Snapper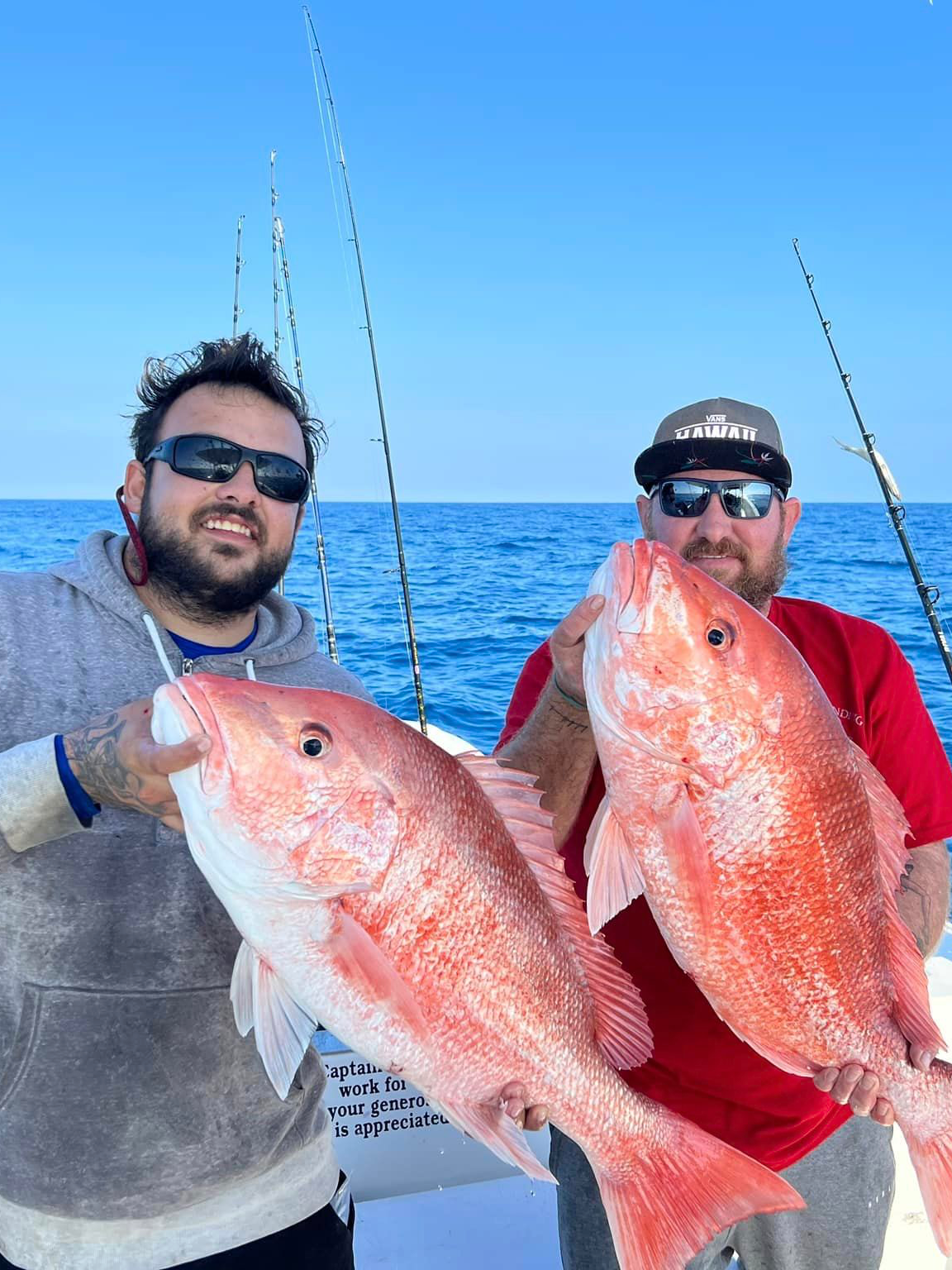 Red snapper are caught on deep water structures offshore from Galveston Island. There are different state and federal regulations related to keeping red snapper, so anglers will need to be apprised of all the rules before putting any red snapper in the cooler. Red snapper are classically caught by dropping a heavily weighted line down towards a reef, rig, or shipwreck. It is hard to go wrong with squid when fishing for snapper. Red snapper are strongly desired as one of the best tasting fish found anywhere.
Kingfish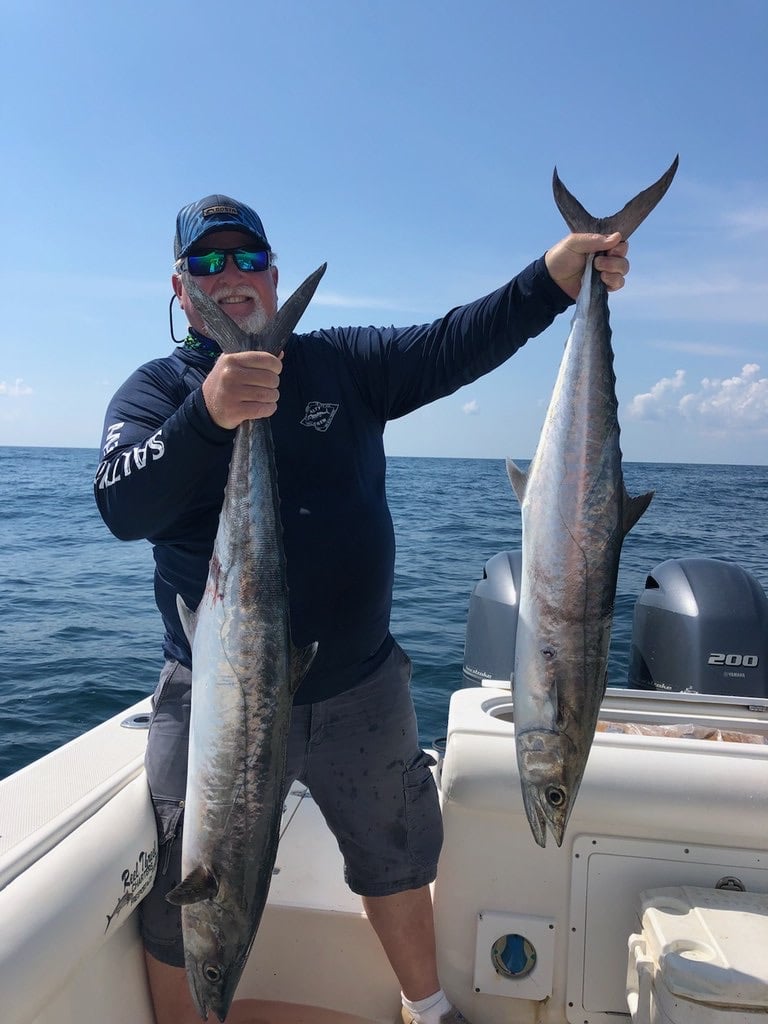 Kingfish are an excellent sport fish. Galveston kingfish can get large, and it is always exciting to see the line burning away from the reel when a kingfish starts to run. Use care when catching kingfish because these fish are mighty toothy.
Shark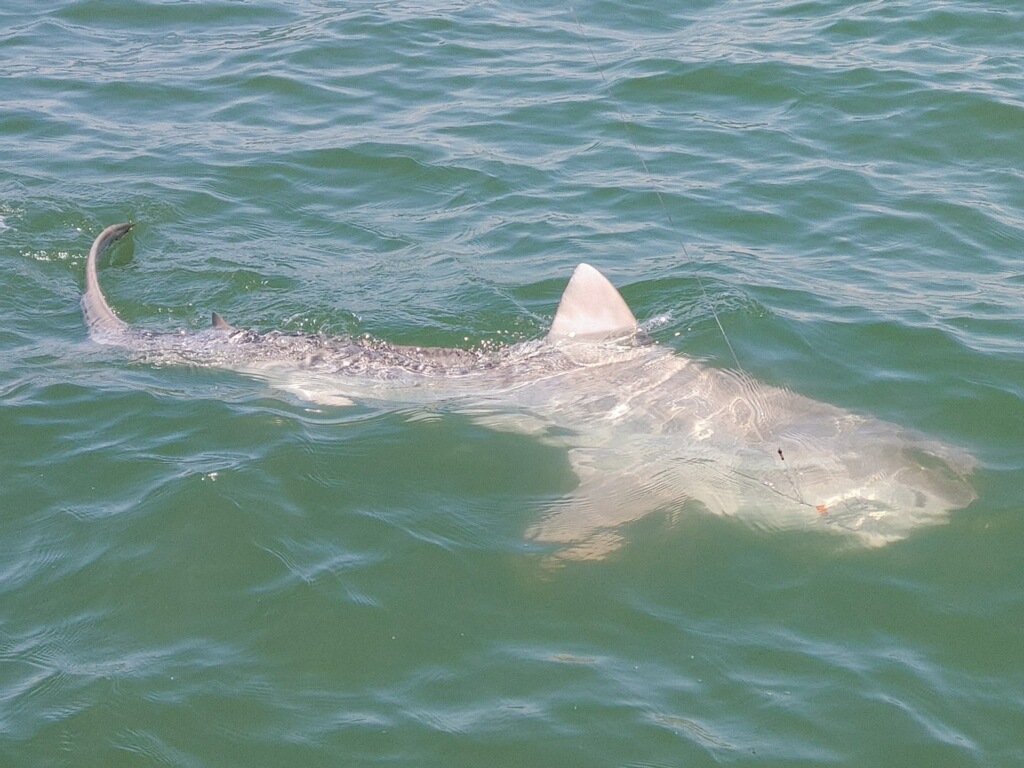 Shark can be caught both nearshore and offshore in the Galveston area. Shark are regularly caught by anglers while pursuing other species, so you can easily end up catching a shark when that fish is not your main target species. For those anglers who target large sharks, Galveston is a great place to try your luck at catching the next Jaws.
Tuna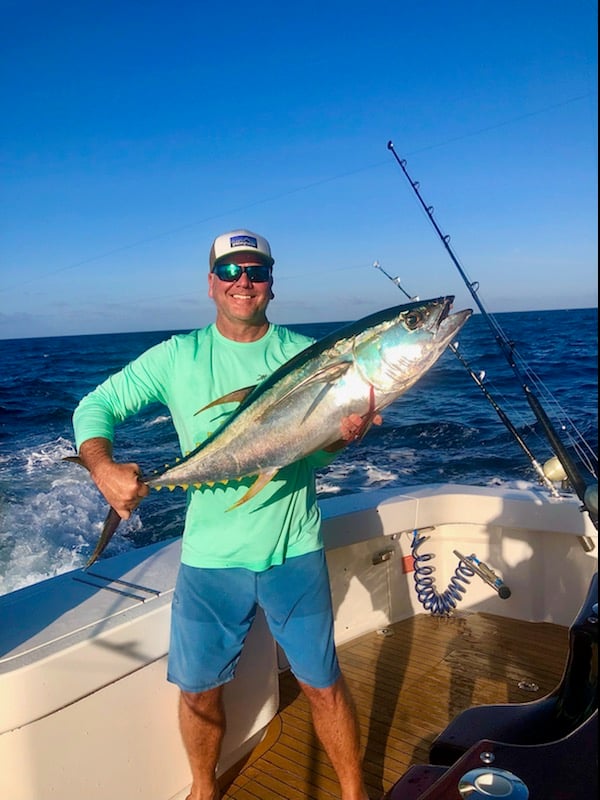 Blackfin tuna are the predominant species in the Galveston offshore water, but yellowfin tuna are also caught. Tuna put up a great fight, and it is truly a special treat to dine on fresh tuna.
Jack Crevalle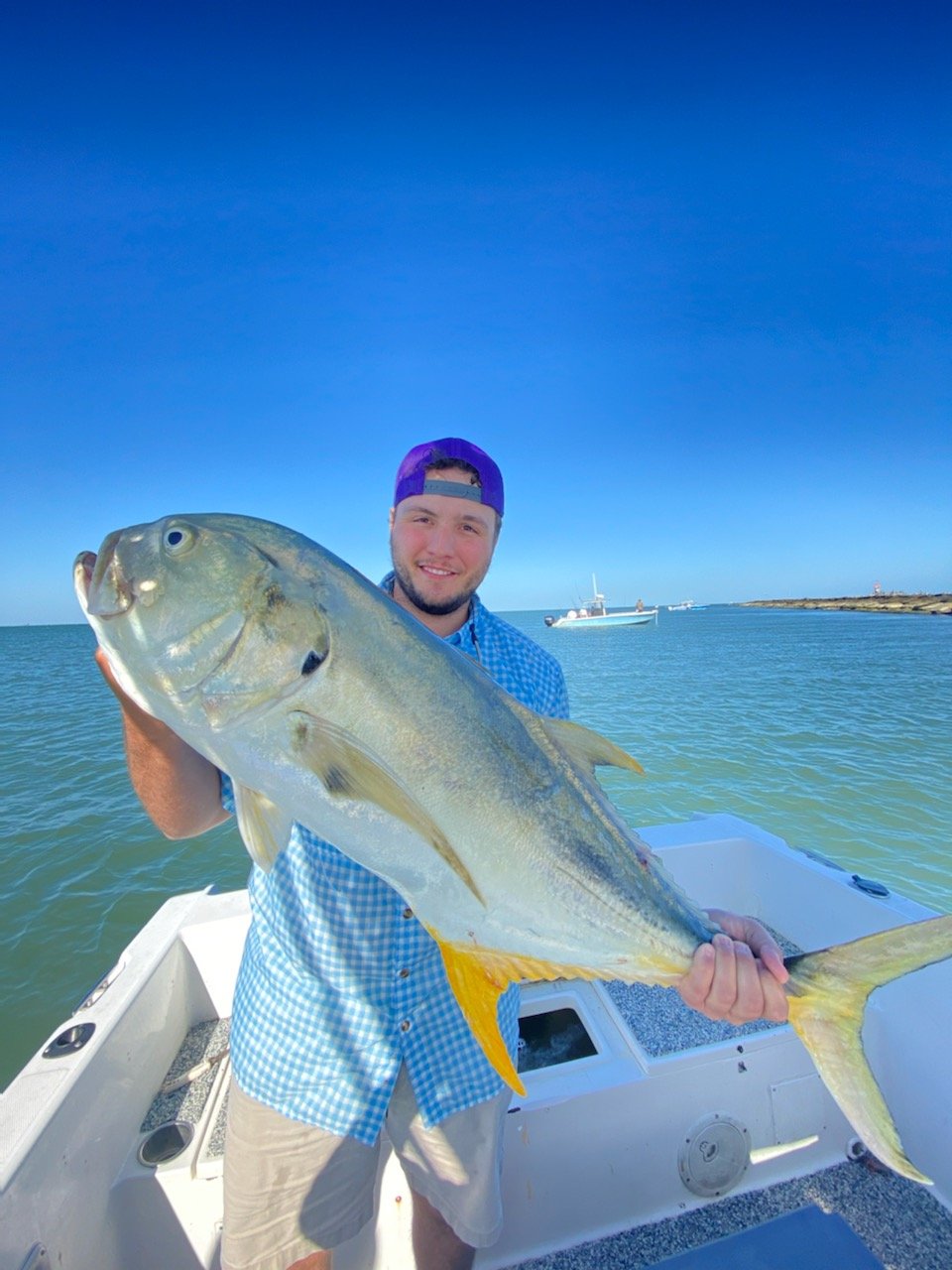 Jack crevalle, also known as jackfish, are one of the hardest fighting fish around. Jackfish are a wide-roaming species that can be caught inshore, nearshore, and offshore. If you are interested in catching big fish just for the sport of it, this is the fish for you.
Amberjack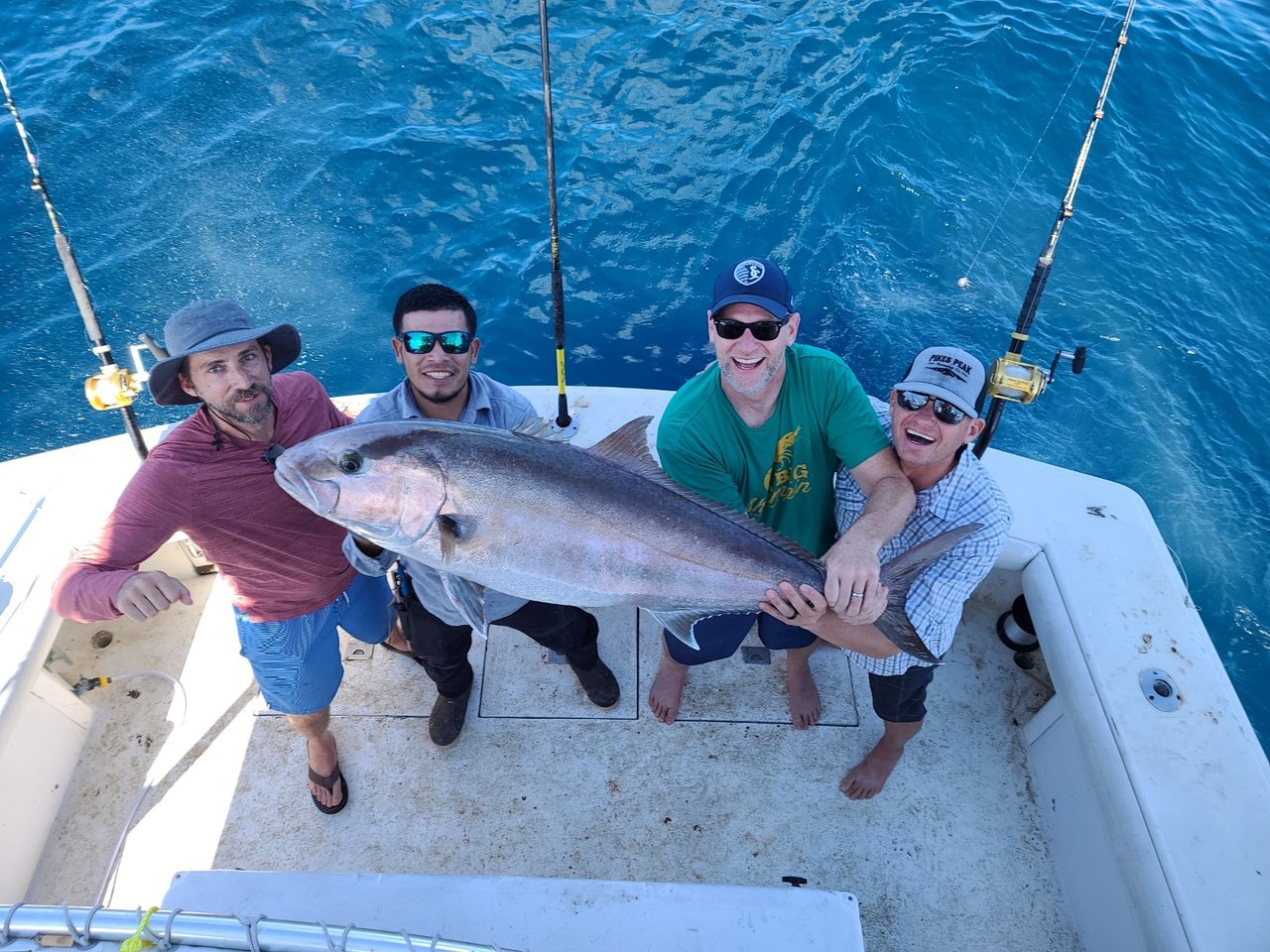 Amberjack are the tasty cousin of jack crevalle. Galveston's amberjacks are found many miles offshore, so these species are best targeted during a long offshore charter.
Mahi Mahi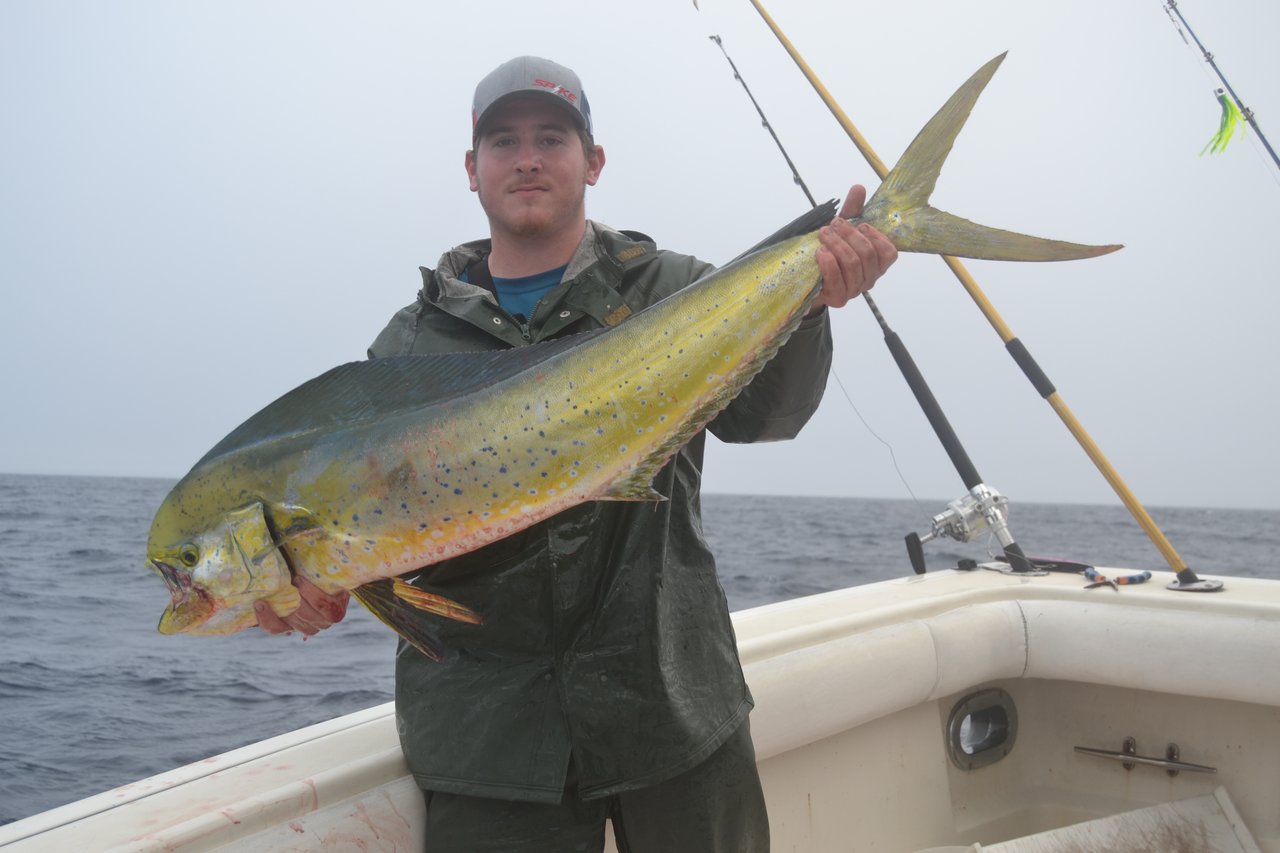 Mahi mahi or dolphin are exciting fighters and wonderful fish to eat. In addition, mahi mahi are one of the prettiest fish that you will ever see. The beautiful colors fade quickly, but the memories of catching mahi mahi can last a lifetime. One of the longer offshore charters is recommended to target mahi mahi in the Galveston area.
Tarpon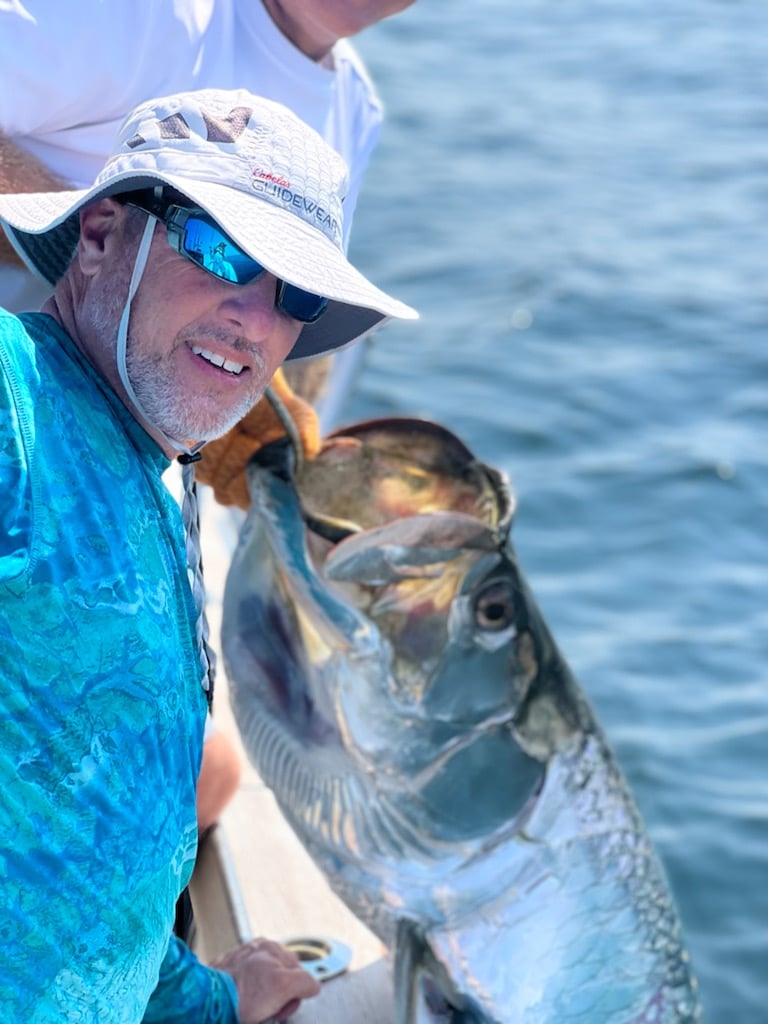 Known as the Silver King, tarpon are another unique species that many anglers put on their bucket list. Tarpon regularly weigh 70 pounds and more, and Galveston has some of the largest Tarpon on the Texas coast. Tarpon make spectacular leaps through the air in their all too often successful attempts to shake the hook out. Galveston is a legitimate destination for tarpon during the late summer and early fall months.
Wahoo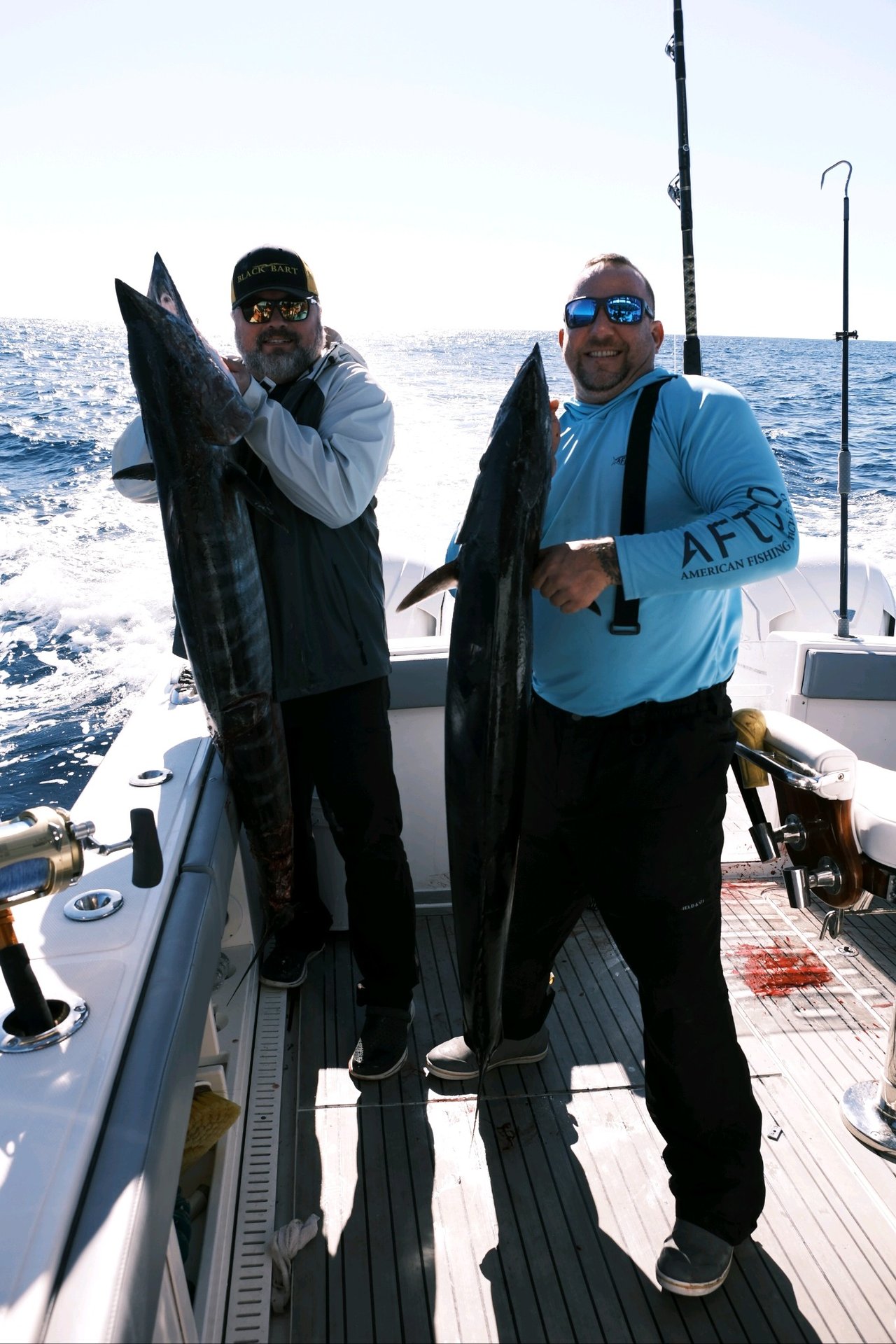 Some of the largest wahoo around have been caught far offshore from Galveston. Wahoo are known for being extremely fast, and these fish can get quite large as well. Wahoo live in deeper waters, so just getting out to the parts of the Gulf of Mexico that holds wahoo can be an adventure. Wahoo are also one of the best tasting offshore fish available.
Marlin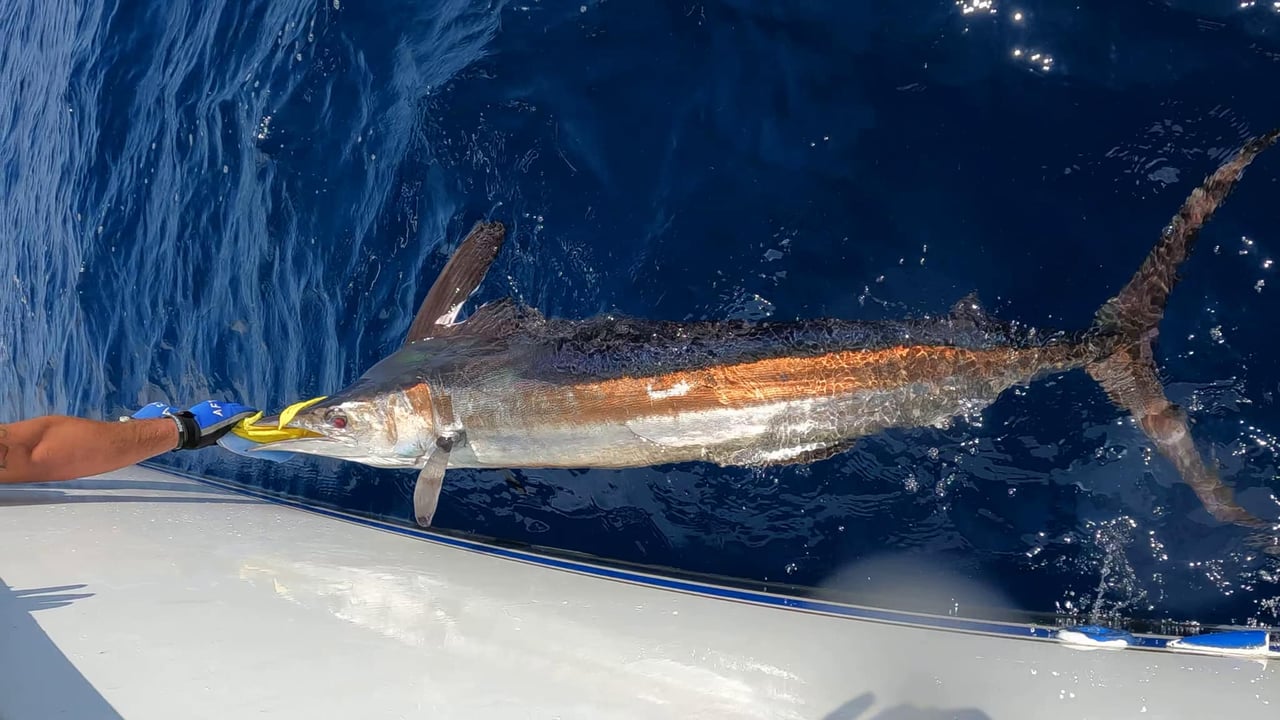 Marlin are a classic big game fish. Blue marlin are the largest billfish regularly caught in the Galveston area and throughout the Gulf of Mexico. Billfish of all species are found in deeper waters, and a longer offshore charter is recommended if you are seeking this type of fish from the Galveston area.
Sailfish

Another billfish, the sailfish are likely the most commonly caught billfish species in the Gulf of Mexico. Sailfish can make great jumps and put up a great fight for the anglers lucky enough to hook into one of these fish. Sailfish are also a longer offshore journey for anglers leaving from Galveston.
Popular Fishing Spots in Galveston
As the major fishing destination along the Upper Texas Coast, Galveston has many famous and popular fishing spots. Of course, your own secret fishing hole near Galveston is probably the best one.
List of Fishing Spots Near Galveston
Some of the main areas that you may be fishing when visiting Galveston include:
Bolivar Peninsula
Anahuac Wildlife Refuge
East Bay Shorelines
Hannah's Reef
Anahuac Pocket
Smith Point
Old HL&P Spillway
North Jetties
South Jetties
Texas City Dike
Pelican Island / Seawolf Park
Ship Channel Spoils, Reefs, and Wells
Galveston Surf
West Bay Shorelines
Chocolate Bayou
Greens Cut and Greens Lake
Confederate Reef and Carancahua Reef
San Luis Pass
Christmas Bay
Galveston Offshore Rig Fishing
Galveston Offshore Shrimp Boat Fishing
Galveston Flower Garden Banks and Far Offshore Water