Panama City Beach Fishing Charters
Panama City Beach is one of the most popular vacation spots on the Florida panhandle. It also happens to be located on the shores of world class inshore, nearshore, and offshore fisheries. Whether you're on vacation with the family looking to spend a day on the water making memories, or an experienced angler looking to cross a fish off the bucket list, our fishing charters in Panama City Beach have you covered. Contact us today to book the fishing trip of a lifetime and cross off bucket list species in Panama City Beach!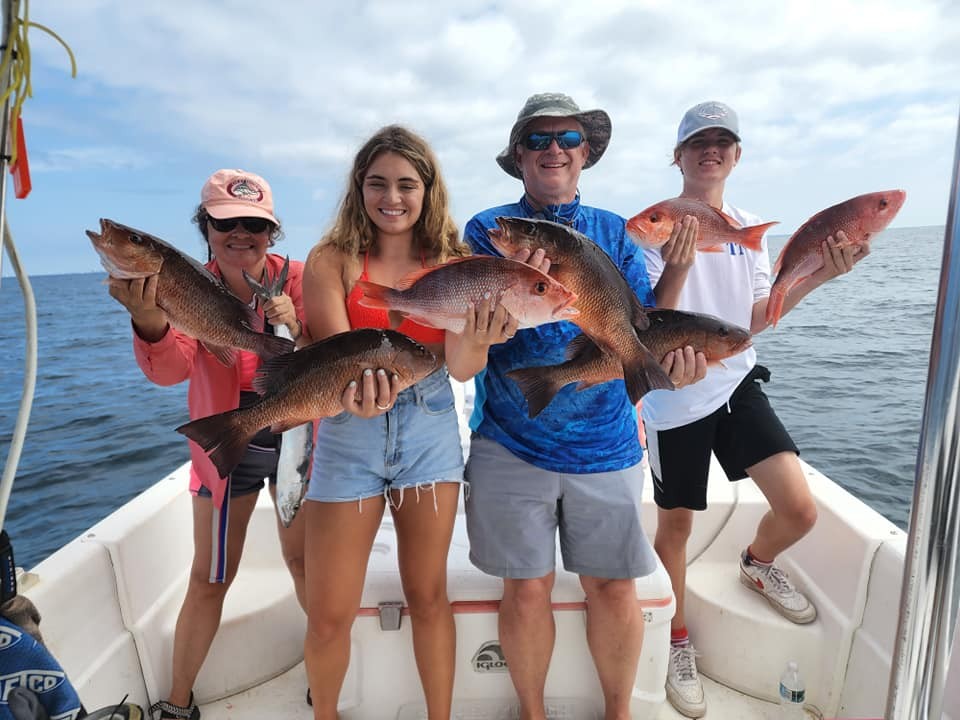 Panama City Beach: The Emerald Coast
The Emerald Coast has beautiful shorelines and the best sport fishing in the Gulf of Mexico thanks to its proximity to the continental shelf. Giant pelagic species lurk in the deep bluewater offshore from Panama City Beach along with many other popular fish that attract anglers from around the world. Panama City Beach has been a prime fishing destination from the start and has only grown since.
When Panama City Beach was first established, it was a fishing village called St. Andrews. Over time the industries changed in St. Andrews from fishing to shipbuilding but in 1909 a developer changed the name and merged several small towns together to create Panama City Beach. Although Panama City was a shipbuilding site again during the second world war, fishing has been a constant in these waters throughout the centuries.
Panama City Beach Landscape
The land geography is very mild which continues into the water until you get to the offshore fishing grounds. There are reefs, wrecks, and ledges harboring fish once you get far enough from shore. The ledges hold the biggest fish in the gulf because of the deep water and baitfish. The shipwrecks turn into artificial reefs after a while and bring in reef fish that hang out near the bottom. The abundance and variety of ocean geography mean that Panama City Beach has top-notch deep sea fishing opportunities.
When to Go Fishing in Panama City Beach
Seasons almost don't exist in Panama City Beach because the fishing is great year-round. The ideal season to take a trip is May to November. The warm weather and varying fish migrations make it a safe bet. The peak of red snapper season is mid-summer but with tuna and billfish biting from summer into winter it's hard to go at the wrong time.
Winter fishing Panama City Beach is also great because that is when the biggest fish are migrating through the area to spawn. With the weather only getting in the 50s or 60s, it's a great escape from the colder part of the U.S.
What Fish Can I Catch In Panama City Beach
With the exceptional amount of fish habitat that exists here, the diversity of fish that live here is hard to beat. The species that are commonly caught offshore from Panama City Beach can be found around reefs or patrolling open water and the edge of structure.
Reef Fish
Deep sea reef fishing trips are more approachable for families and mixed groups. Generally a reef trip will not travel as far to get to the fishing grounds which means calmer waters, and more time fishing with less time traveling.
Red Snapper
Panama City Beach is one of the Gulf's most productive honey holes during the short lived season. With easy access to deep Gulf waters and plenty of nearby structure, PCB is a sure bet for both state and federal red snapper fishing. There are reefs, rigs, and wrecks sitting in deep water just off the coast. This environment is the perfect place to find huge snapper and other reef fish.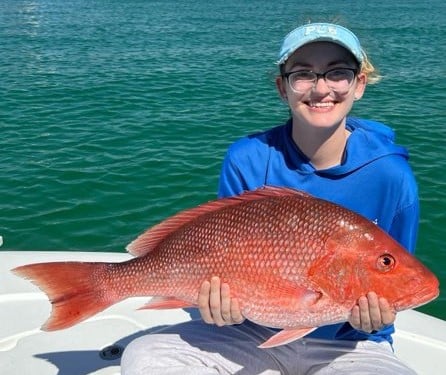 The red snapper is one of, if not the most, highly sought-after game fish in the Gulf of Mexico. These fish can grow into giants reaching 40 inches long and weighing as much as 50 pounds. Pull one of these hefty fish away from a reef or off the bottom and you'll know why people love red snapper fishing. This fish grows big, puts up a fight, and tastes delightful, what's not to love?
Amberjack
The greater amberjack got the nickname "reef donkey" because of the tenacious fight they put up. No other reef fish hits as hard, runs as fast, or otherwise tests an angler quite like the amberjack does. These powerful brutes live amongst many of the same reefs and other offshore structures that are commonly inhabited by snapper and grouper species.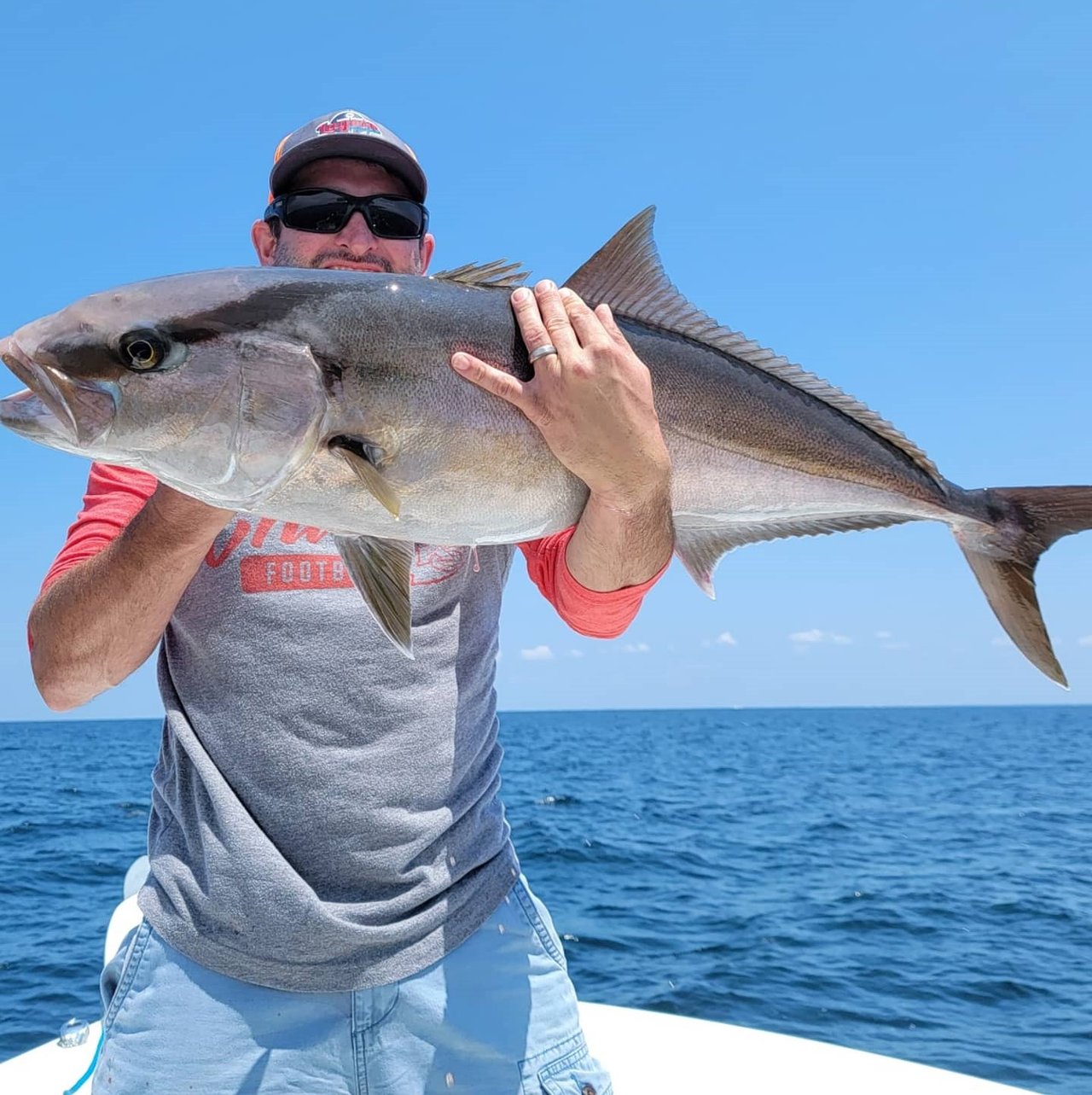 While amberjack are tough, they're also huge and fairly handsome fish. Generally, amberjack are olive colored with a large head and a distinct dark stripe that runs from their snout to their tail. These fish commonly reach 40 pounds but in areas like Panama City Beach which have plenty of bait year-round, amberjack are capable of growing up to six feet long and 200 pounds. Just like snapper and grouper fishing, amberjacks can be targeted by bottom fishing near offshore structures with live or cut bait.
Grouper
The rich Gulf waters that feed Panama City Beach and the Emerald Coast create the perfect home for a variety of grouper species. Some species of grouper like gag grouper will inhabit shallow waters not far from shore. Key areas are grass beds, holes, and ledges which provide these fish with shelter or a place to ambush prey. Reefs in 50 to 300 feet of water hold the most popular grouper species including red, black, and gag.
Similar to red snapper, grouper are stout predators that ambush prey and scavenge for easy meals. The large mouth and powerful gills of a grouper create a vacuum that sucks prey into their mouth in the blink of an eye. When a grouper crushes your bait it's an unmistakable feeling thats sure to give you a rush.
Bottom fishing and in some cases deep dropping are the most effective methods to catch grouper. While artificial lures and baits can work, natural baits are particularly more effective for these fish. With most grouper inhabiting various structures, their most common food sources are crustaceans, fish, and occasionally squid.
Pelagic species
The offshore species you can target on a deep sea fishing trip in Panama City Beach are some of the biggest and most sought-after sportfish in the world. These fish grow exceptionally large reaching hundreds and sometimes thousands of pounds. If you head offshore and hook into any of these fish you are in for the fight of your life.
Marlin
Blue marlin are one of the true treats when going past the shelf for pelagics. Panama City's offshore waters are known as a haven for giant marlin and other sportfish which draw in anglers from June to October for a chance at the fish of a lifetime. The Continental shelf is famous for holding baitfish and massive pelagic species.
The size, strength, and elusive behavior of a blue marlin will test the skills, endurance, and mind of any angler. These fish weigh hundreds and sometimes thousands of pounds and are better measured in feet than inches. These behemoth predators are often considered the ultimate sportfish and require the heaviest of tackle to subdue. All of these traits and the challenge of landing a fish of this caliber is what make the marlin so popular. Panama City Beach has both white and blue marlin and the peak bite for these bluewater giants is in July when water temperatures are high.
Mahi Mahi (dolphinfish)
The mahi mahi, also commonly called dorado or dolphin, is a fish with a unique appearance that can be found in large numbers just off the Florida Coast. They are brightly colored blue, yellow, green and often have spots or other patterns found on their body. Mahi mahi typically weigh 15 pounds but the largest fish can be nearly seven feet long and well over 80 pounds.
The best mahi mahi fishing on the Gulf Coast of Florida is concentrated near the panhandle because it's closest to the continental shelf where pelagic species come to feed on balls of baitfish. Mahi form big schools and use their speed and numbers to chase down prey. When one of these fish crush a plug behind the boat, it's explosive. Mahi mahi move into Panama City waters in the spring when water temperatures begin to rise. Trolling for mahi in the Florida gulf is one of the most action-packed trips money can buy.
Tuna
Yellowfin tuna are huge torpedo-shaped fish that get their name from the vibrant yellow color of their second dorsal fin and finlets. These unbelievably powerful fish inhabit warm waters around the world. Yellowfin can grow up to six feet long and weigh as much as 400 pounds. Tuna are made of pure muscle which means the fight is sure to test even the most seasoned anglers. Panama City Beach happens to be a great jumping off point to reach offshore ledges and other bait-holding structures.
Yellowfin tuna are one of the most sought-after fish in the Gulf of Mexico due to their qualities as both a sportfish and an absolutely delicious food source. The Gulf population of yellowfin tuna has been stable over the last several years which has resulted in there being no closed season. These tuna can be caught year-round thanks to the warm Gulf waters.
Kingfish
The king mackerel or kingfish for short, are one of the largest members of the mackerel family. They are the big brother to the Spanish mackerel but smaller than wahoo. These fish are migratory and can be found along the Atlantic Coast and throughout the Gulf of Mexico. Kingfish follow warm waters and baitfish during their annual migration. These giant kingfish have earned the nickname "smokers" because of their ability to peel line off so fast that the reel starts to smoke.
Kingfish are known to grow huge, reaching 100 pounds and more than 70 inches long. However, kingfish are more commonly caught at weights between 10 and 30 pounds. Kingsfish are powerful schooling fish that are often caught while trolling. While kingfish are always around, the most popular time to target them is in the summer and fall months. During these warmer seasons, schools of kingfish can be found in nearshore waters only a few miles out.
Panama City Spotted Sea Trout and Red Drum
If you love catching speckled trout then Panama City in May and June is your opportunity to catch a trophy. To target big bull redfish head out in late summer to early fall during their annual migration. Fishing for specks and reds is productive outside of these seasonal windows as well. If you want to mix it up a bit then book a fly fishing guide and see if you can fool these inshore icons.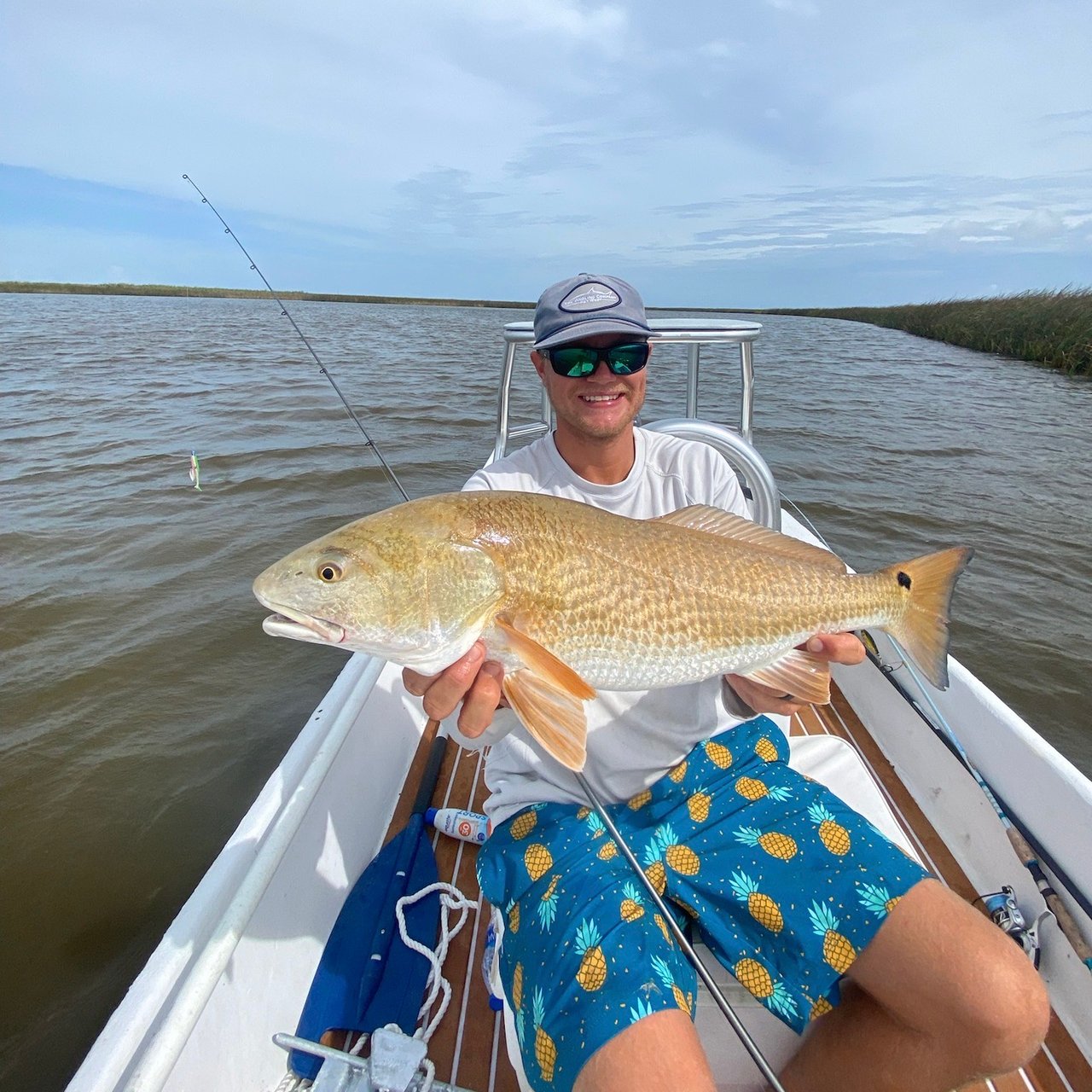 Tarpon Fishing in Panama City
The tarpon, also sometimes called "the silver king" is a large ferocious fish that is also very picky. You can target them on fly fishing gear or traditional tackle but either way, if you get one to bite hold on tight.
In the heat of summer, the Silver King, or Tarpon invade the bays in search of their favorite baitfish. These fickle eaters can be difficult to fool at times, but all you need is one bite and they will go on a leaping run. Fishing for tarpon in Panama City Beach is incredible. Even more incredible is the opportunity to catch a tarpon on a fly and if you like a challenge this is the trip for you!
Popular Panama City Beach Fishing Spots
Offshore Fishing Spots Panama City Beach
Reefs
The large number of reefs located near Panama City Beach have helped make it the second most visited place to dive in Florida. Many of these reefs are artificial and began from either a shipwreck or were placed there intentionally. Regardless of where these reefs came from, they attract tons of baitfish that are hunted by grouper, snapper, amberjack, and mackerel. Bottom fishing the reefs is a great way to catch a mixed bag of fish which is easy to do off the coast from Panama City Beach.
The Continental Shelf
The Continental Shelf runs along the coast around the Gulf of Mexico but is closest to shore near Panama City Beach. The shelf is where the seafloor drops significantly away from land and creates the perfect hunting grounds for pelagic species like marlin, tuna, kingfish, mahi mahi, and wahoo. This area regularly produces huge fish and attracts anglers from all over the world. The short distance to the shelf means less time traveling and more time fishing which is one of the biggest reasons the deep sea fishing in Panama City Beach is so famous.
Panama City Beach Inshore Fishing Spots
Looking at a map of Panama City and the surrounding bays, channels, and backwaters will give you a sense of how exceptional the inshore waters are. Perfectly sandwiched between North Bay, St. Andrew Bay, Grand Lagoon, and the Gulf of Mexico, there're plenty of places to find inshore species. The shallow water around Panama City also provides anglers with the unique opportunity to fish pristine, untouched mangrove shorelines just minutes away from a big city.
The shallow backwaters have great fishing for redfish and spotted sea trout while the bays are perfect for catching flounder. There are several other inshore species including black drum, sheepshead, and the most famous of all, tarpon.
Pier Fishing in Panama City Beach
Piers are great for enjoying views, leisurely strolls, and of course fishing. From these piers you can catch cobia, mackerel, redfish, pompano, and flounder. Licenses can be purchased at the entrance and all other bait and tackle can be purchased or rented. If you're looking for an easy way to go fishing, here are three of the best spots we recommend.
Pier - 53
Russell-Fields Pier
M.B. Miller County Pier
Panama City Beach Nearshore Fishing
Much like the inshore waters, the nearshore fishing grounds off of PCB are full of a variety of fish that can be caught year-round. The warm weather and location on the Northern Gulf Coast mean something is always biting.
Panama City Beach has a world-class cobia fishery in its backyard. Cobia has two distinct seasons with the first in the spring and the second in the fall. Nearshore trips can also catch solid kingfish, Spanish mackerel, and a number of shark species. With plenty of manmade and natural reefs, wrecks, and other bottom structures, you'll be hard pressed to find better fishing for snapper, groupers, cobia, and amberjack.
Panama City Beach Fishing Licenses & regulations
Fishing trips in Panama City Beach don't require you to purchase a fishing license, your group is covered by your captain when saltwater fishing. However, when freshwater fishing you will need to purchase a Florida fishing license. You can find more information about fishing licenses here.
Things to Do in Panama City Beach
Because Panama City Beach is such a popular tourist destination there are plenty of things to keep you entertained on and off the water. Probably the most stand-out feature of the area is the white sand beaches and gorgeous blue water. The views are amazing and is the perfect place to spend a day relaxing. For those that want to have a night out, you will find there are tons of bars and restaurants that have all the beachy cocktails and seafood you want.
Panama City Beach is a genuine Florida Panhandle fishing experience with endless backwaters, bays, inlets, and lively nearshore and deep sea fishing grounds. Panama City Beach is the ultimate vacation destination with prime fishing opportunities and gorgeous beaches. It's easy to see why people travel from far and wide to Panama City Beach.
Book a Panama City Beach Fishing Charter Today
No matter if you're an experienced angler, or just taking the family out for a fun fishing trip, our selection of top Panama City Beach fishing charters has you covered. Book your next fishing trip in Panama City Beach today for unbeatable fishing memories that will last a lifetime!