As you travel south along the Texas Coast the water turns clear and the fishing goes from good to exceptional. South Padre Island is positioned on the edge of the lower Laguna Madre and the continental shelf. This opens up endless fishing opportunities for some of the most popular species in the US.
The Texas Coast is a top notch fishing destination with an abundance of fish habitat from backwater grass beds to offshore reefs. This combined with mild temperatures means the bite rarely dies down. If you're planning a trip to South Padre Island, here are the seven most popular fish to target while you're there.
(1. Redfish
Redfish are year round residents in the waters surrounding South Padre Island and they need to eat. These handsome fish get their name from their bronze to copper color that dominates their body. Redfish are remarkably strong and have the ability to crush your bait and peel off line even with considerable drag. The reputation and appeal of redfish on the Texas Coast is second to none with bigger fish and stronger populations than other famous destinations.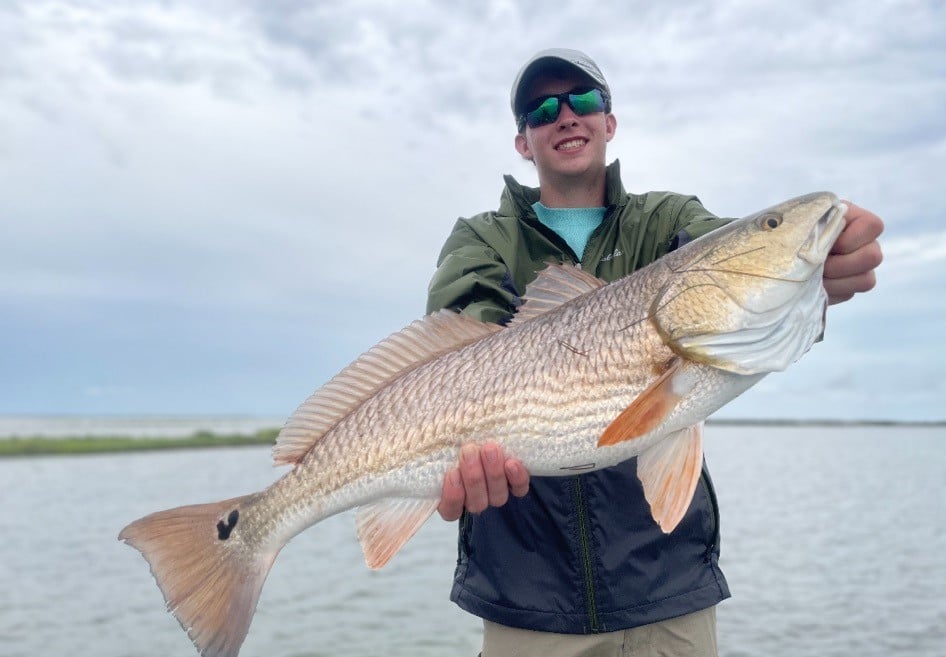 A large redfish is considered to be anything over 30 inches. Redfish over 30 inches, commonly called bull reds, often leave inshore waters and head to deeper nearshore areas for most of the year. When fall hits, bull redfish flood into inshore waters to spawn, which anglers refer to as "the running of the bulls." Bull redfish measuring over 30 and sometimes 40 inches are not uncommon during the fall run, making it the best time to catch a trophy-sized fish.
While a redfish may not jump like a marlin or battle like a bluefin, for their size, they put up a bullish fight that is every bit as stout. Redfish can be targeted a variety of different ways from backwater sight casting on the fly or inshore topwater action to bottom fishing in channels or nearshore structure.
(2. Flounder
Flounder can be found from the Gulf of Mexico to the Gulf of ​​Maine. The warm sheltered waters of the lower Laguna Madre are the perfect spot for these fish to hunt for food before heading to deeper waters to spawn. Flounder have a round body with round fins and both eyes usually on the left side of its body. Left-eyed flatfish can change colors to help them blend in with the bottom and ambush their prey.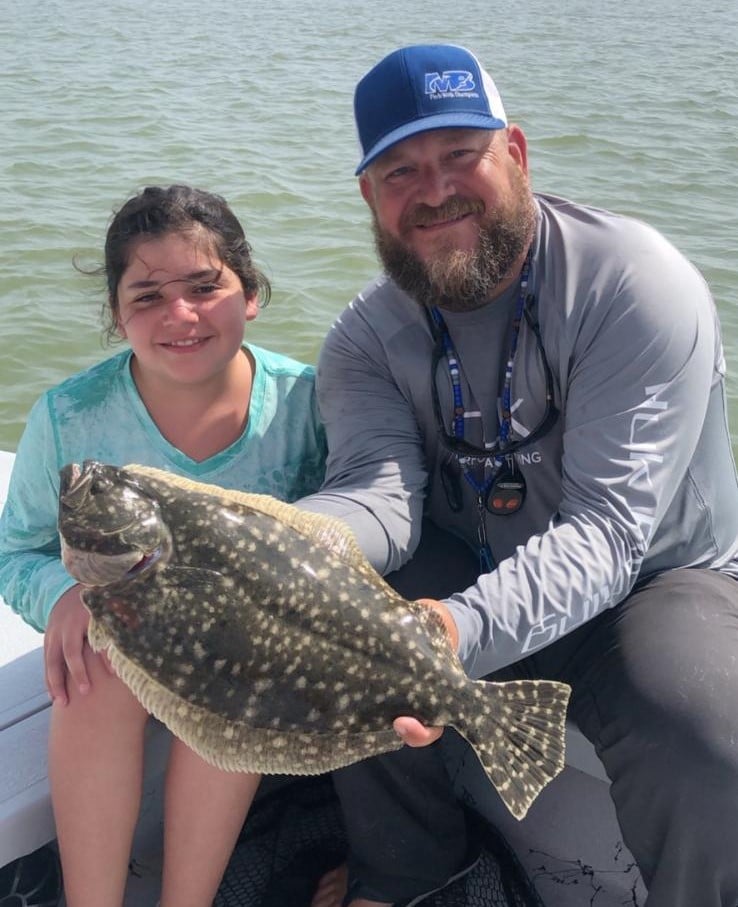 Gigging is one of the original forms of night fishing. Originally gigging was done with long sharp sticks up to 7 feet long to spearfish in shallow water. They often carried torches to draw fish in close to them making it easy to hit them with a spear.
Today it's done with flat-bottom boats covered in lights with specially made multi-prong spears called gigs. The strategy is to gently float over shallow areas until you see flounder then quickly jab the gig into the fish and pull it aboard. This method of catching flounder is different because it's uncommon to be able to hunt fish, especially at night.
(3. Yellowfin Tuna
Yellowfin tuna get their name from the vibrant yellow color of their second dorsal fin and finlets. These fish are made of pure muscle which makes for one of the toughest fighting pelagic species in the Gulf. Yellowfin are unbelievably powerful fish that inhabit warm waters around the world. Their popularity is due to their qualities as a sportfish, trophy, and table fare. South Padre is the closest spot on the Texas Coast to the continental shelf and other offshore ledges.
Yellowfin can grow up to six feet long and weigh as much as 400 pounds. Tuna are made of pure muscle which means the fight is sure to test even the most seasoned anglers. With a variety of South Padre Island yellowfin tuna trips ranging from a full day of trolling to night fishing the rigs with poppers, this fish delivers an experience like no other.
(4. Red Snapper
Deep sea fishing in SPI should make you think of red snapper. South Padre Island has the easiest access to the deep waters of the Gulf and an array of reefs which mean there are literal tons of snapper nearby. Texas also has one of the most generous state water seasons for almost year round snapper fishing. During the Gulf federal season South Padre Island is flooded with anglers who want to get in on the action.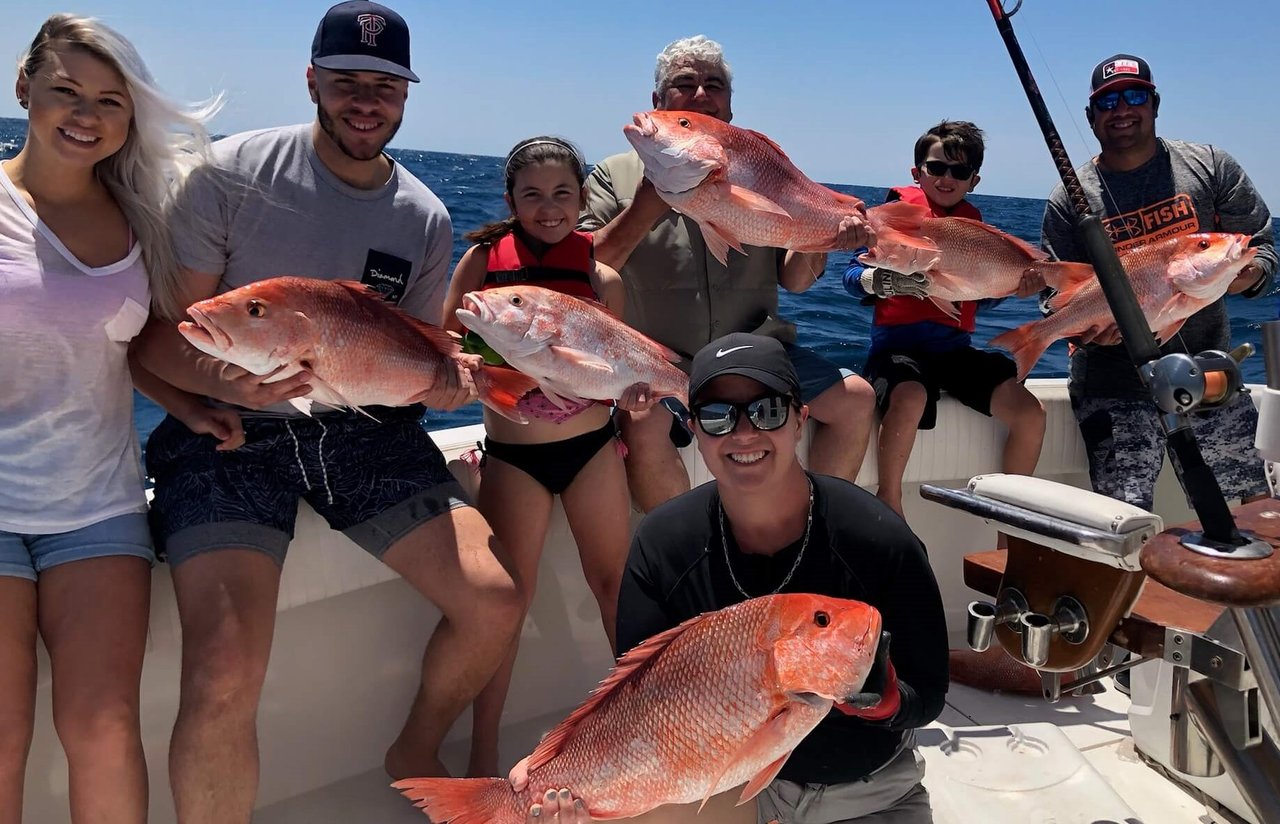 Red snapper is one of, if not the most, highly sought-after game fish in the Gulf of Mexico. Like the previously mentioned redfish, they're a blast to catch and delicious to eat. Red snapper can grow into giants reaching up to 40 inches long and weighing 50 pounds. Hook into one of these hefty fish and try to pull it away from a reef or off the bottom and you'll understand why some many people love red snapper fishing.
(5. Tarpon
For advanced anglers looking for a challenge, Texas tarpon and snook patrol the vast and pristine Laguna Madre from Port Isabel up to Port Mansfield. The body of a tarpon is long and covered in big silvery scales that is accented by a darker olive to black back. These fish can grow up to eight feet long and weigh as much as 280 pounds which makes them a truly giant fish in shallow waters. Despite their size, Tarpon are incredibly acrobatic especially when hooked which makes landing them even harder than getting one to eat. All of these qualities make tarpon a challenging fish to catch but also one of the most popular bucket list fish.
Tarpon are opportunistic predators and will eat anything that fits in their mouth. Popular prey for these fish are mullet, crabs, sardines, pilchards, minnows, ladyfish, pinfish, grunts, shrimp, and herring. While this may sound like tarpon should be easy to fool with an artificial presentation but anything could be further from the truth. Tarpon have exceptional eyesight and will disregard any bait with a less than perfect presentation. They are finicky eaters which means anglers have to work that much harder to get a bite.
(6. Sheepshead
Sheepshead get their name from their sheep-like teeth which they use to crush small crustaceans. These popular fish have distinct black and white stripes along with their spiny backs earning them the nickname "convicts." Sheepshead typically weigh between two and eight pounds, but can reach up to 20 pounds.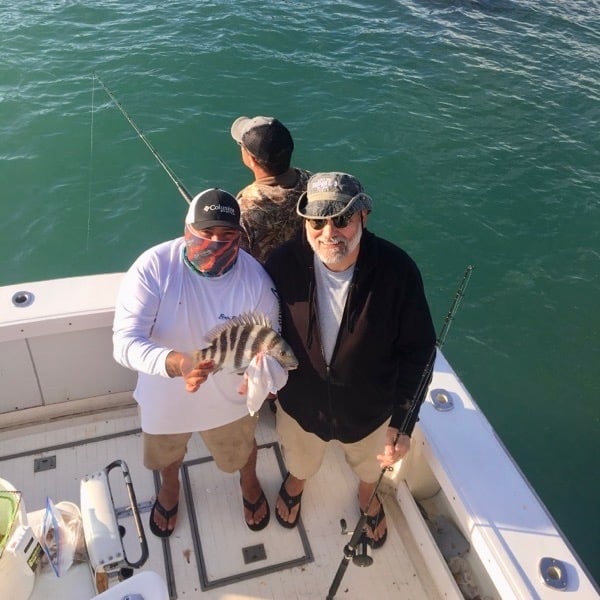 Sheepshead are remarkably active even in cooler temperatures making them a popular fish to target during the winter months. Sheepshead group up anywhere they find structure and barnacles which usually attract the crabs and bait fish they eat. Catching sheepshead can be tough despite their diminutive size. These fish are well known bait steelers who are killed at eating your bait without detection.
Thanks to the variety of inshore habitat in South Padre Island the sheepshead are abundant and feisty. Piling, wrecks, and even reefs are some of the most productive spots to catch these crafty fish. Bottom fishing is a great way to catch these fish, as they tend to graze on the seafloor under jetties.
(7. Kingfish
The king mackerel or kingfish for short, are one of the largest members of the mackerel family. The are the big brother to the Spanish mackerel but smaller than wahoo. These fish are migratory and can be found along the Atlantic Coast and throughout the Gulf of Mexico. Kingfish follow warm waters and baitfish during their annual migration.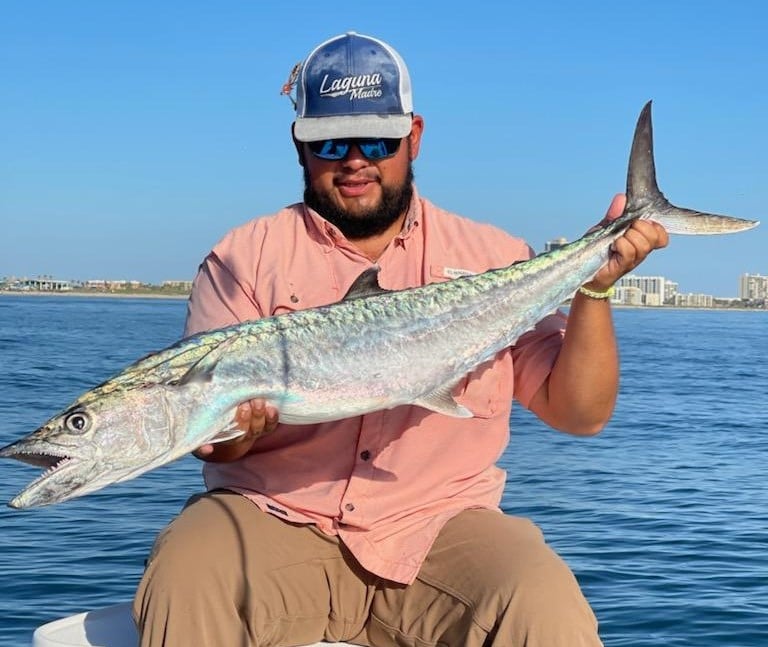 However, South Padre Island has both of these key factors nearly year-round. While kingfish are always around, the most popular time to target them is in the summer and fall months. During these warmer seasons, schools of kingfish can be found in nearshore waters minutes away from the dock.
Kingfish are capable of reaching 100 pounds and more than 70 inches long. These giant kingfish have earned the nickname "smokers" because of their ability to peel line off so fast that the reel starts to smoke. That being said, kingfish are more commonly caught at weights between 10 and 30 pounds. Kingfish are powerful fish that are often caught while trolling.
Fishing in South Padre Island
These seven fish species are the most popular fish to catch in South Padre but there are many more that didn't make the list. An adventure offshore can also produce grouper, mahi-mahi, wahoo, amberjack and many more. Deep sea fishing SPI is some of the best in Texas thanks to its proximity to deep water and productive structure. Speckled trout and black drum are also some of the best inshore fish to catch in South Padre Island. These fish can also be found alongside redfish but are often outshined in appearance or size. Regardless of what you're after, we offer a variety of South Padre Island fishing charters that are perfect for your next trip.