San Diego Sport Fishing
The fishing opportunities in San Diego give anglers an array of species to target only a short distance from the docks. The temperate to tropical Southern California climate combined with the cold water in the Pacific create a unique environment where some incredible fish thrive. This environment supports species like the rockfish, which aren't present in the waters of any other state in the continental United States.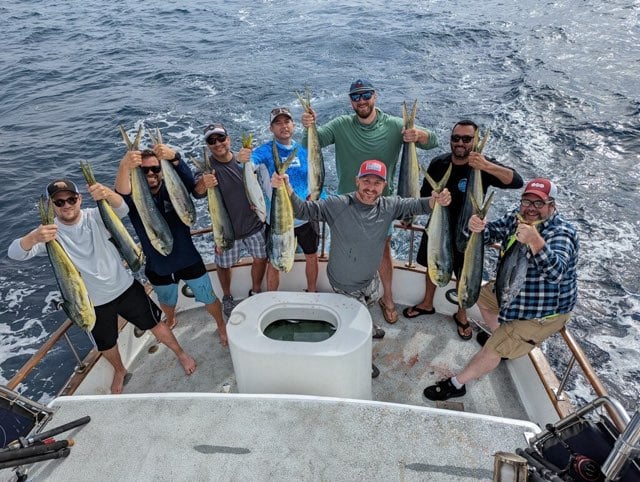 The legendary offshore fishing grounds, two large bays, and multiple freshwater reservoirs make San Diego one of the best fishing destinations in the world. While fishing here, anglers can chase exciting bucket list fish, day after day.
San Diego Offshore Fishing
Just off the coast of San Diego the seafloor turns into banks and canyons that lead to deep water. The underwater topography creates the ideal habitat for a variety of sport fish. A long list of pelagic species can be found just offshore from San Diego but tuna are by far the most popular. Other popular pelagic species frequent these waters including dorado, wahoo, and yellowtail.
Trolling is generally the go-to method for targeting tuna and other sportfish but kite fishing very popular in San Diego. Kite fishing enables anglers to present flying fish perfectly as it skips off the surface. This technique will excite any pelagic species but is most effective for catching the biggest tuna. Being able to watch these fish eat your bait right of the surface will be a memory that lasts a lifetime. Reaching the prime offshore fishing waters generally takes a full day trip but it largely depends on how far out the fish are.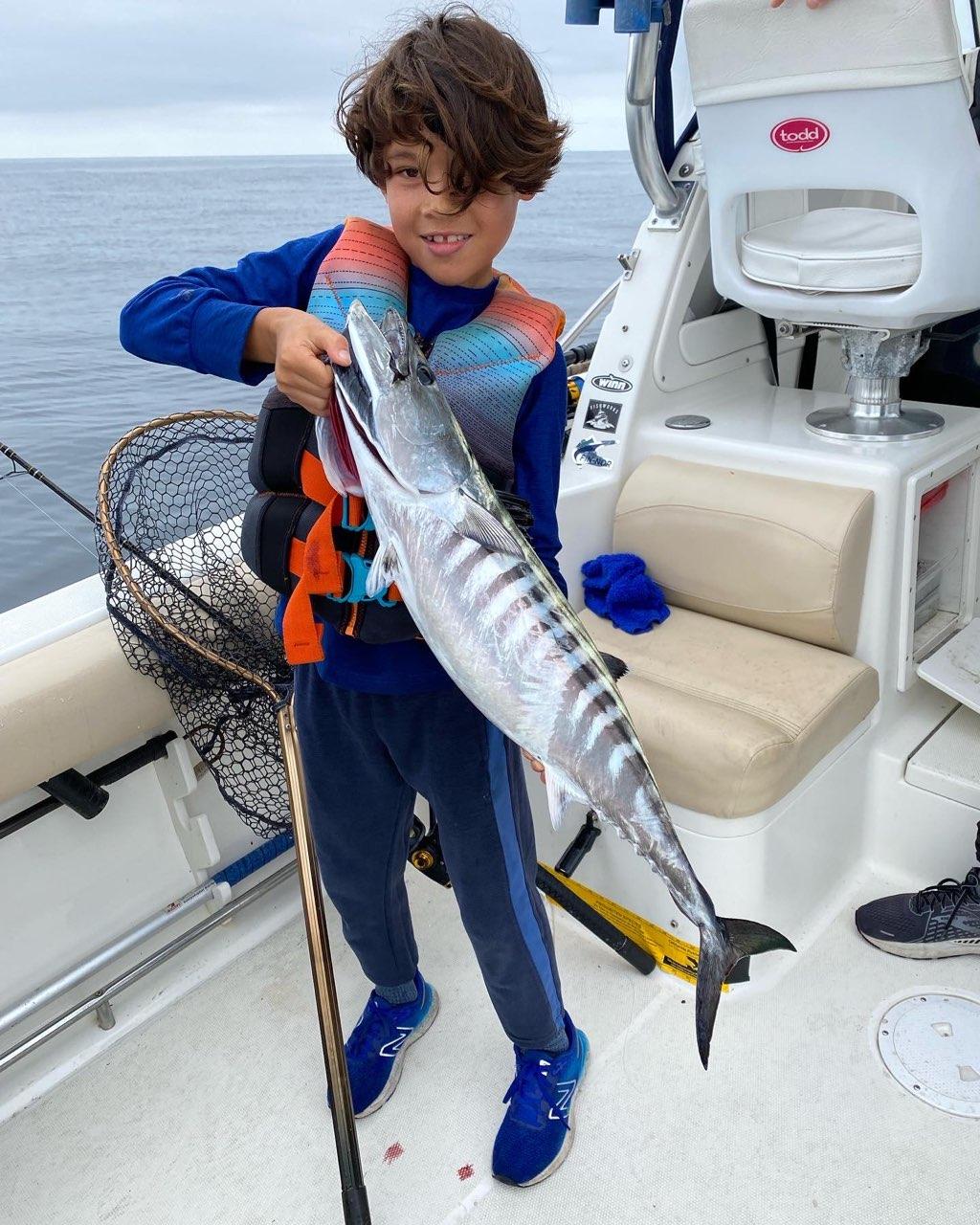 San Diego Offshore Species
Tuna
Yellowfin and bluefin tuna of spectacular proportions can be caught when water temperatures begin to rise in late spring through early fall when the water temperature fall off again. Bluefin tuna are the largest of the tuna species and can be found around the world. They are large, torpedo-shaped fish that cover long distances during their annual migrations. In the United States, bluefin tuna can be found on the Atlantic and Pacific coasts as well as the Gulf of Mexico where they spawn.
The Pacific bluefin tuna season generally runs from May to October but varies depending on your location and the annual migration of fish. The Pacific bluefin tuna has less strict regulations where states have the authority to set bag limits and regulations. As of the 2020 population assessment, Pacific bluefin tuna are being overfished which may lead to regulation changes. Managing the Pacific bluefin tuna population is hard because they travel long distances ranging from California to Japan.
In recent years, the California Coast and more specifically San Diego, is one of the best spots to catch Pacific bluefin tuna. In the last several years schools of bluefin have begun to run further in toward San Diego and Mission Bay. These schools can be found with electronics under the boat but sometimes it's as simple as sighting them eating baitfish on the surface.
Bluefin fishing is the pinnacle of San Diego sportfishing and around the world thanks to its brute strength and incredible meat. Favoring water temps around 60-72 degrees, this broader spectrum of temperature flexibility allows this fish to bite nearly year round. The big blues are chasing anchovies, flying fish, squid, mackerel, and many of their other favorites.
The California bluefin tuna bag limit is 2 per boat per day but also may not have more than 20 fish on board.
Before the recent runs of bluefin, yellowfin tuna made up the bulk of fish caught during the typical tuna season. Yellowfin are generally more available than any other fish in the San Diego offshore waters. Yellowfin Tuna prefer warmer waters than bluefin typically between 72 and 82 degrees. This pushes their season later and usually runs from July through October.
Marlin
Blue marlin are found in the tropical and subtropical waters of the Atlantic and Pacific Oceans. This fish has a deep royal blue color on top and occasionally have vertical stripes. These massive fish can grow into giants reach 15 feet long and 1,800 pounds. Although the largest marlin in the IGFA record books is a black marlin, the blue marlin is regarded as the largest of the four species. This is because larger blue marlin have been caught but didn't conform to IGFA rules.
Striped marlin are found in the tropical and subtropical waters of the Pacific and Indian Ocean. This marlin species has a silvery belly and deep blue back with vivid stripes along its midline. It also features pectoral fins that do not lay flat like the blue marlin. As one of the smaller marlin species, striped marlin have a maximum size of about 12 feet long and 450 pounds.
Dorado (Mahi Mahi)
The mahi mahi is a fish with a unique appearance that can be found across the world. They are brightly colored blue, yellow, green and often have spots or other patterns found on their body. Mahi mahi is a popular recreational sportfish in the Pacific, Atlantic, and Gulf of Mexico where it is called by many different names. Mahi mahi are also commonly called mahi, dorado, dolphin, and dolphinfish.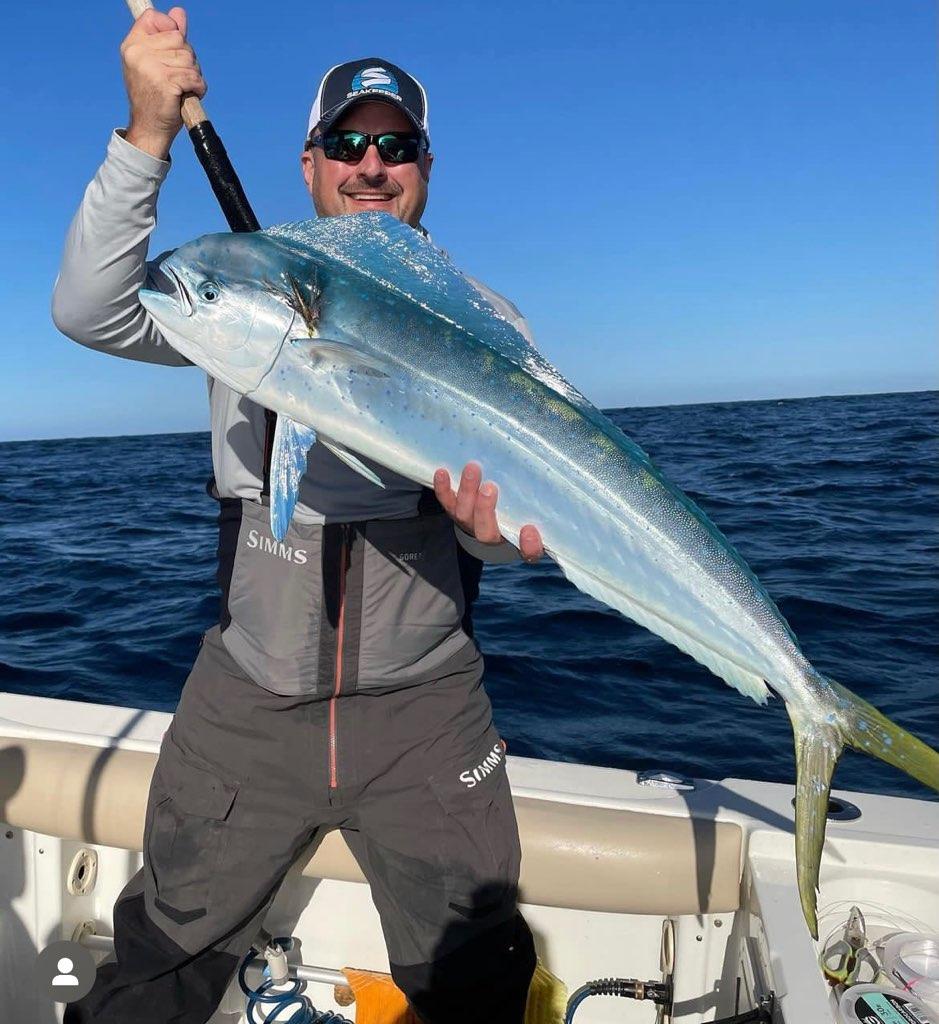 The best California mahi mahi fishing is concentrated near San Diego where these fish migrate to the kelp paddies just offshore. Yellowfin tuna are king in the area but for two months a year the mahi mahi bite is on fire and anglers can't get enough of the action.
72 to 78 degrees is the favorite temp of this multi-colored favorite. Honestly, Dorado (otherwise known as Dolphin fish, or Mahi Mahi) have been on the decline. Only five years ago I remember catching Dorado quite often and they were almost always mixed in with the yellowtail and Yellowfin Tuna, right under the patty. The last three years I have definitely noticed the absence of one of my favorite fish. An active fighter, and pound for pound a great sport fish.
Known for the acrobatic display and airborne antics, this fish is definitely not one you will forget catching. Mexican waters have been the only respite for the Dorado, as significantly less fishing and boat pressure allow the fish some privacy. My prediction for Dorado, is that they will be rare this year in U.S. waters, and anglers seeking this fish are still best to head as far south as you can.
Yellowtail Amberjack
Yellowtail prefer colder waters of around 62-70 degrees and many stay year-round. However, a majority of the yellowtail in the area migrate down the Baja coast. The best time for yellowtail fishing out of San Diego typically runs from late spring to early summer but the peak bite is often from late summer to early fall. This is when the water temperatures are most favorable. When you get on an aggressive school of yellowtail, you're more likely to limit out before they turn off. If you want to target yellowtail, your best bet is to head just south of the border or on the upper end of La Jolla.
San Diego Inshore Fishing
While the offshore fishing in San Diego gets all of the attention, the inshore opportunities are just as exciting. San Diego Bay reaches up to 60 feet deep in the deeper parts but generally consists of shallow mud flats in the southern end. Just to the north, La Jolla has massive kelp forests that are home to even more fish species. This contrasting underwater landscape gives anglers the ability to target a variety of unique fish for a majority of the year.
Inshore fishing in San Diego can be done year-round, but winter tends to be the most dominant. The winter months bring cold water and wind to offshore fishing grounds which slows down the bite. With the inshore bite just starting to heat up, it's the perfect time to fish the nearby waters. Unless you live in California or have fished San Diego before, you're likely to catch a fish that you've never heard of before.
The white seabass is the largest inshore species in San Diego with these fish capable of growing over 100 pounds. Other popular species include the spotted bay bass, rockfish, california halibut, and yellowtail amberjack. The most common fishing techniques in San Diego Bay are bottom fishing, trolling, and casting artificials on light tackle.
San Diego Inshore Species
Spotted Bay Bass
The spotted bay bass don't get enough credit as a sportfish in the San Diego. These fish live in the bays and estuaries where they out compete other sea bass species. Spotted bay bass put up one of the best battles pound for pound of any inshore fish. Often times these fish fight harder than sand bass or calico bass of the same size. Spotted bay bass are aggressive and abundant which make them one of the most commonly caught fish in the bay. These fish can be caught year-round with many of the same baits and tackle typically used for catching largemouth bass. Spotties tend to top out around five pounds and the legal length is now 14 inches.
The closely related barred sand bass raid the bay from November through March and compete with the spotties popularity. They are generally a bigger fish and form large schools in deeper areas.
Bonefish
San Diego Bay is also home to chrome speedsters that look nearly identical to the bonefish of the Florida Keys. While they look like transplants, these bonefish aren't the same species of bonefish you catch in the Florida Keys This unique species of Pacific bonefish is the smaller cousin known as the Cortez bonefish.This bonefish is bountiful in the shallow mud flats of the southern bay. Very few people are even aware that this fish exists here which makes it one of the most unique bucket list fish in the world. The Cortez Bonefish inhabits the Pacific Ocean along Southern California and down into the Sea of Cortez where it gets its name. If you want to target the bonefish in San Diego, light tackle and fly gear are the weapons of choice.
Lingcod
This odd fish has blue meat and fights above its weight class. Anglers who catch lingcod know that they feel like a much larger fish when they're pulling on your line. These fish are stout and generally require heavier tackle than the other fish in the area. A good hook set, sturdy leader, and perfect line management are bare minimum to landing a lingcod. Once you get one on board you'll get to see just how unique this fish is. Lingcod have beautiful colors, intricate patterns, and a mouth full of teeth which gives them a cool factor unlike anything else. Despite their blue colored meat, these fish are delicious and once cooked the meat loses it's unsavory color.
Halibut
Halibut is a name commonly used for three species of flatfish that are in the family of right-eyed flounder. Similar in color to flounder, halibut are mottled brown on one side and white to cream colored on the other. This coloration functions as camouflage because looking towards the surface would show their white underside and looking down toward the bottom would show their brown side. This allows them to perfectly blend in from every angle.
Halibut prefer to live in cold deep water which makes the water off of San Diego ideal. However, halibut can be found all along the western coast of North America from Santa Barbara, California north to Nome, Alaska. Halibut are huge and can easily reach 100 pounds with some of the biggest fish reaching nearly 500 pounds. These fish have a rounded diamond shape and can grow to more than six feet long. These giant delicious fish put up an incredible fight and pulling a big flat fish from the depths is no easy task.
Rockfish
Rockfish are some of the most popular fish species in San Diego and are fun for anglers of all skill levels to target. These fish can be found in a variety of different areas and can be caught with several different techniques.Some of the best spots to target these fish in San Diego include Ocean Beach, La Jolla Cove, Mission Bay, each offering a different species of rockfish.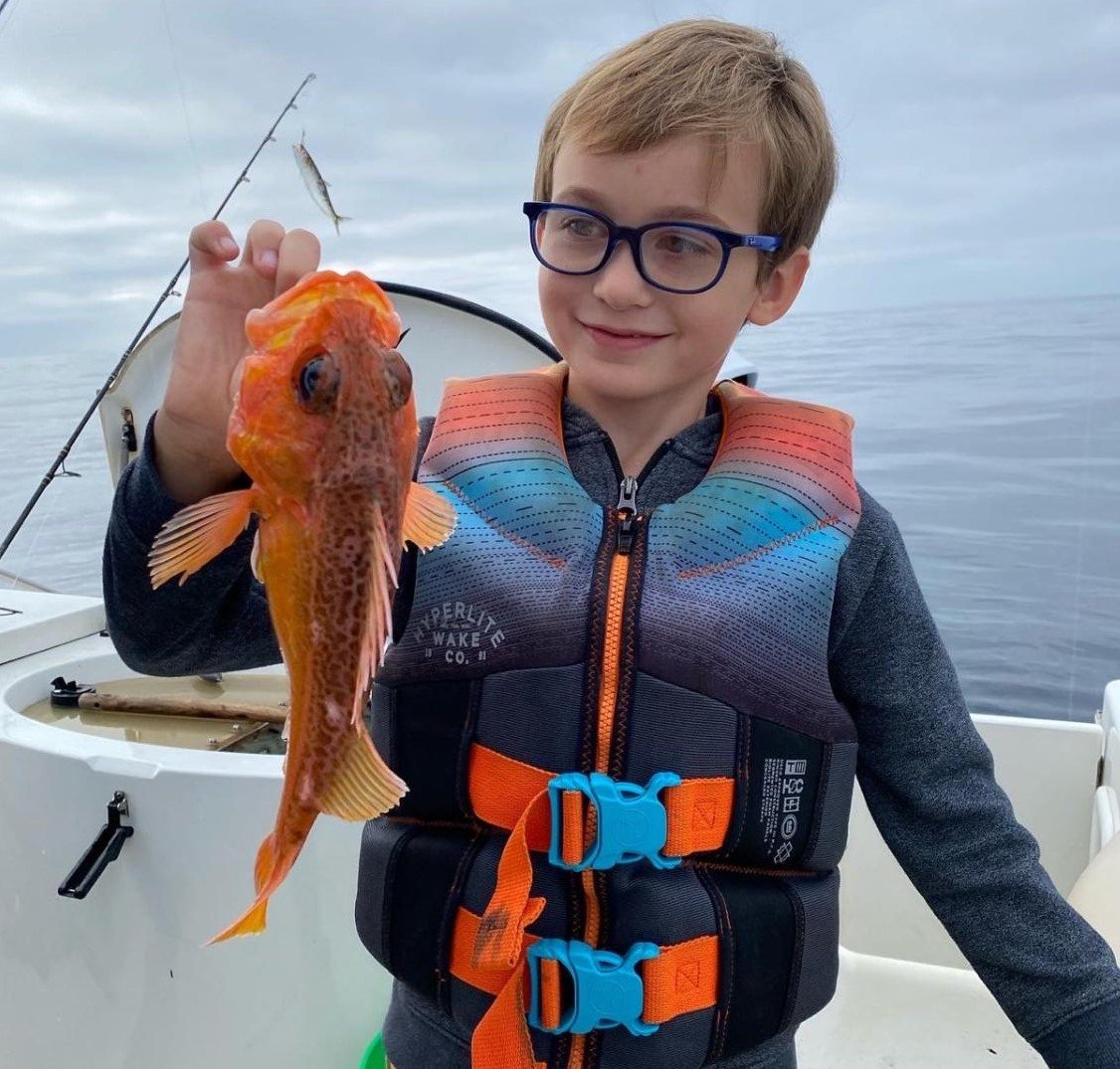 Rockfish can commonly be found among rocks and reefs at depths between 60 and 120 feet. making them a challenge to catch. Anglers typically use light tackle due to their small size, and live bait or artificial lures that imitate squid or baitfish. With these lighter setups anglers can pick how they want to target these fish from bottom fishing to jigging or trolling. Rockfish fight in short, powerful runs and will attempt to break your line on rocks or other structures. If you can pull them off the bottom, vermillion rockfish are considered one of the best tasting rockfish species.
The goldeneye rockfish is uncreatively named for its bright yellow eyes, but it is one of the easiest ways to differentiate them from vermillion rockfish. Blue rockfish are gray to blue in coloration and average one or two pounds but can commonly reach up to 5 pounds.
San Diego Fishing Charters
The fleet of offshore and deep sea fishing boats in San Diego is unmatched and arguably the largest and most modern charter fleet in the country. If you want to get out there and experience sportfishing like never before, check out our San Diego fishing guides.