The Texas Coast is consistently a top contender for best fishing spots in the U.S. The abundance of ideal fish habitat from backwater grass beds to offshore reefs combined with mild water temperatures means the bite rarely dies down. If you're planning a trip down to Galveston, here are the seven best fish to target while you're there.
(1. Redfish
Redfish are abundant year-round residents in Galveston waters. These handsome fish get their name from their bronze to copper color that covers everything except their belly and a black spot or spots near the tail. Redfish are remarkably strong and can grow into giants all of which adds to their appeal. This fish has the ability to crush your bait and peel line off a reel even with considerable drag.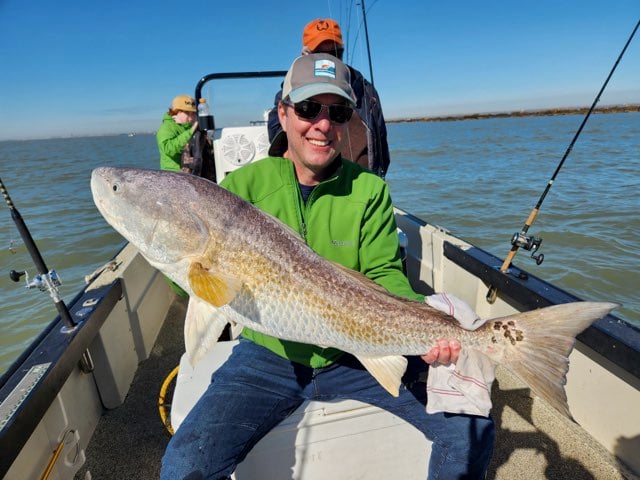 A large redfish is considered to be anything over 30 inches. Redfish over 30 inches, commonly called bull reds, often leave inshore waters and head to deeper nearshore areas for most of the year. When fall hits, bull redfish flood into inshore waters to spawn, which anglers refer to as "the running of the bulls." Bull redfish measuring over 30 and sometimes 40 inches are not uncommon during the fall run, making it the best time to catch a trophy-sized fish.
While a redfish may not jump like a marlin or battle like a bluefin, for their size, they put up a bullish fight that is every bit as stout. Landing a redfish is a rewarding experience on its own, but their appeal extends beyond the water as they're also delicious table fare. Galveston redfish can be targeted in a variety of different ways from backwater sight casting on the fly or inshore topwater action to bottom fishing in channels or nearshore structure.
(2. Red Snapper
With easy access to the Gulf and plenty of nearby structure, Galveston is a top pick for both state and federal water red snapper fishing. There are reefs and oil rigs just off the coast of Galveston that sit in deep water creating perfect snapper habitat.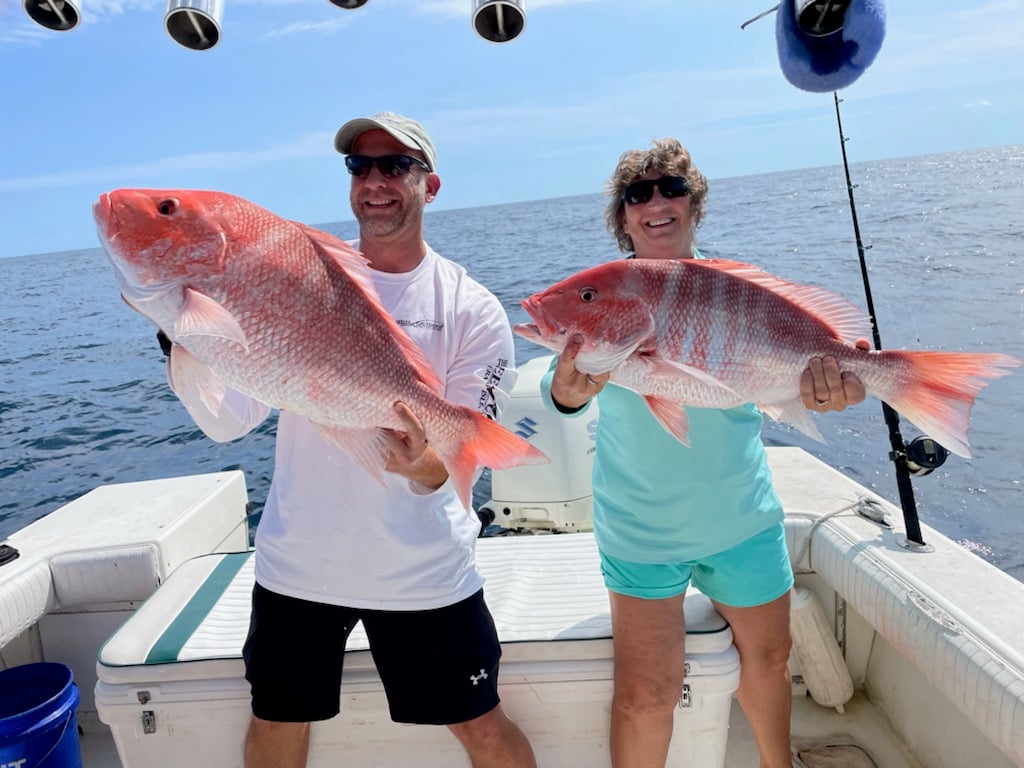 Red snapper is one of, if not the most, highly sought-after game fish in the Gulf of Mexico. Like the previously mentioned redfish, they're a blast to catch and delicious to eat. Red snapper can grow into giants reaching up to 40 inches long and weighing 50 pounds. Hook into one of these hefty fish and try to pull it away from a reef or off the bottom and you'll understand why some many people love red snapper fishing.
Galveston has one the largest charter fishing fleets which gives you plenty of boats and captains to choose from. Texas has a generous state water red snapper season that is rarely closed which allows you to catch snapper whenever you decide to take a trip. If you're going to Galveston, a red snapper trip is something you don't want to miss.
(3. Yellowfin Tuna
Yellowfin tuna are huge torpedo-shaped fish that get their name from the vibrant yellow color of their second dorsal fin and finlets. These unbelievably powerful fish inhabit warm waters around the world. Galveston happens to be a great jumping-off point to reach offshore ledges and other bait-holding structures.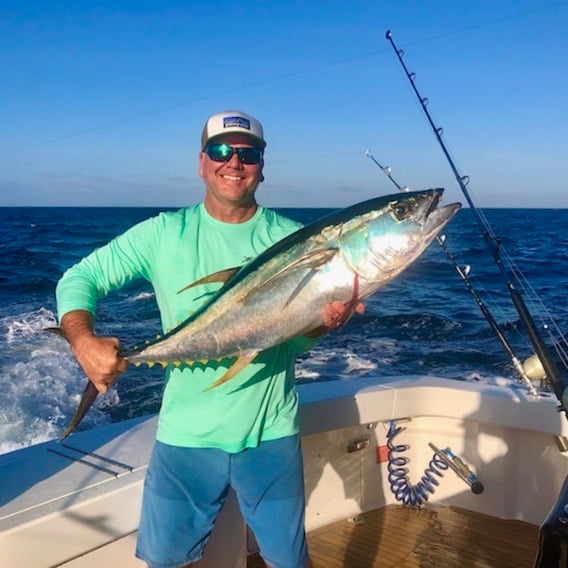 Yellowfin tuna are one of the most sought-after fish in the Gulf of Mexico due to their qualities as both a sportfish and an absolutely delicious food source. The Gulf population of yellowfin tuna has been stable over the last several years has resulted in there being no closed season. These tuna can be caught year-round and with the warm Gulf waters off the Texas Coast, yellowfin are abundant.
Fishing for yellowfin tuna in Texas is unique with the continental shelf and offshore platforms well within reach. Yellowfin can grow up to six feet long and weigh as much as 400 pounds. Tuna are made of pure muscle which means the fight is sure to test even the most seasoned anglers. With a variety of Galveston yellowfin tuna trips ranging from a full day of trolling to night fishing the rigs with poppers, this fish delivers an experience like no other.
(4. Speckled Trout
Anywhere on the Texas Coast, particularly Galveston, is a top-tier speckled trout fishery. The sheer amount of inshore habit and high saline water surrounding Galveston allows specks to thrive and reach sizes rarely seen anywhere else. These fish offer one of the best fishing experiences hands down. While Texas fish populations got hit hard a couple of years ago during a hard winter freeze, the speckled trout fishing has bounced back.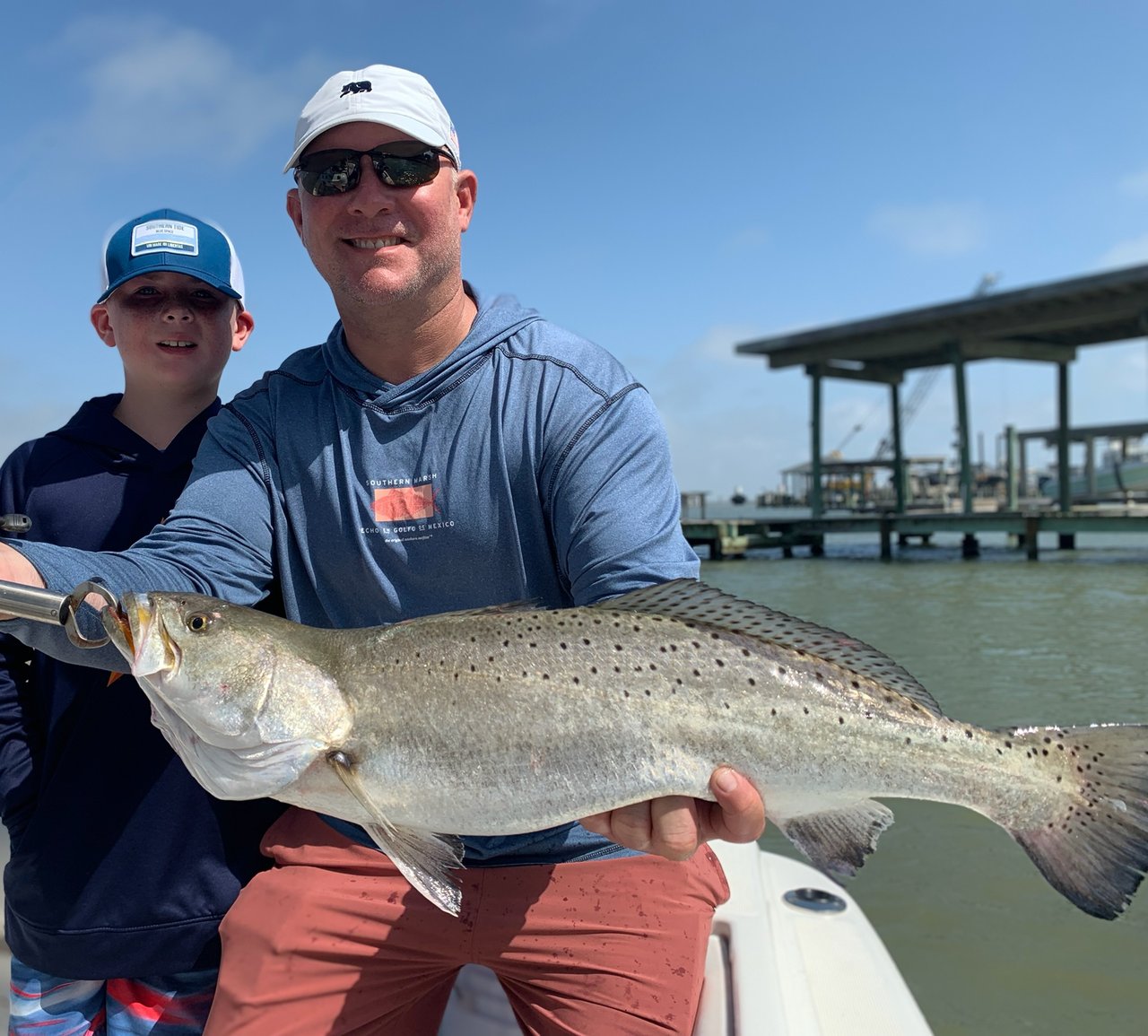 Speckled trout are aggressive eaters who strike their prey with a voracity that's second to none. Whether you like popping corks, jigs, or topwater blowups, this fish delivers a rush. These fish inhabit Galveston waters in numbers making success rates high. Speckled trout may not have the prestige or following of redfish or yellowfin but their tenacity, abundance, and flaky filets make them one of the most popular fish in Galveston.
(5. Kingfish
The king mackerel or kingfish for short, is one of the largest members of the mackerel family. They are the big brother to the Spanish mackerel but smaller than wahoo. These fish are migratory and can be found along the Atlantic Coast and throughout the Gulf of Mexico. Kingfish follow warm waters and baitfish during their annual migration.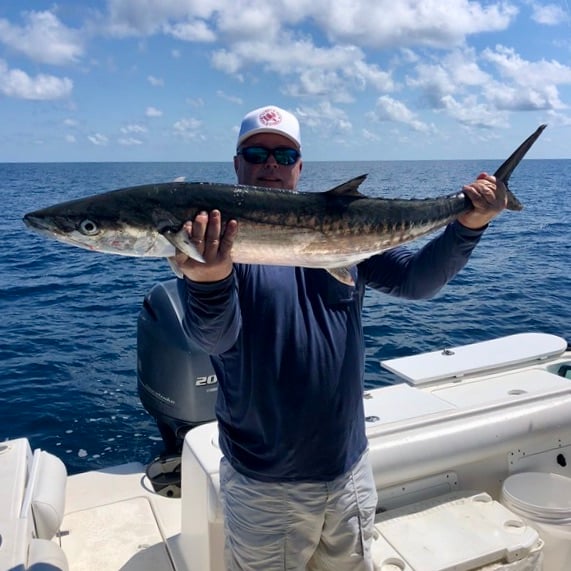 However, Galveston has both of these key factors for most of the year which is why you can catch kingfish here year-round. While kingfish are always around, the most popular time to target them is in the summer and fall months. During these warmer seasons, schools of kingfish can be found in nearshore waters only a few miles out.
Kingfish are known to grow huge, reaching 100 pounds and more than 70 inches long. These giant kingfish have earned the nickname "smokers" because of their ability to peel line off so fast that the reel starts to smoke. That being said, kingfish are more commonly caught at weights between 10 and 30 pounds. Kingfish are powerful fish schooling fish that are often caught while trolling. While the start of your Galveston fishing trip may be a peaceful boat ride, you can have three fish on in an instant.
Fishing in Galveston
Galveston offers consistent top-notch fishing opportunities for some of the most popular fish in the Gulf. Whether you want an offshore trip for yellowfin or an inshore trip for specks and reds, book your next fishing trip with the best Galveston fishing charters today.