Introduction to Fishing in Destin
Destin is one of the most popular fishing destinations in the world thanks to the diversity of fish species and its unique geography. Destin's location on the Gulf makes for great weather and fishing throughout the year. The city is known as "the world's luckiest fishing village", and while the city has outgrown its designation as a fishing village, there is still plenty of luck to go around.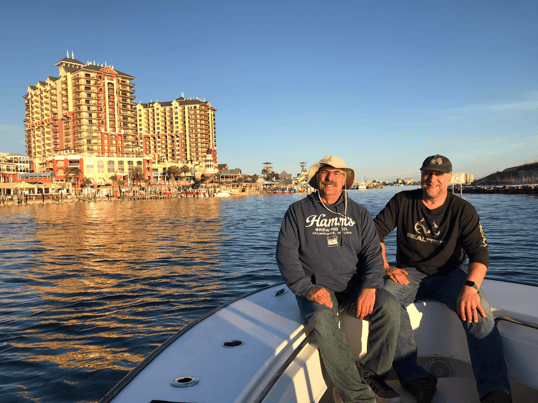 Destin as a city was founded by fishermen (in particular, Captain Leonard Destin), who found the geography of the area to be amenable to good numbers of target species. Without powered boats or modern gear, these anglers used simple boats and nets. The fishing community in Destin has come a long way since 1835, but much of the fishing knowledge has been passed down from generation to generation through the local guides and watermen.
Fishing Guides in Destin
Destin has fishing charters for anglers of all skill levels. Some of the best fishing in the country is done in the Florida panhandle, and Destin embodies that. Inshore fishing trips are some of the most action packed fishing experiences with minimal travel to and from spots which maximizes your time on the water. If less time traveling and more time fishing while still having a shot at catching prized gamefish sounds like the ideal trip for you, take a look at our inshore fishing charters.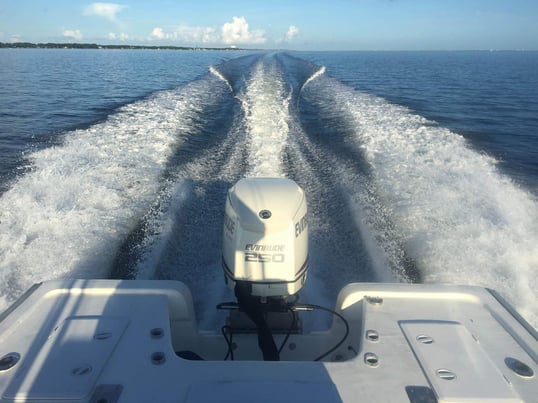 The action on an offshore fishing charter is unmatched, with the biggest sport fish in the world being caught on these trips. Marlin fishing is especially strong out of Destin. Heading offshore for a fishing trip is always a great way to spend a day on the water. Add in good company and the possibility of catching some truly giant fish, and it can be the experience of a lifetime. If you're looking to leave land behind and head offshore, check out our Destin deep sea fishing charters. From inshore redfish trips to offshore tuna fishing trips, Destin lives up to its reputation as a top worldwide fishing destination.
Types of Fishing in Destin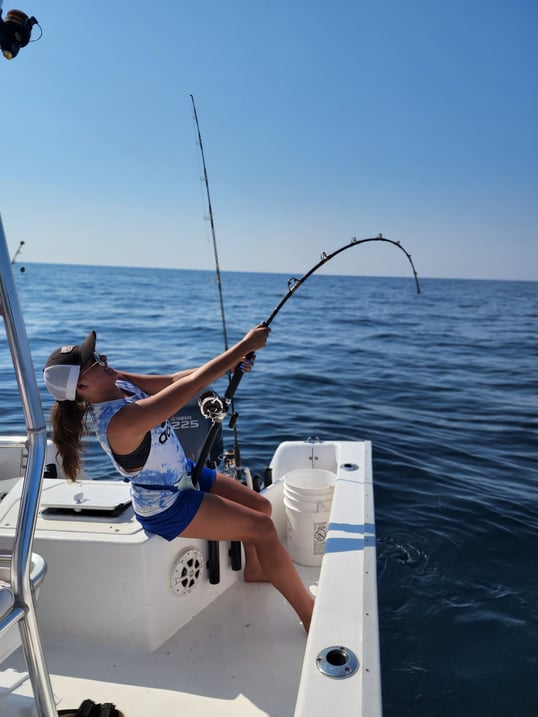 Destin has great fishing from its inland brackish marshes, out to continental shelf and beyond. Inshore fishing provides the classic offerings mixed in with some of the most sought-after bucket list fish. Offshore fishing varies the most by target species with many species of billfish, tuna, mackerel and other massive pelagic species moving through these waters each year. Nearshore fishing is hard to differentiate from offshore fishing in Destin due to just how close it is to reefs and dropoffs. However nearshore waters are typically targeted when bottom fishing for snapper, grouper, cobia, and much more.
Destin Inshore Fishing Charters & Guides
Fishing along the coast or in the shallow backwaters offers nonstop action just minutes from the dock. The Choctawhatchee Bay system provides plenty of opportunities for fishing the warm-water flats and shallow bays near the city. Tarpon are a popular target, as are the usual suspects of red drum, speckled trout, black drum, and sheepshead.
Inshore fishing for Redfish, Flounder, and Speckled Trout is also red-hot from September through November, but there's action to be had all year long. The Destin red drum bite is especially good year-round as these fish are voracious eaters and thrive in various water temperatures.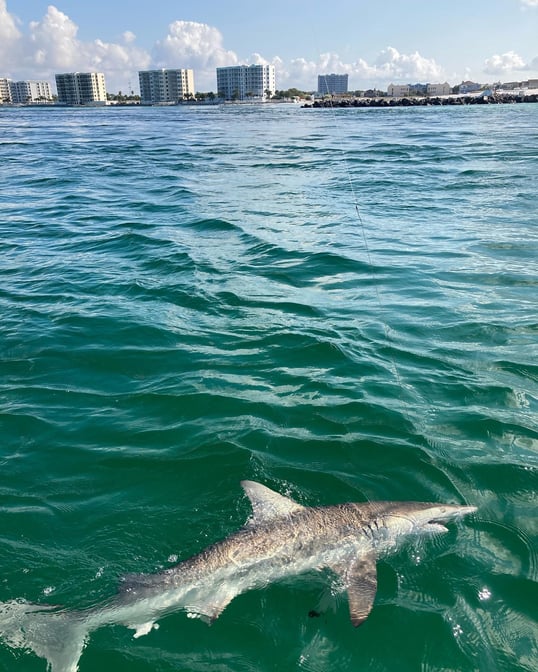 Shark fishing in Destin Harbor is another great year-round option with sharks frequently visiting the area. Giant Tarpon run the shorelines May through August on their annual migration south.
Catching Destin's inshore species can be done with a variety of tackle. Light tackle and fly fishing gear is great for casting artificial lures in the mangroves and maze of backwaters. Conventional gear can also be used for dropping jigs on shallow structures, or throwing live bait for larger ambush predators. Whatever you prefer, inshore fishing Destin is guaranteed to bring bent rods and big smiles.
Bay Fishing with a Professional Guide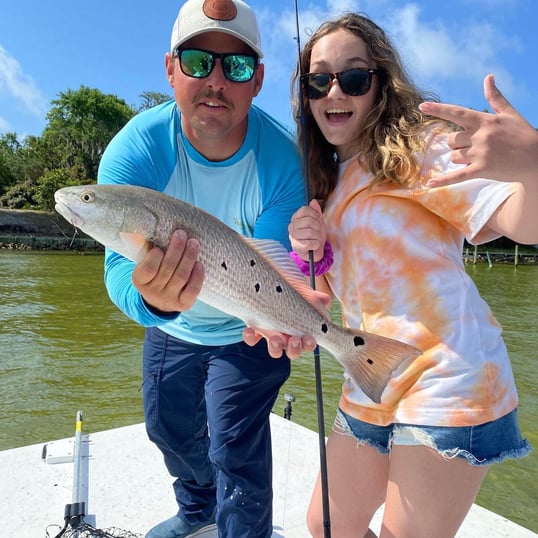 Destin inshore fishing charters tackle miles of seemingly endless protected backwaters that surround Destin. Guides spend years and oftentimes their whole lives on the water to find the most productive inshore spots. With their years of experience and deeply connected networks of other anglers, hiring a professional guide to take you fishing is one of the most rewarding experiences you can buy. Destin's inshore waters have also gained a reputation for producing both large and numerous fish which only adds to the excitement. If you are considering hiring a guide, it will be money well spent.
Jetty Fishing in Destin
With seven piers within striking distance from downtown Destin, it only seems right that pier fishing is one of the most popular ways for anglers to fish here. Piers are structures of various use that stretch far out into the water. This allows anglers to cast from more advantageous positions both further from shore, but still utilizing structure. This puts you right on the fish. Whichever pier you decide on, you're sure to find red drum, speckled trout, flounder, and many other popular inshore species. At certain times of the year Spanish mackerel will run closer to shore, just within the range of a well placed cast. Mackerel are not the only large fish moving through the piers, various species of snapper, grouper, and sharks as well as cobia are also known to feed here.
Surf Fishing in Destin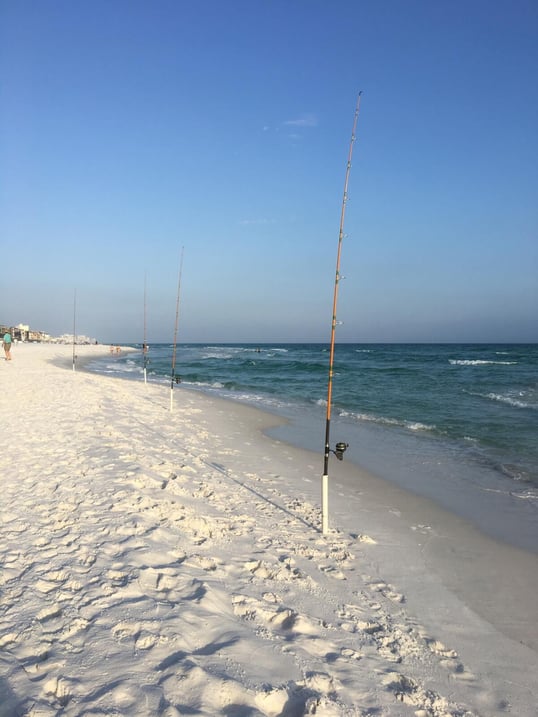 The green tinted crystal clear waters of Destin's beaches create ideal fishing opportunities from the beach. There are 24 miles of sandy beaches that make up Destin waterfront access. This gives anglers plenty of spots to set up for for a day of fishing. Surf fishing can be done with typical inshore tackle like a seven foot spinning rod or 10 foot surf rods made for long casts. In many cases anglers use both in tandem, casting lures on one rod while the other soaks live bait. Surf fishing is also a great option for families. While you work on covering an area or casting past the surf, your family can swim, sunbathe, or build sandcastles. Popular fish to catch in the Destin surf are redfish, pompano, bluefish, ladyfish, sharks, and Rays.
Kayak Fishing Near Destin
Kayak fishing is one of the fastest growing sports in America and an effective way to target the waters surrounding Destin. These small and maneuverable vessels are ideal for calm inshore waters. If you want to head out to a nearby spot and fish on your own in the flats, bays, lakes, rivers, or any other protected body of water, a kayak is a great option.
While kayak are usually utilized for inshore fishing, anglers have taken kayak fishing further out to chase big nearshore and offshore fish. Catching tuna and roosterfish is possible you do run the risk of being towed out to sea. If you want to explore Destin's harder to reach fishing spots without the fish knowing you're there, kayak fishing is the perfect choice.
Offshore Fishing in Destin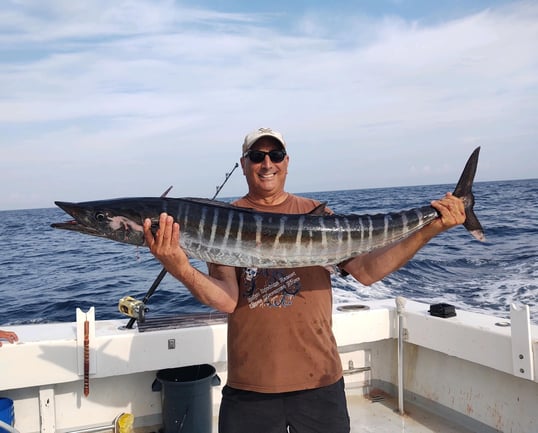 For groups looking to get beyond the sight of land, Destin deep sea fishing trips present true blue water fishing adventures. Head out and troll for Marlin, Tuna, Swordfish, Amberjack, Wahoo, Kingfish, and Mahi-Mahi, or fish deep structures for Grouper and Red Snapper on our deep sea fishing charters. Destin is closer than most to the continental shelf, offering fantastic sport fishing just a short boat ride away.
Amberjack season typically opens May 1st, and Red Snapper season usually runs for 2 months beginning on June 1st.
For Destin deep sea fishing trips, the bite picks up in September and October for White and Blue Marlin. The Wahoo bite is best in the winter and gives way to Mahi Mahi as water temperatures increase. Going into late summer Sailfish can be found in nearshore waters. Tuna can be hauled in all year long when deep sea fishing Destin! If you are ready for a big fight and an even bigger fish, check out our trips for Destin deep sea fishing charters to see prices and more.
Charter Fishing in Destin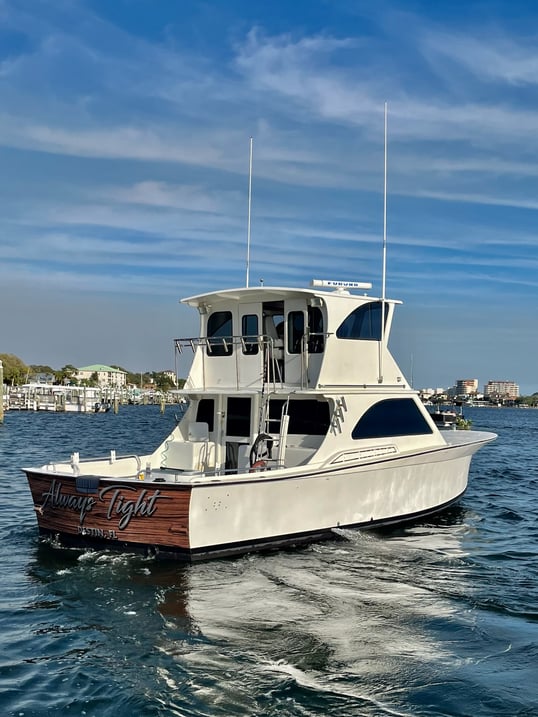 Even among this small group of cities, Destin sits in a league of its own in terms of access to prime water. Head out into the waters off the coast and you will encounter about 12 miles of relatively shallow water followed by a steep drop at the famed 100 Fathom Curve. The speed to which Destin reaches these depths is unique and means you can get to some spectacular fishing with a much shorter ride.
Instead of strapping 1000 horsepower to your boat and holding on for dear life, you can take a 30-minute cruise and be on the fish. It should be no surprise that different species prefer different depths of water, and this unbelievable access to deep water opens the floodgates for your target species as an angler out of Destin.
Best Lures and Best Baits for Fishing Destin
When it comes to lure or bait selection while fishing in Destin, your decision will largely depend on what type of fish you target. Generally bait can be broken into two categories: natural baits which are living or dead, and artificial baits or lures that imitate a possible food source.
Within the natural baits, live bait can be the most reliable and effective for many fish species. The best live baits for inshore fish are shrimp, crabs, and any of the small baitfish in the area. For larger fish further offshore, larger baitfish are the most common. Cut bait is best for predators or scavengers with a strong sense of smell like redfish, snapper, grouper, and sharks. The best cut bait is usually baitfish, shrimp, or squid, all of which leave a strong scent trail and stay firmly on the hook.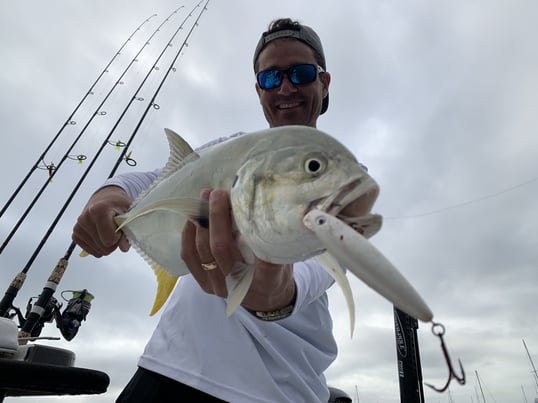 For artificial lures, inshore anglers can turn to soft plastic imitations of shrimp or bait fish which are commonly used with a weighted jig head. Fly fishing is also common and there are a variety of fly patterns that resemble inshore food sources. Spoons are one of the best and oldest lures used to catch a variety of inshore fish. Other effective lures include poppers, spooks, glide baits, spinners, and crank baits.
When fishing the reefs, most offshore fishing charters use cut bait or live bait. If you are trolling for open water pelagics like mahi mahi, tuna, or billfish, the best baits include live or frozen ballyhoo in combination with plugs and diving baits. This offers a variety of presentations and covers the maximum amount of water.
What Species Can I Target In Destin?
Destin is one of the most popular fishing destinations in the world thanks to the abundance of fish that inhabit the surrounding waters. This city is known as the "world's luckiest fishing village" which is likely due to the warmer water temperatures and everything from backwater grass beds to offshore reefs. Destin was founded by fishermen who discovered the geography of the area held a variety of desirable fish. Destin is located only 20 miles from the edge of the continental shelf bringing some of the most sought after fish remarkably close to shore.
With a diverse list of fish to target and mild weather throughout the year, Destin is an incredible place to take a fishing trip. If you're planning a trip to Destin, here are the seven most popular fish to target while you're there.
Billfish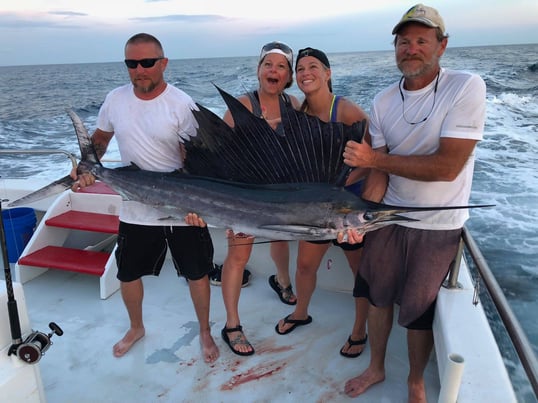 Billfish are some of the most sought after trophy fish for anglers around the world. Their size, strength, and elusive behavior will test the skills, endurance, and mind of any angler. These fish include sailfish, swordfish, and marlin can be found in the Gulf just a few miles from Destin.
Blue marlin weigh hundreds and sometimes thousands of pounds and are better measured in feet than inches. These behemoth predators require the heaviest of tackle and are often considered the ultimate sportfish. Sailfish are known for being some of the most acrobatic fish you can catch despite their size. They are also the fastest and will strike bait at full speed right on the surface.
While swordfish can be caught on the surface in the mornings and evenings, they drop down to extreme depths during the day. This change in environment makes them one of the most elusive fish to catch. However, like marlin, swordfish can also reach the 1,000 pound mark and provide the hardest fight of your life.
Red Snapper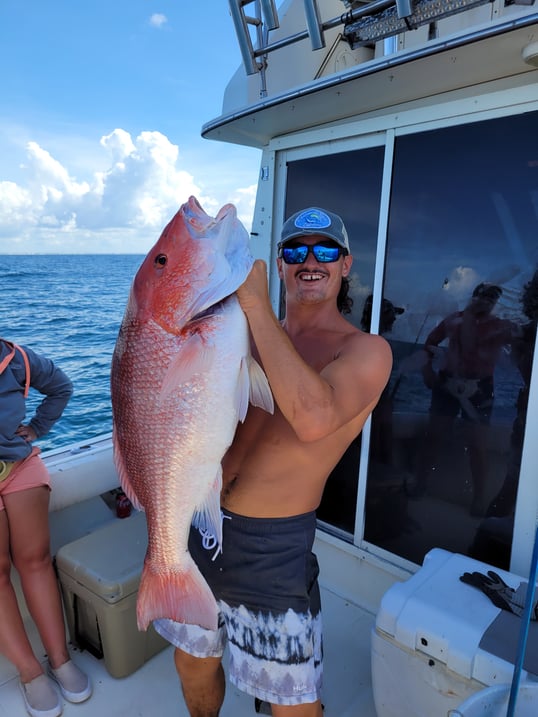 Deep sea fishing in Destin should immediately make you think of red snapper season. Destin is one of the Gulf's most productive honey holes during the short lived season. With easy access to deep Gulf waters and plenty of nearby structure, Destin is a sure bet for both state and federal red snapper fishing. There are reefs, rigs, and wrecks sitting in deep water just off the coast. This environment is the perfect place to find huge snapper and other reef fish.
The red snapper is one of, if not the most, highly sought-after game fish in the Gulf of Mexico. These fish can grow into giants reaching 40 inches long and weighing as much as 50 pounds. Pull one of these hefty fish away from a reef or off the bottom and you'll know why people love red snapper fishing. This fish grows big, puts up a fight, and tastes delightful, what's not to love?
Destin has one the largest fleets of fisherman in the country which gives you plenty of boats and captains to choose from. If you're going to Destin, a red snapper trip is something you won't want to miss.
Grouper
The rich Gulf waters that feed Destin and the Emerald Coast create the perfect home for a variety of grouper. Some species of grouper like gag grouper will inhabit shallow waters not far from shore. Key areas are grass beds, holes, and ledges which provide these fish with shelter or a place to ambush prey. Reefs in 50 to 300 feet of water hold the most popular grouper species including red, black, and gag.
Similar to red snapper, grouper are stout predators that ambush prey and scavenge for easy meals. The large mouth and powerful gills of a grouper create a vacuum that sucks prey into their mouth in the blink of an eye. When a grouper crushes your bait it's an unmistakable feeling thats sure to give you a rush.
Bottom fishing and in some cases deep dropping are the most effective methods to catch grouper. While artificial lures and baits can work, natural baits are particularly more effective for these fish. With most grouper inhabiting various structures, their most common food sources are crustaceans, fish, and occasionally squid.
Amberjack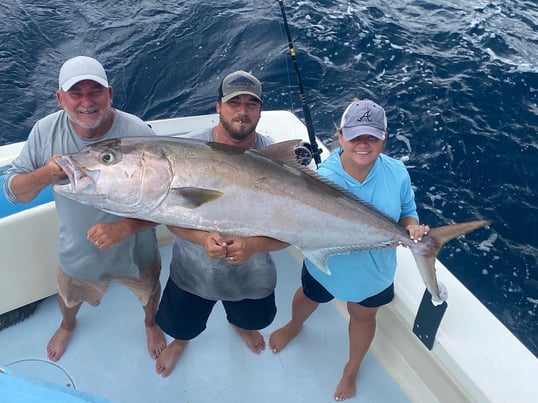 The greater amberjack got the nickname "reef donkey" because of the tenacious fight they put up. No other reef fish hits as hard, runs as fast, or otherwise tests an angler quite like the amberjack does. These powerful brutes live amongst many of the same reefs and other offshore structures that are commonly inhabited by snapper and grouper species.
While amberjack are tough, they're also huge and fairly handsome fish. Generally, amberjack are olive colored with a large head and a distinct dark stripe that runs from their snout to their tail. While they commonly reach 40 pounds in areas like Destin that have plenty of food sources year-round, amberjack are capable of growing up to six feet long and 200 pounds. Just like snapper and grouper fishing, amberjacks can be targeted by bottom fishing near offshore structures with live or cut bait.
Mahi Mahi
The mahi mahi, also commonly called dorado or dolphin, is a fish with a unique appearance that can be found in large numbers just off the coast of Destin. They are brightly colored blue, yellow, green and often have spots or other patterns found on their body. Mahi mahi typically weigh 15 pounds but the largest fish can be nearly seven feet long and well over 80 pounds.
The best mahi mahi fishing on the Gulf Coast of Florida is concentrated near the panhandle because it's closest to the continental shelf where pelagic species come to feed on balls of baitfish. Mahi form big schools and use their speed and numbers to chase down prey. When one of these fish crush a plug behind the boat, it's explosive. Mahi mahi move into Destin waters in the spring when water temperatures begin to rise. Trolling for mahi in the Florida gulf is one of the most action-packed trips money can buy.
Marlin
Blue marlin are one of the true treats when going past the shelf for pelagics. Destin's offshore waters are known as a haven for giant marlin and other sportfish which draw in anglers from June to October for a chance at the fish of a lifetime. The Continental shelf is famous for holding baitfish and massive pelagic species. While big marlin are caught on the shelf every year, once you travel 50 miles or more offshore from Destin, you reach remote areas like The DeSoto Canyon. These harder to reach spots offer your best shot at a trophy marlin.
The size, strength, and elusive behavior of a blue marlin will test the skills, endurance, and mind of any angler. These fish weigh hundreds and sometimes thousands of pounds and are better measured in feet than inches. These behemoth predators are often considered the ultimate sportfish and require the heaviest of tackle to subdue. All of these traits and the challenge of landing a fish of this caliber is what make the marlin so popular. Destin has both white and blue marlin and the peak bite for these blue water giants is in July when water temperatures are high.
Redfish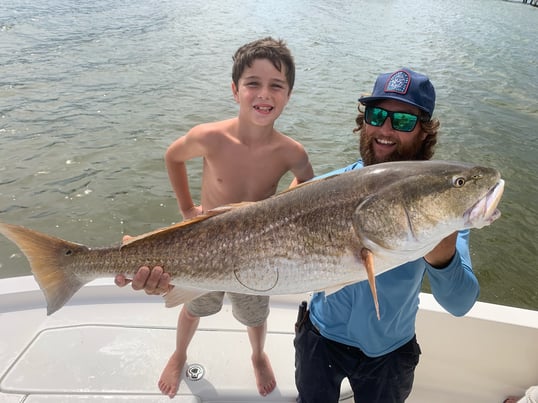 Redfish are abundant year round residents in Destin waters. These handsome fish get their name from their bronze to copper color that covers everything except their belly and a black spot or spots near the tail. Redfish are remarkably strong and have the ability to peel line off a reel even with plenty of drag. While a redfish may not jump like a marlin or battle like a bluefin, for their size, they put up a bullish fight that is every bit as stout. Landing a redfish is a rewarding experience on its own, but their appeal extends beyond the water as they're also delicious table fare.
Redfish in Destin are great year-round targets thanks to their ability to thrive in various water temperatures. Success can be had with a variety of tackle when targeting Destin inshore species. Whether you want to cast artificial lures in backwater channels, dropping jigs on shallow structure, or bottom fishing live bait the redfish in Destin are ready to bite. A large redfish is considered to be anything over 30 inches and are commonly referred to as bull reds. These larger fish live in deeper nearshore waters but flood back into inshore waters to spawn every fall. These fish are almost guaranteed to provide rod bending action, big smiles, and full stomachs.
Cobia
Cobia have half a dozen nicknames and distinct looks which make them easy to identify. They have big, slightly flat heads with an olive to grey upper body and will occasionally also sport a stripe down the sides. Cobia also have pointed ridges in front of their dorsal fin, and lack a swim bladder which most other fish have. Their odd qualities don't stop there. While most fish have a preferred habitat, cobia are known to wander the ocean from shallow inshore bays to well beyond the 100 fathom curve.
Destin possibly has the best cobia fisheries in the Gulf and hosts several tournaments for these fish every year. In Destin, cobia have two distinct seasons: one in April, and another that falls sometime from September to October. Cobia are strong and fight hard even after being hauled up to the boat several times. They are also exceptionally tasty fish that are sometimes called "lemon fish" thanks to their mild, firm, and flaky meat.
Speckled Trout
Speckled trout are available in Destin water year round and a favorite among inshore anglers. Trout can be caught in many fishing environments: jetties, saltwater lakes, reefs, shorelines, flats, passes, surf, channels, and just about anywhere else you choose to fish. Live shrimp are the number one bait because these fish want to kill their prey. Soft plastic shrimp imitations with a jighead are the artificial lures of choice for inshore anglers.
Specks can reach over 35 inches and 15 pounds in their eight to ten years of life. Feeding begins to pick up again in the spring and lasts through the fall. March and October tend to be the peak months. If you're looking for fast and aggressive inshore action, Destin speckled trout fishing is as good as it gets.
Popular Fishing Spots in Destin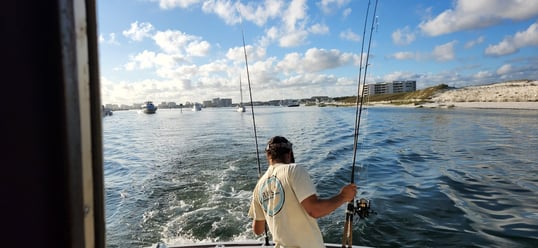 No matter if you're fishing alone or going out with a boat, you always need to know where to go. Destin is full of incredible fishing spots wherever you look. But here's our pick of some of the best inshore and offshore hunting grounds.
Okaloosa Island Pier. Destin's fishing pier stretches out over 1,200 feet into the Gulf, giving you the chance to land some prized fish. Rarely, you could even catch a Sailfish here.
Navarre Beach Pier. This is Fort Walton Beach's fishing pier and was renovated in 2010 to provide more space for more anglers to get their fill of Gulf fish.
East Pass Jetties. The place to be for fishing from shore. Beware of the drops between the rocks as you cast away for some inshore and nearshore beauties.
The Edge
In Destin lingo, the Edge refers to the continental shelf drop-off that occurs remarkably close to shore relative to other fishing hotspots in the Gulf. The Edge is a paradise for bottom dwellers like snapper, grouper, and amberjack. Big game prospects also come here to feed including wahoo, tuna, marlin, and more.
The 100 Fathom Curve
Destin offshore fishing lives and dies with the 100 Fathom Curve. At no point around the Gulf is the deep-water shelf closer to shore than here. The Curve almost looks like a deep water talon that extends up and towards Destin, almost inviting the fish into the waters of the Emerald Coast. With waters quickly reaching 600 ft only 12 miles from shore, this is an incredible opportunity to catch big snapper, grouper, and other bottom dwellers, as well as mahi-mahi and other fish enjoying the confluence of shallow and deep water. Once you cross this boundary into deeper water, you'll also begin to encounter pelagics in much bigger numbers, including wahoo, tuna, sailfish, and marlin.
The DeSoto Canyon
Once you get 50+ miles offshore from Destin, you enter another world of true deep-sea fishing. Here you will find true trophy white marlin and blue marlin, as well as massive swordfish at night.
Charter Fishing in Destin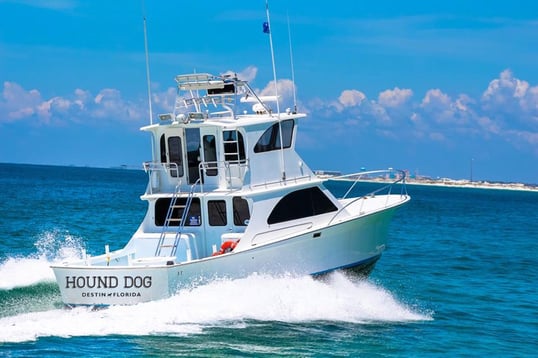 The fishing in Destin's inshore, nearshore, and offshore waters are some of the toughest fighters and best to eat. Snapper and amberjack will stay tucked into the reefs to ambush prey and bottom fishing is the best approach for getting a bite. On the other hand, cobia, barracuda, and mackerel are on the prowl just under the surface crushing anything they think is food. While bottom fishing the reefs is great, it's hard to beat the reel smoking action of a barracuda or mackerel blowing up on the surface and taking off on a run.
Sight casting for cobia is also high octane fun and keeps you on your toes while cruising to get in range. The Emerald Coast of Florida (along with the small coastline of Alabama) is blessed with a truly unique position geographically. The continental shelf is closer to shore here than at any other point in the Gulf of Mexico (in the US, at least).
When Should I Go Fishing in Destin?
With all of the incredible fishing opportunities and other activities that draw tourists to Destin, it's easy to understand its popularity. Destin deep sea fishing has virtually no seasons due to the fantastic year-round bite. The same can also be said for both inshore and reef fishing.The primetime season for weather and a variety of fish species runs from May to November, you can't go wrong. However, there are better times than others to target certain species which we will cover below.
Spring Fishing in Destin
When the air and water starts to warm up around Destin, the fish come to life eating everything in sight. Along with the fish, tourism heats up and Destin starts to get busy leading into the summer. Destin is well known as a top vacation destination and a world class fishery. Luckily spring is the best time for both with perfect weather and aggressive fish just off the coast.
Inshore
Inshore, speckled trout and cobia move into shallow water provide prime opportunities to snag one. Cobia are interesting fish that play by their own rules roaming where they want, when they want, and will cruise around solo or in groups. They are also a big deal in Destin with the Cobia World Championship, HarborWalk Marina Annual Cobia Tournament, and the Hog's Breath Cafe Annual Cobia Shootout being held here every spring. Around March cobia move into the warmer waters of inshore flats and channels after leaving their winter grounds near southern Florida.
Speckled trout also move to shallow water as they prepare to spawn which is the best time to catch a monster trout. The biggest trout head to spawning grounds and all the activity makes them hungry and aggressive.
Nearshore
Moving just a little farther away from shore the nearshore bite is on fire with amberjack and mackerel flooding the Emerald Coast. Amberjack are arguably pound for pound the strongest fish and put up a hellacious fight. Easily growing over 100 pounds amberjack live on the reefs and hunt for baitfish.
Spanish mackerel are the smaller cousin of the kingfish or king mackerel but despite their size, they are one of the most fun sport fish to catch. At three feet long and growing up to 14 pounds these fish are much smaller than some of the other species but they dart through the water in large schools and use their speed to catch prey. Oftentimes a group of anglers will all get hooked up at once when a school of mackerel comes through.
Offshore
The spring offshore fishing in Destin is great with several species starting to move in or out of the area. This is the rare time where many species overlap and you have more fish to target than usual. We are not covering any species in this section because spring is between peak seasons of several fish but this doesn't mean the fishing is slow, actually quite the opposite.
Summer Fishing in Destin
Summer is the peak season for many of the most sought after fish but also Destin tourism. If you're looking for a lively place on and off the water, this is it. Peak bite is on with bucket list species inshore, nearshore, and offshore as the warm weather takes over.
Inshore
Tarpon or "The Silver King" patrol the shallows during their stay in Destin waters. These fish grow over 100 pounds and their startling power is unmatched by any other inshore fish. Tarpon go from zero to 100 in an instant, one moment they are slowly cruising the flats but in a flash, they have already crushed your bait, jumped twice, and are now taking line at an alarming rate. This fish is on many angler's bucket list because they are impressive but also challenging to catch. Tarpon are notoriously picky eaters and trying to get one to bite is no simple task but in the warm summer backwaters of Destin, there are more opportunities than anywhere else.
Snook are another popular bucket list fish particularly trying to catch a giant. Also hanging around the backwaters, schools of snook ambush baitfish in the flats and channels. These fish typically are just over a foot long but during their peak bite in the middle of summer giant snook growing over three feet long can be caught. With giant fish roaming the warm shallow water summer in Destin is one of the best places to catch the fish of a lifetime.
Nearshore
As the water just offshore begins to warm up the pelagic species move in close and go on a feeding frenzy. Sailfish are usually caught far offshore but in the summer they move in close. You can target these fish with kite fishing to keep the bait skipping on the surface but they will also take trolling baits as well.
Red snapper is probably the most popular fish in the summer when their season in federal and state waters open. Summer red snapper fishing in Destin is top notch with tons of fish using the nearshore and offshore reefs as cover. The grouper bite is also on fire and like snapper, you will find them on the reefs. Both of these fish ambush prey around the reef and bottom fishing with jigs or cut bait is a sure fire way to get hooked up. These fish are big and live in deep water which makes it a tough battle but the reward is delicious.
Offshore
Deep sea fishing Destin in the summer has more species in peak bite than any other season. Along with the variety of species, the biggest and most prized trophy fish in the Gulf also shows up in the summer. The blue marlin can grow over 1,000 pounds and somehow they feel bigger when you are in the fighting chair. These beautiful fish are exceptional predators and catching on is an incredible experience. Their smaller cousin the white marlin also shows up in the summer and while they weigh around 150 pounds do not underestimate their strength because they can take line just as easily. Every June, Destin hosts the Emerald Coast Blue Marlin Classic where anglers compete for over two million dollars in cash prizes.
Florida red snapper season and the Federal red snapper season typical run through the summer. Due to their popularity, Destin red snapper fishing charters book up fast. The other fish that love warm water are kingfish and mahi mahi or dolphin as they are sometimes called. These fish tend to top out around 50 pounds and their speed makes reeling one in difficult because they can cover ground quickly. Trolling is the most common and effective way to catch most offshore fish but if you find a school of mahi you can cast bait at them but be careful that you don't get spooled on lighter tackle.
Fall Fishing in Destin
There is, however, one time of year that blows the rest out of the water: The Destin Fishing Rodeo. The Rodeo is a unique tournament that takes place over the entire month of October every year. It has been going strong since 1948, and each year brings around 30,000 anglers and hundreds of thousands of dollars in prizes.
The Destin Fishing Rodeo is special for the community of Destin in that it offers a way for every angler to be included in the action. What better way to celebrate the historical significance of such a great fishing town than to tournament for an entire month with every angler in town!
Almost every charter boat in Destin registers for the Rodeo, and every deep sea charter client is entered for free. Almost every gamefish is entered in the tournament, weigh-ins run all day long every day, and the prizes can be seriously special.
Fall fishing in Destin has the Destin Fishing Rodeo, runs of bull redfish, and the second peak season for cobia and amberjack. The weather starts to cool off but the water stays warms and kicks off the best season for fishing in one of the best locations on earth.
Inshore
Redfish, flounder, and speckled trout are red-hot from September through November which is the perfect opportunity for an inshore slam(catching one of each in a day). As things begin to cool the trout move back into the shallow backwaters ahead of winter and proceed to eat every chance they get. Flounder are firing on all cylinders in inshore waters as they get ready to head back offshore to spawn.
The fall is the best time to target huge bull redfish as they move into shallow inshore waters. All of the biggest reds that have been feeding near the piers, jetties, and bays all year move into the shallow backwaters with the rest of the redfish to spawn. This flood of redfish with both large numbers and size only happens in the fall and the action is ridiculous. If you're serious about catching monster redfish then fall is when you need to be in Destin.
Nearshore
Fall nearshore fishing in Destin looks a lot like the spring with many of the same species doubling back through the area on their migration to wintering grounds. The hot bites come from cobia, amberjack, and Spanish mackerel. These fish are trying to fuel up before they reach their wintering grounds and as long as the water temperature stays moderately warm these fish will hang around and continue to feast.
Offshore
Fall is home to the Destin Fishing Rodeo, a month long fishing tournament that attracts big crowds and is a great spot to see some massive fish. With over 240 boats participating the results are spectacular and anyone can enter as long as they fish on a boat registered in the Destin area. This tournament takes advantage of the continuing peak bite from summer that carries over into fall.
The blue and white marlin bite is still just as hot giving anglers a bigger window to catch that trophy fish or maybe win the tournament. While the mahi mahi are gone the kingfish continue hunting baitfish until the water temperatures begin to drop closer to winter. The fall deep sea fishing is just as good as summer with the ability to land fish from 50 to 1,000 pounds.
Winter Fishing in Destin
Winter fishing in Destin can also be great. This is when a lot of trophy inshore fish are caught and the weather can be much more manageable - it only rains a handful of days on average in the winter and temperatures can still be up in the 50s and 60s.
Winter is slow in the city but out on the water, the fish are still biting. The peak bite in Destin during the winter months is much different than the other months with many species being absent while some are less active and other fish are extremely aggressive and actively searching for food. The bite stays on all winter long with a different set of target species.
Inshore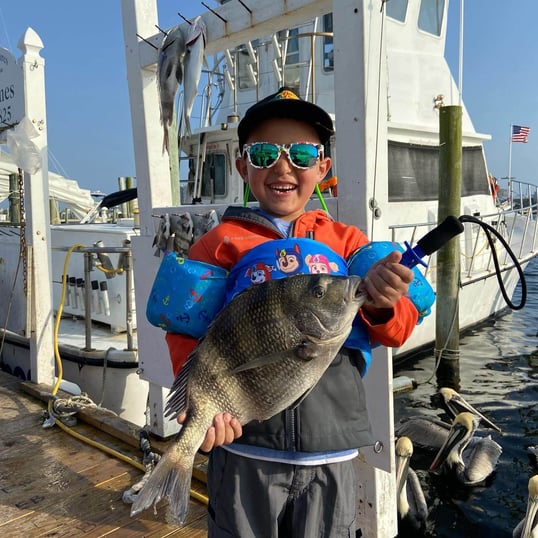 The inshore waters during winter still have redfish and trout but they are not as active this time of year. Sheepshead and black drum are remarkably active despite cooler water and they are hungry. Sheepshead group up anywhere they find a structure that holds the barnacles, crabs, and baitfish that they eat. Catching sheepshead can be tricky even though they are small fish, they are well known for being bait steelers. Find a good structure and keep your bait securely on the hook after that it will be bent rod after bent road duking it out with these feisty fish.
Black drum come into the shallows fired up for their spawn which happens in the winter. Just like their relative the redfish, all of the biggest fish head to the shallows where you have the best shot at catching one. While somehow they aren't as popular as their copper colored cousin, these fish offer all of the same rod bending action and delicious meat.
Offshore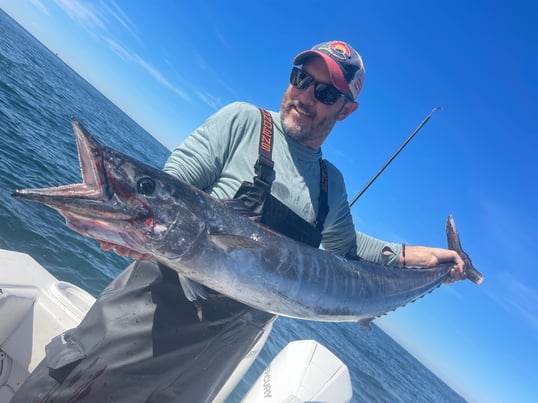 The offshore target species change the most during winter in Destin with marlin and kingfish leaving but making way for the wahoo to take over. Wahoo are one of the most exhilarating pelagic species to catch and they take Destin by storm every winter. These fish are long, fast, toothy, angry fish with the ability to reach 80 pounds or more. They are fierce predators that are notorious for crushing bait and taking off only to snap the line seconds later either from their speed or their teeth. If you want to go fishing this winter, the wahoo in Destin are more than worth the trip.
What to Bring on a Destin Fishing Trip
Heading out on a fishing trip is almost guaranteed to be a good time, but wearing the wrong clothing can ruin your day. While Destin is know for balmy summer weather, in the fall and winter it can get chilly. Warm summer months are the most popular time of year to go fishing. A swimsuit is a good choice as a base for summer fishing because it's not going to make you hot and also makes getting in the water to cool off easy. Swimsuits work well for dealing with the heat, but when the boat is moving the wind can make you cold.
It's a good idea to wear some clothes over your swimsuit like a T-shirt or coverup and shorts. This lets you stay warm during the boat ride, jump in to cool off, and makes getting wet from ocean spray no big deal. For protection from the sun pack lots of sunscreen, wear a hat, and consider wearing long sleeves. Lightweight long sleeve hoodies are becoming more and more popular for their protection from the sun and ability to keep you comfortable in the heat and wind.
Winter fishing can be hard because you need to stay warm but also be prepared for getting wet occasionally. As with all cold weather activities dressing in layers is important. This will let you regulate temperature but also gives you the option to shed a layer if you get wet.
Three layers consisting of a shirt, flannel or sweatshirt, and a jacket will be good enough for most areas. A jacket that is water repellant or waterproof is an ideal outer layer but it's not necessary. Most pants will be sufficient as long as they are full length and will keep you warm. Hats are great for keeping you warm but make sure you bring sunscreen for your face if you go with a beanie.
Wind can be harsh, making you cold on hot days or leaving your skin burning after being exposed to a gale all day. The best protection from the wind is wearing long sleeves for your arms and a gator to protect your face and neck. Depending on the weather wearing a windbreaker jacket and or pants can be very helpful. As a bonus the same gear that protects you from the wind will also protect you from the sun.
Rain is difficult to plan for but in some areas it's inevitable. Waterproof fabric like Gortex is the best option when it comes to handling getting wet. Whether it's rain or ocean spray, having waterproof outer layers will keep you focused on catching fish rather than staying warm and dry. If you don't see rain in the forecast it still might be a good idea to bring rain gear if you have space.
Your feet are the most likely part of your body to get wet on a fishing trip with fish, waves, weather, and hoses all bring water onboard. Some people can get away with tennis shoes on bigger boats but nobody likes soggy feet. For cold weather, shoes that offer some ability to shed water will be a safe bet like deck boots or bean boots. Warm weather is much easier with any shoe that doesn't hold water being a good option. The best warm weather shoes are crocs, secure sandals, or nothing at all. Going barefoot on deck can depend on the boat. On some boats it's required in order to keep the boat clean. Ultimately the most important thing is to be comfortable so pick the shoes that will keep you focused on the fish.
Being prepared and having the right clothes will keep you comfortable which let's you get more out of your trip. Keeping an eye on the weather is crucial for planning what you're going to wear because it can be dramatically different from one spot to the next. Make sure you always bring something warm even in the summer when getting wet and dealing with wind can make you cold. Always remember to protect yourself from the sun with long sleeves and sunscreen. Regardless of the temperature you can still get sunburn and that can easily ruin anybody's day. If you stick to these simple guidelines you will be prepared for any fishing trip wherever you go.
What is a Fishing Guide?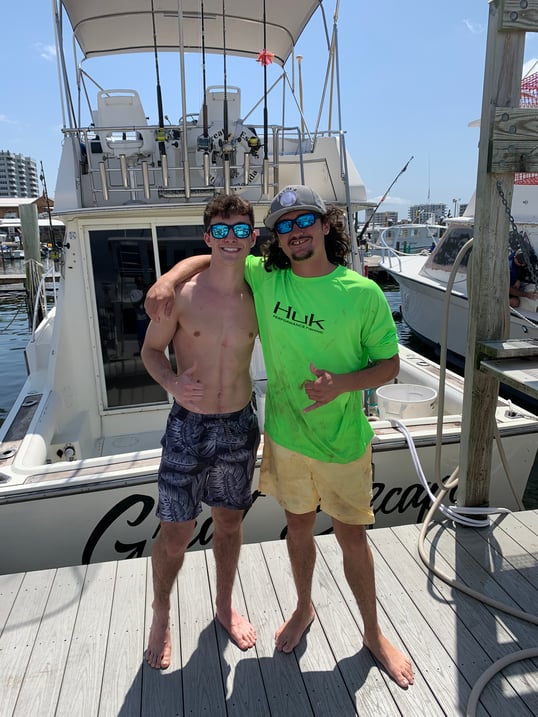 Fishing guides are experienced, professional fishermen who are accustomed to taking people at all skills levels out for a day of fishing. If you let your guide know that you are new to fishing, then the guide will be able to plan the trip accordingly. Fishing guides typically supply all the equipment you will need, so new anglers do not need to make expensive purchases to gear up for their first trip. Most fishing guides will provide rods, reels, bait, and more. Also, many guides cater to new comers, and they delight in helping someone catch their first fish.
Some styles of fishing are easier for beginners, and your fishing guide should be able to pick a style that is right for your experience level. For example, when fishing for redfish or trout along the Gulf Coast, it is generally easier for beginners to catch fish while using bait. Using certain artificial lures can take more practice to get the fish to bite. Matching the fishing technique to the experience level of the angler is a key skill for a professional guide.
What Will I Learn on a Fishing Trip?
Regardless of whether it is your first trip or your one hundredth trip, a professional fishing guide should be able to help you improve your fishing skills. Depending on the type of fishing you choose, a guide can teach an angler a few new skills such as:
Intro to Fishing
Hiring a professional fishing guide is a great way to introduce non-fishermen to the sport. Because they are on the water frequently, the guides know where the fish are biting. But there are no guarantees in fishing, so keep in mind that not everyone will actually catch fish the first time that they get to go fishing. Hopefully, with a skilled guide and some beginner's luck, new anglers will get the opportunity to catch a few fish.
Captain Experiences offers fully guide trips for anglers at all levels of experience. All you have to do is select the location that you wish to go fishing, and then browse our list of available fishing guides for that location. Each guide will have a profile that specifies the skill level of angler needed for the trip, and most of our guides welcome beginners. Each guide's profile will also indicate whether fishing gear is provided and what you can expect from a day on the water. Whether it is your first time or you are an experienced fishing pro, Captain Experiences looks forward to helping you book your next fishing adventure.
How to cast
How to bait a hook
Where to locate fish
How to tie a fishing knot
What type of fishing gear you need
How to set the hook
How to reel in a fish
How to clean a fish
The best fishing guides can do other things beyond fishing instruction. Some guides may be able to show you points of interest or help you identify some local wildlife that you may encounter during the day. There are all sorts of things that you can learn from someone who has more experience on the water.
Places to Stay Near Destin
As one of the top vacation destinations in the U.S. Destin has a long list of hotels, rental properties, and resorts to choose from. The most prominent resorts in Destin are Pelican Beach, Silver Shells Beach, and The Palms. Many of these resorts have amenities such as pools, water parks, a spa, golf course, and of course beach access. If you want a more standard hotel experience, almost every large hotel chain can be found in Destin, most of which are close to the water. Depending on how long your group wants to stay, there are also endless rental properties to choose from and offer a more comfortable home-like experience for your vacation.
Things to do in Destin
While Destin features some of the best fishing along the entire Gulf of Mexico, the city is just as much fun once you're off the water. With Destin being a popular vacation destination, this city really has everything. The beaches are a popular place to spend the day because of the beautiful white sand and blue water. Check out Big Kahuna's Water & Adventure Park, the Destin Harbor Boardwalk for sunset, challenge your group to a round of mini golf, or stroll down historic downtown Destin to take it all in. Jetski and kayak rentals are also available at Harborwalk Village which lets you explore the Destin waters on your own personal watercraft.
The options are endless in Destin with a variety of activities both on and off the water. Whether you're just in Destin fishing for the weekend or deep sea fishing in Destin the whole summer, these are all great things to do in Destin, FL with kids or the whole family.
Find More Information and Plan Your Fishing Trip to Destin
For all of the different kinds of fishing charters in Destin or anything else you may need, you can learn more here.
What Licenses Do I Need to Go Fishing Out of Destin?
When charter boat fishing out of Destin (as in the entire state of Florida), charter guests are covered by the captain's licenses. This means that there are no special licenses required for you to head out on a deep-sea charter from Destin.
Book a Destin Fishing Charter with Captain Experiences Today
Book the best private Destin Fishing Charters with Captain Experiences for the fishing trip of a lifetime and check out all our options for Destin deep sea fishing prices and cheap charter fishing in Destin, Fl.
Charter fishing in Destin is a blast to enjoy with your family and friends and we're excited to help get you on the water.
With a higher charter captain per capita than any other big city in the country, there are plenty of opportunities to book the best deep sea charter for you and your group. There are boats, guide personalities, and fishing types to match what any group is looking for
Fishing in Destin
Destin offers world-class opportunities to catch some of the biggest, tastiest, and most popular fish in the Gulf. Whether you want to troll more than 50 miles offshore for a grander marlin or stalk shallow bays and sight cast for bull reds, book your next fishing trip with the best Destin fishing charters today.