What is Captain Experiences?
We're on a mission to Unlock the Outdoors for everyone. With thousands of Damn Good Guides across the US and beyond, our platform makes booking quality, vetted guides quick and easy.
Check out our trips
Essential Duck Hunting Gear List
When you first begin waterfowl hunting, it's very overwhelming. You have to learn how to think like a duck, make a good hide, call, set up the decoys, and know what gear you need, plus many other details that matter.
While I can't solve every duck hunting issue for you, I can give you a list of gear you'll need on your first or 1000th hunt so you won't waste your money on equipment you'll never use.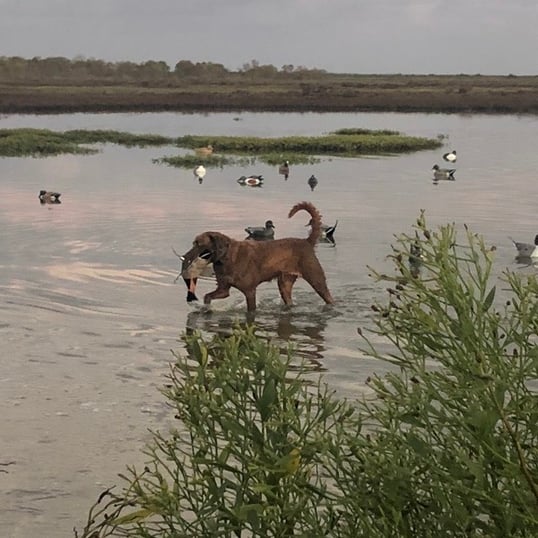 1. Shotgun and Shells
Taking a shotgun is pretty apparent. The main thing is ensuring it has a plug that only allows it to hold three shells. While I prefer a pump shotgun, I use a semi-auto, and I've found they're less reliable than pump shotguns.
Speaking of shells, you'll need steel shot or another type besides lead when waterfowl hunting. You can use several different shot sizes, and everyone has their favorites. My preference is 4 shot for ducks and BB for geese, but 12 gauge seems to be the most popular. Many argue that 12 gauge shotguns are the best for waterfowl hunting because the shells are easy to find and they can handle a wide range of birds.
2. Camo Clothing
Unless you're hunting in a dry field, you'll likely need waders and a waterproof jacket. I try to use a camo pattern that best matches my surroundings, but that's not always possible, which is why blinds are critical.
I prefer breathable waders—they're easier to walk in, and warmer on cold days when adequately layered.
Waterproof gloves are a must-have; a hunt can turn miserable and dangerous if your hands get cold and wet.
When I hunt in a dry field, I wear insulated pants and boots to keep me warm. The camo pattern typically doesn't matter as much because a layout blind covers me up. However, the pattern matters much more if you're not using a blind to hide.
3. Decoys
Decoys are expensive and, in my opinion, overrated. I've hunted over decoys that were 30+ years old and used brand new, top-of-the-line decoys and limited out with four or more guys with both.
That's why I believe beginners should buy used decoys or the cheapest decoys you can find. It doesn't make sense to spend thousands of dollars on a hobby you're just trying, so test the waters using cheap decoys.
If you notice the birds are flaring, more than likely, it's your hide, not the decoys. I know old-timers that used to use painted pop bottles as decoys.
There are many different types of decoys from different species, full-body, silo-socks, silhouettes, shells, floating, spinning wing, and pulsers.
I recommend getting the most common species in your area; that's typically mallards.
If you plan to hunt mostly fields, get full bodies, silo-socks, or silhouettes.When hunting water, floating and pulsers work well. spinning wing decoys can work in both locations, but the ducks will get suspicious of them, especially in late season.
The number of decoys you need will depend on where you're hunting. When hunting small areas, typically two dozen is plenty of decoys. In larger open spaces, such as crop fields, you'll likely need more than 10dz.
If you hunt with one of Captain Experience's Damn Good Hunting Guides, they'll have the right type of decoy and know just the right ones to put out.
4. Gear Bags
There are countless gear bags on the market of various styles. My favorite is a waterproof or water-resistant backpack. I've found backpacks are the easiest to carry, and I can get everything I need stuffed inside.
Another style I've used is the blind bag—a small camo duffle bag.
Make sure there's enough room for your shells, gloves, calls, and a few other essentials like toilet paper.
5. Blinds
After waterfowl hunting for decades, I've found the one thing more important than anything else is the hide. You must be hidden, or the birds will flare, and you'll never get a shot.
You can put a blind on your boat, kayak, or in the field. I've built many blinds when hunting private property. You'll need to understand the laws when making a blind on public property, as I've found they change from location to location.
Whether you buy a blind or build a blind, ensure it blends in with the surrounding environment.
If you don't have a blind while hunting in a field, try packing the decoys around you as close as possible and hiding underneath them.
6. Duck Boat
Duck boats have many different forms. It can be the decked-out 20ft surface drive, a kayak, or a Jon boat with a small outboard.
This is one item you don't have to have, though it helps you reach places others can't or are unwilling to go.
I don't recommend purchasing a boat if you're just getting into duck hunting. It's best to wait until you're sure you like your new hobby and have time to pursue it. If you're just starting out, need access to a boat, or just want to try hunting a new spot, booking a guide is a great way to go.
Take' Em
Getting caught up in the latest and greatest hunting gadgets as a new or seasoned duck hunter is easy.
However, I prefer to keep things simple and inexpensive because hunting is an expensive hobby.
Here's what you'll need to get started duck hunting:
Shotgun and shells
Camo clothing, preferably waterproof
Gear bag
Decoys and decoy weights
Blind
Here's what would be nice to have:
Calls (if you know how to use them)
Duck boat
Upgraded decoys
Bird dog
I learned to duck hunt from my dad and made friends who duck hunt. We all share our gear, so we don't have to buy every piece of equipment.
If you're new to duck hunting, I recommend going with a buddy or guide willing to show you the ropes and teach you how to use your waterfowl gear properly.
There's a lot to duck hunting; take it slow and manage your expectations to have the best hunts possible. At the end of the day, ducks or no ducks, you'll still have a damn good time just getting out there.