What is Captain Experiences?
We're on a mission to Unlock the Outdoors for everyone. With thousands of Damn Good Guides across the US and beyond, our platform makes booking quality, vetted guides quick and easy.
Check out our trips
Flounder Spawning Migration
In the fall flounder migrate from coastal and intercoastal waters to the Gulf to spawn. Males typically head for deeper water when temperatures begin to drop. A severe cold front will cause a mass migration resulting in large catches. However, a moderate winter will spread out the migration over the course of several days or weeks.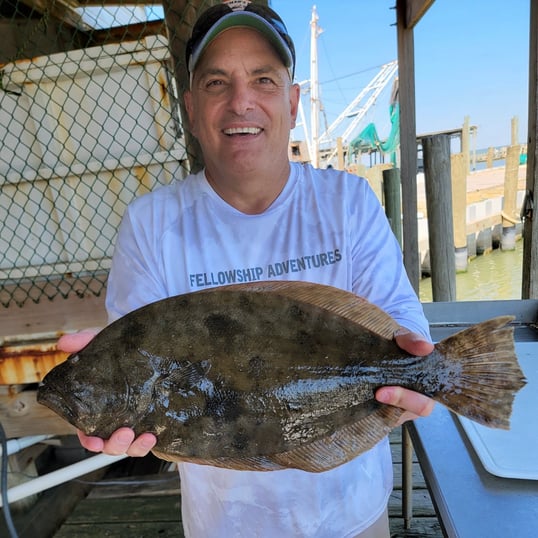 Flounder reach maturity when they are 2 years old at which point they will take part in the offshore migration. Mature flounder search for offshore waters between 100 and 200 feet deep to spawn. Young flounder that do not migrate to the Gulf, spend the winter in deep holes and channels. Studies have found during the time between spawns flounder only move a short distance. Typically after the spawn, flounder return to the same bay.
Texas Flounder Season 2022
The Texas Parks and Wildlife Department sets regulations along the Texas Coast to protect our marine resources. For 2022 TPWD has announced Texas flounder season will only be closed from November 1st through December 14th. No flounder may be harvested during this time.
Texas Flounder Regulations
During flounder season, the daily bag limit is five fish per person. These fish must be at least 15 inches in length to legally harvest.
When to Catch Flounder in Texas?
The best time to target flounder in Texas is during their fall migration to the Gulf. This typically runs from October to December but a seasonal closure on flounder fishing is in place from November 1st through December 14th. During the fall flounder run, channels, passes, and piers are some of the most productive spots. These areas are used by flounder to get to and from the gulf making them easier to find. Flounder can be caught using a rod and reel but the most popular method is gigging. Gigging has a long history in Texas, possibly starting with Native Americans.
Are Flounder Good to Eat?
When eating flounder there is no question about style - stuffed flounder is the way to go. When you search flounder recipes that is all you will see. Flounder is most commonly stuffed with crab, maybe some shrimp, some veggies, some crackers - everyone has their own recipe - but it is damn good when it comes out of the oven. Flounder is most often stuffed because it's odd body shape encourages this since it is already flattened and ready to be opened up. With continued management, fishermen can brave the first cold front of winter and catch a nice flounder for supper for years to come.