4.94 / 5 Average Review Score
Team of Experts Available 24/7
Licensed and Insured Guides
Recently Booked Fishing Charters Near Ketchikan, Ak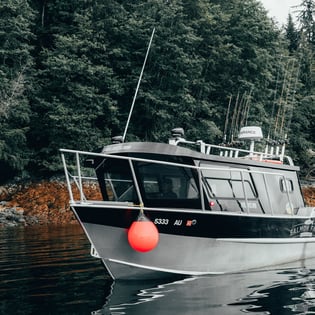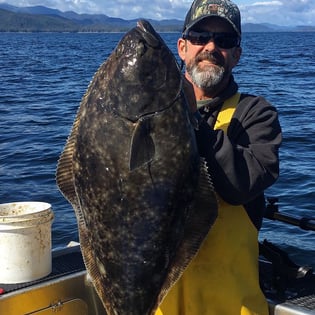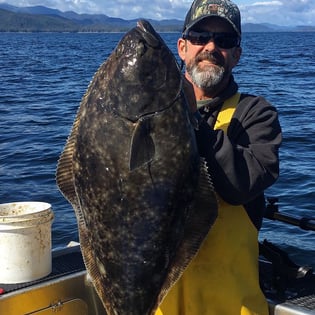 Escape to Ketchikan, Alaska, for the adventure of a lifetime! Ketchikan is known as the Salmon Capital of the world and as such has an epic King and Silver Salmon run every year. Warm ocean currents and spring runoff create an ideal habitat for millions of bait fish, which in return creates a perfect environment for all types of Salmon. The Halibut, Lingcod, and 20 other fish species are abundant and offer an array of fishing opportunities! Salmon Falls is your basecamp for this adventure. Your overnight package includes all your meals—all you have to do is decide the type of room to begin each new day. Matt and his team are committed to making this the best fishing trip ever for all guests! From seasoned pros to new anglers baiting a hook for the first time, they will make sure you enjoy the adventure of a life time. Their custom fleet of new boats and top of the line gear, experienced Alaskan guides, and location make for a recipe of success. With the fully-guided fishing package, one of these experienced captains will assist you on your fishing trip in one of their Riddle Marine 27.5 ft. boats, equipped with a heated cabin, standing/private heads, surround sound music, shock-absorbent seats, dual 200 Honda outboards, and an arsenal of top-of-the-line fishing gear. These guides will assist you in finding the best location, baiting hooks, reeling in your catch, and anything else you may need while aboard. Skilled fishermen? These captains are happy to step back and let you fish your way! Lunch and fish processing are included. **Fish Processing:** The best part of a fishing trip is cooking for friends and family when you return home. Once you've landed those salmon, halibut, lingcod, and rockfish your job is done. Salmon Falls resort fish processing is included all of these inclusive packages. Leave the cleaning, cutting, and packaging to the expert crew of fish processors. Their onsite expert fish processors will guide you to the correct cut whether it be steaks or fillets. Be sure to note the approximate yields of each fish: Salmon 45%, Halibut 45%, Lingcod-20%, Rockfish- 15% The processing crew trims, fillets, vacuum packs, and flash freezes it for travel on your airline. Fish will stay frozen for appx 20+ hours depending on location. At Salmon Falls Resort, fish boxes accompany guest as luggage and travel under airlines weight restrictions. On departure day the onsite crew will ensure your fish is packed and ready to go and will deliver to the airport shuttle. If you plan to continue your travel before returning home, the crew can recommend shipping options for future delivery. **Accomodation:** Based on double occupancy. Double Queen, Double Full and King Suites are all options based on availability. The $100/Person Resort Fee Includes: WI-FI throughout the property Live entertainment five nights/week Round-trip airport transfers Access to the Adventure Lounge All-weather gear: waterproof jacket, pants and rain boots In-room bottled water Local telephone calls Souvenir Salmon Falls postcard with free postage (available at the front desk) **Meals:** Dinner on arrival day, three meals on full days & breakfast on departure day. Boxed lunches are provided for fishing. Breakfast, lunch & dinner are available on-site at Timbers Restaurant. **On-Site Activities:** From hiking to beach-combing, any exploration activity on-property is included in your rate. Read More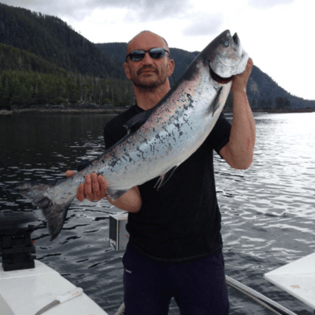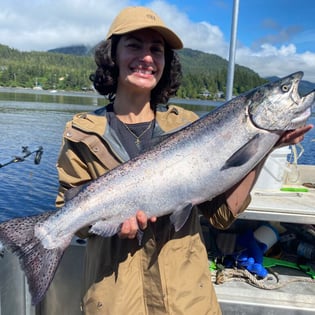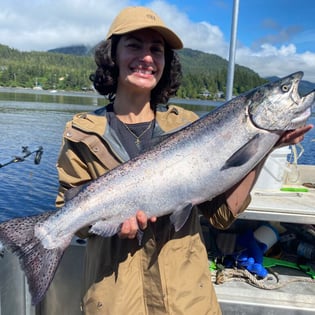 Ketchikan, Alaska is a picturesque fishing town located on the southern coast of the state. It is known for its abundant Salmon population and offers some of the best Salmon fishing in the world. Captain William and his 32' Crozier Craft fishing vessel are ready to take you on an unforgettable fishing adventure. As you board the boat, Captain William will give you a quick briefing—then it's time to hit the water. He knows all the best spots in the area and will take you to the most productive fishing grounds. Whether you're an experienced angler or a novice, Captain William will provide everything you need for a successful day of fishing, including top-of-the-line fishing equipment, lures, and bait. As you cast your line, you'll be surrounded by stunning scenery of southeastern Alaska. Ketchikan is located in the heart of the Tongass National Forest, the largest national forest in the United States, and the area is teeming with wildlife. Keep an eye out for bald eagles, seals, and even whales as you fish for Salmon! Captain William will provide expert guidance and instruction throughout the trip, teaching you the best techniques for catching salmon. You'll have the opportunity to catch a variety of salmon species, including King (Chinook), Silver (Coho), and Pink Salmon. All of these species are delicious pan fried, grilled, or even fresh as sushi! Captain William and his expert guides Kevin and Landon go above and beyond to make sure everything is taken care of on the day of your trip. Beyond providing all the expert experience and guidance, they will also supply: all fishing gear, tackle and bait, Bottled Water & Sodas, Rain ponchos & rain gear, all Required USCG approved safety gear, and delivery of your catch the fishing processor! Their boats come fully loaded with fuel, an enclosed cabin with heater, and full standing bathroom as well. Captain William and his team can also arrange the shipping for your catch after it has been processed. They use overnight shipping via FedEx, cost is typically around 2.50$/lb of filet plus boxing and shipping. The fish are waiting—get out there and set some hooks! Read More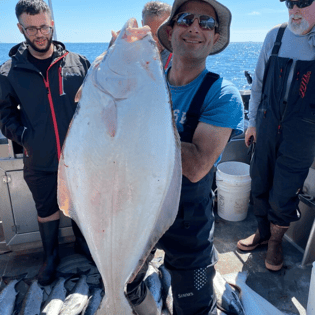 Ketchikan, Alaska is a prime destination for Halibut fishing. Located on the southern coast of the state, the waters around Ketchikan are home to some of the largest Halibut in the world, and Captain William and his 28' Crozier Craft fishing vessel are ready to take you to find one! As you board the boat, Captain William will give you a quick briefing and then it's time to hit the water. He knows all the best spots in the area and will take you to the most productive fishing grounds. Whether you're an experienced angler or a novice, Captain William will provide everything you need for a successful day of fishing, including top-of-the-line fishing equipment and bait. Halibut are bottom-dwelling fish, so you'll be using heavy tackle and bait to target them. Captain William will show you the proper techniques for catching these bottomfeeders and will provide expert guidance throughout the trip. The thrill of reeling in a massive Halibut is unmatched, and you'll have the chance to catch fish weighing up to two hundred pounds! As you fish, you'll be surrounded by stunning scenery. Ketchikan is located in the heart of the Tongass National Forest, the largest national forest in the United States, and the area is teeming with wildlife. Keep an eye out for bald eagles, seals, and even whales as you fish! At the end of the day, Captain William will clean and fillet your catch, so you can take it home to enjoy a delicious meal. A charter fishing trip with Captain William is the ultimate outdoor adventure and a great way to experience the beauty and bounty of Ketchikan, Alaska. In addition, Captain William is able to vacuum-pack and freeze your fish if you want to ship it home. Just ask! Read More
Top Types of Trip in Ketchikan
Top Targeted Species in Ketchikan
Half Day and Full Day Fishing Trips in Ketchikan
Everything to Know About Booking a Fishing Charter in Ketchikan
What are the best fishing charters in Ketchikan?
All guides on Captain Experiences are licensed, insured, and vetted by our team. You can access their reviews, click through trip photos, read bios to get to know them, and preview trip details like species, techniques, group sizes, boat specs and more.
What types of fishing charters are common in Ketchikan?
Inshore fishing is the most popular in Ketchikan as well as nearshore fishing.
The most commonly sought after species in Ketchikan are: 1. chinook salmon, 2. coho salmon, 3. halibut, and 4. pink salmon.
The most common fishing techniques in Ketchikan are trolling, heavy tackle fishing, and jigging but artificial lure fishing and bottom fishing are popular as well.
How much do Ketchikan fishing charters cost?
in Ketchikan prices can range anywhere from an affordable $900 to $3,000 and up, but the average price for a half day trip in Ketchikan is $1,410. The average price for a full day trip in Ketchikan is $2,273.
What month is best for fishing in Ketchikan?
The most popular season for fishing in Ketchikan is summer, and most anglers book their trips 16 days in advance.
Do I need a Ketchikan fishing license and what are the bag limits in Ketchikan?
See here for more information on fishing licenses in Ketchikan, bag limits for target species, and fishing season regulations in Ketchikan. When in doubt, your fishing guide will always know the right rules and regulations in Ketchikan.
Ketchikan Fishing Overview
If you want to get off the beaten path for your next fishing trip, look no further. The difficulty of getting to Ketchikan is more than made up for by the quality of the fishing once there. The rivers, creeks, and shorelines are undisturbed and add to the stunning beauty of the area. From Ketchikan, you can head out and fish deep water in strong currents or jump in a plane and hit backcountry fishing spots with a fly. No matter where you choose to fish, you will see and feel how what makes Ketchikan so special.

Take a boat out to deep water or fly out to pristine stretches of river and experience some of the best fishing in the world.
Halibut Fishing in Ketchikan
You'll have two options once leaving land, salmon or halibut. Bottom fishing for halibut will test your arms to the max - pulling up a flat 50 pound fish (or if you're lucky, up to 400 pounds) from the very bottom of the water column hundreds of feet down. But your reward is an incredibly tasty white meat fish.
Ketchikan Salmon Fishing
If you want to fish salmon, go no further - Ketchikan is often called the salmon capital of the world. You'll have great access to four out of the five species of Pacific salmon: King Salmon/Chinook, Coho Salmon/Silver, Chum Salmon/Dog, and Pink Salmon/Humpy. The limits and seasons are different based on what you choose to target, but regardless get ready for some action.
Ketchikan Rainbow Trout Fishing
There is something special about catching beautiful fish in their natural habit and better yet, in their native range. Rainbow trout were actually introduced to many of their most famous fishing locations, but not Ketchikan. These untouched stretches of the river are filled with ideal rainbow trout fishing spots and make Ketchikan the best place in the world to catch these gorgeous fish.
Ketchikan Pike Fishing
Although the northern pike is not native to the bodies of water around Ketchikan, they are a blast to catch and are often a welcome bycatch while fishing for rainbow trout or salmon. This exciting fish is a hard-hitting predator with great-tasting white meat. While traditional tackle works well, fly fishing is a common way to fish the river and it may be an even more exhilarating way to catch pike.
Popular Types of Fishing In Ketchikan
Ketchikan fishing charters offer a variety of options for anglers of all levels. The most common types of fishing charters in Ketchikan are salmon fishing charters, halibut fishing charters, and combo charters that offer both salmon and halibut fishing.

Salmon fishing charters are popular in Ketchikan because the area is known for its abundant salmon population. The most common types of salmon caught in Ketchikan are king salmon, silver salmon, and pink salmon.

Halibut fishing charters are also popular in Ketchikan because the area has some of the best halibut fishing in the world. The most common types of halibut caught in Ketchikan are Pacific halibut and California halibut.

Combo charters are a great option for anglers who want to experience both salmon and halibut fishing in one trip. These charters typically visit landmarks such as the Tongass National Forest and Misty Fjords National Monument.

No matter which type of Ketchikan fishing charter you choose, you're sure to have an unforgettable experience in one of the most beautiful fishing destinations in the world.
The Best Places To Fish In Ketchikan
Ketchikan, Alaska is a world-renowned destination for fishing enthusiasts. With its pristine waters and abundant marine life, it's no wonder why. Here are some of the best places to fish in Ketchikan, Alaska, whether you're going on a fishing charter or casting your line from shore:

1. Clover Pass Resort: This fishing resort offers both guided fishing charters and self-guided fishing opportunities, with access to some of the best salmon and halibut fishing in the area.

2. Knudson Cove Marina: Known for its excellent halibut fishing, Knudson Cove Marina also offers fishing charters for salmon, rockfish, and lingcod.

3. Southeast Exposure Outdoor Adventure Center: This fishing charter company offers a variety of fishing trips, including salmon, halibut, and bottom fishing, as well as wildlife viewing and sightseeing tours.

4. Mountain Point: A popular spot for shore fishing, Mountain Point is known for its salmon runs and is easily accessible from Ketchikan.

5. Neets Bay: This remote location is accessible only by boat or seaplane, but it's worth the trip for the chance to catch massive runs of pink salmon and the occasional king salmon.

6. Herring Cove: Another popular spot for shore fishing, Herring Cove offers the chance to catch salmon and other species, as well as the opportunity to view bears and other wildlife.

7. Tongass Narrows: This narrow channel between Ketchikan and Gravina Island is a prime location for catching salmon, halibut, and other species, with many fishing charters operating in the area.

8. Inside Passage: For those looking for a more adventurous fishing experience, a multi-day fishing charter through the Inside Passage offers the chance to catch a variety of species while exploring some of the most remote and beautiful parts of Alaska.
Other Things To Do In Ketchikan
While Ketchikan fishing charters are a popular attraction, there are plenty of other things to do in this Alaskan city. Take a scenic flightseeing tour over the Misty Fjords National Monument, go kayaking or paddleboarding in the Tongass National Forest, or visit the Totem Heritage Center to learn about the area's rich Native American history. For a unique experience, take a ride on the Ketchikan Duck Tour, which combines a city tour with a water adventure. And don't forget to try some fresh seafood at one of the many local restaurants.
Ketchikan Fishing Calendar
| Species | January | February | March | April | May | June | July | August | September | October | November | December |
| --- | --- | --- | --- | --- | --- | --- | --- | --- | --- | --- | --- | --- |
| Chinook Salmon | Good | Good | Great | Great | Ideal | Ideal | Ideal | Great | Great | Good | Good | Good |
| Chum Salmon | Fair | Fair | Fair | Fair | Fair | Good | Ideal | Ideal | Good | Fair | Fair | Fair |
| Coho Salmon | Fair | Fair | Fair | Fair | Fair | Good | Ideal | Ideal | Ideal | Good | Fair | Fair |
| Dolly Varden | Good | Good | Good | Good | Great | Ideal | Great | Good | Good | Good | Good | Good |
| Halibut | Not Allowed | Good | Good | Good | Great | Ideal | Ideal | Ideal | Ideal | Great | Good | Good |
| Lingcod | Ideal | Ideal | Ideal | Ideal | Ideal | Ideal | Ideal | Ideal | Ideal | Ideal | Ideal | Ideal |
| Pink Salmon | Fair | Fair | Fair | Fair | Fair | Good | Ideal | Ideal | Fair | Fair | Fair | Fair |
| Rockfish | Good | Good | Good | Good | Great | Ideal | Ideal | Ideal | Ideal | Good | Good | Good |
| Sockeye Salmon | Fair | Fair | Fair | Fair | Fair | Ideal | Ideal | Ideal | Fair | Fair | Fair | Fair |
Top Targeted Fishing Species in Ketchikan
Top Fishing Techniques in Ketchikan
;