4.94 / 5 Average Review Score
Team of Experts Available 24/7
Licensed and Insured Guides
Recently Booked Fishing Charters Near Punta Cana, Dominican Republic
Head out for an inshore adventure aboard a 23' custom style boat a mix between a panga and a skiff, this boat is comfortable to fish from, has a bow casting area, and also includes a shade top shield you from the sun's incessant rays! Targeting the inshore around Punta Cana is usually super productive as they have a plethora of Bonefish, Permit, and Tarpon cruising the waters down there. If you're looking to target Tarpon be warned these fish are big and smart down there. You will mostly find them sticking closer to the marina, and early in the morning or late in the afternoon are usually the best times to see big tarpon cruising the crystal clear waters. Though they can still be tough to catch, bonefish are less pressured in this area which makes hooking into one a little easier than you might see in the Florida Keys for example. If you'd like to poke it a little further out, Captain Anthony's crew is more than happy to take you out to fish the reefs as well where you can catch a variety of Grouper, Snapper, and other reef species. All the gear is provided for your adventure all they recommend you bring are your favorite snacks and drinks and your sun protection, Captain Anthony and his crew will take care of the rest! Read More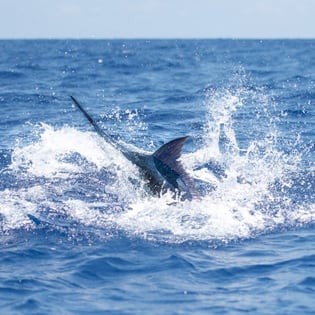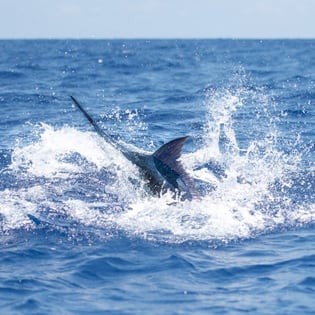 Head out of the sportfishing paradise of Cap Cana Marina, Punta Cana, with Captain Edgar aboard his 47' Buddy Davis for an epic offshore trip. Captain Edgar offers a range of awesome trips targeting some of the world's most sought-after species. Specializing in Billfish, Since Punta Cana is in the top #3 best places in the world for Marlin Fishing. Captain Edgar is an American-born guide with the skills and the equipment needed to get you on that fish of your dreams All charters include transportation from and to the hotel within the bavaro-punta cana area. Drinks and snacks are also included. If any preffrence in drinks or food let us know in advance. Also included are all fishing license and permits for each fisherman out of Capcana Marina. Read More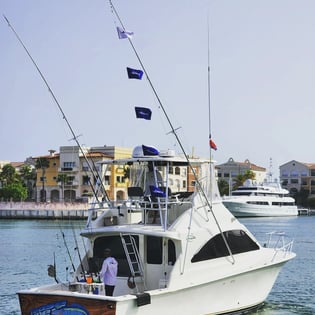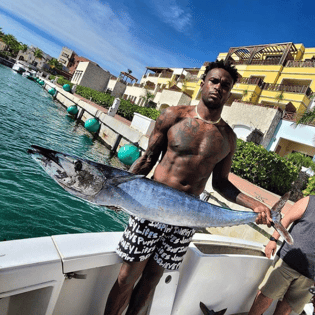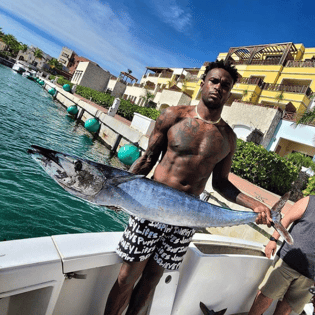 Head out of the sportfishing paradise of Cap Cana Marina, Punta Cana, with Captain Edgar aboard his 42' Ocean Yachts Sportfisher for an epic offshore trip. Captain Edgar offers a range of awesome trips targeting some of the world's most sought-after species. Specializing in Billfish, Since Punta Cana is in the top #3 best places in the world for Marlin Fishing. Captain Edgar is an American-born guide with the skills and the equipment needed to get you on that fish of your dreams All charters include transportation from and to the hotel within the bavaro-punta cana area. Drinks and snacks are also included. If any preffrence in drinks or food let us know in advance. Also included are all fishing license and permits for each fisherman out of Capcana Marina. Read More
Top Types of Trip in Punta Cana
Top Targeted Species in Punta Cana
Half Day and Full Day Fishing Trips in Punta Cana
Everything to Know About Booking a Fishing Charter in Punta Cana
What are the best fishing charters in Punta Cana?
All guides on Captain Experiences are licensed, insured, and vetted by our team. You can access their reviews, click through trip photos, read bios to get to know them, and preview trip details like species, techniques, group sizes, boat specs and more.
What types of fishing charters are common in Punta Cana?
Deep Sea fishing is the most popular in Punta Cana as well as nearshore fishing and inshore fishing.
The most commonly sought after species in Punta Cana are: 1. mahi mahi, 2. wahoo, 3. sailfish, and 4. white marlin.
The most common fishing techniques in Punta Cana are heavy tackle fishing, trolling, and artificial lure fishing but live bait fishing and light tackle fishing are popular as well.
How much do Punta Cana fishing charters cost?
in Punta Cana prices can range anywhere from an affordable $450 to $1,450, but the average price for a half day trip in Punta Cana is $695. The average price for a full day trip in Punta Cana is $1,050.
What month is best for fishing in Punta Cana?
The most popular season for fishing in Punta Cana is spring, and most anglers book their trips 21 days in advance.
Do I need a Punta Cana fishing license and what are the bag limits in Punta Cana?
See here for more information on fishing licenses in Punta Cana, bag limits for target species, and fishing season regulations in Punta Cana. When in doubt, your fishing guide will always know the right rules and regulations in Punta Cana.
Recent Reviews of Captain Experiences
Punta Cana Fishing Calendar
| Species | January | February | March | April | May | June | July | August | September | October | November | December |
| --- | --- | --- | --- | --- | --- | --- | --- | --- | --- | --- | --- | --- |
| Amberjack | Ideal | Ideal | Ideal | Ideal | Ideal | Ideal | Ideal | Ideal | Ideal | Ideal | Ideal | Ideal |
| Barracuda | Ideal | Ideal | Ideal | Ideal | Ideal | Ideal | Ideal | Ideal | Ideal | Ideal | Ideal | Ideal |
| Blue Marlin | Good | Good | Good | Good | Good | Great | Ideal | Ideal | Ideal | Great | Good | Good |
| Bonito | Ideal | Ideal | Ideal | Ideal | Great | Good | Good | Good | Good | Great | Ideal | Ideal |
| Cubera Snapper | Good | Great | Great | Great | Ideal | Ideal | Ideal | Ideal | Great | Great | Great | Good |
| Kingfish | Ideal | Ideal | Ideal | Great | Fair | Fair | Fair | Fair | Good | Great | Ideal | Ideal |
| Mahi Mahi | Ideal | Ideal | Ideal | Great | Good | Good | Good | Good | Great | Ideal | Ideal | Ideal |
| Sailfish | Ideal | Ideal | Great | Good | Fair | Fair | Fair | Good | Great | Ideal | Ideal | Ideal |
| Snook | Ideal | Ideal | Ideal | Great | Good | Good | Good | Good | Good | Great | Ideal | Ideal |
| Tarpon | Ideal | Ideal | Ideal | Great | Good | Good | Good | Good | Good | Great | Ideal | Ideal |
| Wahoo | Great | Good | Good | Good | Good | Good | Good | Good | Great | Ideal | Ideal | Ideal |
| White Marlin | Fair | Fair | Good | Great | Ideal | Ideal | Great | Good | Good | Fair | Fair | Fair |
| Yellowfin Tuna | Ideal | Ideal | Great | Good | Fair | Fair | Fair | Good | Good | Good | Great | Great |
| Yellowtail Snapper | Ideal | Ideal | Ideal | Ideal | Ideal | Ideal | Ideal | Ideal | Ideal | Ideal | Ideal | Ideal |
Top Targeted Fishing Species in Punta Cana
Top Fishing Techniques in Punta Cana
;