4.94 / 5 Average Review Score
Team of Experts Available 24/7
Licensed and Insured Guides
Recently Booked Hunting Guides Near Fort Mccoy, Fl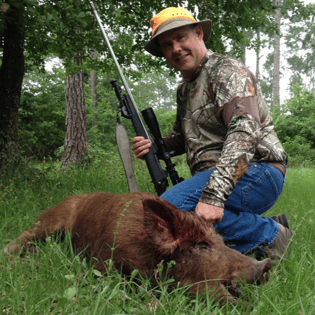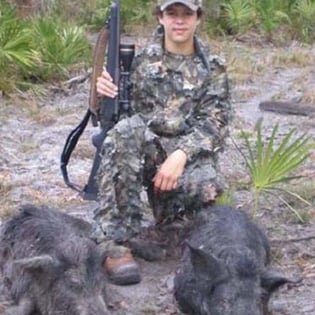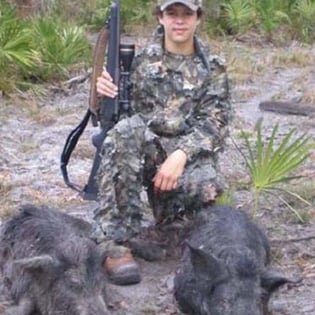 This trip is priced per hog not per person! The trip is for up to 2 people, select the number of hogs you'd like to kill to see the price for the hunt. Read More
Meat Hog Hunts
2 People
From $250 per person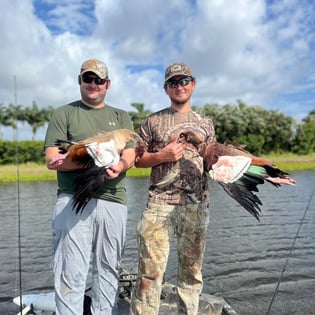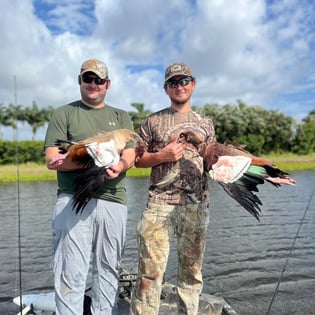 Embark on an Unforgettable FL Duck Hunting Expedition with Captain Janot! Attention all avid waterfowl hunters! Get ready for an extraordinary duck hunting adventure amidst the stunning landscapes of Crystal River the nature coast and all of central Florida Led by the seasoned expert, Captain Janot. This hunting trip promises to be an experience like no other! Crystal River and Central Florida is renowned for its abundant waterfowl population, and you'll have the opportunity to hunt several prized duck species – Redheads, Canvasbacks, Ringnecks, Teal, Black belly whistling Ducks, Wood Ducks, and Mottled Duck. With Captain Janot's extensive knowledge of the area and expert guidance, you'll be in the best hands to maximize your hunting success. Imagine the thrill as you watch majestic ducks soar overhead, their calls echoing through the air. With Captain Janot's keen eye and strategic approach, you'll be led to the prime hunting spots, ensuring your hunt is both challenging and rewarding. Read More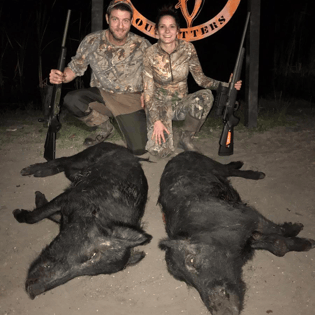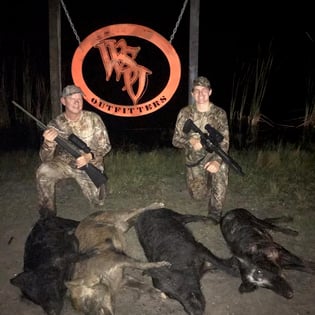 Have you ever wanted to hunt at night? Well now you can, and its legal! We offer a Thermal Imaging Night Hog hunt here in Central Florida and we put you on the game. This hunt is done at night and is nothing short of Awesome! We offer this hunt in a spot and stalk format where you get to go after the wild hogs and not sitting back and waiting on them to come to you. This hunt offers a 100% opportunity so we cant give you any better odds than that; as long as you can put crosshairs on an animal, you should be going home with your kill. Our thermal hunt is an all inclusive hunt. We provide the Thermal weapon, scope, and ammunition. You just need to bring your itchy trigger finger. Read More
Top Types of Trip in Fort McCoy
Top Targeted Species in Fort McCoy
Everything to Know About Booking a Hunting Guide in Fort McCoy
What are the best hunting trips in Fort McCoy?
All guides on Captain Experiences are licensed, insured, and vetted by our team. You can access their reviews, click through trip photos, read bios to get to know them, and preview trip details like species, techniques, group sizes, and more.
Another popular city nearby for booking a trip is Palatka.
What types of hunting trips are common in Fort McCoy?
Hog hunting is the most popular in Fort McCoy as well as upland hunting and duck hunting.
The most commonly sought after species in Fort McCoy are: 1. hog, 2. blue-winged teal, 3. pheasant, and 4. redhead.
The most common hunting techniques in Fort McCoy are rifle hunting, shotgun hunting, and hunting from a blind but hunting with dogs and thermal hunting are popular as well.
How much does a Fort McCoy hunting trip cost?
in Fort McCoy prices can range anywhere from an affordable $350 to $2,805, but the average price for a half day trip in Fort McCoy is $567. The average price for a full day trip in Fort McCoy is $617.
What month is best for hunting in Fort McCoy?
The most popular season for hunting in Fort McCoy is winter, and most hunters book their trips 99 days in advance.
Where can I look through all Captain Experiences trips?

See here to browse all the trips we offer.

;