4.94 / 5 Average Review Score
Team of Experts Available 24/7
Licensed and Insured Guides
Recently Booked Fishing Charters Near Tampa, Fl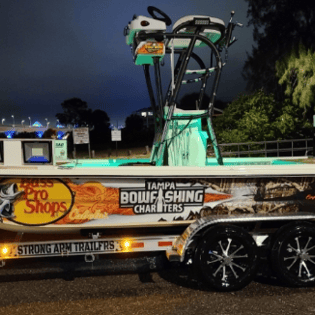 Embark on a thrilling saltwater bowfishing adventure with Captain Ike, a seasoned pro with 28 years of guiding experience. From the comfort of our 20ft Mako Pro Skiff, you'll have the opportunity to target a wide range of species including Sheepshead, Mullet, Flounder, Mangrove Snapper, Stingrays, Blackdrum, and many others. Get ready to test your skills and aim as you take on the challenge of bowfishing in the saltwater. As a Bowfishing Pro-Staffer for Bass Pro Shops Cabela's, Captain Ike brings a wealth of knowledge and expertise to every trip. He will provide you with top-of-the-line bowfishing equipment and guide you in honing your technique to ensure a successful outing. Whether you're a seasoned bowfisher or a beginner looking to try something new, Captain Ike will cater to your skill level and make sure you have an unforgettable and action-packed experience. Join us on this unique saltwater bowfishing excursion, where you'll not only enjoy the thrill of the hunt but also take in the breathtaking coastal scenery. As the sun sets on the horizon, casting its warm glow across the water, you'll feel the rush of adrenaline as you aim your bow and release the arrow towards your target. Don't miss your chance to join Captain Ike on this exciting adventure and create memories that will last a lifetime. Read More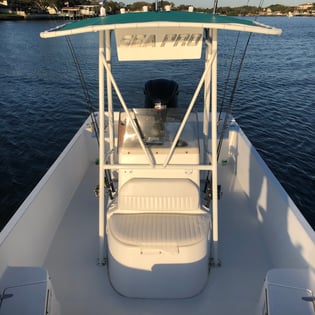 Captain George Hastick has been fishing the waters of the St. Petersburg/Tampa Bay area for over 42years and has been professionally guiding for 25 years. He welcomes all from the novice angler to the professional angler. Trips with Capt. George are family friendly but are also good for entertaining business clientele, birthday parties, bachelor and bachelorette parties. We will fish Tampa Bay and its flats and backwater areas. We will always put you in protected waters on windy days to make sure you are in calm waters having a great time. There is a wide variety of fish in Tampa Bay that can be tailored to what you are after, whether it is dinner or just sportfishing catch and release, we customize the trip for you. The main species that we target are snook, redfish, trout and mangrove snapper but we also catch shark, spanish mackerel, sheepshead, cobia and more! The 4 hour trip is a great trip to get out there and have plenty of time to experience the great fishing that Tampa Bay has to offer. This trip is great for the novice to the average angler who doesn't want to be out there to long but still have fun catching plenty of fish. The 6 hour trip is for the angler that just can't get enough and wants to maximize their day of fishing. This trip will give the fishing fanatic plenty of time to get their fishing fix in! Also your picture could end up on a show or in magazines if you would like that. Captain George co-hosts Fishing Adventures Florida which streams on 5 channels plus YouTube, he also co-hosts Florida West Coast Fishing Report Live Monday nights on Facebook and he writes for Coastal Angler Magazine and Onshore Offshore Magazine. So there is a good possibility that you could be slightly famous after a trip with Capt. George if you would like your photo featured on one of these platforms. Read More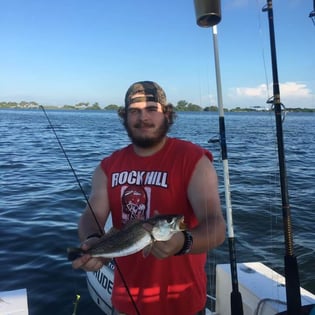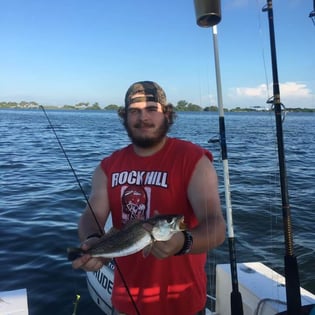 Captain Mike knows just where the fish bite around these parts, so listen closely to his advice - you could land yourself a trophy-sized fish! You'll be fishing aboard Captain Mike's 24-foot Mako, a center console that is equipped with a 225 HP Johnson Evinrude engine. She also comes with a GPS, fishfinder, live bait well, and an ice box. He will bring the energy as well as his drone and go pro so he can shoot quality videos while you reel in the likes of Redfish, Spanish Mackerel, Trout, Sheepshead and maybe even catch an epic shot of a Silver King soaring out of the water! Captain Mike likes to launch out of two different spots in the St. Pete area: Maximo is where he goes to wear out sheepshead, trout, and other inshore species for some rod bending action. His other launch is E.G. Simmons park which gives you closer access to the backcountry where you can chase Big Reds and Snook! All the rods, reels, tackle, lures, licenses, and live bait come included with your trip, and Captain Mike will also clean and fillet your fish after your trip at no extra charge! He will have bottled waters on board, but feel free to bring your own food and beverages. Don't forget a hat, sunscreen, and a cooler with ice to take home your day's catch. No matter if you're a beginner or a seasoned professional, Captain Mike will lead the way! Read More
Top Types of Trip in Tampa
Top Targeted Species in Tampa
Half Day and Full Day River Fishing Trips in Tampa
Everything to Know About Booking a Tampa river fishing charter
What are the best river fishing charters in Tampa?
Our guides in Tampa are rated a 5 out of 5 based on 9635 verified reviews on Captain Experiences.
All guides on Captain Experiences are licensed, insured, and vetted by our team. You can access their reviews, click through trip photos, read bios to get to know them, and preview trip details like species, techniques, group sizes, boat specs and more.
What types of river fishing charters are common in Tampa?
The most commonly sought after species for river Fishing are: 1. redfish, 2. speckled trout, 3. cobia, and 4. sheepshead.
The most common fishing techniques in Tampa are live bait fishing, light tackle fishing, and bottom fishing but cut bait fishing and sight casting are popular as well.
How much do Tampa river fishing charters cost?
for river fishing in Tampa prices can range anywhere from an affordable $450 to $900, but the average price for a half day trip for river fishing in Tampa is $587. The average price for a full day trip for river fishing in Tampa is $756.
What month is best for river fishing in Tampa?
The most popular season for river fishing in Tampa is fall, and most anglers book their trips 14 days in advance.
Do I need a Tampa fishing license and what are the bag limits in Tampa?
You're in luck! Our fishing tours in Tampa don't require you to purchase a fishing license – your group is covered by your boat's captain. See here for more information on bag limits and fishing season regulations in Tampa.
Recent Reviews of Captain Experiences
Other Fishing Charter Locations near Tampa
Other Types of Hunting in Tampa
;