4.94 / 5 Average Review Score
Team of Experts Available 24/7
Licensed and Insured Guides
Recently Booked Fishing Guides Near Manistee, Mi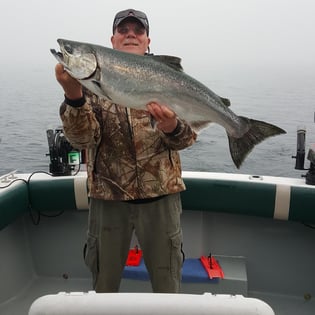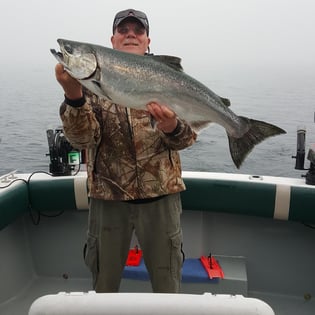 Get ready for an exciting day of Salmon fishing on Lake Michigan with Captain Fred! Lake Michigan is the third-largest of the Great Lakes and the fifth-largest lake in the world, with just over 22,000 square miles of surface area. It's loaded with fish, including famous sportfish species such as Steelhead, King Salmon, Coho Salmon, and Lake Trout—all of which you can target on this trip with Captain Fred. These fish are a blast to catch and are even better to cook up with friends and family! Fred captains a 31' Tiara sportfisher custom-built in Michigan. It can comfortably fit up to 6 fishermen, so call some buddies for this trip! She's powered by two 385-HP Crusader engines, so this boat will get you to the fish in a hurry. With outriggers, a GPS navigation system, and fishfinder, Fred's sportfisher is perfect for putting you on the fish and haulin' em' in! As an added bonus the onboard bathroom will keep in you in the action for the entirety of the trip. Fred provides you with all the rods and tackle you will need, but be sure to have your fishing license upon arrival. Be sure to dress accordingly with some rain gear, hat, and sunglasses so you can stay comfortable on the water. The only other thing you'll need is an ice chest to take home your fresh catch! Read More
Manistee Salmon Slam
31 ft
6 People
From $138 per person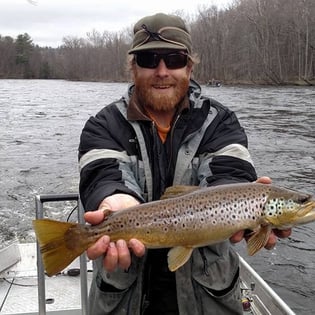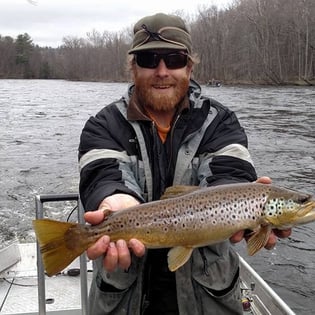 If you've ever wanted to double-up on freshwater gamefish, this trip with Captain Zach is your ticket! You'll be targeting Smallmouth Bass and Brown Trout on the edges of Lake Michigan, one of the biggest lakes in the world and a beautiful place to enjoy the summer sun. You can chase these fish using a variety of techniques and gear, from classic light tackle to fly gear and centerpins and more. Captain Zach has experience using all these types of gear and is happy to give you some advice no matter how you choose to fish. Your techniques and tackle will also vary depending on whether you're aiming for Smallies or Trout, so you can expect to mix things up quite a bit on this trip. You'll be fishing from the deck of his 18' Blazer jet boat. She's perfect for this type of trip, and is powered by a 60 HP Mercury engine so you can cruise smoothly. Your captain will bring everything you need for an ideal trip, including rods, reels, bait, and tackle. Zach is also happy to clean and package your keepers at the end of the trip. All you need to bring is a Michigan fishing license with the appropriate stamps, a cooler with snacks and drinks, proper clothing, sunscreen, and a smile! Get out there and enjoy the clear, cool waters of Lake Michigan with Captain Zach! Read More
Michigan Bass And Trout Special
18 ft
3 People
From $98 per person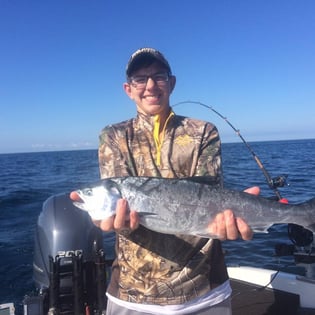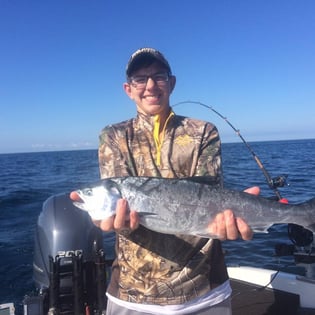 Take a trip out with Captain George and experience the great freshwater fishing that Lake Michigan has to offer! Lake Michigan is the third-largest of the Great Lakes and the fifth-largest lake in the world, with just over 22,000 square miles of surface area. It's a top freshwater sportfishing destination, but with so much water and low-to-moderate fishing pressure, there's no better place to bag a big one! On this trip, you'll primarily be trolling to attract big Salmon, which love to whack fast-moving baits and lures. When these powerful fish hit the hook, you'll feel it! Salmon are great fighters that will really test your strength, stamina, and skills—so bring your A-game! In addition, Salmon are excellent table far, whether you choose to throw them on the grill, pan-sear the fillets, or even try them raw as sushi! Ask Captai George for his favorite recipe, and he'll point you in the right direction. You'll be fishing from the deck of his 21' Ranger bay boat. She's kitted out with all the equipment necessary for a great day of fishing, including twin Mercury Verado 300-HP engines and a covered console to keep you out of the sun when you're not actively fishing. Your captain will bring everything you need for an ideal trip, including rods, reels, bait, and tackle. George will also clean and package all your keepers at the end of the trip. All you need to bring is a fishing license with the appropriate stamps, a cooler with snacks and drinks, proper clothing, sunscreen, and a smile! Get out there and enjoy the clear, cool waters of Lake Michigan with Captain George! Read More
Manistee Salmon Slammin'
21 ft
3 People
From $150 per person
Top Types of Trip in Manistee
Top Targeted Species in Manistee
Half Day and Full Day Fishing Trips in Manistee
Everything to Know About Booking a Fishing Guide in Manistee
What are the best fishing trips in Manistee?
Our guides in Manistee are rated a 5 out of 5 based on 9635 verified reviews on Captain Experiences.
All guides on Captain Experiences are licensed, insured, and vetted by our team. You can access their reviews, click through trip photos, read bios to get to know them, and preview trip details like species, techniques, group sizes, boat specs and more.
What types of fishing trips are common in Manistee?
Lake fishing is the most popular in Manistee as well as river fishing.
The most commonly sought after species in Manistee are: 1. coho salmon, 2. chinook salmon, 3. steelhead, and 4. brown trout.
The most common fishing techniques in Manistee are light tackle fishing, trolling, and artificial lure fishing but fly fishing and live bait fishing are popular as well.
How much does a Manistee fishing trip cost?
in Manistee prices can range anywhere from an affordable $295 to $1,200, but the average price for a half day trip in Manistee is $345. The average price for a full day trip in Manistee is $688.
What month is best for fishing in Manistee?
The most popular season for fishing in Manistee is fall, and most anglers book their trips 12 days in advance.
Do I need a Manistee fishing license and what are the bag limits in Manistee?
See here for more information on fishing licenses in Manistee, bag limits for target species, and fishing season regulations in Manistee. When in doubt, your fishing guide will always know the right rules and regulations in Manistee.
Popular Types of Fishing In Manistee
Manistee fishing charters offer a variety of options for anglers of all levels. The most common types of fishing charters in Manistee are salmon and trout fishing charters, as well as walleye and perch fishing charters.

For those looking for a thrilling adventure, Manistee also offers charter options for steelhead and lake trout fishing.

The types of fish you can expect to catch on a Manistee fishing charter depend on the type of fishing you choose. For salmon and trout fishing, you can expect to catch Chinook, Coho, Steelhead, and Lake Trout.

If you opt for a walleye or perch fishing charter, you can expect to catch Walleye, Perch, and Smallmouth Bass.

Manistee fishing charters typically depart from the Manistee Municipal Marina or the First Street Beach Pier. These landmarks are popular among locals and visitors alike, and offer stunning views of Lake Michigan.

No matter what type of fishing charter you choose, you're sure to have an unforgettable experience on the beautiful waters of Manistee.
The Best Places To Fish In Manistee
Manistee, Michigan is a prime destination for fishing enthusiasts. With its abundance of lakes, rivers, and streams, there are plenty of opportunities to catch a variety of fish. Here are some of the best places to fish in Manistee, Michigan:

1. Manistee River: Known for its steelhead and salmon runs, the Manistee River is a popular spot for fishing charters.

2. Lake Michigan: With its deep waters and diverse fish population, Lake Michigan is a great place to charter a fishing trip and catch salmon, trout, and more.

3. Bear Creek: This small stream is a hidden gem for fly fishing enthusiasts, with its clear waters and plentiful trout.

4. Portage Lake: Located just south of Manistee, Portage Lake is a great spot for bass fishing and offers a peaceful setting for a day on the water.

5. Little Manistee River: This scenic river is home to brown trout, steelhead, and salmon, making it a popular spot for fishing charters.

6. Hamlin Lake: With its shallow waters and abundant panfish, Hamlin Lake is a great place for families to fish and enjoy a day on the water.

7. Pere Marquette River: This river is known for its steelhead and salmon runs, as well as its scenic beauty, making it a popular spot for fishing charters and fly fishing enthusiasts alike.
Other Things To Do In Manistee
While Manistee fishing charters are a popular attraction, there are plenty of other things to do in this charming Michigan city. Take a stroll through the historic downtown area and visit the Manistee County Historical Museum or the Vogue Theatre. For outdoor enthusiasts, the Manistee National Forest offers hiking trails, camping, and scenic drives. If you're looking for a little excitement, head to Little River Casino Resort for gaming and entertainment. And don't forget to check out the Manistee Riverwalk, a scenic pathway along the Manistee River that offers stunning views and access to local shops and restaurants.
Manistee Fishing Calendar
| Species | January | February | March | April | May | June | July | August | September | October | November | December |
| --- | --- | --- | --- | --- | --- | --- | --- | --- | --- | --- | --- | --- |
| Brown Trout | Great | Great | Great | Great | Ideal | Ideal | Great | Great | Great | Great | Good | Good |
| Chinook Salmon | Fair | Fair | Fair | Good | Ideal | Ideal | Ideal | Ideal | Ideal | Ideal | Fair | Fair |
| Coho Salmon | Fair | Fair | Good | Good | Great | Ideal | Ideal | Ideal | Ideal | Great | Fair | Fair |
| Lake Trout | Fair | Fair | Good | Great | Ideal | Ideal | Ideal | Great | Great | Good | Fair | Fair |
| Rainbow Trout | Great | Great | Great | Great | Great | Ideal | Ideal | Ideal | Ideal | Great | Great | Great |
| Walleye | Great | Great | Great | Great | Great | Great | Great | Great | Great | Great | Great | Great |
Other Fishing Guide Locations near Manistee
;