4.94 / 5 Average Review Score
Team of Experts Available 24/7
Licensed and Insured Guides
Recently Booked Fishing Guides Near Thompsonville, Mi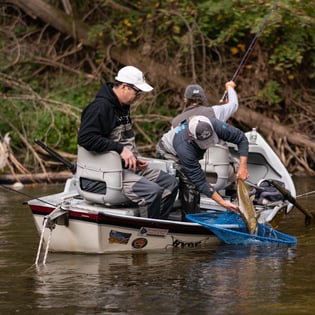 From November to May large numbers of Steelhead migrate from Lake Michigan into a number of rivers along the west coast of Michigan. After spawning in the late spring these fish return to the big lake and repeat the process for 8-10 years. These chrome fish are very aggressive as they have to maintain their bodyweight, and are usually plenty willing to crush an egg fly or spawn sack! Alex and his guides target these magnificent fish on some of the most productive rivers south of Traverse City, Mi with both fly and spinning techniques. Once spring hits and the weather starts to warm we find fish in deep holes, on gravel, and in runs. Customers have success fly fishing with both nymphs and streamers, while spin fisherman use spawn bags and spinners. The weather can be variable this time of year but the exhilaration of landing a beautiful Steelhead makes it worth the effort! A hot lunch is served streamside on full day trips. Please inform your guide of any food allergies or requests. Read More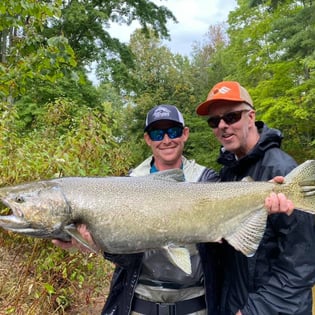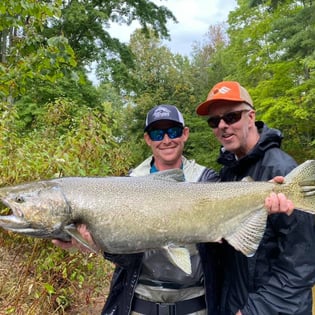 From the end of August to early October, King and Coho Salmon migrate from Lake Michigan into many rivers along the west coast of Michigan. Captain Alex specializes in targeting these fish with a fly rod on remote upper stretches of the Betsie River and Little Bear Creek south of Traverse City, Michigan. Private access allows us to float stretches of river inaccessible to other fisherman. This results in beautiful, scenic floats where it is common to see more bald eagles than other fisherman. Throw in large numbers of fish and you have the recipe for a great day on the water! ​ Both stretches of river are cleared of large debris early in the season to ensure safe travel downstream. However, they are kept overgrown to promote healthy trout habitat as well as deter other boaters from floating it. For these reasons the boat may have to be pushed over a sandbar, under a log, or through brush... but that just adds to the experience! ​ Captain Alex targets these Salmon early in the run when they are fresh, aggressive, and staged up in large holes. Bottom bouncing techniques work best when run with egg flies, wooly buggers, or egg sucking leeches. Certain days will allow us to strip streamers for these fish as well. ​ Spinning gear can be provided to cast thundersticks or float skein under a bobber if anglers wish. Double check with your guide to ensure that this is an option. A hot lunch is also served stream-side on all full day trips. All you need to bring is a good attitude and your Michigan fishing license! Read More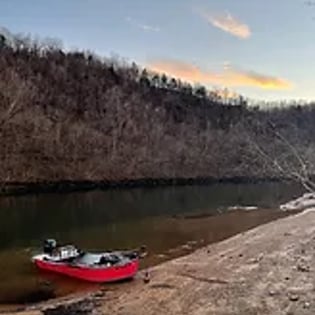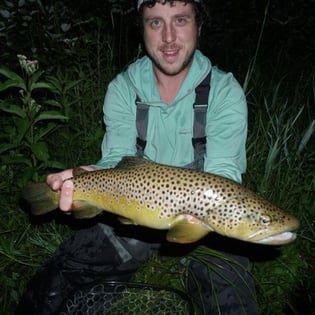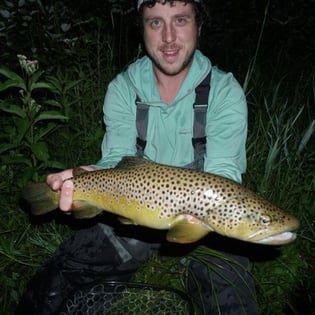 If you're an angler who thinks you've done it all, go no further. This nighttime mousing trip with Casey is a truly exceptional fly-fishing experience that shouldn't be missed—especially if you're on the hunt for a trophy Brown! This is not your average nymphing or dry-fly trip, so come prepared to go after trophy Trout in a truly unique way! Casey guides these trips for one purpose: hooking the single biggest, most predacious Trout in a given river system. You'll fish for these giants on abnormally large mouse and rat patterns, looking for the most aggressive fish out there. With Casey as your guide, you'll be mousing up absolutely massive Browns, and fishing at a time when they have no fear of predators and are just waiting to whack prey. Where most guides aim to put their clients on as many fish as possible, Casey does the opposite; he's looking to create just one or two opportunities for his clients to score a personal best fish, a true monster. In order to accomplish that goal, you'll fish the fastest, most technical, and least-crowded rivers—and there are no guarantees! You'll be fishing from a 16' Stealthcraft drift boat, which is perfect for maneuvering in shallow water. She's powered by a 40 HP Mercury, so you'll have no trouble getting where the fish are. Casey will supply everything you need for an awesome nighttime trip, including rods, reels, and flies. Bring proper clothing, a Michigan fishing license, and some bug spray, and you'll be ready to bag some personal records! Read More
Top Types of Trip in Thompsonville
Top Targeted Species in Thompsonville
Half Day and Full Day Fishing Trips in Thompsonville
Everything to Know About Booking a Fishing Guide in Thompsonville
What are the best fishing trips in Thompsonville?
Our guides in Thompsonville are rated a 5 out of 5 based on 9606 verified reviews on Captain Experiences.
All guides on Captain Experiences are licensed, insured, and vetted by our team. You can access their reviews, click through trip photos, read bios to get to know them, and preview trip details like species, techniques, group sizes, boat specs and more.
What types of fishing trips are common in Thompsonville?
Lake fishing is the most popular in Thompsonville as well as river fishing.
The most commonly sought after species in Thompsonville are: 1. brown trout, 2. coho salmon, 3. steelhead, and 4. chinook salmon.
The most common fishing techniques in Thompsonville are light tackle fishing, artificial lure fishing, and live bait fishing but trolling and fly fishing are popular as well.
How much does a Thompsonville fishing trip cost?
in Thompsonville prices can range anywhere from an affordable $150 to $1,200, but the average price for a half day trip in Thompsonville is $535. The average price for a full day trip in Thompsonville is $640.
What month is best for fishing in Thompsonville?
The most popular season for fishing in Thompsonville is fall, and most anglers book their trips 44 days in advance.
Do I need a Thompsonville fishing license and what are the bag limits in Thompsonville?
See here for more information on fishing licenses in Thompsonville, bag limits for target species, and fishing season regulations in Thompsonville. When in doubt, your fishing guide will always know the right rules and regulations in Thompsonville.
Other Fishing Guide Locations near Thompsonville
;