4.94 / 5 Average Review Score
Team of Experts Available 24/7
Licensed and Insured Guides
Recently Booked Hunting Charters Near Laguna Vista, Tx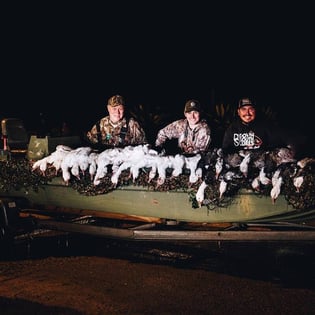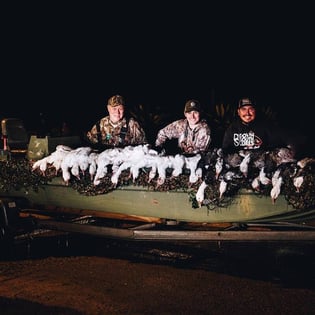 If you are looking to hunt with one of the best outifts on the Texas coast you've found your group of guys with Gus and his outfit. Beyond expert guiding the area itself (Around South Padre Island) provide a unique opportunity to target a wide swath of Duck Species including Wigeons, Mottled Ducks, tons of Pintail, Redheads, Teal, Gadwalls, Shovelers, Mergansers, Scaup and Black Bellys! Gus can take as many people as you'd like running shuttles out to his blinds between his two boats. He even offers to hunt 3 at a time from his own boat as well! In addition to his Carolina Skiff, he also runs a 18' Tracker Grizzly skiff with a Gator Tail mud motor and a 18' Polar Craft with a 50-HP Yamaha! Whatever boat you're on, you'll be kitted out for a sweet hunt. Since the ducks often fly both in the morning and the afternoon, this trip can either start in the morning or the afternoon depending on your preference and what the ducks are doing of course! Captain Gus and his team provide all the decoys, dogs, and professional calling and expert guiding for your hunt and ask that you bring your own guns, shells, and waders if you'd like to stay dry. He wil also provide a cooler with ice and water for you and encourages you to bring you own beverages of choice along as well. Read More
This is a two person duck hunting trip in the Lower Laguna Madre leaving from South Padre Island, Texas. Species of ducks that winter here are Pintails, Redheads, Teal, Widgeon, Shovelers, Scaup, Buffleheads, Ruddy Ducks and Mottled Ducks plus more. Typically hunt over decoy blocks of at least 70 decoys. Guide will provide a retriever. Clients can bring their own dog if approved by guide. Season typically runs from first weekend of November through last weekend in January. Season is split and is out of season from last Sunday after Thanksgiving and Starts again on second Saturday in December. Hunters need approximate license and waterfowl stamps plus HIP enrollment. I recommend booking dates in advance. Read More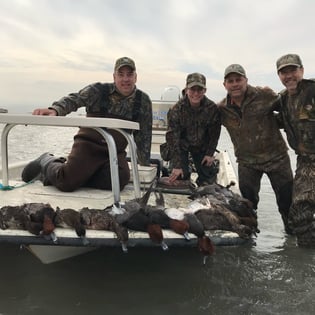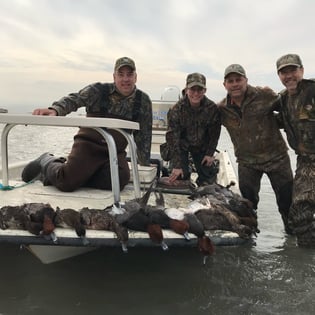 Come on down to East Texas, and see for yourself the legendary Duck hunting this area has to offer! The wetlands here draw tons of waterfowl. On this trip, you'll target Teal, which have a special season in September. Burt is an expert when it comes to Texas waterfowl, and has years of experience tracking their migrations, laying out strategic decoy sets, and running hunt after successful hunt. He provides the blinds and all the decoys you'll need, so all you need to bring is your camoflauge, your waders, and your boots, plus guns and shells. You'll get out there before dawn, and hunt until 11 o'clock or thereabouts, so you can even be home for lunch! Whether you've hunted Ducks before or are just learning the ropes, you'll have a blast out there and with some luck, you'll come home with a cooler full of beautiful birds. Read More
Top Targeted Species in Laguna Vista
Everything to Know About Booking a Hunting Guide in Laguna Vista
What are the best hunting trips in Laguna Vista?
Our guides in Laguna Vista are rated a 4.79 out of 5 based on 9637 verified reviews on Captain Experiences.
All guides on Captain Experiences are licensed, insured, and vetted by our team. You can access their reviews, click through trip photos, read bios to get to know them, and preview trip details like species, techniques, group sizes, and more.
What types of hunting trips are common in Laguna Vista?
Duck hunting is the most popular in Laguna Vista.
The most commonly sought after species in Laguna Vista are: 1. green-winged teal, 2. blue-winged teal, 3. northern pintail, and 4. bluebill.
The most common hunting techniques in Laguna Vista are shotgun hunting, decoy hunting, and hunting from a blind but hunting with dogs and calling are popular as well.
How much do Laguna Vista hunting trips cost?
in Laguna Vista prices can range anywhere from an affordable $250 to $2,453, but the average price for a half day trip in Laguna Vista is $566. The average price for a full day trip in Laguna Vista is $938.
What month is best for hunting in Laguna Vista?
The most popular season for hunting in Laguna Vista is summer, and most hunters book their trips 11 days in advance.
Where can I look through all Captain Experiences trips?
See here to browse all the trips we offer.
Recent Reviews of Captain Experiences
Other Hunting Charter Locations near Laguna Vista
;