4.94 / 5 Average Review Score
Team of Experts Available 24/7
Licensed and Insured Guides
Recently Booked Hunting Guides Near Ozona, Tx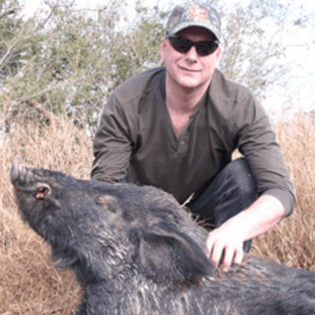 South Texas Hog and Javelina Hunting What a Blast! These hunts are conducted late January through mid-March respectively, after deer season, while it's cool and the wild game are used to coming to the feed from the years' closed deer hunting season. We have several ranches scattered throughout the South Texas brush country and the Hill Country area around Austin / San Antonio insuring you have a good hunt. Ranches vary in size from 1,000 to 15,000 acres. We only hunt a particular ranch for a week or so before moving onto another which aids in our hunters in always being on fresh game which equates to usually higher success rates. Long before your hunt, we will have set up rifle & archery stands, and have filled corn feeders at different ranches to keep the hogs and other game coming to them without being molested so that every hunter has an equally fair chance at non-pressured game. Hunts are a semi guided type of hunt, where once you arrive at ranch, we will show you around the ranch to familiarize you with stand locations and lay of the land, then "turn you loose" to do your own hunting. We will also advise you on which areas of the ranch look more promising than others so that your chances of harvesting go up, instead of you going in blind and wasting precious hunting time trying to find game "hotspots". Brent, personally, will be at the ranch for any help you may need during your hunt at all times, and will feed stand location roads every afternoon also aiding in drawing the game out of the brush and cutting down on your valuable hunting time. All of our ranches have lodging accommodations with all the comforts of your own home. If you would like to bring and stay in your own RV you may do so instead of using our lodging. Space is limited so that we do not crowd hunters We allow night hunting Hunt with any weapon except fully autos Two trophy javelina No Trophy or Hidden Fees Cost of corn is typically $50 per hunter Price includes lodging. Read More
South Texas Hog Haul
22 ft
10 People
From $25 per person
Everything to Know About Booking a Hunting Guide in Ozona
What are the best hunting trips in Ozona?
All guides on Captain Experiences are licensed, insured, and vetted by our team. You can access their reviews, click through trip photos, read bios to get to know them, and preview trip details like species, techniques, group sizes, and more.
What types of hunting trips are common in Ozona?
Hog hunting is the most popular in Ozona.
The most commonly sought after species in Ozona is hog
The most common hunting techniques in Ozona are rifle hunting and shotgun hunting.
How much does an Ozona hunting trip cost?
in Ozona prices can range anywhere from an affordable $250 to $3,000 and up, but the average price for a full day trip in Ozona is $2,956.
What month is best for hunting in Ozona?
The most popular season for hunting in Ozona is summer, and most hunters book their trips 0 days in advance.
Where can I look through all Captain Experiences trips?

See here to browse all the trips we offer.

;