Jacksonville, Florida, stands out as a fantastic fishing destination, offering anglers a wealth of opportunities and experiences. Situated on Florida's northeastern coast, Jacksonville benefits from its proximity to both the Atlantic Ocean and the St. Johns River, creating a diverse fishing environment that caters to all sorts of anglers.
Deep Sea Fishing Techniques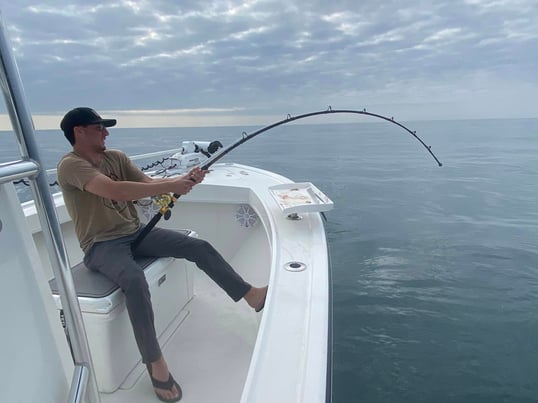 There are two main effective ways of deep sea fishing: bottom fishing and trolling. While very different from each other, both offer a great time full of reeling in massive pelagic species from the deep.
Bottom Fishing
Bottom fishing offers anglers a rewarding and diverse fishing experience. This technique involves dropping baited lines to the ocean floor, targeting a range of species that inhabit the bottom structure, including various reef fish and predators. The deep seas off Jacksonville boast an abundance of natural and artificial reefs, ledges, and wrecks, which serve as ideal habitats for bottom-dwelling fish. Bottom fishing presents a chance for anglers to test their skills and strength against powerful fish that inhabit these depths. Species like grouper and amberjack, known for their size and strength, provide exciting battles and put anglers' tackle and techniques to the test.
Trolling
Troll fishing offers anglers an exciting and dynamic fishing experience. Trolling involves dragging bait or lures behind a moving boat, covering a large area of water to entice predatory fish. This technique targets an array of species that inhabit these offshore waters. Mahi-mahi, king mackerel, wahoo, and tuna are among the sought-after catches that anglers anticipate while trolling. Troll fishing presents anglers with an unforgettable adventure and the opportunity to reel in some of the ocean's most prized and challenging game fish.
Top Targeted Deep Sea Species
There are plenty of species of fish anglers can target when fishing in deep waters off the coast of Jacksonville, you never really know what you might reel up from the depths. Here are some of the top sought after and most frequently caught species one can expect.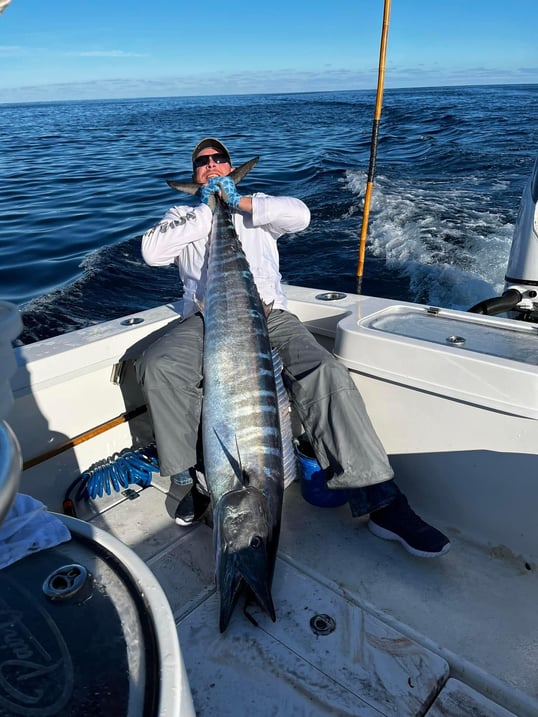 Mahi-Mahi (Dorado):
Mahi-mahi are prized game fish known for their vibrant colors and acrobatic fights providing thrilling angling opportunities.
King Mackerel (Kingfish):
King mackerel are large, fast-swimming, highly sought after predators. They put up a strong fight when hooked which can be a blast for any anglers looking for a tough battle.
Cobia:
Cobia are a powerful species. They are known for their size and strength growing up to 6 feet in length. It is always a thrill when hooked up on a cobia.
Red Snapper:
Red snapper are prized for their delicious taste and are a popular target species among anglers. They inhabit reefs and structures in offshore waters making bottom dropping the most effective way of targeting them. There are multiple different species of snapper such as red, vermillion, mutton and many more ranging in size, color, and strength.
Grouper:
Various species of grouper, including gag grouper and red grouper, are abundant in the offshore waters near Jacksonville. Grouper are known for their size and strength, making them challenging and rewarding targets for anglers.
Amberjack:
Amberjack are commonly found near wrecks, reefs, and other offshore structures. Amberjack can grow up to a powerful 6 feet in length and 200 pounds. For anglers looking for a fight, amberjack are a fierce opponent to target.
Wahoo:
Wahoo are known for their speed and aggressive nature, which means they're sure to put up a fight when you get one on the line. Typically, wahoo will live a solitary life, but you can sometimes find them swimming in small groups of 2 or 3 at deep depths. If you're in search of a wahoo, your best bet is trolling for them.
Sailfish:
Sailfish are iconic billfish species known for their incredible speed and acrobatics. They are known for their adrenaline pumping fights and impressive aerial displays. Due to their speed and agility, trolling for sailfish is quite the show where they get to show off why they are oftentimes argued to be the fastest fish in the ocean.
Tuna:
Several species of tuna, including blackfin tuna and yellowfin tuna, can be found in the offshore waters near Jacksonville. These powerful fish provide exciting action for anglers putting up tough fights, often for hours.
Sharks:
Sharks of various species, such as bull sharks, tiger sharks, and hammerhead sharks, inhabit the waters off the coast of Jacksonville. Putting up a tough fight and offering shock value from their menacing appearance, sharks are a thrilling species to target.
Popular Deep Sea Fishing Areas Near Jacksonville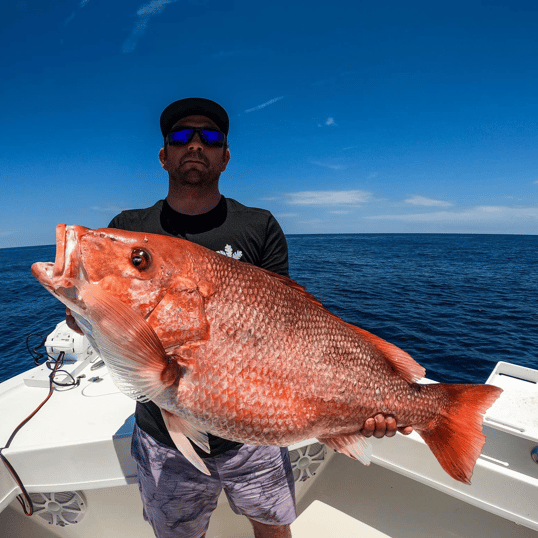 Elton Bottom
Located approximately 40 miles southeast of the St. Johns River Inlet, Elton Bottom is a renowned fishing ground. It features a diverse habitat with natural reefs, ledges, and wrecks, attracting a variety of fish species such as snapper, grouper, amberjack, and king mackerel.
FA Loran Towers
The FA Loran Towers, situated around 40 miles east of Jacksonville, are a series of submerged towers that served as navigation aids in the past. These towers now act as artificial reefs and are known for attracting a wide range of fish, including cobia, snapper, and barracuda.
21 Fathom Spot
Located about 50 miles southeast of Jacksonville, the 21 Fathom Spot is a productive fishing area known for its abundant marine life. It is home to various species such as red snapper, grouper, amberjack, and triggerfish. The depth of this spot reaches around 120 feet.
Offshore Mayport
Offshore Mayport refers to the waters beyond the mouth of the St. Johns River, stretching approximately 15-30 miles offshore. This area offers a mix of natural and artificial structures, making it an excellent location for targeting species like kingfish, cobia, snapper, and mahi-mahi.
East Lump
Located around 30 miles east of Mayport, the East Lump is a natural bottom structure that rises from the ocean floor. It provides an ideal habitat for a variety of fish, including black sea bass, amberjack, grouper, and snapper.
R4 Naval Tower
The R4 Naval Tower is an artificial reef structure situated about 35 miles southeast of the St. Johns River Inlet. This tower attracts an array of fish species, including snapper, cobia, king mackerel, and barracuda.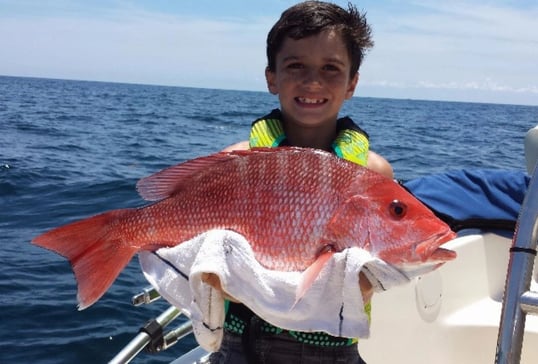 Book Your Jacksonville Deep Sea Trip
Whether you want to troll the deep blue in hopes of wrestling a massive sailfish in, or reeling in a monster red snapper from the deep, we got you covered. Check out our Jacksonville fishing charters to book your next deep sea trip with one of our many local professional fishing guides.