When I'm not working on getting our adventurers out on the water with our Damn Good Guides, I'm spending my time in the outdoors myself. As someone who grew up fishing the lakes and rivers of the midwest, I would definitely consider myself one of the followers of the bass cult. Specifically, I have a preference for largemouth bass. When I moved down to the land of Texas, where most open water is called a "tank" rather than a lake, I had to get myself dialed into what bass fishing was all about down here.
What is Captain Experiences?
We're on a mission to Unlock the Outdoors for everyone. With thousands of Damn Good Guides across the US and beyond, our platform makes booking quality, vetted guides quick and easy.
Check out our trips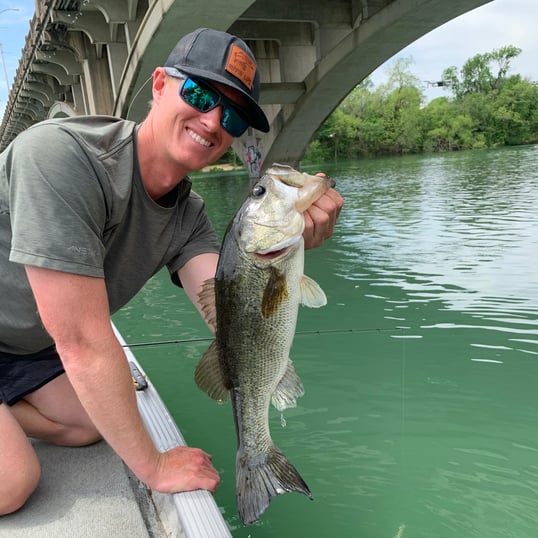 I took the opportunity to gain some expert knowledge with Carson over on Lake Travis in Austin. In fact, I sweetened the pot by taking my dad along with me while he was down to visit, which was extra special since he was the one who got me into bass fishing as a kid, and also had never had the chance to fish the freshwater of the Lone Star State.
Wisconsin Takes On TX
I hopped on captainexperiences.com, booked my trip, sent a couple messages back and forth with Carson, and was locked in. My dad flew down ready for a fully packed Austin weekend complete with our fishing trip, a Korn concert, Topgolf, and more. When the morning came, we headed out from South Austin over to Travis just before the sky lightened, ready to rock.
We pulled in, found Carson quickly, and took a quick gawk at his bass boat. It was so cute, gray and blue with enough sparkle to make a queen jealous. Even with the minimal light from sunrise it was radiating that glow that makes a fisherman's blood flow faster.
I introduced my dad to Carson, we piled in, and off we went across the deep waters of Lake Travis. We flew across the water and within what felt like seconds we made it to the first spot. Carson had a plan, and we were along for the ride, that's all I knew.
What's a Midwest Girl To Do?
Now to say I've been bass fishing a thousand times is not an exaggeration. I grew up fishing on my grandparent's lake in Southern Wisconsin, fished every weekend in the summer camping up in Northern Wisconsin, and stopped at every puddle of water in between. With about 20 years of experience, combined with almost 50 years from my dad, we thought we knew what we were doing.
Well, we were wrong. Fishing Texas waters for bass is quite different then what we were used to up north. Especially in the unbelievably hot heat us Yanks aren't used to down here in Yee-Haw Country.
Whereas were used to fishing shallow water lily pads all summer long with weedless worms, bass head down to deep water in the heat looking for reprieve down in Texas. However, one thing all bass seem to have in common is they like structure. Switch out weed beds for deep rock and docks and you got yourself on the bass.
Switch out those weedless worms and grab something with a treble hook, hand it to a guy who hasn't bothered with them in a hot minute in an area they've never been, and you got plenty of hook ups. Though, they're going to be on dock lines and rocks as Carson learned.
Kickin Bass
It took a bit, but after a couple of lost lures later, we were getting on them. Left and right under the docks those big bass were hiding and hungry. Bumping along the rocks at the bottom they'd skirt out and slam lines.
We cruised around Lake Travis putting in work as the day warmed up. We caught bass, watched the party boats begin their booze cruises, and even got a peek at some of the famous celebrity owned waterfront properties. Carson did an excellent job being both a tour guide and a fishing guide. Learned a lot about what it takes to fish new bass waters that day, got to know about another Austin staple location, and got to know Carson a bit as well.
Endless Summer Fishing
After a blast of a morning, the heat started to get the better of us. We headed back to the dock, shook hands with Carson, and went to get lunch at The Oasis. While looking out at the view of the Sometimes Islands and scarfing down some burgers, we reminisced on the day.
A special thank you to Carson for not only giving myself and my dad an excellent day out on the water, but for being a patient teacher as we learned the ropes of a new way to bass fish. I look forward to seeing him again, spending more time perfecting the craft, and exploring new waters both in Texas and nationwide in the pursuit of my next personal bass and new skill.