What is a Lake Trout
Lake Trout are the largest fish in the Char family and typically live in cold deep lakes with oxygen rich waters. These fish can grow over four feet in length and over 40 pounds but 20 inches and 7 pounds is more typical. Lake trout are commonly caught while trolling deep water with diving lures, jigs, and a variety of other tackle.
What is Captain Experiences?
We're on a mission to Unlock the Outdoors for everyone. With thousands of Damn Good Guides across the US and beyond, our platform makes booking quality, vetted guides quick and easy.
Check out our trips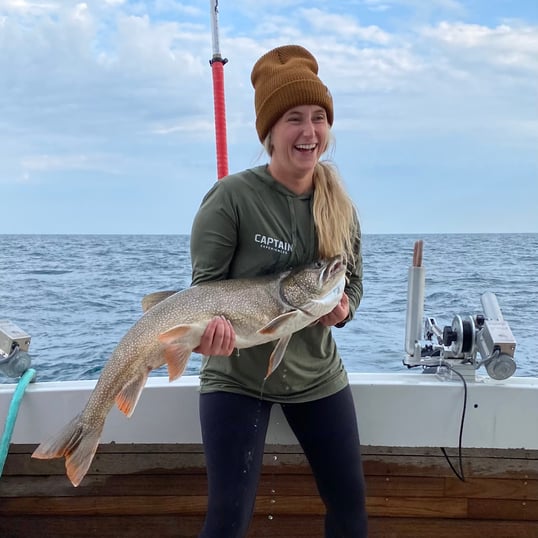 Lake Trout are easily identifiable by their silvery or light gold belly which fades to tan on the sides and dark grey or olive on their back. Lake trout are also characterized by the distinct pale gold spots that cover their body. Another unique feature of the lake trout is their orange and brown fins which have a white or cream-colored leading edge.
The Great Lakes are home to some of the best lake trout fishing thanks to their exceptionally deep clean waters. Lake trout in the summer and fall months tend to live in 60 to 200 feet of water. They constantly chase cool water temperatures and schools of baitfish which are the two primary factors to consider when targeting these fish.
What is a Splake Trout
When a Speckled (brook) trout breeds with a lake trout trout the hybrid offspring are called splake trout. Splake can be hard to distinguish from the brook trout because their coloration is so similar but their slightly forked tail is the best way to differentiate between the two. Splake are not common found in nature because the brook trout and lake trout do not share spawning grounds. Usually splake are stocked by fish and game agencies to benefit anglers.
Fishing for Lake Trout
In order to troll lures 150 to 200 feet deep, just shy of 400 feet of line needs to be let out. Several of the reels were spooled up with braid that contained copper which helps the line sink and also adds strength. The two main tools used to troll at extreme depths are down riggers and dipsy divers.
Downriggers look like stout short fishing rods with a huge spool reel loaded up with cable line. On the end of the cable line is a weight that ranges from 2 to 10 pounds. The fishing line from one of the conventional fishing reels is clipped to the weight and dropped to the desired depth. When a fish bites the lure, the line pulls out of the clip and allows you to fight the fish.
Dipsy divers are flat discs with a triangular attachment point on top. This causes the disc to slant which grabs the water and dives hard. On the back of the disc is another attachment point where the leader is attached. The leader in this application is made up of a shock leader followed by monofilament. The shock leader is a twisted rubber high-test line that absorbs the force from a strike.
Lake Trout Season
Fishing for lake trout is typically at its peak during the summer and early fall months when the fish are feeding in deep water. With lake trout being located in several states, the seasons and regulations can vary.
Ohio Lake Trout Regulations
Ohio doesn't specifically regulate lake trout but instead regulates all trout in combination. The daily bag limit for trout is 5 fish. On Lake Erie the daily bag limit is also 5 fish but includes trout and salmon combine. There is currently no season on recreational fishing for lake trout in Ohio.
Michigan Lake Trout Regulations
The season for lake trout in Michigan is open year round but there are some areas that close. In many of the lakes the season is closed from October 1st to December 31st. The size limits also vary by location but all areas require lake trout to be at least 15 inches long to harvest. On Lake Superior only one lake trout in the daily bag limit may be over 34 inches long. In the Great Lakes, the daily bag limit for lake trout and splake combined is 5 with no more than 3 of one species. Lake Superior is the exception where up to 5 lake trout may be harvested each day.
Wisconsin Lake Trout Regulations
In Lake Michigan, the season for lake trout is open except from November through February. The daily bag limit is 5 trout and salmon combined but only 2 may be lake trout.
New York Lake Trout Regulations
For Lake Ontario, the season is only closed during the months of October and November. The Daily bag limit is 2 lake trout per person with only one fish allowed to be between 25 and 30 inches. For Lake Erie the Season is open year round and the daily bag limit is one lake trout per person and must be over 12 inches long.