Miami. The city of great nightlife, nice beaches, quality fishing, and beautiful weather. As we prepared to touch down for our Christmas away from home, we were lucky enough to be greeted with 45 degree rain. We thought we were escaping the poor weather, but when the entire country is engulfed in the great cold front of December 2022, 45 degrees could be seen as a blessing.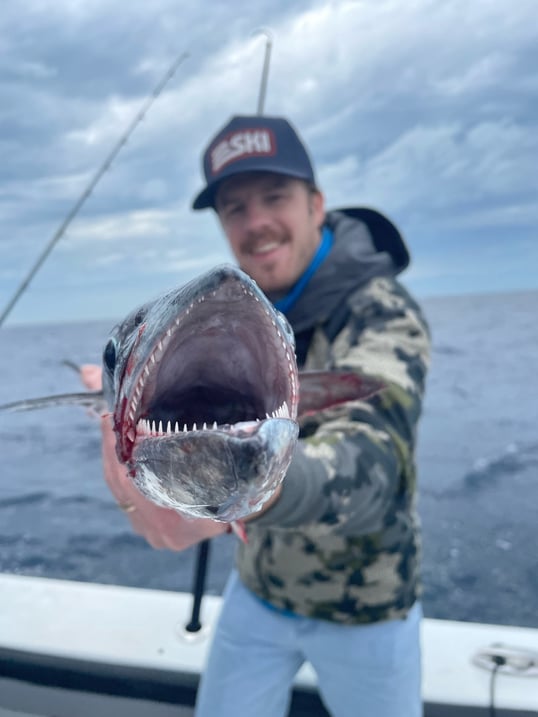 We worried about how this weather would affect our ability to celebrate the holiday season accordingly (even though most of the group grew up in Virginia with white Christmases), but more importantly we worried about how the weather would affect our planned offshore trip.
While some of the family (read: mom, wife, & sister) considers the highlight of any trip the presents or the spa day, 5 of us were set to go out for our own highlight - a full-day spent searching for sailfish, wahoo, kings, mahi, and blackfin right off the miami skyline.
We spent many hours debating how the fish would respond to the cold weather (much to the chagrin of the ladies, who just wanted to enjoy their dinner). Would the cold weather bring equally cold water and push the fish further offshore? Would the fish be calmed by the cold weather and stop eating? Would all of us even be able to stay warm and enjoy our trip given we had only light shells & jeans to wear?
Luckily we needn't have worried & should have just reached out to our guide (Maurice) who assured us all would be well and that everything was under control. We planned to meet at Haulover marina (one of his many meeting spots) at 730 am the day after Christmas.
After what should have been a short stop but turned into a long stop to grab some pub-subs from Publix (to say the kind lady working behind the counter was having a bit of a slow start to her day is an understatement) we met Maurice and his son Ariel on their incredible 36 foot Yellowfin and hit the water. We pulled out of Haulover Inlet, made famous recently by the Qualified Captain, of which my dad is a big fan, due to its strong current, big waves, and many mishaps (sometimes its better to book a guide).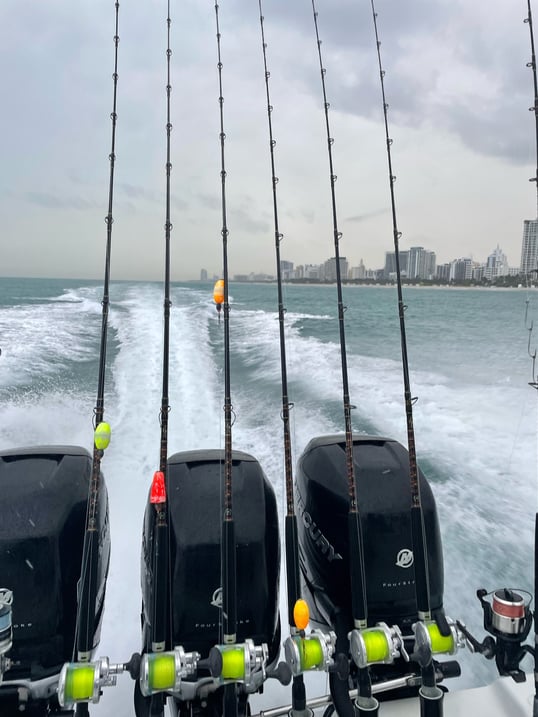 The rain didn't come strong but it came regularly and we shivered together under the T-top as we made our way in not-very-waterproof clothes down towards Key Biscayne to meet the bait man and pick up some goggle-eyes and some pilchards. We pulled up to his simple gray boat with big baitwells in the aft and stern, and he greeted us with a salty look and a big freshly lit cigar sticking out of his mouth.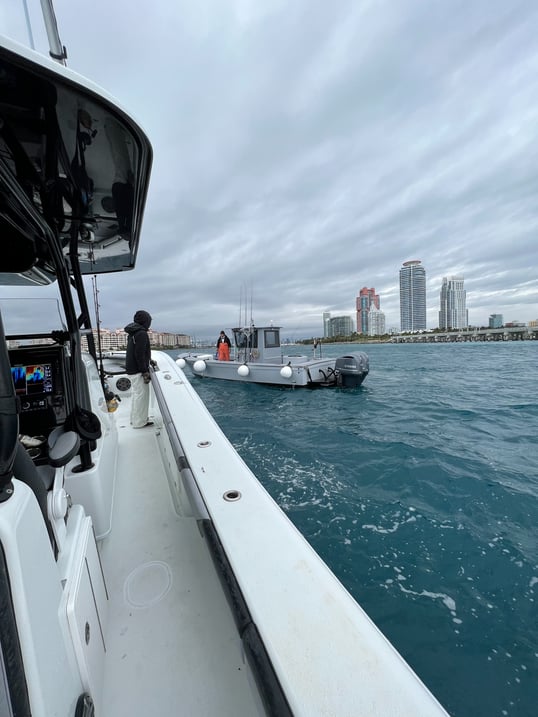 We threw on our own livewell, tossed in our bait, and it was time for another cold huddle under the T-top to get about 3 miles offshore (thank goodness we were fishing in Miami and didn't need to run tens or hundreds of miles like other destinations in the Gulf).
We also needn't have worried about the water temperature affecting the fish as well, since the Simrad screen read a balmy 78 degree water temperature. We looked on in jealousy as the fish seemed to be enjoying a nice Gulfstream jacuzzi below while we froze in 50 degree drizzle on deck.
What is Captain Experiences?
We're on a mission to Unlock the Outdoors for everyone. With over 1,200 Damn Good Guides across the US and beyond, our platform makes booking quality, vetted trips quick and easy.
Check out our trips here
We threw up the kite to start with a few baitfish dangling down and decided to try our luck there. December is early sailfish season for Miami so they usually aren't seriously congregated yet like they can be later in the spring, but live bait can usually still attract some ones and twos here and there.
We started off strong with multiple bites from kingfish or wahoo, but they quickly bit off the leader we had set up for sailfish and we lost the fish right away. Thus began our debate of the day: throw out wire leaders and miss sailfish so we can catch kings which are clearly biting, or miss on the kings we know are there to try for the more elusive sailfish.
We elected on a combination of the two, generally keeping out one wire leader and two fluoro for sails (and seemed to get lucky on this combo - all the fish later bit the "correct" leader).
The kite proved to be more effort than it was worth on this cold and windy Miami day, and the constant tending it required didn't lend any more fish after the initial king bites. We decided (along with the few other sportfishers and center consoles nearby) that a slow troll might be more helpful.
Once we got the lines out we enjoyed our pub-subs and settled in for the cold troll. At this point we are questioning our decision-making - why did we forgo a morning of sitting in the warm apartment eating holiday sweets to come sit on the cold boat and catch nothing? Every outdoorsman has moments the likes of these, where they wonder why they do it. Luckily we didn't spend too long getting in our own heads, because the action hit soon after.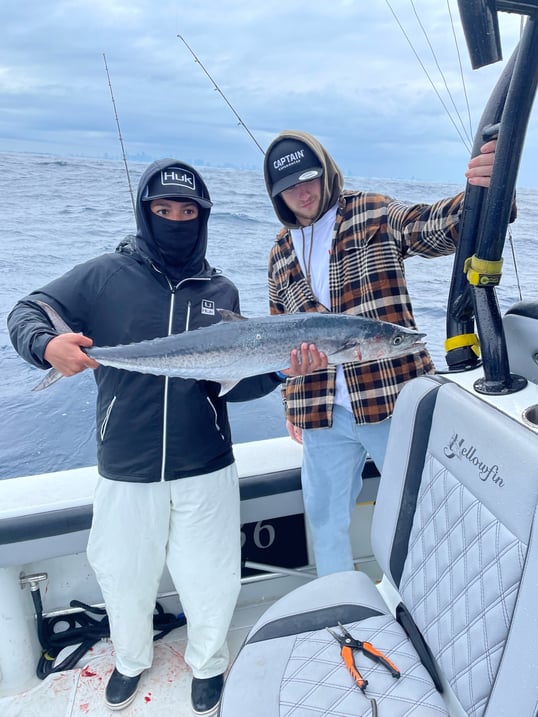 Up first were a very solid kingfish and a false albacore. We reeled them in quickly and high fived all around that now at least we could go tell the women we caught something and didn't need to admit we came back empty-handed. Most people who have done it long enough will remind you that the worst part of a doughnut of a day is when someone asks "how'd you do?", with bonus points if that person isn't an angler and wouldn't understand going out there to get nothing.
With these first fish under our belt we keep holding out hope for the big one (a nice sailfish). We kept worrying that we were jinxing ourselves, given Ariel kept saying "don't worry we'll get one".
Sure enough, we hook another fish and we initially think its another king. There is no special action on the end of the line and the fish is easy to reel. Once we see a glimpse of a small sail off to the port side of the boat, we realize what is happening - we have tricked a sailfish into thinking she has successfully taken a nice meal and continued cruising along (straight alongside our boat). She only realizes she is hooked when close to the boat, and this means a quick fight by the boat and an easy grab for Maurice and Ariel.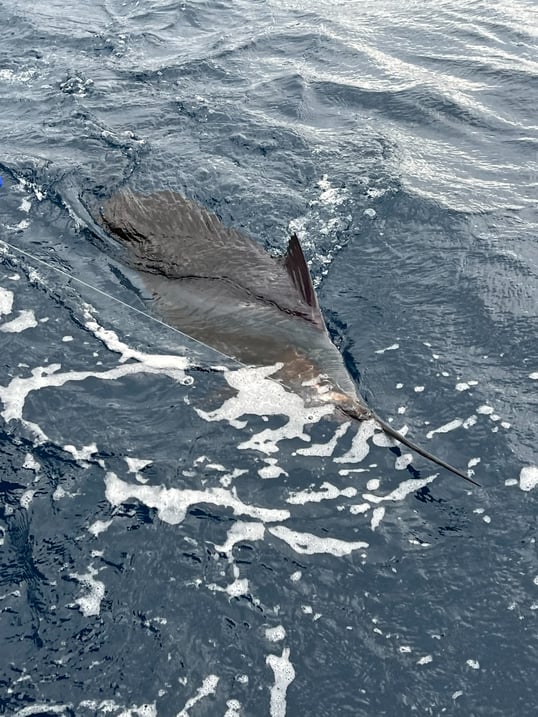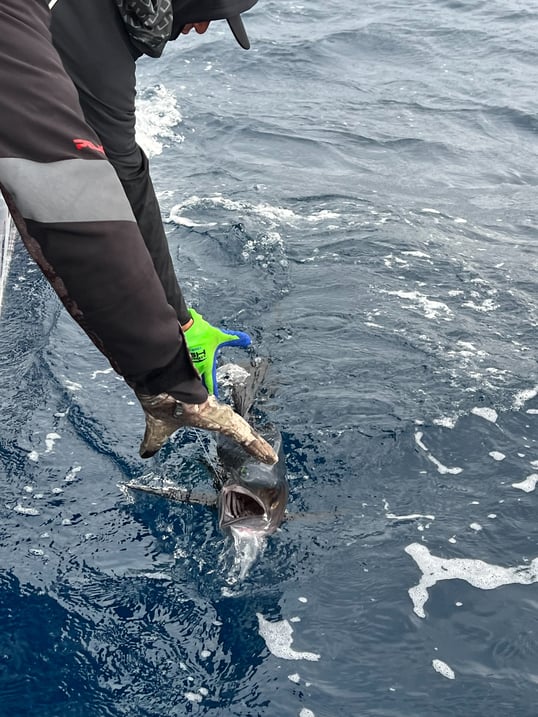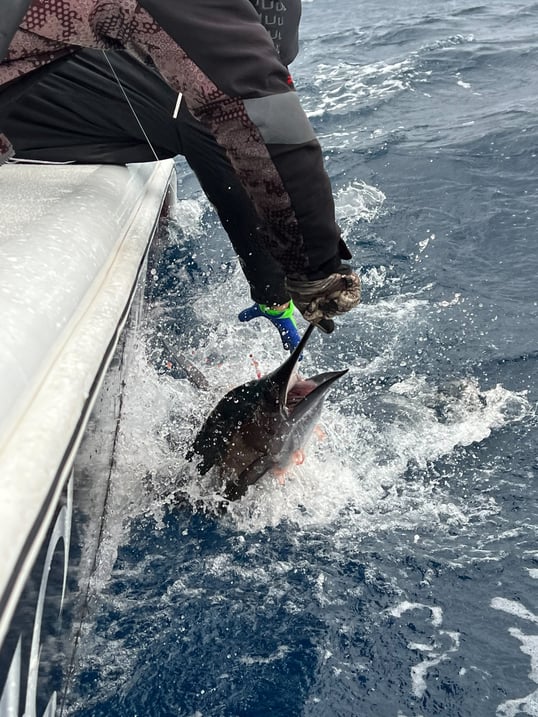 Our whole squad erupts with cheers - this is the first sailfish for all of us and the first billfish for some of the group. We high five all around and in our excitement to take a picture we manage to all crowd around and leave Hollis the actual angler hidden to the side of the picture (second to left). We take a few quick shots, get the line untangled from her bill, and let her swim off strong.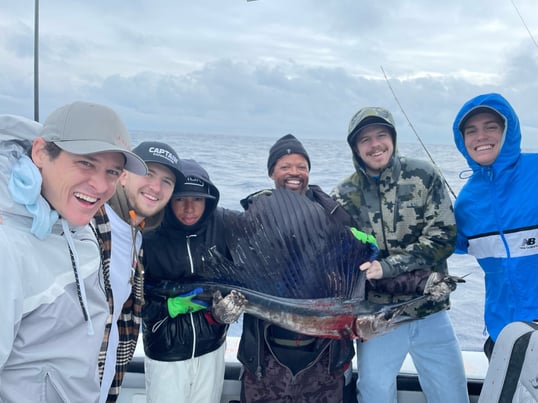 It's hard to describe how one fish can make an entire group feel. The mood afterwards is noticeably lighter, with jokes all around. We catch another good kingfish and eventually need to head in to catch flights and make dinner reservations.
Despite a day of unusual weather conditions for Miami, Maurice and Ariel crushed their responsibilities, kept us happy, and worked tirelessly to put us on fish (including what we came for). Miami fishing itself is a must-do, and when the weather is cooperating (and even when it isn't), fishing offshore 3 miles from the South Beach skyline is an incredible experience.