There is no marsh more marshy than the floodplains of the southern Mississippi Delta, and there is nowhere I'd rather be tossing a streamer for redfish.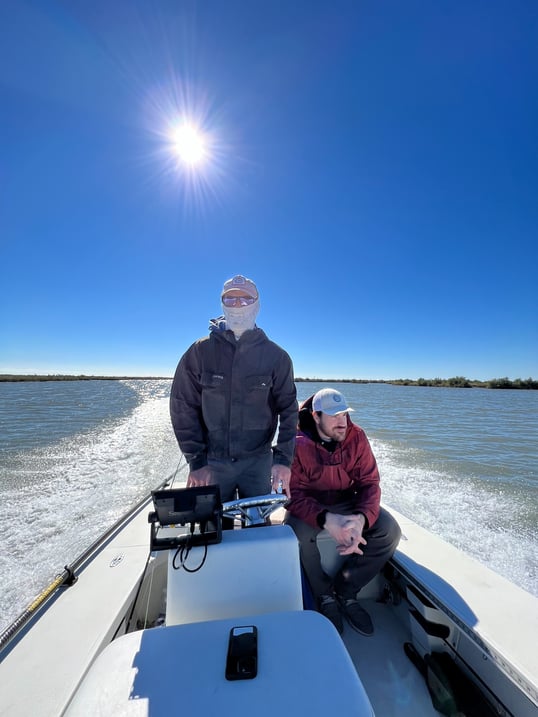 I've been chasing a big bull red on the fly for a few years now, and when I was invited to a friend's wedding in New Orleans, I thought I might combine these two elements into one trip: what better way to fulfill my goals of catching a big bull red on the fly than hitting the marsh in Louisiana in early November.
As someone who grew up fly fishing in Virginia for trout, I started my fly fishing journey small. Catching a trout is how many fly anglers get their start, and only a few graduate from freshwater to salt. It's a totally different beast: take a small cast, small fly, small rod, small motion, etc. and supersize everything, including the fish and importantly the wind and weather.
I decided before the wedding that I would get up early on Sunday morning and head south of Port Sulphur with Nicholas. This seemed like a great plan before the wedding, but the alarm hurt just a bit after a big ole NOLA party the night before.
I met up with Nicholas and our friend Richard and the three of us grabbed some extra layers to account for the unseasonable cold weather & wind and hit the road for the drive down LA-23.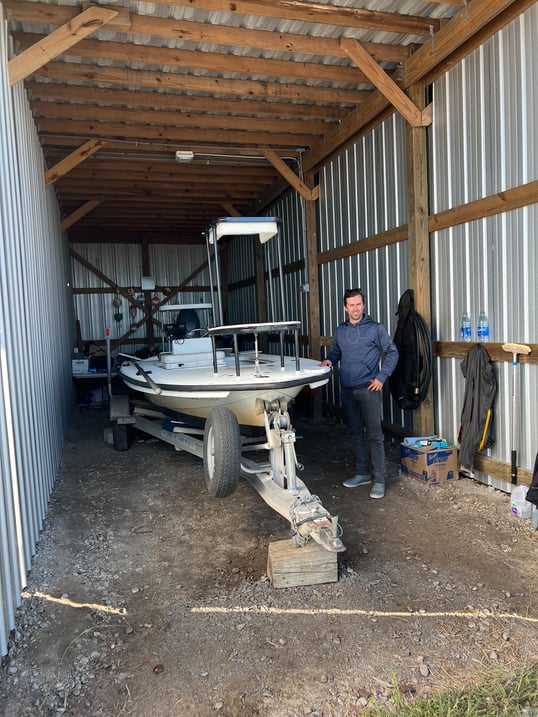 We had to make two very important stops on the way down, one to grab the boat from its storage unit and one to stop at a hole in the wall gas station for some very important (and very sloppy) subs to be saved for lunch.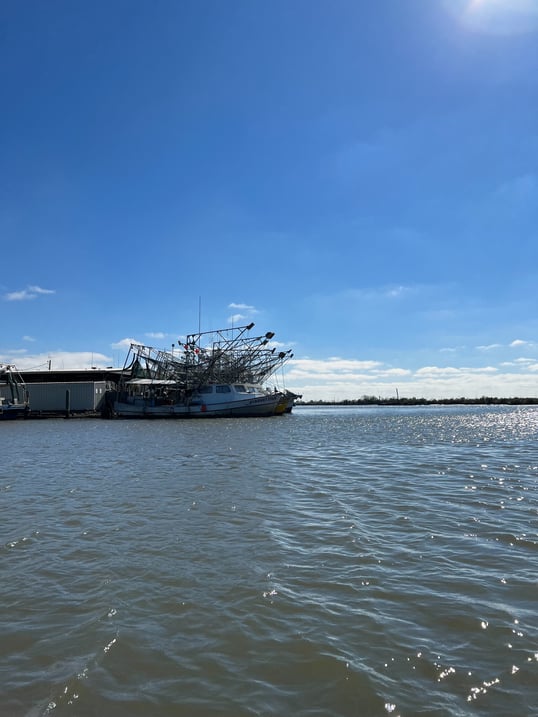 We got to the ramp, paid our marina fees, and slipped out past the shrimp boats to make our way past all the flood prevention mechanisms and into the swamp.
We tried to initially cut across a small patch of open water to get to some known fishing grounds, but the cold wind and wave combo that was bashing us across the faces made us quickly abort plans and change directions.
After a quick run we found some nice redfish haunting grounds, killed the motor, shivered the cold off, and got set up to pole.
We knew conditions would be tough - the water was all getting pushed out by this cold front and the low temperatures combined with shallow water meant the fish were for the most part in the deeper cuts waiting for some warmer water. But this wasn't going to stop us from making the most of our day.
We pretty quickly see a sheepshead swimming about and make a quick cast but he skittishly runs away. Thus begins a frustrating morning where the game seems to be "I see this meal you are presenting to me but I'm not hungry."
We slowly pole our way from island to island across the marsh, with our progress often impeded by areas too shallow to pole (often filled with native oysters jutting up at odd angles from the mud). We see and cast to 3-4 other fish, mostly sheepshead and black drum, and they all eye the fly but show no interest in being hungry (in their defense, I probably could have made a bit of a more enticing meal presentation! Casting in the wind is an art that I have not yet come close to mastering…).
We ended this early morning portion of the trip before lunch with an incredible sight (and incredibly good sign): two tailing reds across a little cut from us. We cross over in front of them and lay the longest cast of the day.
They take a stab but miss the fly, swim around, and murk up the waters. We can't see them, but we can see the ripples on the water and know that one of them is still around. I recast a few times in front of him but he circles around a few times as if toying with me before swimming off. Another missed opportunity on my end.
We take a break for lunch and I mentally regroup. I can blame the weather all I want, but I have had the opportunities and need to make the most of them.
The wind is picking up and I need to get back for my flight but we decide we need to at least find one more fish, and just as we turn the corner we see it: a big, beautiful, red monster.
I cast to the fish and he does the equivalent of a fish shoulder shrug and brushes me off before starting to swim away, so I make a hail mary cast as he is swimming off and he takes it!
He grabs the streamer and thrashes and I hold on for dear life. Time starts to slow down when you are fighting a fish you are super eager to get to the boat. I remember his movements, how he shook and swam, and then how he popped his head up and spat the hook back at me like he was playing with me.
And with that he swam off, leaving me sad and lonely. We sat on the boat and shucked some fresh gulf oysters and talked about how this is the game we play - sometimes you beat the fish, and sometimes the fish (and the weather) beat you. For now, I'll just have to head back and keep my quest going.