4.94 / 5 Average Review Score
Team of Experts Available 24/7
Licensed and Insured Guides
Recently Booked Fishing Guides Near King Salmon, Ak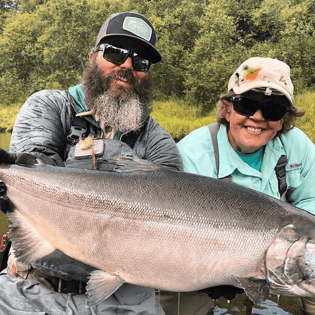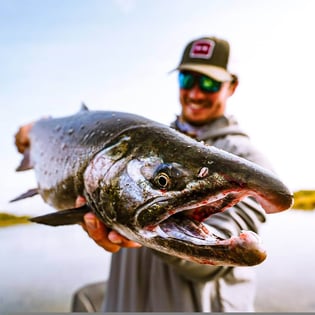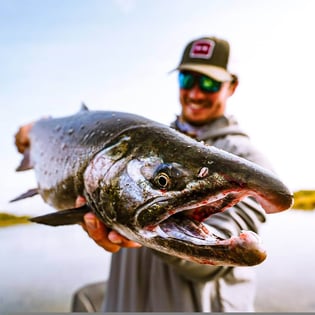 An all-inclusive trip to the best trophy rainbow river in Alaska is now available for under $5000 per person! Come experience the smolt migrations in June, the huge runs of salmon in July, the acrobatic silvers in August and the incredible trophy rainbow fishing in September. No longer will a trip to Alaska have to be 'once in a lifetime', because, according to Jim, a onetime shot of Alaska just isn't going to get it done. No, for the true big fish junkie, once in a lifetime just isn't enough. That is why the crew at Naknek River Camp has gone the extra mile to make Alaska affordable. If you're wondering why Jim gets away with listing this trip for half of most Alaska lodging/fishing trips, ret assured there is no catch; Jim keeps costs down by maintaining a family-run camp. His wife is head of housekeeping, the chef and a full time licensed guide. His older son, an avid fisherman and 4 time Michigan State Casting Champion, is Jim's right hand man around camp. His daughter has also been the Michigan State Casting Champion. She is the official camp photographer and the desert chef. And his youngest son is just starting his career as a fishing guide. His specialty is netting big salmon. Here are the several exciting species of fish you can expect to target depending on the time of year: **Early Season Fishing – June & July:** Smolting Rainbows on the Naknek: The best rainbow fishing is close to camp. The rainbows concentrate on salmon smolt and leeches migrating downstream to the ocean. The best offerings include large rabbit strip and marabou leeches in black, olive and dark brown. NOT egg sucking leeches. Minnow imitations are also deadly in small to medium sizes. Rainbows at Brooks: Brooks is flies only. In June, July and early August, rainbows will eagerly take mice, dead drifted small dries, sculpins and leeches. Recommended Tackle: an 8 ½ to 10 foot fly rod for a 5-6 weight line. The WF floater is the most popular choice, although sink-tips (130 grain to 200 grain) will work as well. 3x to 5x tippets. Grayling at Idavain: This fishing starts out with a 1 mile hike to the better fishing grounds. Grayling are best fished with light tackle. I would use a 4 or 5 weight fly rod with a floating line. #12 and #14 adams, caddis and stoneflies (dry), small beadhead nymphs, leeches, woolybuggers and deer hair mice will all work here. Kings: These begin showing up mid-June, building throughout the month. Most of the fishing is down in the lower Naknek, where tide is important and the water is deep. Treble hooks are legal. By late July, they will begin moving into the rapids to prepare for spawning. Single Hook Only. Recommended Tackle: We have a lot of heavy rods and reels – spinning, revolving spool and fly – that guests can use. If you want to bring some, I would recommend a 7 foot spinning rod with 30 pound braid for casting, a 9 foot spinning or casting rod with 30 pound braid for back-trolling and a 9' for a 10 or 11 weight for flyfishing. The fly reel should employ a 400 – 600 grain sink tip line. Sockeye: Chrome sockeye begin their trip from the ocean around June 20th. This migration continues until late July (timing varies, of course, depending on weather). Until the spawn in mid- August, sockeye will hold in slow pools and side channels. They are usually turning red by early August. Recommended Tackle: A 6-8 weight fly rod in 9' to 11' lengths with a Climax Zip Line is by far the best choice. A floating line with either a strike indicator or a few split shot will also work well. **Late Season Fishing – August & September:** Rainbows on the Naknek: The best rainbow fishing is close to camp and in the rapids. The rainbows will still take salmon smolt and leeches migrating downstream to the ocean, but by far the biggest food source is salmon eggs. Sockeye eggs are 6mm, silvers and pinks are 8mm and kings are 10mm. Sometimes, oversize imitations work better. I like trout beads mottled beads in orange, dark roe and pinks in sizes 6mm – 12mm. Don't forget #8 and #10 short shank hooks and toothpicks (or the clear plastic pegs). For leeches, I like articulated and bunny strip versions without eggs in front in black, olive, purple and flesh colors. Wool head sculpin also work well. Late in the season, flesh flies might be needed. Rainbows at Brooks: Brooks is flies only. In early August, rainbows will eagerly take mice, dead drifted small dries, sculpins and leeches. By mid to late August, the sockeye spawning kicks in and 6mm – 8mm plastic beads are king. Margot Creek: This is some of the best arctic char/ dolly varden fishing around, along with a decent population of rainbows. The stream is full of sockeye spawning by mid August, so beads are at great bet here, with or without a fly following behind. All the same patterns listed for Brooks work well here as well. If the water is discolored, 10 and 12mm beads are deadly. The rest of the time, 6mm and 8mm work best. Silvers: By early August, silvers should be running into the Naknek on each high tide. Bright marabou streamers in purples and pinks and other bright colors, spinners in sizes 3-5 in pink, orange, chartreuse, and silver all work very well at times, as do wiggle warts in the same colors. Lots of local guides prefer jigs in 1/8 and 1/16 ounce in pink and purple, fished with or without an indicator. When they get spooky, however, nothing compares to a shooting line, a very small split shot or 2 and a small marabou streamer (like a woolybugger or PM Wiggler) in black, purple, pink, olive and cream, fished on 2x-3x fluoro. The best rods are 9 ½-10 ½ for a 7wt or 8wt. Line. I would want to have a shooting line, a floater and, possibly, a 200 to 300 grain sinking tip. For spinning, a 7 ½ med light rod, a reel with a smooth drag and 8 – 12 pound test line is best. Pinks: Every even year is a pink year on the Naknek, which means that 2012 will likely bring another strong run starting in July and continuing into mid-August. They are extremely aggressive, hitting all of the flies and lures listed for silvers, and then some. Small silver spoons and spinners work very well also. They are in the 3 to 6 pound range, and so can be a lot of fun on a little lighter tackle. Light spinning rods with 8 pound line or fly rods in the 5-7 weight range are perfect. Same lines as silvers. Kings: Early in August, the kings begin moving to their spawning areas, either up the feeder streams or in the rapids of the main stream. King season closes at the end of July, but many will be hooked throughout most of August. They must be immediately released, of course. Most of the spawning area is single hook only. Large streamers, small marabou streamers and large eggs all work well. Sockeye: Reds are thick in August and most of September. They are either spawning, or holding in slower seams waiting to spawn. The river and creek mouths around Naknek Lake will also be full of them. **Lodging:** The lodging for this trip includes hard sided cabins, real mattresses, a porch to enjoy the sunset and a hot shower at the end of the day. Also equipped with a nice kitchen to cook in, a dining room to enjoy great meals in, and a toilet in every cabin. Naknek River Camp also has a few conveniences that neither one of us expected to have in the Alaskan bush, including phone service for both us and our guests. There is road access to the towns of King Salmon and Naknek, offering medical services, a general store, groceries and even fishing and hunting supplies. **What's Included:** A private riverfront cabin, all food and meals in your own comfortable dining room, and transportation to and from the King Salmon Airport. The cabins include towels, pillows and linens. Just bring your PJ's, your toothbrush, your fishing gear and your sense of adventure. Jim will supply everything else. **What to Bring:** Jim has a lot of heavy rods and reels – spinning and fly – that guests can use. If you want to bring some, he would recommend: June & July: a 7 foot spinning rod with 30 pound braid for casting, a 9 foot spinning or casting rod with 30 pound braid for back-trolling and a 9' for a 10 or 11 weight for flyfishing. The fly reel should employ a 400 – 600 grain sink tip line. August & September: a 7-9 foot spinning rod with 30 pound braid for casting and a 9 ½ for a 9 or 10 weight for flyfishing. The fly reel should employ either a 400 – 600 grain sink tip line, a floating line with a strike indicator, or a Climax Zip line (or other suitable shooting line). Other equipment needed or recommended: Split shot in sizes b, bb and 3/0. Cone sinkers in 1/64th, 1/32nd, 1/16th, tapered leaders in 0x and 3x, fluorocarbon tippet in 2x – 5x, strike indicators in both 1 inch foam and yarn style, #12 black barrel swivels, forceps, nippers, floatant, brown or amber polarized sunglasses with strap, hat with brim, rain jacket, chest waders, wading belt, some like a wading staff, fleece pants, fleece sweater(s), wool socks, windproof fleece fingerless gloves, headnet, insect repellant, sun screen. REMINDER- felt soles are illegal in all of Alaska! Please make sure you have rubber soled wading boots. Read More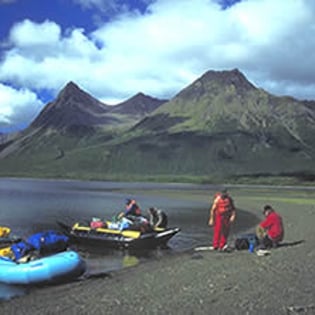 Katmai Trophy Lodge is located on the banks of the famed Naknek River, perfectly situated on the edge of tide water, giving us quick access to both ocean- fresh salmon and the trophy rainbow trout fishing that the Naknek is famous for. This is a full-service fishing lodge in the heart of Bristol Bay just two miles outside the boundary of the world- renowned Katmai National Park. You may have heard that the Bristol Bay watershed is home to the largest runs of salmon in the world. A lesser known fact is that it is also Alaska's only designated "Trophy Rainbow Trout" area. The river system starts in the snow-capped mountains of Katmai National Park flowing down through our beautiful chain of lakes, through rolling tundra hills, ending with the Naknek flowing into the Bering Sea. This unspoiled nutrient rich environment enables the fish to grow to incredible size. With salmon runs that number in the millions, Trout and Char that grow well over 30", and some of the best bear viewing in the world, this trip is a true outdoor enthusiast's paradise! Bristol Bay is home to some of the largest runs of salmon in the world; You'll get to target the giant Rainbow Trout, Char and the rare and beautiful Grayling that inhabit these fertile waters. The fishing portion of your trip will be spent on the water with your guide, which is why the guides at Katmai Trophy Lodge take great pride in providing their guests with some of the best fishing guides in Bristol Bay. All of their guides are expert fly fishermen in their own right, able to instruct you in the latest techniques, provide you with the best in tackle and flies and help you succeed in having the best fishing experience possible. Their boats and fishing gear are customized to give you the greatest chance for success and feature products from Orvis, Simms, StealthCraft and Koffler Boats, Scott and Temple Fork Fly Rods and Hatch fly reels. They consider the famous Brooks River and Falls a must-see attraction, which is why they have included a trip to Brooks in every one of the standard packages. The Brooks River offers world class trout fishing in a small stream setting, and a tremendous sockeye salmon run that feeds an entire ecosystem, including a few dozen of the world's largest bears. So make sure to bring your camera! The guides at Katmai partner with Branch River Air and their meticulously maintained fleet of float planes to offer fly out packages to the other famous Bristol Bay destinations like the American, Alagnak, Nushagak, Moraine, Ugashik and Kulik as well as many of the small gems hidden around the more remote sections of southwest Alaska. **Tour Length & Price:** 7 day "Standard" package - $4,995 per person It includes 7 nights lodging and meals and 6 days of guided fishing, including 1 day of guided fishing/bear viewing on the famous Brooks River. 7 day "Best of Bristol Bay" package -$6,595 per person This package adds 3 guided float plane fly-outs (weather dependent) to our standard package. 7 day "Unlimited" Package - $6,995 per person. Includes 6 days of guided fishing anyplace your heart desires (weather dependent). River, fly-outs, day raft trips? We've got you coved. Minimum of 2 people needed to book this package. This package includes guided fishing anywhere you and your fishing partner(s) choose each day with the only limitation being to keep the float plane flight under 45 minutes one way. **Lodging:** This classic riverfront log lodge features two stories of glass looking out on the beautiful Naknek River. Dinner is prepared by a professional chef featuring Alaskan favorites like salmon, halibut, Alaskan clams and reindeer. Evenings can be spent tying flies and swapping fish stories in the comfortable great room or in your private room or cabin. The rooms feature amenities like full time electricity, a mini-fridge, individually controlled heat, log furniture and a private bathroom with shower. **Daily Routine:** Each evening at dinner your guides will discuss the fishing options available for the next day. You will then choose the option that sounds the best to you and, weather permitting, they will make it happen. One of the most challenging parts of your trip might very well be trying to decide whether to fly out to one of the many rivers across Bristol Bay or stay closer to home to chase giant rainbows, catch another limit of salmon, jet boat up one of the Naknek tributaries, or jump on one of our larger boats to explore Naknek Lake and the many small streams that feed into it or boat over to Brooks Falls. For those of you that believe in the old adage that variety is the spice of life, Katmai Trophy Lodge is the perfect destination. If you so choose, you can target a different fish on a new river with a different technique every day. Here is what your schedule will look like: Breakfast at 7am Fishing at 8am Lunch on the water around noon Dinner at 6:30pm Quiet time after 10pm **What's Included:** Pick up and drop off at King Salmon Airport US Coast Guard and ADF&G licensed guides Breakfast and Dinner at the main lodge Grilled or packed shore lunch All necessary flies and lures All terminal fishing gear, rods and reels Cleaning and Vacuum packing of salmon for flying home Linens, comforter, private bathroom with hot/cold water. Daily maid service Waders and wading boots are available but are limited in size. **Not Included:** Flights to and from King Salmon Fishing on Saturday Alcohol Taxes ($161 USD) Fishing License and King Stamp Tips for staff and guides Fish Box or Cooler (insulated fish boxes can be purchased at the lodge for $20) **What to Bring:** At Katmai Trophy Lodge they will do their best to provide everything you need, but they also recognize that catching a fish on your own rod with your own fly is a truly special experience. Throughout the Summer the selection of flies and lines do change but here is a list of essentials that are always going to be good to bring along: Breathable Waders with non felt sole wading boots. You will fish from boats quite a bit but waders are going to be required to fish most days in order to be the most effective. A good Wading Jacket or Rain Jacket. It rains most days in Bristol Bay and a good jacket will make those rainy days just as pleasant as the sunny days. Layers. Most days your guides start off with a fleece jacket or a puff coat and if it is June, July, or August they might take a couple layers off, but it is always better to be able to take a layer off than to need an extra layer and not have it. A Backpack to bring along everyday to keep your fly boxes and extra layers in or even to shed that rain jacket when the sun peaks out. **If You Bring Your Own Fly Rod and Equipment:** 5 or 6 weights for small streams and fly outs. They typically rig them with an indicator to nymph with or just a standard 9 ft leader and a small streamer or mouse. The Flies they use vary as the seasons change but they like to use traditional nymphs as well as dry flies for most of the summer until the eggs start flowing and then they replace the dry flies with Beads. The beads they use are in 6, 8, and 10mm sizes and they usually will stay in the more natural colors. With lighter rods they do like to throw streamers and mice. Medium size streamers with stinger hooks and cone or bead heads are very useful because they will sink with a floating line. 7 or 8 weights for the Naknek river or Larger rivers. You will fish these on the main river with Floating line or a 250 or 300 grain sink tip and streamers or floating line and indicator. Flies for the main river include a lot of streamers with love jointed and stinger hook streamers because these rainbows love to tail nip, but the Naknek river in a 1 hook river to remember to trim your front hook. Flies like Sex dungeons, string leeches, and dolly lamas are all must haves. 9 weights for salmon. If you are fishing for Kings they rig these up with 350 grain or heavy sink tips and big bright flies. If you are targeting Silvers or Chums then they run a floating line and bright flies as well. For Sockeye they nymph them with bottom bouncing rigs with either shooting line or floating line. Intruder style flies are the go to for them when targeting all of the salmon except sockeye. Pink, orange, chartreuse with weighted eyes and a stinger hook, and bright dolly lamas with the heaviest cone heads. When targeting Sockeye they use large nymphs with strong hooks, as these fish will bend hooks no problem. Pheasant tails, wooly buggers, egg flies, and all of the classic Salmon and Steelhead nymphs all work great. Spey rods; They love the 2 hand game at KTL and they like to run 7 or 8 weight spey rods for trout with a skagit head and a sink tip and sculpin or leech style flies almost all summer and fall. They also will run 8 or 9 weight spey rods for Kings with skagit heads and bright intruder flies. Read More
Katmai Trophy Lodge is located on the banks of the famed Naknek River, perfectly situated on the edge of tide water, giving us quick access to both ocean- fresh salmon and the trophy rainbow trout fishing that the Naknek is famous for. This is a full-service fishing lodge in the heart of Bristol Bay just two miles outside the boundary of the world- renowned Katmai National Park. You may have heard that the Bristol Bay watershed is home to the largest runs of salmon in the world. A lesser known fact is that it is also Alaska's only designated "Trophy Rainbow Trout" area. The river system starts in the snow-capped mountains of Katmai National Park flowing down through our beautiful chain of lakes, through rolling tundra hills, ending with the Naknek flowing into the Bering Sea. This unspoiled nutrient rich environment enables the fish to grow to incredible size. With salmon runs that number in the millions, Trout and Char that grow well over 30", and some of the best bear viewing in the world, this trip is a true outdoor enthusiast's paradise! Bristol Bay is home to some of the largest runs of salmon in the world; You'll get to target the giant Rainbow Trout, Char and the rare and beautiful Grayling that inhabit these fertile waters. The fishing portion of your trip will be spent on the water with your guide, which is why the guides at Katmai Trophy Lodge take great pride in providing their guests with some of the best fishing guides in Bristol Bay. All of their guides are expert fly fishermen in their own right, able to instruct you in the latest techniques, provide you with the best in tackle and flies and help you succeed in having the best fishing experience possible. Their boats and fishing gear are customized to give you the greatest chance for success and feature products from Orvis, Simms, StealthCraft and Koffler Boats, Scott and Temple Fork Fly Rods and Hatch fly reels. They consider the famous Brooks River and Falls a must-see attraction, which is why they have included a trip to Brooks in every one of the standard packages. The Brooks River offers world class trout fishing in a small stream setting, and a tremendous sockeye salmon run that feeds an entire ecosystem, including a few dozen of the world's largest bears. So make sure to bring your camera! The guides at Katmai partner with Branch River Air and their meticulously maintained fleet of float planes to offer fly out packages to the other famous Bristol Bay destinations like the American, Alagnak, Nushagak, Moraine, Ugashik and Kulik as well as many of the small gems hidden around the more remote sections of southwest Alaska. **Tour Length & Price:** 7 day "Standard" package - $4,995 per person It includes 7 nights lodging and meals and 6 days of guided fishing, including 1 day of guided fishing/bear viewing on the famous Brooks River. 7 day "Best of Bristol Bay" package -$6,595 per person This package adds 3 guided float plane fly-outs (weather dependent) to our standard package. 7 day "Unlimited" Package - $6,995 per person. Includes 6 days of guided fishing anyplace your heart desires (weather dependent). River, fly-outs, day raft trips? We've got you coved. Minimum of 2 people needed to book this package. This package includes guided fishing anywhere you and your fishing partner(s) choose each day with the only limitation being to keep the float plane flight under 45 minutes one way. **Lodging:** This classic riverfront log lodge features two stories of glass looking out on the beautiful Naknek River. Dinner is prepared by a professional chef featuring Alaskan favorites like salmon, halibut, Alaskan clams and reindeer. Evenings can be spent tying flies and swapping fish stories in the comfortable great room or in your private room or cabin. The rooms feature amenities like full time electricity, a mini-fridge, individually controlled heat, log furniture and a private bathroom with shower. **Daily Routine:** Each evening at dinner your guides will discuss the fishing options available for the next day. You will then choose the option that sounds the best to you and, weather permitting, they will make it happen. One of the most challenging parts of your trip might very well be trying to decide whether to fly out to one of the many rivers across Bristol Bay or stay closer to home to chase giant rainbows, catch another limit of salmon, jet boat up one of the Naknek tributaries, or jump on one of our larger boats to explore Naknek Lake and the many small streams that feed into it or boat over to Brooks Falls. For those of you that believe in the old adage that variety is the spice of life, Katmai Trophy Lodge is the perfect destination. If you so choose, you can target a different fish on a new river with a different technique every day. Here is what your schedule will look like: Breakfast at 7am Fishing at 8am Lunch on the water around noon Dinner at 6:30pm Quiet time after 10pm **What's Included:** Pick up and drop off at King Salmon Airport US Coast Guard and ADF&G licensed guides Breakfast and Dinner at the main lodge Grilled or packed shore lunch All necessary flies and lures All terminal fishing gear, rods and reels Cleaning and Vacuum packing of salmon for flying home Linens, comforter, private bathroom with hot/cold water. Daily maid service Waders and wading boots are available but are limited in size. **Not Included:** Flights to and from King Salmon Fishing on Saturday Alcohol Taxes ($161 USD) Fishing License and King Stamp Tips for staff and guides Fish Box or Cooler (insulated fish boxes can be purchased at the lodge for $20) **What to Bring:** At Katmai Trophy Lodge they will do their best to provide everything you need, but they also recognize that catching a fish on your own rod with your own fly is a truly special experience. Throughout the Summer the selection of flies and lines do change but here is a list of essentials that are always going to be good to bring along: Breathable Waders with non felt sole wading boots. You will fish from boats quite a bit but waders are going to be required to fish most days in order to be the most effective. A good Wading Jacket or Rain Jacket. It rains most days in Bristol Bay and a good jacket will make those rainy days just as pleasant as the sunny days. Layers. Most days your guides start off with a fleece jacket or a puff coat and if it is June, July, or August they might take a couple layers off, but it is always better to be able to take a layer off than to need an extra layer and not have it. A Backpack to bring along everyday to keep your fly boxes and extra layers in or even to shed that rain jacket when the sun peaks out. **If You Bring Your Own Fly Rod and Equipment:** 5 or 6 weights for small streams and fly outs. They typically rig them with an indicator to nymph with or just a standard 9 ft leader and a small streamer or mouse. The Flies they use vary as the seasons change but they like to use traditional nymphs as well as dry flies for most of the summer until the eggs start flowing and then they replace the dry flies with Beads. The beads they use are in 6, 8, and 10mm sizes and they usually will stay in the more natural colors. With lighter rods they do like to throw streamers and mice. Medium size streamers with stinger hooks and cone or bead heads are very useful because they will sink with a floating line. 7 or 8 weights for the Naknek river or Larger rivers. You will fish these on the main river with Floating line or a 250 or 300 grain sink tip and streamers or floating line and indicator. Flies for the main river include a lot of streamers with love jointed and stinger hook streamers because these rainbows love to tail nip, but the Naknek river in a 1 hook river to remember to trim your front hook. Flies like Sex dungeons, string leeches, and dolly lamas are all must haves. 9 weights for salmon. If you are fishing for Kings they rig these up with 350 grain or heavy sink tips and big bright flies. If you are targeting Silvers or Chums then they run a floating line and bright flies as well. For Sockeye they nymph them with bottom bouncing rigs with either shooting line or floating line. Intruder style flies are the go to for them when targeting all of the salmon except sockeye. Pink, orange, chartreuse with weighted eyes and a stinger hook, and bright dolly lamas with the heaviest cone heads. When targeting Sockeye they use large nymphs with strong hooks, as these fish will bend hooks no problem. Pheasant tails, wooly buggers, egg flies, and all of the classic Salmon and Steelhead nymphs all work great. Spey rods; They love the 2 hand game at KTL and they like to run 7 or 8 weight spey rods for trout with a skagit head and a sink tip and sculpin or leech style flies almost all summer and fall. They also will run 8 or 9 weight spey rods for Kings with skagit heads and bright intruder flies. Read More
Top Types of Trip in King Salmon
Top Targeted Species in King Salmon
Everything to Know About Booking a Fishing Guide in King Salmon
What are the best fishing trips in King Salmon?
All guides on Captain Experiences are licensed, insured, and vetted by our team. You can access their reviews, click through trip photos, read bios to get to know them, and preview trip details like species, techniques, group sizes, boat specs and more.
What types of fishing trips are common in King Salmon?
River fishing is the most popular in King Salmon as well as inshore fishing, nearshore fishing, and lake fishing.
The most commonly sought after species in King Salmon are: 1. steelhead, 2. coho salmon, 3. chinook salmon, and 4. arctic char.
The most common fishing techniques in King Salmon are fly fishing and sight casting.
How much does a King Salmon fishing trip cost?
in King Salmon prices can range anywhere from an affordable $1,130 to $3,000 and up, but the average price for a full day trip in King Salmon is $18,402.
What month is best for fishing in King Salmon?
The most popular season for fishing in King Salmon is summer, and most anglers book their trips 136 days in advance.
Do I need a King Salmon fishing license and what are the bag limits in King Salmon?
See here for more information on fishing licenses in King Salmon, bag limits for target species, and fishing season regulations in King Salmon. When in doubt, your fishing guide will always know the right rules and regulations in King Salmon.
Popular Types of Fishing In King Salmon
King Salmon fishing charters offer a variety of options for anglers looking to catch some of the most sought-after fish in Alaska. The most common types of fishing charters in King Salmon include fly fishing, spin fishing, and drift fishing. Each type of fishing offers a unique experience and requires different techniques and equipment.

Fly fishing charters are popular for those looking to catch salmon and trout in the rivers and streams around King Salmon. Spin fishing charters are great for those who prefer to use spinning reels and lures to catch salmon, halibut, and other species in the ocean. Drift fishing charters are perfect for those who want to experience the thrill of catching salmon while drifting down the river.

Some of the most common fish to catch in King Salmon include King Salmon (also known as Chinook), Sockeye Salmon, Coho Salmon, Rainbow Trout, and Dolly Varden. Depending on the type of fishing charter, anglers may also have the opportunity to catch Halibut, Lingcod, and Rockfish.

When booking a King Salmon fishing charter, be sure to ask about the landmarks that the charter visits. Some popular landmarks include the Naknek River, the Kvichak River, and the Katmai National Park and Preserve. These areas are known for their abundant fish populations and stunning scenery, making them the perfect backdrop for a memorable fishing trip.
The Best Places To Fish In King Salmon
King Salmon, Alaska is a prime destination for fishing enthusiasts. With its abundance of rivers, lakes, and streams, there are plenty of opportunities to catch a variety of fish. Here are some of the best places to fish in King Salmon, Alaska, whether you're going on a fishing charter or exploring on your own:

1. Naknek River: Known for its large runs of sockeye salmon, the Naknek River is a popular spot for fishing charters and independent anglers alike.

2. Kvichak River: The Kvichak River is home to some of the largest rainbow trout in the world, making it a must-visit destination for serious anglers.

3. Brooks River: Located in Katmai National Park, Brooks River is famous for its brown bear population and its abundant salmon runs.

4. Moraine Creek: This small creek is a hidden gem for fly fishing enthusiasts, with plenty of rainbow trout and grayling to be caught.

5. Lake Iliamna: The largest lake in Alaska, Lake Iliamna is home to a variety of fish species, including sockeye salmon, lake trout, and northern pike.

6. Alagnak River: The Alagnak River is a popular destination for fishing charters, with its large runs of salmon and trophy-sized rainbow trout.

7. Kulik River: The Kulik River is a great spot for fly fishing, with plenty of rainbow trout and grayling to be caught.

8. Nonvianuk Lake: This remote lake is a hidden gem for anglers, with its large lake trout and stunning scenery.

9. American Creek: American Creek is a small stream that's perfect for fly fishing, with plenty of rainbow trout and grayling to be caught.

10. Battle Creek: This small creek is a great spot for fly fishing, with plenty of rainbow trout and grayling to be caught.
Other Things To Do In King Salmon
While King Salmon fishing charters are a popular attraction, there are plenty of other things to do in this Alaskan city. Take a scenic flight over the stunning wilderness, go on a wildlife viewing tour, or hike through the Katmai National Park and Preserve. For a unique experience, visit the Alaska Peninsula National Wildlife Refuge to see brown bears in their natural habitat. If you're looking for a more relaxed activity, visit the King Salmon Visitor Center to learn about the history and culture of the area. And don't forget to indulge in some delicious seafood at one of the local restaurants.
Top Targeted Fishing Species in King Salmon
Top Fishing Techniques in King Salmon
;