4.94 / 5 Average Review Score
Team of Experts Available 24/7
Licensed and Insured Guides
Recently Booked Hunting Guides Near Venus, Fl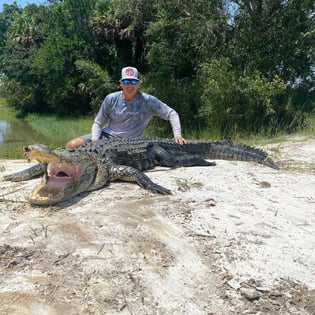 *This trip includes one 7'-7'11" Gator!* Alligator hunting in Florida is not for the timid or faint of heart! Here we provide you with a safe, fun, and exciting alligator hunt year-round. We offer both private and public land alligator hunts. On our private land hunts, we either hunt nuisance gators that are a threat to people or animals on close or surrounding ranches or in our private hunting preserve - which guarantees a harvest. Our private land hunts are "spot and stalk" on a pond or canal. If we find a gator laying on a bank, we will try to sneak up as closely as possible to get a brain kill shot. The size of a gator's brain is about the size of a golf ball. If we do not see one on a bank but in one of the ponds or canals, then it becomes alligator fishing. At that time the hunter will try to snag the gator and fight it on rod and reel until it tires out and surfaces. At that time, the hunter will take the shot at the gator on the surface. You can use rifle, handgun, bang stick or bow to harvest your alligator. With our public land hunts, the hunter is required to either apply and draw a tag via a state lottery system or purchase a state public land tag from one of our guides when available and in season. These hunts take place on either an air boat or a flats boat with a seasoned gator hunting guide. If you are successful and harvest your gator then we will be able to arrange for the processing of your meat and taxidermy service by a local licensed processor/taxidermist if desired. Read More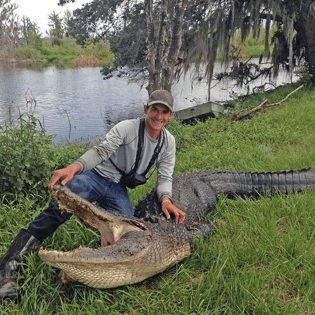 *This trip is for up to 4 people, but its really priced per 13'+ gator. For example, if 1 person wants to shoot 3 gators then you need to select the 3 person option or if 2 people want to shoot 4 total gators then select 4 people.* Private land alligator hunts are conducted year round. On this alligator hunt we target the specific size gator that the client is looking for. Expect to glass many alligators in ponds and reservoirs from a distance. Once the right size gator is spotted, a stalk is then started. Don't let alligators fool you, they have excellent sense of smell, hearing, eyesight, and can also feel vibrations. Getting within comfortable shooting range can be a challenge since the target is a little bigger then a quarter. Read More
*This trip is for up to 6 people, but its really priced per hog. For example, if 1 person wants to shoot 3 hogs then you need to select the 3 person option or if 2 people want to shoot 8 total hogs then select 8 people* We are proud to offer 2000 prime hog hunting acres on private land. It is that adrenaline wild hog hunting experience only found here at the ranch. You will not be disturbed by any other wild boar hunting hunters on the property as we cater to our clients. This hunt is for wild hogs. We do not operate a farm but a FREE RANGE Florida hog hunt. So whether you want to experience a swamp buggy hog hunt, Tree stand hog hunt or a stalking hog hunt with dogs, we offer all of that and more. With many options to add to your hog hunt, we only need to know your hunting budget and combo hog hunts can be set up. Florida houses one of the largest populations of wild boar in North America, and Seminole Prairie is located in the heart of Florida outdoors. Florida hog hunting is for all ages; Beginners or experts. Wild boar are considered a nuisance and destructive in many parts of the state, especially in surrounding sugar cane fields and orange groves. Hog hunting has rapidly become popular in the hunting industry thanks to the abundance of game and the many methods of hunting the wild boar. We hunt the wild boar out of tree stands overlooking feeders, off the swamp buggy, spot and stalk, with night vision, and of course with hog dogs where you are guaranteed an action packed hunt. Whichever you prefer we can accommodate. TREESTAND OVER FEED AREAS This option is for the hunter that really wants to enjoy the outdoors. Whether you want to get out early in the morning to watch the sunrise or later in the afternoon to watch the sun set, it makes for a peaceful slow paced day. Our guides will drop you off at the time you desire and you can choose to sit for a couple of hours or all day if you'd like to. With this option there is a very good possibility that you'll see a few of the other species of game we have at the ranch as well. Some of these species include whitetail deer, red stag, axis deer, other exotics, and much more. So if you are looking for a relaxing day in the woods, then this is the hunt is for you. Read More
Top Types of Trip in Venus
Top Targeted Species in Venus
Everything to Know About Booking a Hunting Guide in Venus
What are the best hunting trips in Venus?
All guides on Captain Experiences are licensed, insured, and vetted by our team. You can access their reviews, click through trip photos, read bios to get to know them, and preview trip details like species, techniques, group sizes, and more.
What types of hunting trips are common in Venus?
Alligator hunting is the most popular in Venus as well as hog hunting, upland hunting, and predator hunting.
The most commonly sought after species in Venus are: 1. alligator, 2. hog, 3. coyote, and 4. bobcat.
The most common hunting techniques in Venus are rifle hunting, archery, and shotgun hunting but thermal hunting and hunting with dogs are popular as well.
How much does a Venus hunting trip cost?
in Venus prices can range anywhere from an affordable $300 to $3,000 and up, but the average price for a half day trip in Venus is $1,553. The average price for a full day trip in Venus is $4,610.
What month is best for hunting in Venus?
The most popular season for hunting in Venus is summer, and most hunters book their trips 56 days in advance.
Where can I look through all Captain Experiences trips?

See here to browse all the trips we offer.

;