4.94 / 5 Average Review Score
Team of Experts Available 24/7
Licensed and Insured Guides
Recently Booked Fishing Charters Near Trinity Bay
Top Types of Trips in Trinity Bay
"Our Damn Good Guides go above and beyond to provide you an incredible trip, and we've handpicked every single one. We're passionate about the outdoors and about empowering people to find the perfect-match guide for the trip of a lifetime, every time."
Jonathan and Attison | Co-founders | Austin, Texas
Fishing Charters Near Trinity Bay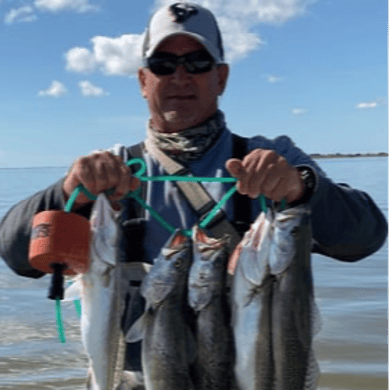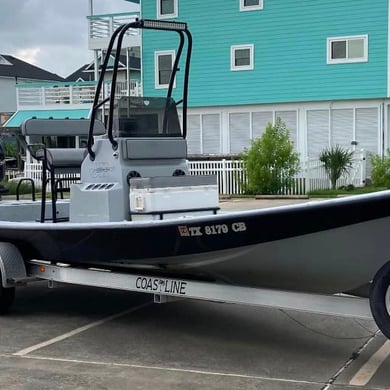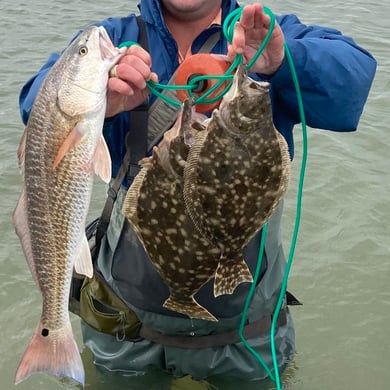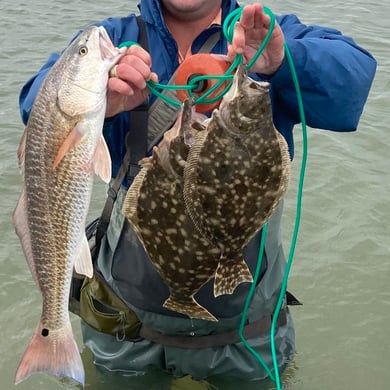 Welcome to Galveston Bay, one of the most popular fishing destinations in Texas! This is where the Gulf of Mexico meets the bays and estuaries that are home to some of the best game fish in the region. Galveston Bay is known for its incredible flounder, redfish, and speckled trout fishing, and one of the best ways to experience it is by wade fishing. Wade fishing is a unique and exciting way to catch fish, and it's especially popular in Galveston Bay. This type of fishing involves standing in the shallow water and casting your line, using a lure or bait to entice the fish to bite. The thrill of feeling the tug on your line and the satisfaction of reeling in a big catch is hard to beat! The best time to go wade fishing in Galveston Bay is during the fall and winter months, when the water is cooler and the fish are more active. Flounder, redfish, and speckled trout are all plentiful during this time of year, and you're sure to have an amazing time. Flounder are a popular catch in Galveston Bay, and they're known for their delicious, delicate meat. These flatfish are often found hiding in the sandy bottoms of the bay, and you can use a variety of lures and baits to entice them to bite. As you cast your line and wait for a bite, keep an eye out for any movement or ripples in the water. When a flounder bites, you'll feel a distinct tug on your line, and you'll need to reel it in quickly to avoid losing it. Redfish, also known as red drum, are another popular game fish in Galveston Bay. These powerful fish can grow up to 50 pounds, and they put up a fierce fight when you hook them. You can use a variety of lures and baits to catch redfish, including live shrimp, mullet, and crab. As you reel in your line, you'll feel the redfish tugging and pulling, trying to get away. But with some skill and patience, you'll be able to land a big one. Finally, there's speckled trout, which are perhaps the most sought-after game fish in Galveston Bay. These beautiful fish are known for their distinctive spots and their tasty, flaky meat. You can use a variety of lures and baits to catch speckled trout, including topwater lures, soft plastics, and live shrimp. As you cast your line, keep an eye out for any signs of trout activity, such as jumping or splashing in the water. Whether you're a seasoned angler or a beginner, a wade fishing trip in Galveston Bay is an experience you won't soon forget. With some patience, skill, and a bit of luck, you'll be able to catch some amazing flounder, redfish, and speckled trout, and enjoy some of the best fishing in Texas! Read More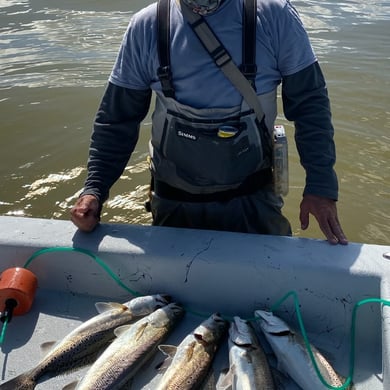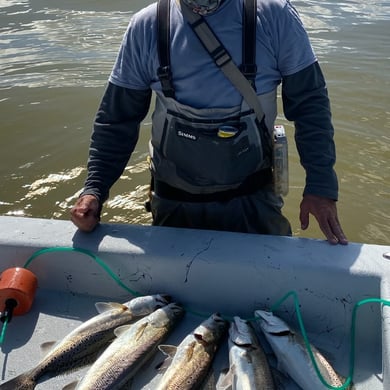 Embark on an unforgettable inshore charter fishing trip on East Bay on this trip with Captain Steve! With years of experience and a deep knowledge of the local waters, he's the perfect guide to help you reel in some of the most sought-after species in the area. Your target species for the day will include Speckled Trout, Black Drum, and Redfish. These hard-fighting and delicious fish are abundant in the inshore waters of East Bay, and Captain Steve knows all the best spots to find them. He will provide expert guidance and instruction to help you maximize your catch and ensure an enjoyable day on the water. Captain Steve will provide all the necessary equipment, including rods, reels, bait, and tackle. He'll also bring along plenty of refreshments to keep you hydrated and energized throughout the day. All you need to bring is your sense of adventure and a willingness to try something new. With Captain Steve as your guide, you're sure to have an exciting and successful charter fishing experience on East Bay. Don't miss this chance to explore the bountiful waters of the Texas Gulf Coast! Read More
See all trips in Trinity Bay
Everything to Know About Booking a Fishing Charter in Trinity Bay
What are the best fishing charters in Trinity Bay?
Our guides in Trinity Bay are rated a 4.93 out of 5 based on 9577 verified reviews on Captain Experiences.
All guides on Captain Experiences are licensed, insured, and vetted by our team. You can access their reviews, click through trip photos, read bios to get to know them, and preview trip details like species, techniques, group sizes, boat specs and more.
What types of fishing charters are common in Trinity Bay?
Inshore fishing is the most popular in Trinity Bay as well as flats fishing, nearshore fishing, and jetty fishing.
The most commonly sought after species in Trinity Bay are: 1. flounder, 2. redfish, 3. speckled trout, and 4. black drum.
The most common fishing techniques in Trinity Bay are light tackle fishing, artificial lure fishing, and live bait fishing but wading and bottom fishing are popular as well.
How much do Trinity Bay fishing charters cost?
in Trinity Bay prices can range anywhere from an affordable $450 to $3,000 and up, but the average price for a half day trip in Trinity Bay is $618. The average price for a full day trip in Trinity Bay is $1,700.
What month is best for fishing in Trinity Bay?
The most popular season for fishing in Trinity Bay is summer, and most anglers book their trips 18 days in advance.
Do I need a Trinity Bay fishing license and what are the bag limits in Trinity Bay?
See here for more information on fishing licenses in Trinity Bay, bag limits for target species, and fishing season regulations in Trinity Bay. When in doubt, your fishing guide will always know the right rules and regulations in Trinity Bay.
Trinity Bay Fishing Calendar
| Species | January | February | March | April | May | June | July | August | September | October | November | December |
| --- | --- | --- | --- | --- | --- | --- | --- | --- | --- | --- | --- | --- |
| Amberjack | Great | Great | Ideal | Ideal | Ideal | Not Allowed | Not Allowed | Ideal | Ideal | Great | Great | Great |
| Black Drum | Good | Great | Ideal | Ideal | Ideal | Ideal | Ideal | Great | Good | Good | Good | Good |
| Blackfin Tuna | Good | Good | Good | Great | Great | Ideal | Ideal | Ideal | Ideal | Good | Good | Good |
| Blacktip Shark | Good | Good | Good | Good | Great | Ideal | Ideal | Ideal | Ideal | Great | Good | Good |
| Cobia | Good | Good | Good | Good | Great | Ideal | Ideal | Ideal | Great | Great | Good | Good |
| Crappie | Ideal | Ideal | Ideal | Great | Great | Great | Ideal | Ideal | Great | Great | Great | Great |
| Flounder | Good | Good | Good | Great | Great | Great | Good | Good | Great | Ideal | Ideal | Ideal |
| Hammerhead Shark | Good | Good | Good | Good | Great | Ideal | Ideal | Ideal | Ideal | Great | Good | Good |
| Kingfish | Good | Good | Good | Great | Great | Ideal | Ideal | Ideal | Great | Good | Good | Good |
| Largemouth Bass | Great | Great | Ideal | Ideal | Ideal | Ideal | Ideal | Great | Great | Great | Great | Great |
| Mahi Mahi | Good | Good | Good | Great | Ideal | Ideal | Ideal | Ideal | Ideal | Great | Good | Good |
| Red Snapper | Good | Good | Good | Great | Great | Ideal | Ideal | Ideal | Great | Great | Good | Good |
| Redfish | Great | Great | Great | Great | Great | Great | Great | Ideal | Ideal | Ideal | Ideal | Great |
| Sheepshead | Ideal | Ideal | Ideal | Great | Great | Good | Good | Good | Great | Great | Great | Great |
| Spanish Mackerel | Good | Good | Great | Ideal | Ideal | Ideal | Ideal | Great | Good | Good | Good | Good |
| Speckled Trout | Great | Great | Great | Great | Great | Great | Great | Ideal | Ideal | Ideal | Great | Great |
| Tarpon | Good | Good | Good | Good | Great | Ideal | Ideal | Ideal | Ideal | Ideal | Great | Good |
| Tiger Shark | Good | Good | Good | Good | Great | Ideal | Ideal | Ideal | Ideal | Great | Good | Good |
Recent Reviews of Captain Experiences
Top Targeted Fishing Species in Trinity Bay
Top Targeted Hunting Species in Trinity Bay
Top Fishing Techniques in Trinity Bay
Top Hunting Techniques in Trinity Bay
Top Types of Hunting in Trinity Bay
;