4.94 / 5 Average Review Score
Team of Experts Available 24/7
Licensed and Insured Guides
Recently Booked Fishing Guides Near Sheboygan, Wi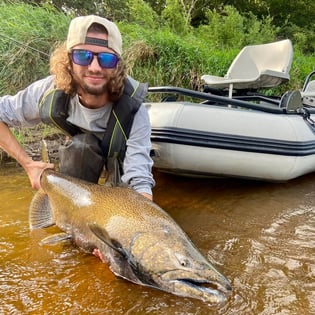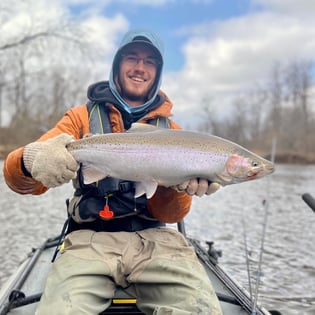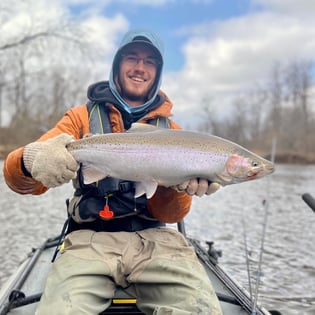 If you're looking for a new "wallhanger" trophy fish, there's no better trip than this one with Bailey. He's made a name for himself by mastering all the local rivers flowing into Lake Michigan catching massive fish on both spinning gear and fly. Just look at his photo gallery to see how he consistently puts his clients on the giants, season after season. Starting in September, Chinook and Coho salmon enter the rivers in Eastern Wisconsin to begin their spawning stage. This is a great time to both cast hardware (crankbaits, spinners, etc.) and also float fish using bobbers and eggs for bait for these aggressive fighting fish! After a few good rains in fall, the Brown trout and Steelhead will move into the river systems to both spawn and take advantage of the egg buffet from the spawning salmon. During this time you can expect a lot of bobber fishing using both beads (single egg) and egg sacs for bait, as well as casting spinners/spoons. During your fishing adventure, you will be floating down the rivers in a 14' SmithFly BigShoals Raft. This will make it much easier for you to access parts of the river and fish, all while staying dry and warm inside the raft! All the rods, reels, gear and tackle will be provided for you, along with you fishing licenses! The only thing you have to do is show up and fish! Read More
Everything to Know About Booking a Fishing Guide in Sheboygan
What are the best fishing trips in Sheboygan?
All guides on Captain Experiences are licensed, insured, and vetted by our team. You can access their reviews, click through trip photos, read bios to get to know them, and preview trip details like species, techniques, group sizes, boat specs and more.
What types of fishing trips are common in Sheboygan?
River fishing is the most popular in Sheboygan.
The most commonly sought after species in Sheboygan are: 1. brown trout, 2. chinook salmon, 3. coho salmon, and 4. rainbow trout.
The most common fishing techniques in Sheboygan are light tackle fishing, fly fishing, and artificial lure fishing but drift fishing and wading are popular as well.
How much does a Sheboygan fishing trip cost?
in Sheboygan prices can range anywhere from an affordable $400 to $450, but the average price for a full day trip in Sheboygan is $425.
What month is best for fishing in Sheboygan?
The most popular season for fishing in Sheboygan is fall, and most anglers book their trips 90 days in advance.
Do I need a Sheboygan fishing license and what are the bag limits in Sheboygan?
See here for more information on fishing licenses in Sheboygan, bag limits for target species, and fishing season regulations in Sheboygan. When in doubt, your fishing guide will always know the right rules and regulations in Sheboygan.
Sheboygan Fishing Calendar
| Species | January | February | March | April | May | June | July | August | September | October | November | December |
| --- | --- | --- | --- | --- | --- | --- | --- | --- | --- | --- | --- | --- |
| Brown Trout | Fair | Fair | Fair | Fair | Great | Great | Great | Great | Great | Great | Fair | Fair |
| Chinook Salmon | Fair | Fair | Good | Good | Ideal | Ideal | Ideal | Ideal | Great | Good | Fair | Fair |
| Coho Salmon | Fair | Fair | Good | Good | Ideal | Ideal | Ideal | Ideal | Ideal | Great | Good | Fair |
| Lake Trout | Fair | Fair | Fair | Fair | Great | Great | Great | Great | Great | Great | Fair | Fair |
| Northern Pike | Fair | Fair | Fair | Fair | Good | Great | Great | Great | Good | Fair | Fair | Fair |
| Perch | Fair | Fair | Good | Great | Ideal | Ideal | Ideal | Ideal | Good | Fair | Fair | Fair |
| Rainbow Trout | Fair | Fair | Great | Good | Great | Ideal | Ideal | Ideal | Ideal | Great | Fair | Fair |
;