How people hunt ducks can vary greatly across the state but the same basic rules apply. For a hunter to legally hunt ducks in Texas, they must buy a license if they are 16 or older. Additionally, hunters must purchase a Migratory Bird Endorsement and Federal Duck Stamp. With those few things out of the way here is what you need to know about Texas duck season for 2022.
What is Captain Experiences?
We're on a mission to Unlock the Outdoors for everyone. With thousands of Damn Good Guides across the US and beyond, our platform makes booking quality, vetted guides quick and easy.
Check out our trips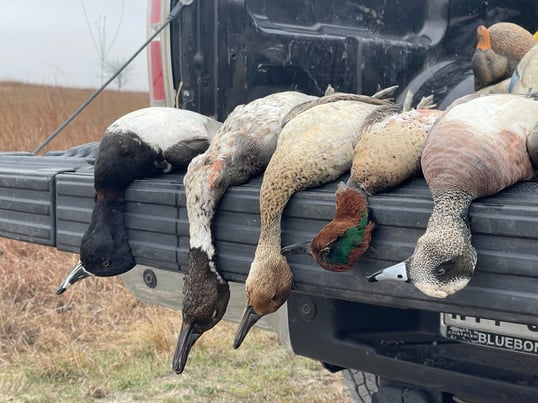 Texas Hunting Zones
In Texas waterfowl and many other types of game have seasons that vary by geography. The geographic regions are known as zones. In Texas There are three main zones know as the High Plains Mallard Management Unit, South Zone, and North Zone. The zones are defined on the TPWD website as follows:
High Plains Mallard Management Unit:
West of a line from the International Toll Bridge at Del Rio, north along U.S. Hwy. 277 to Abilene, State Hwy. 351 and State Hwy. 6 to Albany, and U.S. Hwy. 283 to Vernon, east along U.S. Hwy. 183 to the Texas-Oklahoma state line.
South Zone:
South of a line from the International Bridge and U.S. 277 Spur at Del Rio, east along U.S. 90 to San Antonio, east along IH 10 to the Texas-Louisiana state line.
North Zone:
Remainder of the state.
2022 Texas Duck Seasons
Hunting Ducks in Texas can be done during four different seasons. The four seasons are Youth-Only, Regular Season, "Dusky" Duck, and Falconry Season. TPWD lays out the various seasons as follows.
Youth-Only
High Plains Mallard Management Unit: Oct. 22 - 23, 2022 North Zone: Nov. 5 - 6, 2022 South Zone: Oct. 29 - 30, 2022
Regular Season
High Plains Mallard Management Unit: Oct. 29 - 30, 2022, Nov. 4, 2022 - Jan. 29, 2023 North Zone: Nov. 12 - 27, 2022, Dec. 3, 2022 - Jan. 29, 2023 South Zone: Nov. 5 - 27, 2022, Dec. 10, 2022 - Jan. 29, 2023
"Dusky" Duck
High Plains Mallard Management Unit: Nov. 7, 2022 - Jan. 29, 2023 North Zone: Nov. 17 - 27, 2022, Dec. 3, 2022 - Jan. 29, 2023 South Zone: Nov. 10 - 27, 2022, Dec. 10, 2022 - Jan. 29, 2023
Falconry
North Zone: Jan. 30 - Feb. 13, 2023 South Zone: Jan. 30 - Feb. 13, 2023
Other Key Texas Regulations for Texas Waterfowl Hunting
Legal shooting hours: one-half hour before sunrise/set
Dusky (mottled) duck harvest off-limits for the first five days in each zone
Texas Duck Season Daily Bag Limits
Texas Duck Bag Limits
Early Teal: 6 in the aggregate
Regular Duck
6 - includes mergansers Includes no more than 5 mallards (only 2 hens) 3 wood ducks 2 redheads 2 canvasback 1 scaup 1 pintail 1 "dusky" duck (mottled duck, Mexican-like duck, black duck and their hybrids are closed the first five days of the season in each zone) Coot: 15 Possession limit: 3 times daily bag limit Falconry: Daily bag and possession limits can't exceed 3 and 9 migratory game birds, singly or in aggregate