Inshore fishing is a popular type of fishing that's often done in waters 30 meters deep or less. It's an action packed way to catch fish, and due to the close proximity to shore, it's a great choice for those that are time constrained or get sea sick easily on longer deep sea trips. Typically you can find bucket list species like snook, tarpon, and bonefish as they feed in the shallows during their migration. Or you can head out in search of popular sportfish like redfish and speckled sea trout, which live in the shallower waters year round.
Book Your Next Inshore Fishing Trip
We're on a mission to Unlock the Outdoors for everyone. With thousands of Damn Good Guides across the US and beyond, our platform makes booking quality, vetted guides quick and easy.
Check Out Our Inshore Trips Now
What is Inshore Fishing
Inshore fishing is a broad category of saltwater fishing that takes place from the backwater estuaries to just beyond the jetties and beaches, often at 30 meters deep or less. This type of fishing shares fishing styles with nearshore and inland fishing because many fish species spend time in both environments. Before booking a trip, make sure you understand the differences between inshore versus offshore fishing to ensure you're getting the right experience for your needs.
Popular Inshore Fishing Techniques & Types
If you're interested in taking part in an inshore fishing trip, it's best to understand the different options you have. Wade fishing will get you right in the action, but also requires you to get in the water, which isn't for everyone, while jetty fishing allows you to stay aboard and catch along the rock walls along the coastline. Learn more about each type below.
Jetty Fishing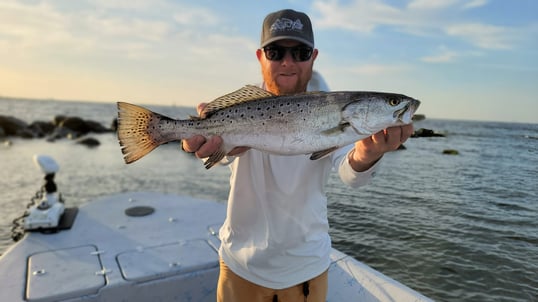 Jetty fishing is one of the most popular and accessible types of saltwater fishing, offering anglers the opportunity to catch a mixed bag of inshore and some nearshore fish species. Jetties are long walls made of concrete and stone that stretch out into the water and are used as a breakwater. They are constructed to protect harbors or prevent erosion along the shoreline. Because of their size and location, jetties create an abundance of habitat for sought after fish to call home.
Jetty fishing is done by anglers targeting fish that use the jetty for cover. Jetties offer ideal habitat for fish to ambush prey, avoid potential threats, or get out of the tidal currents to rest. Anglers targeting jetties typically use spinning gear or conventional tackle with live bait, cut bait, or lures to get a bite.
Wade Fishing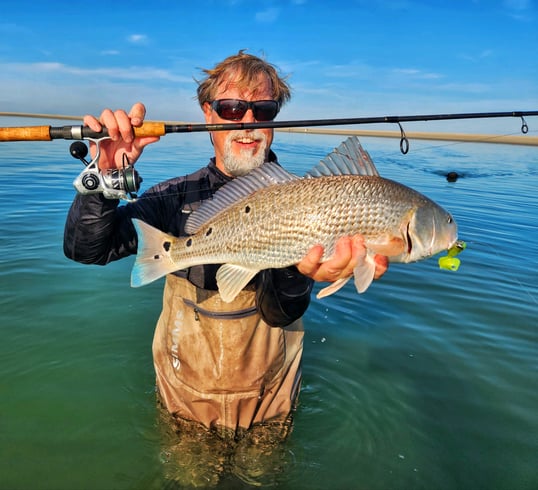 Wading allows you to be immersed in the environment that you're fishing and become part of it instead of spectating from above. At its core, wade fishing is a style of fishing where anglers stand in the water, stalk fish, and must be self-sufficient. While wading may seem like an inefficient way to hit the water, it's a great way to target fish that you otherwise couldn't reach.
Anglers stalk fish and make targeted casts with conventional or fly fishing gear which requires skill and makes success that much more rewarding. Wading is a completely different experience compared to fishing from land or a boat. It allows anglers to be intimately involved with the behavior and environment of the fish they target.
Flats Fishing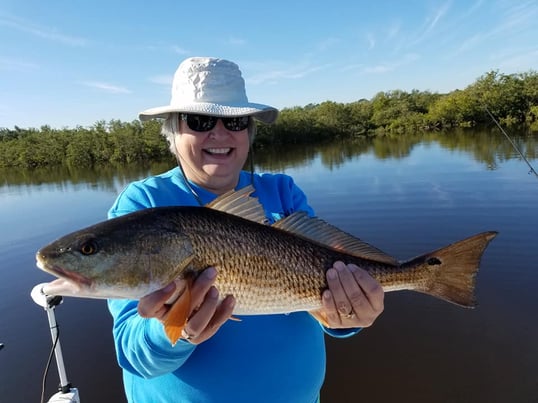 Flats are found in coastal inshore waters around the world and give anglers diverse fishing opportunities. Flats are areas in shallow coastal water with a flat bottom that tend to have clear water and scattered vegetation. The sportfish that live here are especially skittish and wary when hunting on the flats because they are more vulnerable in the clear, shallow water.
Shallow water makes the flats sensitive to tides and can drain entirely during low tide, leaving them exposed to the elements. The geography of each area of flats is different and constantly changing, which means the fish change with it. Even as they change, the four features that appear on all flats are vegetation, bars, channels, and shoreline. Flats fishing tackle varies but spinning and fly fishing gear is the most popular.
Book Your Next Inshore Fishing Trip
Inshore fishing trips are some of the most action packed fishing experiences with minimal travel to and from spots which maximizes your time on the water. If less time traveling and more time fishing while still having a shot at catching prized gamefish sounds like the ideal trip for you, take a look at our inshore fishing charters.