Scalloping is catching/collecting scallops by hand in relatively shallow waters. Florida is the only state where scallops can be harvested for recreation and is a fun and exciting tradition in the Sunshine State. Scallops are mollusks found in shallow seagrass beds along the coast, the ones targeted when scalloping are bay scallops, which are smaller than sea scallops. Scalloping is a popular recreational activity because it combines elements of snorkeling, fishing, and treasure hunting. It offers an opportunity to enjoy the outdoors, explore the underwater environment, and collect a delicious seafood delicacy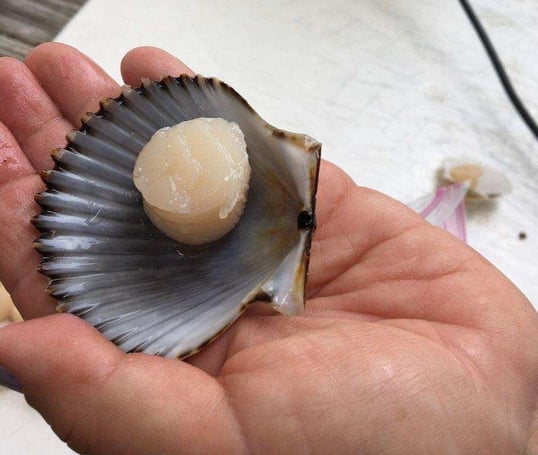 How to Scallop
Scallops are commonly found in 4 - 8 feet of clear water. They tend to be in sea-grass or the sandy edges of the grass. Anglers can use their hands or small dip nets, often snorkeling off an anchored boat. Upon returning to your boat, your catch should be immediately put into a live well or if not, then on ice in a cooler as scallops are very sensitive to temperature and will die quickly if not kept cool and if freshwater gets into their shells. To reiterate, a live well is ideal.
License Information
In order to harvest scallops, a current Florida recreational saltwater fishing license, unless you are scalloping on a chartered trip. A license can be acquired here.
Equipment Needed to Scallop
Equipment needed varies depending on preference, but below are recommendations of what to bring to have the proper experience.
Snorkel gear
In order to scan the sea bed effectively snorkel gear such as a mask, snorkel, and fins are recommended.
Mesh Bag and/or Dip Net
A dip net and mesh bag is recommended to gently harvest and collect scallops as well as to protect from being pinched. However, harvesting by hand is possible
Wetsuit
If you tend to get cold, a wetsuit might be of value, but is by no means required.
Gloves
Gloves might be handy to avoid being pinched by scallops but are optional
Livewell
A livewell onboard the boat is highly recommended in order to keep the scallops alive and fresh. Alternatively, a cooler with ice may suffice as long as the harvested scallops are separate from ice melt and water run off as fresh water will quickly kill scallops.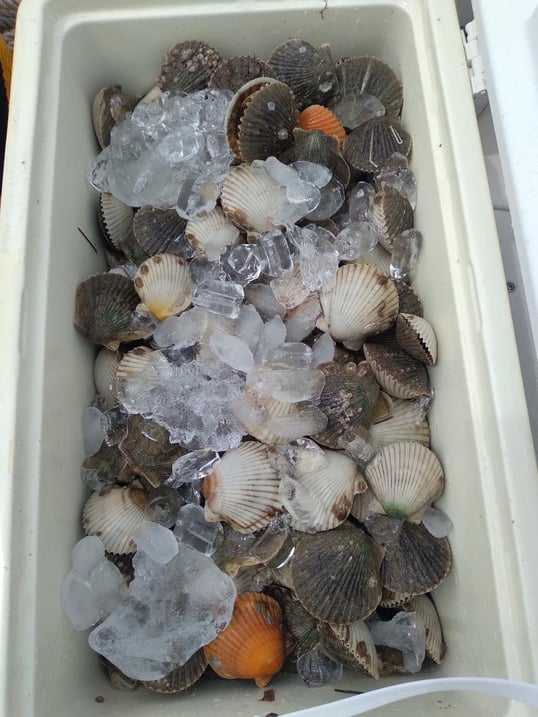 Scallop Season
Depending on the region you plan to harvest scallops, your season may vary. Be sure to know what region your scalloping location is to get the correct season. Gulf County Zone: Aug. 16 - Sept. 24 Franklin - NW Taylor County: July 1 - Sept. 24 Fenholloway - Suwannee River Zone: June 15 - Labor Day Levy, Citrus, and Hernando counties: July 1 - Sept. 24 Pasco County Zone: July 1 - Aug 6
Bag Limit
Gulf-NW Taylor County and Levy-Pasco County
2 gallons of whole bay scallops in shell or 1 pint of bay scallop meat- per person, or a maximum of 10 gallons of whole bay scallops in shell or 1/2 gallon bay scallop meat (1/2 gallon = 4 pints) per vessel.
Fenholloway through Suwannee River Zone
June 15-30: 1 gallon whole bay scallops in shell or one cup shucked per person, or 5 gallons whole or two pints shucked per vessel. July 1-Labor Day: 2 gallons of whole bay scallops in shell or 1 pint of bay scallop meat per person, or a maximum of 10 gallons of whole bay scallops in shell, or 1/2 gallon bay scallop meat (1/2 gallon = 4 pints) per vessel.
Note that vessel limits do not allow an individual to exceed their personal bag limit.
How to Prepare Scallops to Eat
Scallops are a seafood delicacy offering many ways to be cooked. Some options include searing, grilled, or even raw in ceviche. Scallops are known to have a great taste, often pairing well with spices, so don't hold back cracking open the spice cabinet!
Where to Go Scalloping
Florida is the only place that offers recreational scalloping making the sport unique to Florida. Within the state, there are plenty of spots along gulf side Florida offering solid scalloping opportunities.
Crystal River
The Crystal River is famous for its scalloping. The Crystal River/Kings Bay area is particularly popular, offering clear waters and abundant scallops. It is also known for its resident manatee population, so you can enjoy a unique wildlife experience.
Steinhatchee
Situated on Florida's Big Bend, Steinhatchee is another fantastic scalloping spot. The Steinhatchee River and the surrounding grass flats provide ideal conditions for scallops. The area is known for its scenic beauty and a relaxed atmosphere.
Homosassa
Homosassa, located south of Crystal River, is another great place for scalloping. The Homosassa River and nearby coastal areas are popular scalloping grounds. Homosassa Springs Wildlife State Park is also worth a visit.
St. Joseph Bay
Situated in the Florida Panhandle, St. Joseph Bay offers excellent scalloping opportunities. The bay's seagrass beds provide a favorable habitat for scallops. The area is known for its stunning white-sand beaches and pristine waters.
Keaton Beach
Located along the Big Bend region, Keaton Beach is a small fishing community that attracts scallop enthusiasts. The shallow waters and seagrass beds of this area make it a productive scalloping spot.
Port St. Joe
Another spot on the Florida Panhandle, Port St. Joe, offers scalloping opportunities in St. Joseph Bay. The bay's seagrass beds attract abundant scallops, and the area is known for its natural beauty and uncrowded beaches.
Book a Guided Scalloping Outing
Scalloping is a fun and cherished tradition in Florida combining fishing and snorkeling creating a unique experience exploring the underwater world as well as harvesting delicious seafood. Looking to go scalloping? Check out our scalloping charters to book your trip with a vetted, professional guide.