Florida is home to the cherished tradition of scalloping. Being the only place where recreational harvesting of scallops exists, scalloping is a very popular activity when in season. Families from out of town and locals alike all find great joy in diving down to collect the delicious mollusks. Here are some of the best places to go scalloping in Florida.
Crystal River
Crystal River is renowned for its scalloping opportunities. The Crystal River/Kings Bay area is particularly popular, offering clear waters and abundant scallops. Additionally, Crystal River is known for its resident manatee population, so you can enjoy a unique wildlife experience while scalloping.
Steinhatchee
Situated on Florida's Big Bend, Steinhatchee is another fantastic scalloping spot. The Steinhatchee River and the surrounding grass flats provide ideal conditions for scallops. The area is known for its scenic beauty and a relaxed atmosphere.
Homosassa
Homosassa, located south of Crystal River, is another great place for scalloping. The Homosassa River and nearby coastal areas are popular scalloping grounds. Homosassa Springs Wildlife State Park is also worth a visit.
St. Joseph Bay
Situated in the Florida Panhandle, St. Joseph Bay offers excellent scalloping opportunities. The bay's seagrass beds provide a favorable habitat for scallops. The area is known for its stunning white-sand beaches and pristine waters.
Keaton Beach
Located along the Big Bend region, Keaton Beach is a small fishing community that attracts scallop enthusiasts. The shallow waters and seagrass beds of this area make it a productive scalloping spot.
Port St. Joe
Another spot on the Florida Panhandle, Port St. Joe, offers scalloping opportunities in St. Joseph Bay. The bay's seagrass beds attract abundant scallops, and the area is known for its natural beauty and uncrowded beaches.
Chassahowitzka
A hidden gem for scalloping enthusiasts. This pristine coastal area offers clear turquoise waters and extensive seagrass beds that provide a thriving habitat for bay scallops. Scalloping in Chassahowitzka allows visitors to enjoy a tranquil and picturesque scalloping experience.
Bayport Pier & Hernando Beach
Bayport Pier provides access to the coastal waters of the Weeki Wachee River and the Gulf of Mexico, offering ample opportunities to find scallops among the seagrass beds. Hernando Beach, known for its great shoreline and clear waters, is another popular scalloping destination, with its nearby flats providing favorable conditions for scalloping.
Note that Florida has regional seasons that vary depending on location. Always check to be sure you're within season if you plan to harvest scallops.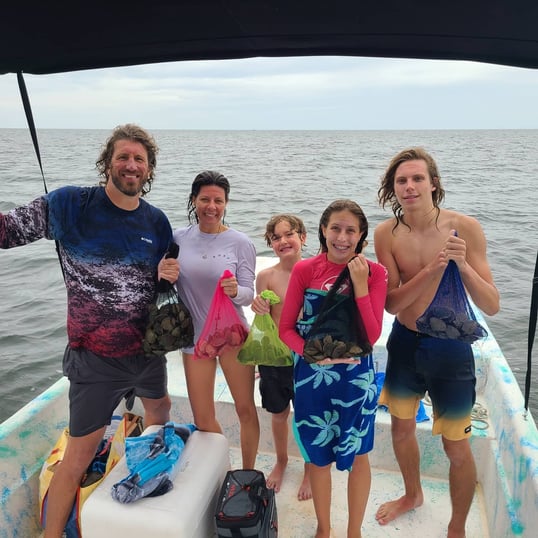 Book Your Scalloping Trip
From the crystal-clear waters of Crystal River to the laid-back charm of Steinhatchee Florida has something to offer for all scallopers. Looking to go scalloping? Check out our scalloping charters to book your next scalloping trip with one of our many local professional fishing guides.