The Rockport-Fulton area is one of the major fishing destinations along the middle of the Texas coast. If you are fishing the Rockport area, then you have several bays, islands, flats, and back lakes available within a short boat ride. The main fish species that anglers target around Rockport are speckled trout and redfish. Founder, black drum, and more inshore saltwater species are also commonly caught in the area. Because Rockport is not directly along the Gulf of Mexico, most area anglers are focused on inshore bay fishing.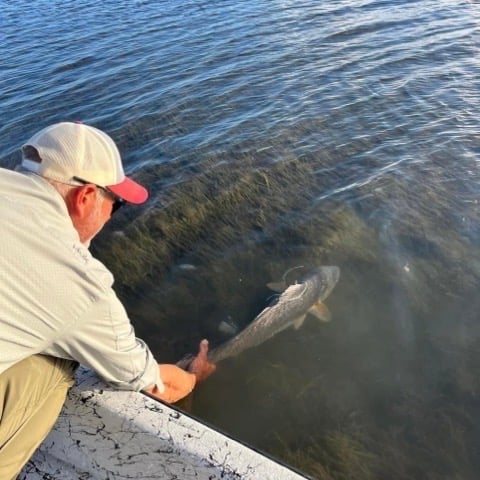 Fishing Spots Near Rockport
Rockport is surrounded on three sides by water. Some of the main areas that you may be fishing when visiting Rockport-Fulton include:
1). Aransas Bay
2). Mud Island
3). San Jose Island
4). Estes Flats
5). Goose Island
6). Saint Charles Bay
7). Copano Bay
8). Carlos Bay
9). Mesquite Bay
10). Cedar Bayou
Aransas Bay, Mud Island, San Jose Island, and Estes Flat
Aransas Bay is the main body of water on the south side of the Rockport-Fulton area. Aransas Bay contains a few large reefs plus some spoil areas that line the Intercoastal Waterway, which runs through the middle of the bay. These deeper water spoils and reef areas are popular fishing spots for anglers targeting speckled trout during the heat of summer. At other times of the year, fishermen can find fish along the miles of shoreline at the edges of Aransas Bay.
Mud Island is a long, narrow island with popular fishing locations on all sides. The tips of the island are particularly good during the spring and fall months. Despite the name, much of Mud Island is surrounded by grass and hard sand. There are certainly some muddy areas, which are best for holding fish during the cold winter months. A few channels that cut through the middle of Mud Island can be productive for trout, redfish and flounder.
San Jose Island is the major barrier island separating Aransas Bay from the Gulf of Mexico. For fishing guides and anglers with shallow water boats, there are several back lakes along San Jose Island that can be accessed through channels or guts connected to Aransas Bay. Experience is needed because these back lakes and channels can be just a few inches deep, and some areas can only be accessed by airboats. These back lakes and channels hold fish throughout most of year, but when it gets too hot or too cold during the extremes of summer and winter, then the fishing will slow down.
The entire shoreline of San Jose Island is a popular fishing location, especially during the spring and early summer months. Traylor Island runs along the southwest edge of Aransas Bay, and this island also contains many ideal shoreline fishing locations with a mixture of grass beds, channels, and sand potholes.
Estes Flats is a large grass flat that lies just on the other side of Traylor Island from Aransas Bay. Redfish roam the vast flats in search of their next meal. Because the grass beds in these shallow flats are ideal fish habitat, efforts have been made to protect the seagrass. Estes Flats is part of the Redfish Bay State Scientific Area, and responsible boating is required to prevent uprooting of the seagrass.
Goose Island and Saint Charles Bay
Goose Island and Saint Charles Bay are north of Rockport. [Goose Island is a Texas State Park] (https://tpwd.texas.gov/state-parks/goose-island), and its location at the edges of Saint Charles Bay, Aransas Bay, and Copano Bay make it a good choice for locating migrating fish during the spring and fall. Saint Charles Bay is a smaller body of water with more obstacles than you would expect in a seemingly protected small bay. There are deep holes, shallow spoils, wells, pipelines, and other obstructions throughout Saint Charles Bay. The mostly grass bottom and varying depths allow Saint Charles Bay to hold fish throughout the year.
Copano Bay
Copano Bay is the main body of water on the north side of Rockport. Copano is full of reefs that can be surprisingly shallow. These reefs are known to hold good numbers of speckled trout during the late spring, summer and early fall months. The edges of Copano Bay have some good grass shorelines and several adjoining smaller bays, coves, and inlets that can attract reds, specks, black drum, and flounder.
It is best to hire a professional fishing guide or drive your boat extremely slowly with a good map when exploring Copano Bay for the first few times. Oyster reefs and other obstructions can be found just a foot or less below the surface at several locations throughout the bay.
Carlos Bay, Mesquite Bay, and Cedar Bayou
Carlos Bay, Mesquite Bay, and Cedar Bayou can be found to the northeast of Rockport. These areas to the northeast of town offer some of the best shorelines and sometimes smaller crowds than the areas surrounding Aransas Bay. There are also oyster reefs and sandbars in Carlos and Mesquite Bays that offer good fishing.
Cedar Bayou is a remote pass that cuts through to the Gulf of Mexico. Extensive efforts were made to reopen Cedar Bayou after it had been closed up by sand filling in the channel for several years. When it is flowing, this channel is a natural area for fish to congregate. The water flows have also created better fishing opportunities in the flats and channels within a few miles of Cedar Bayou.
Offshore Fishing from Rockport
Rockport is a few miles inland from the Gulf of Mexico, so most anglers staying in Rockport are there for inshore bay fishing. If you are interested in deep sea fishing while staying in Rockport, you still have that ability. You could make a drive by car to Port Aransas, which has a ton of excellent deep sea charters available. Some of the offshore fish caught out of Port Aransas include:
1). Red Snapper
2). Kingfish
3). Cobia
4). Wahoo
5). Mahi Mahi
6). Tuna
There are also several nice offshore vessels based in Rockport that drive a few extra miles through the channels to get to the Gulf of Mexico, but most of those boats are owned by residents of some of the nice waterfront properties in Rockport.
Rockport-Fulton Area General Info
When you visit the Rockport area, you may hear people refer to both Rockport and Fulton. Although Rockport and Fulton are officially separate towns, casual visitors will not be able to determine where one town ends and the other begins. Many of the classic area restaurants and several bait shops are officially located in Fulton, and Rockport has most of the newer, larger commercial businesses. There are several good tackle shops in the area, and Tackle Town is one of the best. To learn more about things to do in the area, visit the Rockport-Fulton Chamber of Commerce.
In addition to inshore bay fishing, Rockport also offers outdoor adventurers the opportunity to fly fish, kayak fish, and duck hunt along the surrounding bays and flats. For help booking your next adventure in the Rockport area, visit us at Captain Experiences.