4.94 / 5 Average Review Score
Team of Experts Available 24/7
Licensed and Insured Guides
Recently Booked Trolling Charters In Alaska
Top Types of Trolling Trips in Alaska
"Our Damn Good Guides go above and beyond to provide you an incredible trip, and we've handpicked every single one. We're passionate about the outdoors and about empowering people to find the perfect-match guide for the trip of a lifetime, every time."
Jonathan and Attison | Co-founders | Austin, Texas
Trolling Charters In Alaska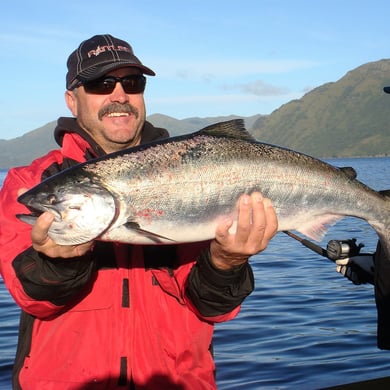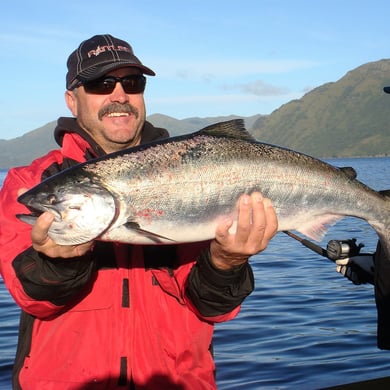 Looking for the ultimate Family fun remote fishing gettaway? Look no further than Eric and his lodge located on a remote island off the coast of Kodiak, Alaska. With two custom Armstrong catamarans fully outfitted with the latest gear, you'll have everything you need to reel in the catch of a lifetime. This trip is all-inclusive and completely "Turn-Key" after you arrive at Kodiak airport. From baggage claim, their door-to-door transportation service will pick you up and take you straight to the dock for a 1.5-hour ride to the island. You'll have 9 hours of fishing per day, with hot breakfast and a packed lunch provided on the water. After a long day of fishing, return to the lodge by 5-6pm for dinner while our staff preps your fresh catch. The minimum group size for these trips is 2 but the lodge can accommodate groups up to 12. Eric and his experienced guides will ensure that whether you're a seasoned angler or a novice, you'll have the best fishing experience on the Pacific Coast. With a 2 person minimum and a typical stay of 4 days and 3 nights, you can enjoy the best fishing Kodiak Island has to offer. You'll have the opportunity to catch halibut, king salmon, ling cod, rockfish, black rockfish, and silver salmon. With limits for all species being the best on the Pacific Coast, you're guaranteed to have an unforgettable experience. Book now and take advantage of our reduced rates for trips booked on Tuesdays. Come and join us for the ultimate fishing adventure at Raspberry Island Lodge. Our typical stay is 4 nights, we offer a reduced rate for trips booked in advance. We can accommodate groups of up to 12 people and can even accommodate up to 18 people to book the whole lodge. There is a two-person in minimum, and we can't catch Halibut on Tuesdays or Wednesdays, so we typically plan trips around that. Don't miss out on this amazing opportunity to fish in one of the best locations in Alaska. Book your adventure now and get ready for the unforgettable experience Read More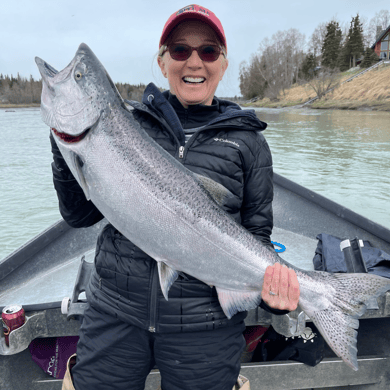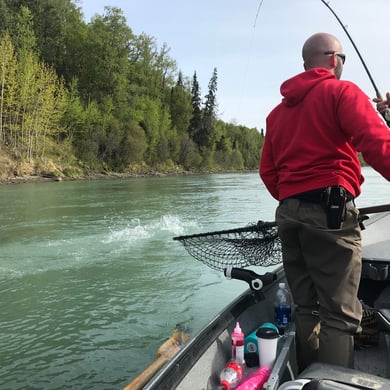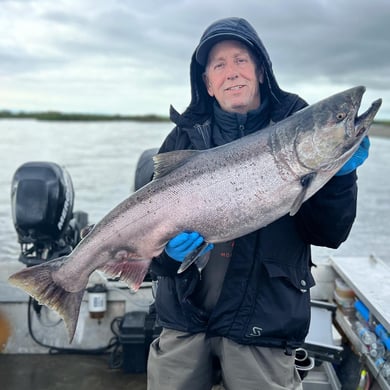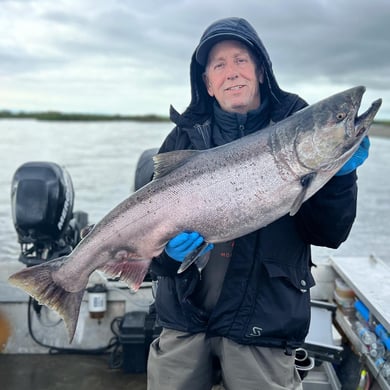 Our King Salmon Season kicks off with our early run on May 15th and will last all the way until the end of July. We fish from both Drift Boats and Power Boats and tailor our Fully Guided King Salmon Fishing Trips to the run timing and size. One day we could be fishing on the Kasilof River, and the next you'll find us chasing them on the Kenai River. Our trips remain flexible so that we are able to provide our clients with the highest chance of success. Our team of guides are very proficient in both Fly Fishing and Conventional Fishing techniques. We offer Fly Fishing trips with a technique known as "Spey Fishing" using a two handed rod. When fishing with conventional gear for Kings, we use a variety of techniques based on the river levels and run timing, but a vast majority of that type of fishing will be done completely from the boat. We offer both half day (4 hours) and full day (8 hours) Guided Trips for King Salmon and all trips are "all-inclusive", meaning we provide everything you need to fish with except for your licenses and stamps. After your trip, if you plan to keep fish, we will filet and prepare your catch for transport to the processor so that it can be packed and prepared to ship back home. Read More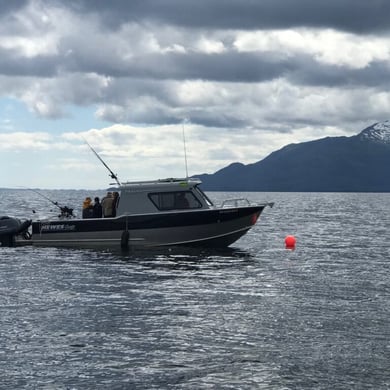 Ketchikan, Alaska is a prime destination for both Salmon and Halibut fishing. Located on the southern coast of the state, the waters around Ketchikan are home to tons of sportfish, and Captain William and his 28' Hewes Craft fishing vessel are ready to take you to find some trophies! As you board the boat, Captain William will give you a quick briefing and then it's time to hit the water. He knows all the best spots in the area and will take you to the most productive fishing grounds. Whether you're an experienced angler or a novice, Captain William will provide everything you need for a successful day of fishing, including top-of-the-line fishing equipment and bait. To catch trophy Salmon, you'll troll a variety of lures at a slow speed. You can also cast out to attract fish to the top of the water column! Salmon are a great fighters and are an absolute blast to fight once hooked. Halibut are bottom-dwelling fish, so you'll be using heavy tackle and bait to target them. Captain William will show you the proper techniques for catching these bottomfeeders and will provide expert guidance throughout the trip. The thrill of reeling in a massive Halibut is unmatched, and you'll have the chance to catch fish weighing up to two hundred pounds! As you fish, you'll be surrounded by stunning scenery. Ketchikan is located in the heart of the Tongass National Forest, the largest national forest in the United States, and the area is teeming with wildlife. Keep an eye out for bald eagles, seals, and even whales as you fish! At the end of the day, Captain William will clean and fillet your catch, so you can take it home to enjoy a delicious meal. A charter fishing trip with Captain William is the ultimate outdoor adventure and a great way to experience the beauty and bounty of Ketchikan, Alaska. In addition, Captain William is able to vacuum-pack and freeze your fish if you want to ship it home. Just ask! Read More
See all trips in Alaska
Everything to Know About Booking an Alaska trolling charter
What are the best trolling charters in Alaska?
All guides on Captain Experiences are licensed, insured, and vetted by our team. You can access their reviews, click through trip photos, read bios to get to know them, and preview trip details like species, techniques, group sizes, boat specs and more.
What types of trolling charters are common in Alaska?
Inshore fishing is the most popular for trolling in Alaska as well as nearshore fishing and river fishing.
The most commonly sought after species for trolling in Alaska are: 1. chinook salmon, 2. coho salmon, 3. pink salmon, and 4. halibut.
How much do Alaska trolling fishing charters cost?
for trolling in Alaska prices can range anywhere from an affordable $450 to $3,000 and up, but the average price for a half day trip for trolling in Alaska is $1,499. The average price for a full day trip for trolling in Alaska is $4,405.
What month is best for on a trolling charter in Alaska?
The most popular season to go on a trolling charter in Alaska is summer, and most anglers book their trips 16 days in advance.
Do I need a Alaska fishing license and what are the bag limits in Alaska?
See here for more information on fishing licenses in Alaska, bag limits for target species, and fishing season regulations in Alaska. When in doubt, your fishing guide will always know the right rules and regulations in Alaska.
Recent Reviews of Captain Experiences
★★★★★

I had a great day on a remote Alaskan stream with Shaun who is an excellent guide. The best fish of the day managed to get away but we netted a few others and had a fun day and with was cool to share the stream with a few bears. I enjoy fishing with these guys, this was my third trip with them so that is probably best recommendation I can give, and highly recommend them if you are in the Talkeetna area.

Simon S. with Dave F. of Talkeetna, Alaska

★★★★★

We had a great day on Montana Creek. I brought along a novice fly fisherman and we were still able to find lots of rainbows, some close to 20", even though it was early in the season and river was still high. Everyone was very friendly, the guide Sean was knowledgeable and patient with new fisherman and Heather in the office was always very helpful. Will definitely use them again.

Simon S. with Dave F. of Talkeetna, Alaska
The Best Places to Fish in Alaska
Other Fishing Techniques in Alaska
;