4.94 / 5 Average Review Score
Team of Experts Available 24/7
Licensed and Insured Guides
Recently Booked Fishing Charters Near Hopedale, La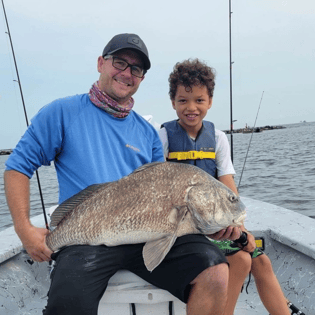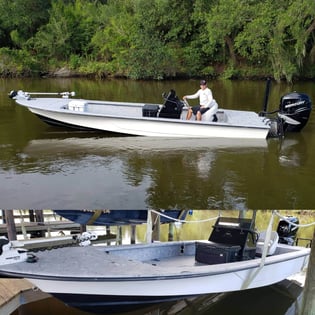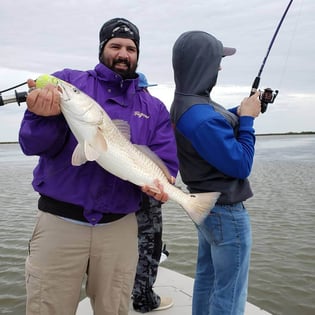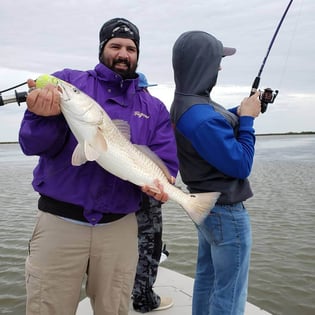 There is nothing quite like spotting a fish on the flats. Your heart skips a beat, your blood pressure begins to rise as you consider how to make the best cast, and it's all about keeping your cool to make a good hook set. Captain Jeremy has been obsessed with this sequence of emotions since he was a child, and wants to share its awe and the beauty of his surrounding waters with you on this site fishing adventure around New Orleans, Louisianna. So get ready to stalk the intricate marshlands around New Orleans, Lake Pontchartrain, Slidell, and Delacroix looking for redfish trout and black drum feeding and cruising happily in a prime, sheltered, shallow water oasis. After a quick 10 minute ride from the boat launch, you will be tucked away amongst some of the most beautiful wetland country in America. These beautiful coastal tidal waters are home to a plethora of happy fish that you can see rummaging around in the mud with their backs out of the water, or slowly cruising like a dark torpedo! Remember to keep your cool, listen to your experienced Captain, and get ready for a rush of excitement unlike any other! Captain Jeremy will provide all the fishing gear you'll need for this adventure, but he does highly recommend that you bring Polarized Sunglasses with you to help you spot the fish! Please feel free to bring any other snacks and drinks that you'd like to enjoy, and Captain Jeremy will ensure you have an awesome experience fishing this Sportsman's Paradise. Read More
The combination of seemingly unlimited fish and miles and miles of shallow water make coastal Louisiana one of the best-kept secrets in the fly-fishing world. If you haven't heard about Louisiana fly-fishing, it's probably because people want to keep it all to themselves! On this trip, you'll be going after classic inshore species such as Jack Crevalle, Redfish, and Speckled Trout—all on the fly! As with any fly-fishing trip, you will catch slightly fewer fish than you might catch on conventional tackle; however, double hook-ups are basically a certainty on every Louisiana charter trip. On a good day, you can expect to catch 5-10 fish per angler, and on an exceptional day the numbers can reach 20 fish per angler or more. There are also plenty of Black Drum and Sheepshead, both of which will readily take a fly. You'll be out there on Captain Shane's 22' BlackJack center console, which is ideal for fishing the inshore flats, marshes, and shallows. Although he can provide fly rods and reels, it's preferable if you can bring your own so that you can work with the gear you have the most practice with! Shane recommends 8-9 wt. rods and drag-equipped reels with weight-forward floating line and the capacity to hold at least 60 yards of 20 lb. backing. This particular rod and reel combination will allow you to accurately cast a variety of saltwater flies in varying wind conditions and will also allow you to absorb the line stripping run that many of these fish will make when you set the hook. It is also a good idea to bring along a 10 wt. rod and reel combination. The 10 wt. will do a better job handling big (20-30 lb.) redfish or some of the other bigger species such as jack crevalle. Read More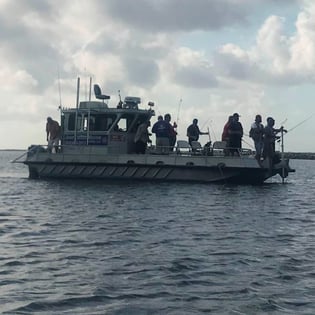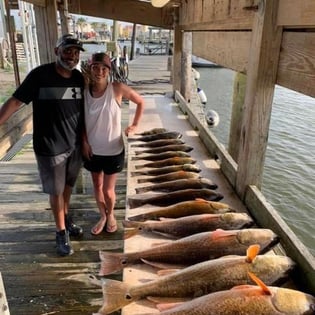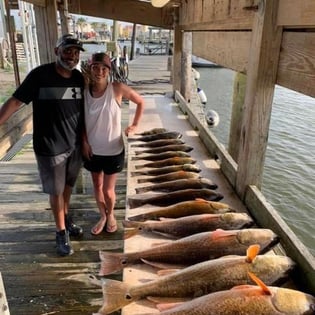 One day of fishing just isn't enough? Make it a double! Captain Gavin and his experienced crew are stoked to take you out for a 48-hour fishing extravaganza! Up to 10 guests can comfortably fit aboard the 32' Aluma Marine which you will use to extensively search the Louisiana marshland for Redfish and Speckled Trout. The network of canals stretches for miles, and over 2 days you will have plenty of time to explore it. Y'all will be staying in the newly renovated cabins, bunkhouses, or houseboats that sit on the bayou for a beautiful view of the bayou. Besides Redfish and Speckled Trout, the flats are home to Black Drum, Flounder, and Redfish, all of which are delicious. Each person on the trip should bring a large cooler to keep their catch fresh for dinner. Not to worry, lodging overnight is included. There, Captain Gavin will clean your catch for you and you can try your hand at the grill. He will also provide you with all the rods, reels, bait, and tackle necessary for a successful trip, as well as sodas during the hot days. You should also bring extra drinks and snacks for each day, because the weather down there can get pretty hot. Always feel free to take a break in the air-conditioned cabin aboard the vessel. You have 2 whole days to fish––no need to spend every second with a rod in hand. The twin 600hp Yamaha engines will guide you smoothly through the flats as Captain Gavin takes you to the best fishing holes in the area. Read More
Top Types of Trip in Hopedale
Top Targeted Species in Hopedale
Half Day and Full Day Fishing Trips in Hopedale
Everything to Know About Booking a Fishing Charter in Hopedale
What are the best fishing charters in Hopedale?
Our guides in Hopedale are rated a 4.89 out of 5 based on 9688 verified reviews on Captain Experiences.
All guides on Captain Experiences are licensed, insured, and vetted by our team. You can access their reviews, click through trip photos, read bios to get to know them, and preview trip details like species, techniques, group sizes, boat specs and more.
What types of fishing charters are common in Hopedale?
Deep Sea fishing is the most popular in Hopedale as well as inshore fishing, flats fishing, and nearshore fishing.
The most commonly sought after species in Hopedale are: 1. redfish, 2. speckled trout, 3. flounder, and 4. black drum.
The most common fishing techniques in Hopedale are light tackle fishing, bottom fishing, and trolling but jigging and artificial lure fishing are popular as well.
How much do Hopedale fishing charters cost?
in Hopedale prices can range anywhere from an affordable $200 to $3,000 and up, but the average price for a half day trip in Hopedale is $705. The average price for a full day trip in Hopedale is $1,126.
What month is best for fishing in Hopedale?
The most popular season for fishing in Hopedale is fall, and most anglers book their trips 11 days in advance.
Do I need a Hopedale fishing license and what are the bag limits in Hopedale?
See here for more information on fishing licenses in Hopedale, bag limits for target species, and fishing season regulations in Hopedale. When in doubt, your fishing guide will always know the right rules and regulations in Hopedale.
Popular Types of Fishing In Hopedale
Hopedale fishing charters offer a variety of options for anglers of all levels. The most common types of fishing charters in Hopedale are inshore, offshore, and marsh fishing.

Inshore fishing charters are perfect for those who want to stay close to shore and catch redfish, speckled trout, and flounder. Offshore fishing charters take you further out to sea to catch larger fish like tuna, marlin, and swordfish. Marsh fishing charters are great for those who want to explore the unique ecosystem of the Louisiana marshes and catch redfish, black drum, and sheepshead.

Hopedale is known for its abundance of fish, including redfish, speckled trout, flounder, black drum, sheepshead, tuna, marlin, and swordfish.

When booking a Hopedale fishing charter, be sure to ask about visiting landmarks like the Breton Sound Marina or the Biloxi Marsh. These locations offer some of the best fishing in the area and are a must-visit for any angler.
The Best Places To Fish In Hopedale
Hopedale, Louisiana is a prime destination for fishing enthusiasts. With its abundance of waterways and diverse fish species, there are plenty of great spots to cast a line. Here are some of the best places to fish in Hopedale, Louisiana:

1. Lake Borgne - This brackish lake is home to a variety of fish, including speckled trout, redfish, and flounder. Fishing charters are available for those who want to explore the deeper waters.

2. Biloxi Marsh - This vast marshland is a popular spot for inshore fishing. Redfish, speckled trout, and black drum are just a few of the species you can expect to catch here.

3. Breton Sound - This large estuary is known for its excellent fishing opportunities. Fishing charters can take you to the best spots for catching redfish, speckled trout, and more.

4. Hopedale Lagoon - This small lagoon is a great spot for kayak fishing. You can expect to catch redfish, speckled trout, and flounder here.

5. Shell Beach - This small fishing village is a popular spot for both inshore and offshore fishing. Fishing charters can take you to the deeper waters where you can catch tuna, wahoo, and other big game fish.

No matter where you choose to fish in Hopedale, Louisiana, you're sure to have a great time. With so many great spots to choose from, it's no wonder why fishing charters are so popular in this area.
Other Things To Do In Hopedale
While Hopedale fishing charters are a popular attraction, there are plenty of other things to do in this Louisiana city. Take a swamp tour to see alligators and other wildlife up close, or visit the nearby Chalmette Battlefield to learn about the history of the area. For a unique experience, check out the Bayou Barn, a rustic event venue that hosts live music and other events. If you're looking for a more relaxing activity, head to Shell Beach or Lake Borgne for some kayaking or paddleboarding. And of course, no trip to Louisiana is complete without trying some delicious Cajun cuisine at local restaurants like Salvo's Seafood or Middendorf's.
Other Fishing Charter Locations near Hopedale
;