4.94 / 5 Average Review Score
Team of Experts Available 24/7
Licensed and Insured Guides
Recently Booked Fishing Charters Near Ocean Pines, Md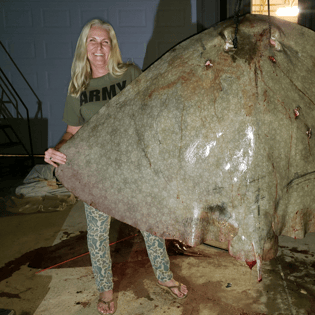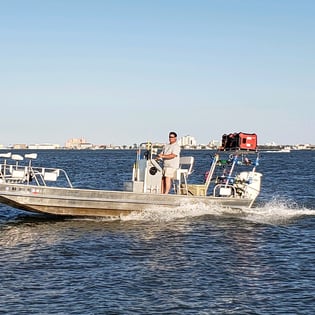 Specifically Targeting Giant Butterfly rays, Trip can be as long as 6 hours. 4 people maximum on this trip, I limit the Trip to up to 2 Butterfly Rays harvested per trip, other rays shot is unlimited. Read More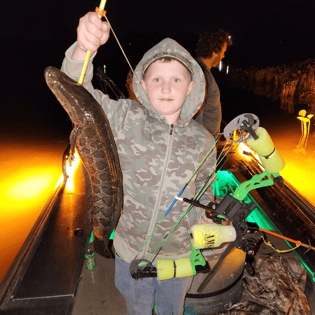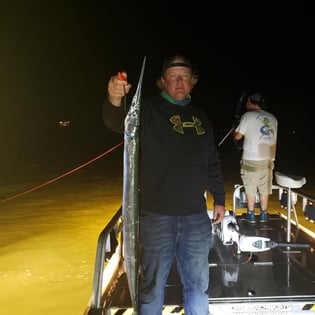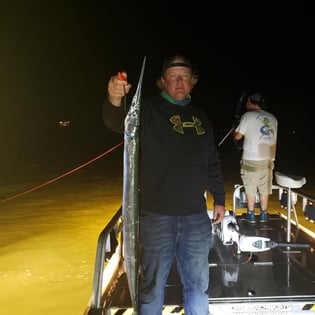 If you've never experienced the action of nighttime bowfishing, this trip might be for you! Captain Greg has thirty years of experience helping his clients whack fish on the rivers around The Eastern Shore, and he knows exactly where all the local hot spots are. You can target a range of species on this trip, so whether you're aiming to fill your cooler, nail a trophy fish, or both, Captain Greg has got you covered. The species you're most likely to see on this nighttime adventure are Carp, Gar, and Snakehead—an invasive species of predatory freshwater fish originally from East Asia. All of these fish are active at night, and make perfect bowfishing targets! You'll be shooting from the deck of Captain Greg's 26' Long Beach custom, which sports three individual engines—a 115 HP Suzuki, plus two 25 HP kicker engines—as well as a trolling motor to sneak up on your quarry. She's a shallow-draft boat, which allows you to cruise around the shallow flats with ease. This vessel also has a Cobia tower, which is extremely useful for spotting fish at night. There's no need for sunglasses, hats, or sunscreen on this night trip—just bring a smile and get ready to shoot some fish! Read More
Eastern Shore River Bowfishing
24 ft
4 People
From $175 per person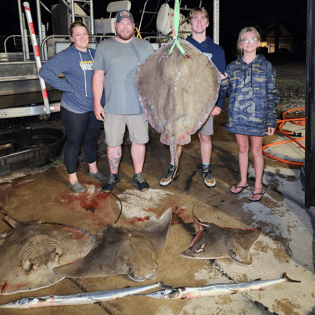 Head out with Captain Greg for an action-packed evening of saltwater nighttime bowfishing! This trip is perfect for those who want to go after a range of species in a way that few fishermen have tried. On this trip, you'll be bowfishing the inshore bays off of Ocean City , MD. This area is home to several species that make perfect bowfishing targets, including giant Cownose Rays and Butterfly Rays, Flounder, and the long, skinny Houndfish (sometimes called a "crocodile needlefish"). This is not your ordinary bowfishing trip! You'll be shooting from the deck of Captain Greg's 24' Long Beach custom, which sports three individual engines—a 115 HP Suzuki, plus two 25 HP kicker engines—as well as a trolling motor to sneak up on your quarry. She's a shallow-draft boat, which allows you to cruise around the shallow flats with ease. This vessel also has a Cobia tower, which is extremely useful for spotting fish at night. There's no need for sunglasses, hats, or sunscreen on this night trip—just bring a smile and get ready to whack some fish! Read More
Top Types of Trip in Ocean Pines
Everything to Know About Booking a Fishing Charter in Ocean Pines
What are the best fishing charters in Ocean Pines?
All guides on Captain Experiences are licensed, insured, and vetted by our team. You can access their reviews, click through trip photos, read bios to get to know them, and preview trip details like species, techniques, group sizes, boat specs and more.
Another popular city nearby for booking a charter is Berlin.
What types of fishing charters are common in Ocean Pines?
River fishing is the most popular in Ocean Pines as well as inshore fishing, flats fishing, and nearshore fishing.
The most commonly sought after species in Ocean Pines are: 1. ray, 2. blue catfish, 3. carp, and 4. channel catfish.
The most common fishing technique in Ocean Pines is bowfishing.
How much do Ocean Pines fishing charters cost?
in Ocean Pines prices can range anywhere from an affordable $650 to $1,000, but the average price for a full day trip in Ocean Pines is $825.
What month is best for fishing in Ocean Pines?
The most popular season for fishing in Ocean Pines is summer, and most anglers book their trips 2 days in advance.
Do I need a Ocean Pines fishing license and what are the bag limits in Ocean Pines?

If you're thinking about a saltwater trip, you're in luck! Our saltwater fishing tours in Ocean Pines don't require you to purchase a fishing license – your group is covered by your boat's captain. For freshwater trips, you'll still need to purchase a license. See here for more information on fishing licenses, bag limits, and fishing season regulations in Ocean Pines. When in doubt, your fishing guide will always know the right rules and regulations.

;