4.94 / 5 Average Review Score
Team of Experts Available 24/7
Licensed and Insured Guides
Recently Booked Fishing Charters Near Harlingen, Tx
Captain Augustin "Cappy" has over 35 years of experience fishing the Lower Laguna Madre. Trips may be taken from South Padre Island, Arroyo City or Port Mansfield. The boat is a 25-foot Dargel Kat (catamaran hull) which allows fishing from shallow waters to deep offshore trips. The Kat hull provides stability on the water plus a smooth ride through the chop. Fish targeted on the bay are redfish, trout, flounder, black drum and sheepshead. The fishing methods vary depending on each customer's request or ability. Baits used vary based on the method of fishing. Read More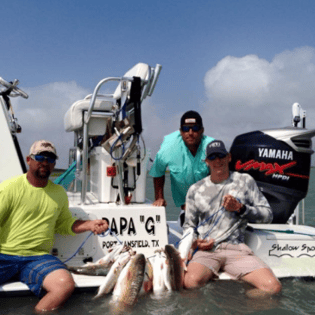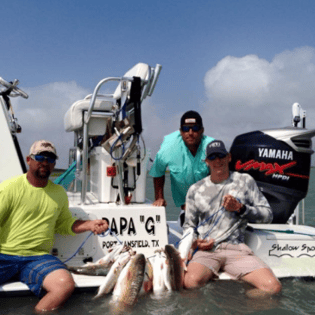 Embark on an unforgettable outdoor adventure with Captain George where you'll be targeting the Texas Big Three: Flounder, Redfish, and Speckled Trout. Captain George has fished the waters of Port Mansfield for over three decades and loves showing people of all skill levels how to fish the local waters. No matter if you're a beginner or a seasoned professional, you'll be in good hands! You'll be fishing aboard his 24' Shallow Sport center console powered by a 250 HP Yamaha engine. She can accommodate 4 anglers. Make sure you bring a valid Texas saltwater fishing license, food and drinks, a hat, sunscreen, and some good company! Captain George will provide all rods, reels, tackle, lures, water, and ice for your upcoming trip. Captain George will also clean and fillet your catch back at the marina, so make sure you bring a large cooler to get your fish home. Read More
Launch onto the beautiful Laguna Madre for an epic shallow water adventure with a Captain who absolutely lives on the water. The main species you're going to be targeting include Redfish, Speckled Trout, and Flounder. Occasionally, you'll get a chance to land some Black Drum, and maybe a Snook or two. Captain Brett loves to fish with professionals and new fishermen alike and will teach even the most novice of fisherman how to successfully cast, hook, and land a fish. He's also great with kids and always encourages the young ones to start fishing early. The minimum age for kids is 6 years old. All equipment and artificial bait you need will be provided by the charter. The captain uses all high-quality equipment including exclusively Shimano reels, Old 18 Outfitters rods, FINS Windtamer braided line and DOA lures. Live bait is available upon request, at a market cost. Onboard, you'll find bottled water, as well as two coolers. You should still bring small coolers to take you catch home after Brett has filleted everything back at the dock (You can leave cooler(s) in your car while you fish). Another thing you need to bring with you is a valid fishing license which can be bought online or at a shop near the boat (ask for directions). Finally, don't forget to pack sunscreen, sunglasses, and any additional food and drinks you'd like. Now if you already have a date in mind, check the captain's availability, and book your trip today! Read More
Top Types of Trip in Harlingen
Top Targeted Species in Harlingen
Half Day and Full Day Fishing Trips in Harlingen
Everything to Know About Booking a Fishing Charter in Harlingen
What are the best fishing charters in Harlingen?
Our guides in Harlingen are rated a 4.79 out of 5 based on 9637 verified reviews on Captain Experiences.
All guides on Captain Experiences are licensed, insured, and vetted by our team. You can access their reviews, click through trip photos, read bios to get to know them, and preview trip details like species, techniques, group sizes, boat specs and more.
What types of fishing charters are common in Harlingen?
Deep Sea fishing is the most popular in Harlingen as well as inshore fishing, flats fishing, and jetty fishing.
The most commonly sought after species in Harlingen are: 1. redfish, 2. speckled trout, 3. flounder, and 4. black drum.
The most common fishing techniques in Harlingen are light tackle fishing, artificial lure fishing, and live bait fishing but drift fishing and bottom fishing are popular as well.
How much do Harlingen fishing charters cost?
in Harlingen prices can range anywhere from an affordable $250 to $2,453, but the average price for a half day trip in Harlingen is $566. The average price for a full day trip in Harlingen is $942.
What month is best for fishing in Harlingen?
The most popular season for fishing in Harlingen is summer, and most anglers book their trips 11 days in advance.
Do I need a Harlingen fishing license and what are the bag limits in Harlingen?
See here for more information on fishing licenses in Harlingen, bag limits for target species, and fishing season regulations in Harlingen. When in doubt, your fishing guide will always know the right rules and regulations in Harlingen.
Other Fishing Charter Locations near Harlingen
;