4.94 / 5 Average Review Score
Team of Experts Available 24/7
Licensed and Insured Guides
Recently Booked Fishing Guides Near Voss, Tx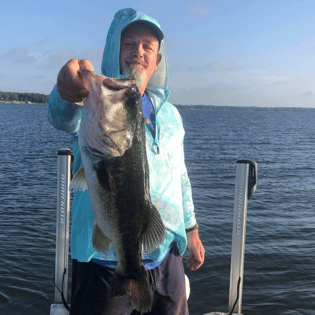 Head out with proven Largemouth slayer Jay B. to chase you next bass of a lifetime on O.H. Ivie Lake! This reservoir is one of Texas' best Bass lakes, and Captain Jay can put you on some record fish. He averages over 4 pounds and has even hooked a few 10-pounder this year! Whether you're seeking a relaxing trip or an action-packed day, he'll provide you a great experience onboard his 2021 Skeeter FXR21 Apex. She's outfitted with top-of-the-line electronics (including a Live Scope!), gear, and comforts so all you need to focus on is getting that fish to the boat! With a 250 Yamaha 4 stroke strapped to the back, Jay can bounce around the hottest spots on the lake in a blink of an eye. A legendary fishing excursion awaits you and your family, friends, and even coworkers. The captain will provide all your fishing needs, so stock up on food and beverages to keep you refreshed throughout your journey. Lock in your epic Ivie Lake fishing trip with Jay today, and don't forget to appreciate the beautiful scenery as you real in your next personal best! Read More
Big Bass On O.H. Ivie Lake
21 ft
3 People
From $317 per person
Everything to Know About Booking a Fishing Guide in Voss
What are the best fishing trips in Voss?
All guides on Captain Experiences are licensed, insured, and vetted by our team. You can access their reviews, click through trip photos, read bios to get to know them, and preview trip details like species, techniques, group sizes, boat specs and more.
What types of fishing trips are common in Voss?
Lake fishing is the most popular in Voss.
The most commonly sought after species in Voss is largemouth bass
The most common fishing techniques in Voss are artificial lure fishing and light tackle fishing.
How much does a Voss fishing trip cost?
in Voss prices can range anywhere from an affordable $950 to $1,000, but the average price for a full day trip in Voss is $975.
What month is best for fishing in Voss?
The most popular season for fishing in Voss is spring, and most anglers book their trips 23 days in advance.
Do I need a Voss fishing license and what are the bag limits in Voss?

See here for more information on fishing licenses in Voss, bag limits for target species, and fishing season regulations in Voss. When in doubt, your fishing guide will always know the right rules and regulations in Voss.

;