4.94 / 5 Average Review Score
Team of Experts Available 24/7
Licensed and Insured Guides
Recently Booked Fishing Charters Near Buras, La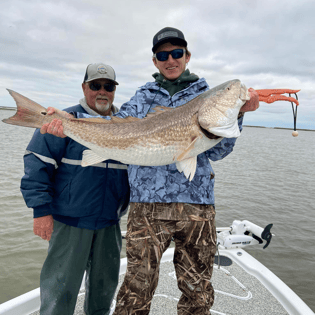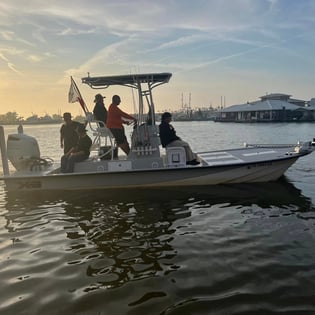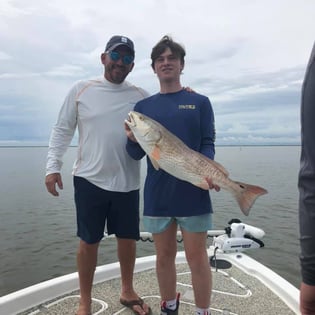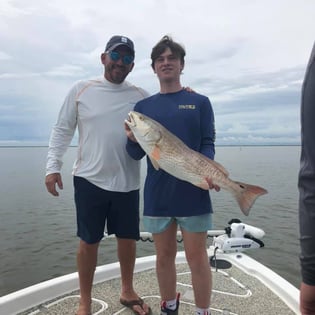 If you're looking for a classic Louisiana Redfish trip, you've found it. Join Captain Troy and get ready to experience the best fishing that the Louisiana coast has to offer! Captain Troy is a local expert who knows the bayous and marches around Buras, LA like the back of his hand. He'll take you to the best spots for catching Redfish, a highly prized game fish known for its hard fighting and delicious taste. As you leave the dock, you'll feel the excitement building as you take in the beautiful scenery of the Louisiana coast. Troy's bay boat is ideal for navigating the shallow waters and back bayous, and she's equipped with all the necessary fishing gear and technology, including a live well, ice chest and a small t-top for shade. Captain Troy will provide you with the best quality fishing equipment and show you the right techniques for catching Redfish. He'll also share his local knowledge of the waters and fish behavior, so you can reel in the big ones. Whether you're an experienced angler or a beginner, Captain Troy will make sure you have a great time. After a day of fishing, Captain Troy will clean and fillet your catch, so it's ready for you to take home and enjoy. Get out there and start stackin' 'em! Read More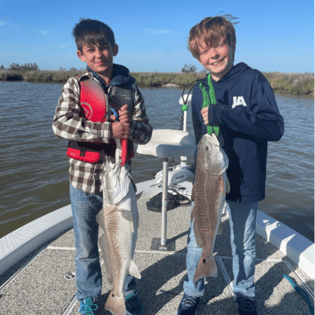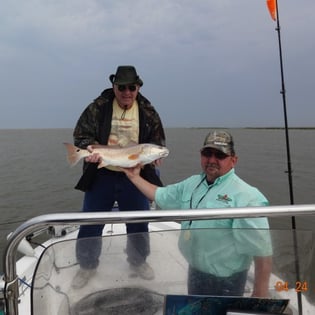 Get ready to experience the fishing adventure of a lifetime with Captain Creighton in one of America's richest inshore fishing havens! Buras, Louisiana, boasts some of the most abundant grassy flats, marshes, rivers, and inshore areas, making it the perfect destination to reel in record-breaking Redfish and an array of other exciting species. Your journey begins with an overnight stay at our cozy lodge, ensuring you wake up refreshed and ready to conquer the waters the next morning. Captain Creighton's expertise will be your guiding light as you embark on this fishing extravaganza. Armed with various techniques such as sightcasting, jigging, and drifting, you'll have the best chance of success on your quest for these incredible fish. Whether you're using popping corks with live shrimp, artificial lures, or other tackle, Captain Creighton's keen eye and knowledge will ensure you're using the perfect approach for the job. The waters of Buras are teeming with a diverse range of species, from the elusive Speckled Trout and powerful Redfish to the crafty Sheepshead, hard-fighting Largemouth Bass, Catfish, and even the formidable Gar! Don't worry about gear; Captain Creighton has you covered. He'll provide all the fishing equipment you need, from top-notch rods and reels to an array of bait, lures, and tackle. All you need to bring are your sunscreen, hats, sunglasses, snacks, and drinks to maximize your adventure. Join us for a fishing trip like no other, where Captain Creighton's unparalleled knowledge and passion for fishing will guarantee an unforgettable experience. Book now and get ready to make cherished memories and reel in the catch of a lifetime in the vibrant waters of Buras, Louisiana! Read More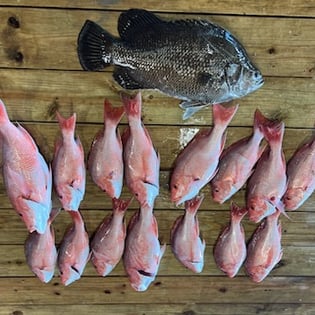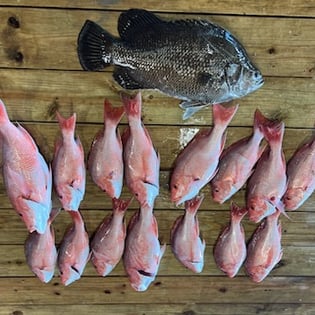 If you're looking for a classic Louisiana Red Snapper trip, you've found it. Join Captain Troy and get ready to experience the best fishing that the Louisiana coast has to offer! Captain Troy is a local expert who knows waters off Buras, LA like the back of his hand. He'll take you to the best spots for catching Red Snapper, one of the most popular gamefish in the US. These fish are widely known for the excellent taste and are great on the grill, in the pan, or in the over! As you leave the dock, you'll feel the excitement building as you take in the beautiful scenery of the Louisiana coast. Troy's bay boat can handle anything your Gulf can throw your way, and she's equipped with all the necessary fishing gear and technology, including a live well, ice chest and a small t-top for shade. Captain Troy will provide you with the best quality fishing equipment and show you the right techniques for catching Snapper. He'll also share his local knowledge of the waters and fish behavior, so you can reel in the big ones. Whether you're an experienced angler or a beginner, Captain Troy will make sure you have a great time. After a day of fishing, Captain Troy will clean and fillet your catch, so it's ready for you to take home and enjoy. Get out there and start stackin' 'em! Read More
Top Types of Trip in Buras
Top Targeted Species in Buras
Half Day and Full Day Fishing Trips in Buras
Everything to Know About Booking a Fishing Charter in Buras
What are the best fishing charters in Buras?
Our guides in Buras are rated a 4.67 out of 5 based on 9635 verified reviews on Captain Experiences.
All guides on Captain Experiences are licensed, insured, and vetted by our team. You can access their reviews, click through trip photos, read bios to get to know them, and preview trip details like species, techniques, group sizes, boat specs and more.
What types of fishing charters are common in Buras?
Deep Sea fishing is the most popular in Buras as well as inshore fishing, nearshore fishing, and flats fishing.
The most commonly sought after species in Buras are: 1. redfish, 2. speckled trout, 3. flounder, and 4. black drum.
The most common fishing techniques in Buras are light tackle fishing, bottom fishing, and trolling but artificial lure fishing and live bait fishing are popular as well.
How much do Buras fishing charters cost?
in Buras prices can range anywhere from an affordable $200 to $3,000 and up, but the average price for a half day trip in Buras is $675. The average price for a full day trip in Buras is $1,348.
What month is best for fishing in Buras?
The most popular season for fishing in Buras is summer, and most anglers book their trips 31 days in advance.
Do I need a Buras fishing license and what are the bag limits in Buras?
See here for more information on fishing licenses in Buras, bag limits for target species, and fishing season regulations in Buras. When in doubt, your fishing guide will always know the right rules and regulations in Buras.
Buras Fishing Calendar
| Species | January | February | March | April | May | June | July | August | September | October | November | December |
| --- | --- | --- | --- | --- | --- | --- | --- | --- | --- | --- | --- | --- |
| Amberjack | Great | Great | Great | Ideal | Ideal | Good | Not Allowed | Ideal | Ideal | Great | Good | Good |
| Black Drum | Ideal | Ideal | Ideal | Ideal | Ideal | Ideal | Ideal | Ideal | Ideal | Ideal | Ideal | Ideal |
| Black Grouper | Great | Great | Great | Ideal | Ideal | Ideal | Ideal | Ideal | Great | Great | Great | Great |
| Blackfin Tuna | Ideal | Ideal | Ideal | Great | Great | Great | Great | Great | Great | Great | Great | Great |
| Blue Marlin | Fair | Fair | Fair | Good | Great | Ideal | Ideal | Ideal | Great | Good | Fair | Fair |
| Cobia | Fair | Fair | Good | Great | Ideal | Ideal | Ideal | Ideal | Great | Great | Great | Good |
| Flounder | Great | Great | Ideal | Ideal | Ideal | Ideal | Ideal | Ideal | Ideal | Ideal | Ideal | Great |
| Gag Grouper | Not Allowed | Not Allowed | Not Allowed | Not Allowed | Not Allowed | Not Allowed | Ideal | Ideal | Ideal | Ideal | Ideal | Ideal |
| Jack Crevalle | Fair | Fair | Fair | Fair | Good | Great | Ideal | Ideal | Great | Good | Fair | Fair |
| Kingfish | Good | Good | Great | Ideal | Ideal | Ideal | Ideal | Ideal | Great | Good | Good | Good |
| Largemouth Bass | Great | Great | Ideal | Ideal | Great | Great | Great | Great | Great | Ideal | Ideal | Great |
| Mahi Mahi | Fair | Fair | Fair | Good | Ideal | Ideal | Ideal | Ideal | Great | Fair | Fair | Fair |
| Mako Shark | Ideal | Ideal | Ideal | Great | Good | Fair | Fair | Fair | Fair | Fair | Good | Good |
| Mangrove Snapper | Fair | Fair | Good | Great | Ideal | Ideal | Ideal | Ideal | Ideal | Ideal | Great | Good |
| Red Snapper | Good | Good | Great | Ideal | Ideal | Ideal | Ideal | Ideal | Great | Good | Good | Good |
| Redfish | Ideal | Ideal | Ideal | Ideal | Ideal | Ideal | Ideal | Ideal | Ideal | Ideal | Ideal | Ideal |
| Sheepshead | Ideal | Ideal | Ideal | Ideal | Ideal | Ideal | Ideal | Ideal | Ideal | Ideal | Ideal | Ideal |
| Speckled Trout | Ideal | Ideal | Good | Great | Ideal | Ideal | Ideal | Great | Good | Great | Ideal | Ideal |
| Swordfish | Good | Good | Great | Ideal | Ideal | Ideal | Ideal | Great | Good | Good | Good | Good |
| Tripletail | Fair | Fair | Fair | Fair | Fair | Great | Ideal | Ideal | Ideal | Great | Fair | Fair |
| Wahoo | Ideal | Ideal | Ideal | Ideal | Great | Great | Great | Great | Ideal | Ideal | Ideal | Ideal |
| White Marlin | Fair | Fair | Fair | Great | Ideal | Ideal | Ideal | Ideal | Great | Fair | Fair | Fair |
| Yellowfin Tuna | Ideal | Ideal | Ideal | Ideal | Great | Great | Great | Great | Ideal | Ideal | Ideal | Ideal |
Other Fishing Charter Locations near Buras
Top Targeted Fishing Species in Buras
Top Targeted Hunting Species in Buras
Top Fishing Techniques in Buras
Top Hunting Techniques in Buras
Top Types of Hunting in Buras
;