4.94 / 5 Average Review Score
Team of Experts Available 24/7
Licensed and Insured Guides
Recently Booked Fishing Charters Near Highlands, Nj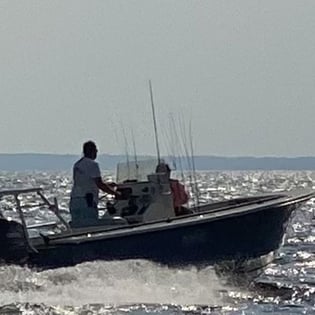 If you're looking to get hooked up, big-time, in New England, this trip is meant for you! Join Captain Michael for an unforgettable offshore fishing charter in the beautiful waters between Long Island and Cape Cod. You will be fishing on a well-maintained 23' Jones Bros bay boat, purpose-built for fishing here and equipped with all the necessary gear, including top-of-the-line rods, reels, and tackle. She sports a 175-HP Yamaha engine and is capable of cruising at 40 knots, so you'll be on the fish in a snap. Captain Michael is a seasoned angler with years of experience fishing the local waters. He specializes in fly and light tackle fishing, but he's also known for his skill in trolling, jigging, spinning, popping, and deep-sea fishing. On this offshore trip, you'll have an ideal opportunity to target East Coast sportfish such as Bluefin Tuna, Bonito, and Mahi. Captain Michael will make sure you've got the perfect tackle for the job, depending on the fish and the time of year, to give you the best chance of catching the big ones you're after. Whether you're an experienced angler or a first-timer, Captain Michael will provide all the necessary instruction and equipment to ensure that you have a successful day on the water. He will also clean and fillet your catch at the end of the trip so you can take it home for a delicious meal. Book your trip today and let Captain Michael show you the beauty and the thrill of inshore fishing. With his knowledge and experience, you'll be sure to have a great time and make some unforgettable memories! Read More
Are you ready for the fishing adventure of a lifetime? Get out there with Captain Rick and bag some trophy Steelhead on this epic trip! The aptly-named Salmon River is the perfect place to catch massive Salmonids, especially trophy Steelhead. With 41 years of experience and a deep knowledge of the local waterways, Captain Rick is the perfect guide to help you land the catch of a lifetime. On your fishing adventure, you'll have the opportunity to explore the Salmon River on a fully equipped driftboat, a perfect way to enjoy a river trip experience of a lifetime. On this trip, there are a wide range of techniques open to you. All have the potential to bring in a big fish, and with Captain Rick's expertise, you'll be able to fine-tune your skills while you're on the river. Pick between fly-fishing, noodle-rod fishing, plug fishing, or float fishing! You'll be aboard Rick's 2002 18' Custom Fish-Rite Drift Boat, which is fully equipped with three heaters for those cold days, plus a new propane grill for your convenience so you can a hot shore lunch! (You provide your own food) This boat is one of only a few on the river today of this size, and she's made for your comfort and with safety in mind! Whether you're a seasoned angler or a novice looking to try your hand at fishing, Captain Rick's charter trips are suitable for all skill levels. Join Captain Rick on the water for an unforgettable fishing experience! Read More
Are you ready for the fishing adventure of a lifetime? Get out there with Captain Rick and bag some monster trophy fish on this epic drift trip! The aptly-named Salmon River is the perfect place to catch massive Salmonids, including trophy Coho, Kings, and more! With 41 years of experience and a deep knowledge of the local waterways, Captain Rick is the perfect guide to help you land the catch of a lifetime. On your fishing adventure, you'll have the opportunity to explore the Salmon River on a fully rigged driftboat—a perfect way hook the fish of a lifetime! On this trip, there are a wide range of techniques open to you. All have the potential to bring in a big fish, and with Captain Rick's expertise, you'll be able to fine-tune your skills while you're on the river. Pick between fly-fishing, noodle-rod fishing, plug fishing, or float fishing! You'll be aboard Rick's 2002 18' Custom Fish-Rite Drift Boat, which is fully equipped with three heaters for those cold days, plus a propane grill for your convenience so you can have a hot shore lunch! This boat is one of only a few on the river today of this size, and she's made for your comfort and with safety in mind! Whether you're a seasoned angler or a novice looking to try your hand at fishing, Captain Rick's charter trips are suitable for all skill levels. Join Captain Rick on the water for an unforgettable fishing experience! Read More
Top Types of Trip in Highlands
Top Targeted Species in Highlands
Half Day and Full Day Fishing Trips in Highlands
Everything to Know About Booking a Fishing Charter in Highlands
What are the best fishing charters in Highlands?
All guides on Captain Experiences are licensed, insured, and vetted by our team. You can access their reviews, click through trip photos, read bios to get to know them, and preview trip details like species, techniques, group sizes, boat specs and more.
What types of fishing charters are common in Highlands?
Deep Sea fishing is the most popular in Highlands as well as inshore fishing, lake fishing, and river fishing.
The most commonly sought after species in Highlands are: 1. striped bass, 2. black seabass, 3. tautog, and 4. chinook salmon.
The most common fishing techniques in Highlands are light tackle fishing, trolling, and artificial lure fishing but bottom fishing and fly fishing are popular as well.
How much do Highlands fishing charters cost?
in Highlands prices can range anywhere from an affordable $200 to $3,000 and up, but the average price for a half day trip in Highlands is $1,650. The average price for a full day trip in Highlands is $819.
What month is best for fishing in Highlands?
The most popular season for fishing in Highlands is fall, and most anglers book their trips 19 days in advance.
Do I need a Highlands fishing license and what are the bag limits in Highlands?
If you're thinking about a saltwater trip, you're in luck! Our saltwater fishing tours in Highlands don't require you to purchase a fishing license – your group is covered by your boat's captain. For freshwater trips, you'll still need to purchase a license. See here for more information on fishing licenses, bag limits, and fishing season regulations in Highlands. When in doubt, your fishing guide will always know the right rules and regulations.
Highlands Fishing Calendar
| Species | January | February | March | April | May | June | July | August | September | October | November | December |
| --- | --- | --- | --- | --- | --- | --- | --- | --- | --- | --- | --- | --- |
| Black Seabass | Not Allowed | Not Allowed | Not Allowed | Not Allowed | Great | Ideal | Great | Great | Ideal | Ideal | Great | Good |
| Blue Marlin | Fair | Fair | Fair | Fair | Fair | Good | Ideal | Ideal | Ideal | Good | Fair | Fair |
| Bluefin Tuna | Fair | Fair | Fair | Fair | Good | Ideal | Great | Great | Ideal | Good | Fair | Fair |
| Bluefish | Fair | Fair | Fair | Good | Ideal | Ideal | Ideal | Ideal | Ideal | Ideal | Good | Fair |
| Bonito | Fair | Fair | Fair | Good | Great | Ideal | Ideal | Ideal | Great | Great | Great | Fair |
| Cod | Great | Great | Great | Good | Fair | Fair | Fair | Fair | Fair | Great | Great | Great |
| False Albacore | Fair | Fair | Fair | Fair | Fair | Good | Good | Ideal | Ideal | Ideal | Good | Fair |
| Flounder | Not Allowed | Not Allowed | Good | Ideal | Ideal | Ideal | Ideal | Ideal | Great | Good | Good | Good |
| Kingfish | Fair | Fair | Fair | Fair | Fair | Great | Ideal | Ideal | Ideal | Great | Good | Fair |
| Mahi Mahi | Fair | Fair | Fair | Fair | Fair | Great | Ideal | Ideal | Great | Great | Fair | Fair |
| Mako Shark | Fair | Fair | Fair | Fair | Fair | Great | Ideal | Ideal | Ideal | Good | Fair | Fair |
| Scup | Fair | Fair | Not Allowed | Not Allowed | Not Allowed | Not Allowed | Not Allowed | Ideal | Ideal | Ideal | Good | Fair |
| Striped Bass | Fair | Fair | Good | Ideal | Ideal | Good | Fair | Fair | Great | Ideal | Ideal | Good |
| Tautog | Great | Good | Not Allowed | Great | Not Allowed | Not Allowed | Good | Good | Great | Ideal | Ideal | Ideal |
| Thresher Shark | Fair | Fair | Fair | Fair | Fair | Great | Ideal | Ideal | Ideal | Good | Fair | Fair |
| Weakfish | Fair | Fair | Fair | Fair | Fair | Great | Ideal | Ideal | Great | Good | Fair | Fair |
| White Marlin | Fair | Fair | Fair | Fair | Good | Great | Ideal | Ideal | Ideal | Good | Fair | Fair |
| Yellowfin Tuna | Fair | Fair | Fair | Fair | Fair | Fair | Great | Ideal | Ideal | Great | Good | Fair |
Other Fishing Charter Locations near Highlands
;