4.94 / 5 Average Review Score
Team of Experts Available 24/7
Licensed and Insured Guides
Recently Booked Jigging Charters Near Beaufort, Nc
Top Types of Jigging Trips in Beaufort
"Our Damn Good Guides go above and beyond to provide you an incredible trip, and we've handpicked every single one. We're passionate about the outdoors and about empowering people to find the perfect-match guide for the trip of a lifetime, every time."
Jonathan and Attison | Co-founders | Austin, Texas
Jigging Charters Near Beaufort, Nc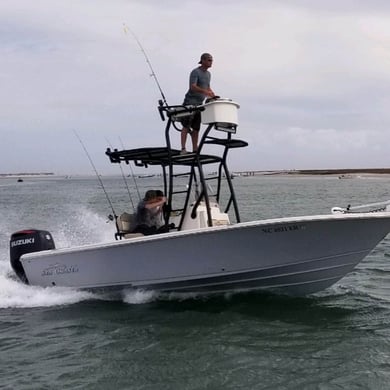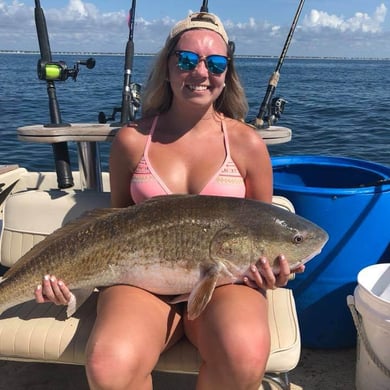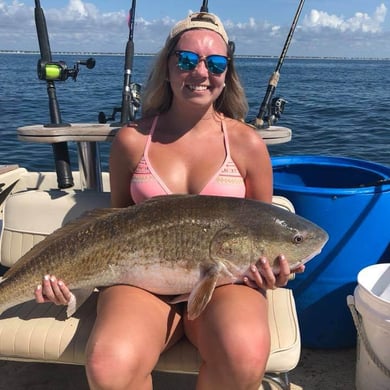 Get ready for an unforgettable fishing adventure in Oriental, NC! This trip is available only in August and September, when the "bull" Redfish push in towards the shoreline. Captain G's charter is perfect for a group of four anglers who want to experience the thrill of sight fishing for the largest Redfish in the world using light tackle and topwater baits. Your journey with Captain G will take you to the Neuse River estuary, where you'll search for the massive feeding Bull Drum. When you find the right conditions, you'll cast topwater and popping corks to these giants, and when they hit, get ready for the hardest fight of your life! These fish will run hard and provide an adrenaline-pumping challenge that you won't forget. Captain G's vessel for the day is a 23' Sea Chaser by Carolina Skiff, one of the newest and most well-equipped boats in the area. The boat has multiple live bait wells and fish tanks, comfortable seating, hidden rod storage, Bluetooth radio, deck lighting, and much more to ensure a comfortable and luxurious experience. Everything you need for your fishing trip is provided, so all you have to do is bring your favorite snacks and drinks, sun protection, and get ready for a fantastic time. Book your trip with Captain G today and get ready to experience the excitement of catching the largest reds in the world! Read More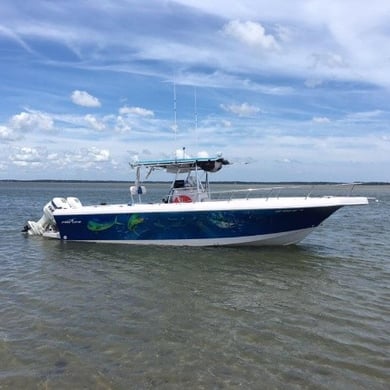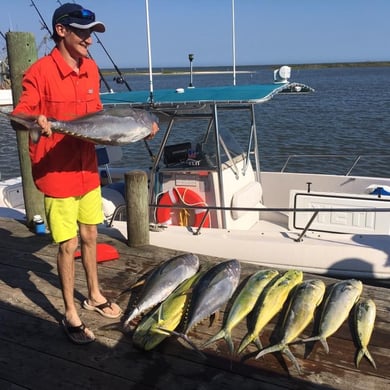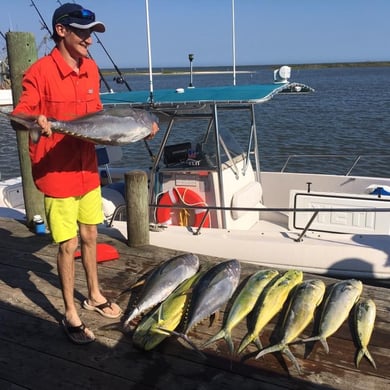 If you're looking for some exciting offshore fishing, complete with screaming reels and giant fish, you've come to the right place. Captain Justin's Gulfstream Special trip is a must for avid anglers looking to hook up on big-league sportfish, including species such as Tuna, Dorado, Marlin, and Sailfish. The Gulfstream is a major trans-Atlantic current that runs from the Gulf of Mexico all the way to Europe. It carries warm weather, rain, and tons of nutrients across the Atlantic. This combination of factors attract tons of bait, which in turn lure giant fish with the promise of a feeding frenzy. If you've never fished this unique and challenging underwater environment, there's no better opportunity. You'll employ a range of techniques and plenty of gear to catch these trophy species, and when one takes the bait—get ready for the fight of a lifetime! On the morning of the trip, you'll head out on Captain Justin's 27' ProLin center console. She's powered by twin 25-HP Suzuki engines, so you'll be out to the fishing grounds in a hurry. On the way, you'll troll for species such as Cobia and Mahi—both great fighters and delicious eating fish to boot! Once you're out deep in the blue, you'll troll at different depths to attract various species of fish. When a big Sailfish or Tuna whacks that bait, be ready! Captain Justin will be prepared with everything you need for a blue-ribbon day, including rods, reels, bait, tackle, and most importantly, his years of experience hunting champion pelagic predators. To make the most of your experience on the water, make sure to bring Polarized Sunglasses, Weather-Appropriate Clothing, Hat, and Sunscreen. Get ready to have a blast! Read More
See all trips in Beaufort
Everything to Know About Booking a Beaufort jigging charter
What are the best jigging charters in Beaufort?
Our guides in Beaufort are rated a 5 out of 5 based on 9577 verified reviews on Captain Experiences.
All guides on Captain Experiences are licensed, insured, and vetted by our team. You can access their reviews, click through trip photos, read bios to get to know them, and preview trip details like species, techniques, group sizes, boat specs and more.
What types of jigging charters are common in Beaufort?
Deep Sea fishing is the most popular for jigging in Beaufort as well as inshore fishing, nearshore fishing, and jetty fishing.
The most commonly sought after species for jigging in Beaufort are: 1. redfish, 2. speckled trout, 3. black drum, and 4. spanish mackerel.
How much do Beaufort jigging fishing charters cost?
for jigging in Beaufort prices can range anywhere from an affordable $450 to $2,600, but the average price for a half day trip for jigging in Beaufort is $565. The average price for a full day trip for jigging in Beaufort is $1,084.
What month is best for on a jigging charter in Beaufort?
The most popular season to go on a jigging charter in Beaufort is fall, and most anglers book their trips 15 days in advance.
Do I need a Beaufort fishing license and what are the bag limits in Beaufort?
You're in luck! Our fishing tours in Beaufort don't require you to purchase a fishing license – your group is covered by your boat's captain. See here for more information on bag limits and fishing season regulations in Beaufort.
Recent Reviews of Captain Experiences
★★★★★

We had an awesome time with capt. Joe. He worked extremely hard to put us on the fish. Water conditions weren't to our favor, But we will be back next year. Can't wait to fish with our new found friend again. And have another great day on the water. ☆☆☆☆☆

jackie B. with Joe T. of Beaufort, North Carolina

★★★★★

Coordinating this trip was a nightmare. I got passed around 3x. Lacking clear communication & response time. Would rather have used another service or booked directly with captain

Connie K. with Craig H. of Beaufort, North Carolina
Other Fishing Techniques in Beaufort
;