4.94 / 5 Average Review Score
Team of Experts Available 24/7
Licensed and Insured Guides
Recently Booked Fishing Charters Near Wheeler, Or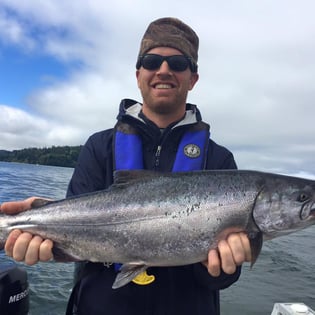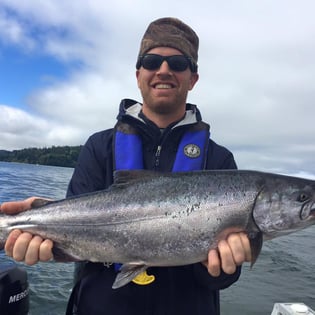 Join Captain Caleb on a thrilling fishing adventure in Nehalem, Oregon! Aboard his sturdy 21' Alumaweld boat, you'll be heading out to the Nehalem River in search of the mighty Salmon and Steelhead. These iconic fish are known for their acrobatic leaps and fierce fighting spirit, making them a prized catch for any angler. As you cast your line, keep an eye out for bald eagles, ospreys, and other wildlife that call these waters home. After a day of excitement on the water, kick back and relax as you enjoy the stunning scenery and the gorgeous sunset over the river. Book your trip today and get ready for the adventure of a lifetime! Read More
Nehalem Oregon Salmon
20 ft
16 People
From $31 per person
The cold, rich Pacific currents that flow along Oregon's coast make the Netarts or Tillamook Bay a crabbing paradise! On this trip, Captain Craig will get you out into the Bay to drop crab pots for Dungeness Crab, which are a delicious and easy species to catch. While you wait for the crabs to make their way into your traps, Captain craig can set u up with some bottom fishing rigs to catch the likes of Rockfish, Sea Bass and others. Depending on the season, weather, and your fishing preferences, Captain Craig will make sure that you're equipped with the right gear and tackle to get the job done. You'll be hanging out aboard Captain Craig's 29' D Tech, that can accommodate up to 6 guests. The boat is powered by a Suzuki 250 engine and mercury prokicker motor with Garmin electronics. The boat is wheelchair accessible and he encourages all guests with disabilities to join him on board and encourage sharing the adventure with kids as well. With all the rods, reels, bait, and tackle provided, you just need to bring sunscreen and your Shellfish Licenses. Read More
Sturgeon fishing on the Columbia River and surrounding areas are plentiful and often very large! Starting January 1, the season is open above Bonneville Dam. Other locations and dates are TBA. On these trips, you can catch a sturgeon any where from 12 inches to 15 foot long! During a select couple months in May you can also keep some sizes during the retention season. Trips during catch and release days are offered year round and provide awesome thrils and of course a great workout! You may be thinking you have the monster hooked but the fish knows he has you hooked on this fun fishery! Captain Criag provides all the fishing gear, bait and lures. He is happy to clean, fillet and bag your catch as well (when in season) Make sure you have packed your license, snacks and drinks and be ready to experience a great adventure with Captain Craig. Read More
Top Types of Trip in Wheeler
Top Targeted Species in Wheeler
Half Day and Full Day Fishing Trips in Wheeler
Everything to Know About Booking a Fishing Charter in Wheeler
What are the best fishing charters in Wheeler?
All guides on Captain Experiences are licensed, insured, and vetted by our team. You can access their reviews, click through trip photos, read bios to get to know them, and preview trip details like species, techniques, group sizes, boat specs and more.
What types of fishing charters are common in Wheeler?
Inshore fishing is the most popular in Wheeler as well as river fishing, nearshore fishing, and jetty fishing.
The most commonly sought after species in Wheeler are: 1. coho salmon, 2. chinook salmon, 3. sturgeon, and 4. steelhead.
The most common fishing techniques in Wheeler are light tackle fishing, trolling, and jigging but heavy tackle fishing and bottom fishing are popular as well.
How much do Wheeler fishing charters cost?
in Wheeler prices can range anywhere from an affordable $275 to $3,000 and up, but the average price for a half day trip in Wheeler is $640. The average price for a full day trip in Wheeler is $1,143.
What month is best for fishing in Wheeler?
The most popular season for fishing in Wheeler is fall, and most anglers book their trips 34 days in advance.
Do I need a Wheeler fishing license and what are the bag limits in Wheeler?
See here for more information on fishing licenses in Wheeler, bag limits for target species, and fishing season regulations in Wheeler. When in doubt, your fishing guide will always know the right rules and regulations in Wheeler.
Other Fishing Charter Locations near Wheeler
;