4.94 / 5 Average Review Score
Team of Experts Available 24/7
Licensed and Insured Guides
Recently Booked Fishing Guides In Tanzania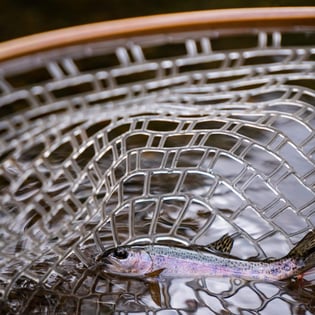 Get ready to fish for a population that has been untouched in over 100 years. In the late 1920's, the first Rainbow Trout were brought to Tanzania by keen fishermen residing in the Usambara District. A small hatchery was established using eggs from neighboring Kenya and fry were released into a tributary of the Mkussa Stream on the estate of Major Sandwith. The climate of the West Usambara Mountains was considered ideal for trout to flourish and the acidity/alkalinity and average temperature of the rivers fell within the range in which Rainbow Trout are known to thrive (50 to 60 degrees Fahrenheit). When these trout were successfully introduced into the rivers flowing off the western side of Mount Kilimanjaro, it was noted that the rivers flowing from the southern slopes of Africa's highest mountain would also offer ideal conditions, most notably the Weru Weru and Kikafu Rivers. Abundant native insect species throughout the year increased the likelihood of trout to not only survive but eventually reproduce, and within two years, fish in the range of one to three pounds were caught. Fry have been observed to grow rapidly due to an abundance of food found in these rivers, most notably freshwater crabs and aquatic nymphs of various insect species such as mayflies and caddisflies. After introduction, political changes in Tanzania meant fishing became a forgotten pasttime, the hatchery program was abolished, and rainbows on Kili were forgotten and untouched. Fast forward almost 100 years and it is apparent that these early observations of the suitability of the Weru Weru and Kikafu Rivers were indeed correct and healthy, as self-sustaining populations of wild Rainbow Trout can be found in a number of rivers among the many sprawling ridges and canyons below Kilimanjaro, if you know where to look. These populations have held themselves steady for a hundred years with no intervention and no pressure from anglers. Days will be spent fly fishing for wild Rainbow Trout on light tackle or 2 weight rods on some of the tributaries flowing off Mt. Kilimanjaro. You will use a combination of off-road driving, hiking, and wading your way upstream to stalk rainbows hiding in the many rocky gullies and flows of these rivers. This trip is as much about the exploration as the angling. This trip is all-inclusive, and Dom will be happy to set up lodging, food, amenities, travel & flights, and anything else you might need for your stay in-country. Read More
Kilimanjaro Trout Fishing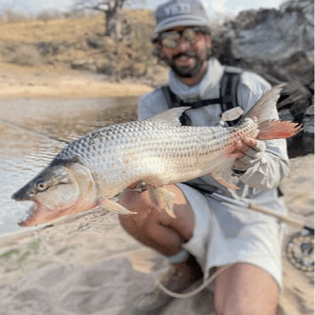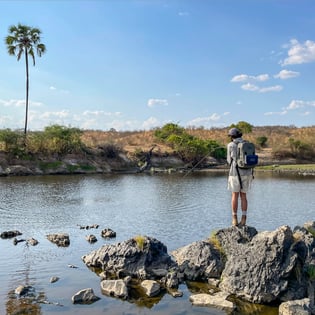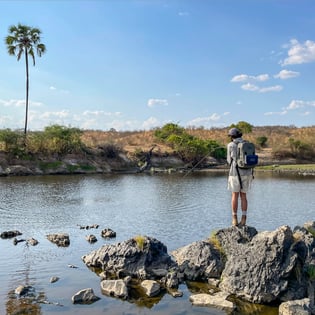 The trip begins in Ruaha National Park - Tanzania's 2nd largest NP and one of the largest protected areas in Africa - to chase tigerfish on fly and on poppers along the Ruaha River. Multiple days will be spent camping in the Msembe area of Ruaha to explore one of the best freshwater fishing destinations in Africa. The main focus will be the mighty tigerfish, one of Africa's most iconic freshwater species. The species endemic to this area are related to the Goliath Tigers of the Congo Basin with fish over the 10lb mark in abundance. The best ways to target this toothy fish is with surface lures such as poppers and on fly. Beware the crocs and hippos while casting. While amenities and lodging are 5 star, you'll experience fishing in its most pure, natural form here. You'll be accompanied by armed game guards and will be able to fish parts of the African outback with no other humans around for tens of miles. Other species targeted on fly include a species of Barb closely related to the much sought after Yellow Fish of southern Africa. As an added bonus this trip also offers exceptional game viewing as Ruaha is home to famously large Elephant and Cape Buffalo herds, Kudu, Sable, Antelope, and over 500 bird species. The park is also home to 10% of the world's Lion population, Leopards, Cheetahs, and African Hunting Dogs. You will also be afforded the opportunity to travel 4 hours to the south east of the core game viewing area to the Usangu Plains region of Ruaha to explore fishing opportunities there as well. This trip is all-inclusive, and Dom will be happy to set up lodging, food, amenities, travel & flights, and anything else you might need for your stay in-country. Read More
Everything to Know About Booking a Fishing Guide in Tanzania
What are the best fishing trips in Tanzania?
All guides on Captain Experiences are licensed, insured, and vetted by our team. You can access their reviews, click through trip photos, read bios to get to know them, and preview trip details like species, techniques, group sizes, boat specs and more.
What types of fishing trips are common in Tanzania?
River fishing is the most popular in Tanzania.
The most commonly sought after species in Tanzania are: 1. tigerfish and 2. rainbow trout.
The most common fishing techniques in Tanzania are fly fishing, artificial lure fishing, and light tackle fishing but live bait fishing is popular as well.
How much does a Tanzania fishing trip cost?
in Tanzania prices can range anywhere from an affordable $10,000 to $3,000 and up, but the average price for a full day trip in Tanzania is $10,000.
What month is best for fishing in Tanzania?
The most popular season for fishing in Tanzania is summer, and most anglers book their trips 0 days in advance.
Do I need a Tanzania fishing license and what are the bag limits in Tanzania?
See here for more information on fishing licenses in Tanzania, bag limits for target species, and fishing season regulations in Tanzania. When in doubt, your fishing guide will always know the right rules and regulations in Tanzania.
Top Fishing Guide Locations in Tanzania
The Best Places to Fish in Tanzania
;