4.94 / 5 Average Review Score
Team of Experts Available 24/7
Licensed and Insured Guides
Recently Booked Fishing Charters Near Baytown, Tx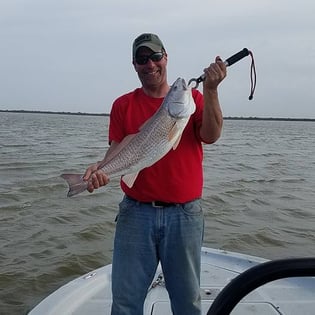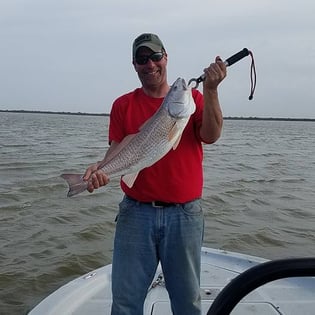 Head out with Captain David to explore these productive Galveston Bay system waters home to the "Texas Big Three" (Redfish, Flounder, and Speckled Trout), and many more species. On this 5-hour action-packed half day adventure, Captain David will help you chase 'em down! Captain David runs these trips aboard his 24' Shallow Sport center console which can accommodate up to 4 anglers. This vessel is specifically designed for those shallow hotspots and makes for a smooth ride to and from his best fishing spots. Captain David specializes in sight casting and drift fishing the bay system on light tackle. If you're willing to try something new, Captain David can also accommodate fly fishing if you want to bring your own gear! Your captain will provide all rods, reels, tackle, and lures. He'll also provide water, although feel free to bring your drinks. On these trips, Captain David will provide a cooler with ice and water and extra space for you favorite snacks and beverages to chill as well! Other than snacks and drink please make sure you bring a valid Texas saltwater fishing license, otherwise, Captain David will take care of the rest! Get ready for an exciting half-day of fishing with Captain David! Read More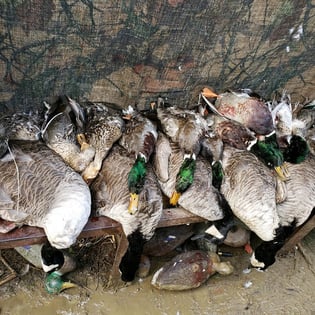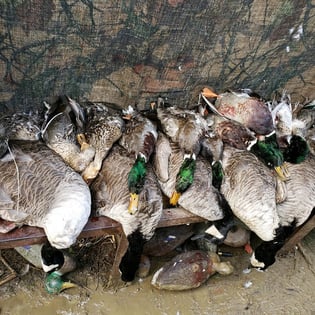 Fishing and Duck Hunting—no better combination. If you've never fished the Galveston Bay system, you're missing out. These productive waters are home to the "Texas Big Three" of Redfish, Flounder, and Speckled Trout, plus Sheepshead, and Black Drum, and many more species. On this 6-hour action-packed adventure, Captain David will help you reel 'em all in. Don't forget your shotgun, ammo, and thermal chest waders. You'll be hopping off the boat to go hunting for some delicious ducks. Captain David conducts these trips using his 24' Shallow Sport center console which can accommodate up to 3 anglers. This vessel is meant for those shallow hotspots and makes for a smooth ride to and from your destination. When fishing with Captain David, you'll specialize in light tackle, bottom fishing, spinning, and drift fishing. If you're willing to try something new, Captain David can also accommodate fly fishing. You'll need to bring your own gear. Your captain will provide all rods, reels, tackle, and lures. He'll also provide water but feel free to bring your drinks. You'll also want to bring some food. Make sure you have a valid Texas saltwater fishing license. Put your game face on and embark on this one-of-a-kind combo adventure with Captain David! Read More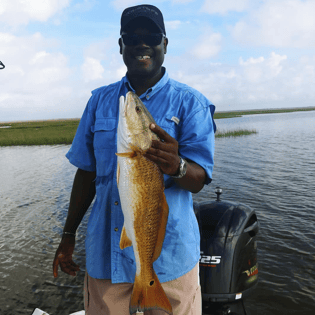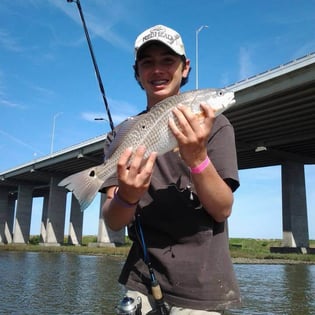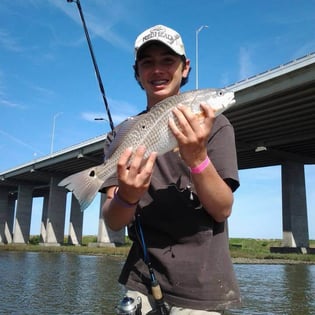 If you've never fished the Galveston Bay system, you're missing out. These productive waters are home to the "Texas Big Three" (Redfish, Flounder, and Speckled Trout), Amberjack, Sheepshead, Black Drum, and many more species. On this 9-hour action-packed adventure, Captain David will help you reel 'em all in. Captain David conducts these trips using his 24' Shallow Sport center console which can accommodate up to 4 anglers. This vessel is meant for those shallow hotspots and makes for a smooth ride to and from your destination. When fishing with Captain David, you'll be fishing light tackle gear as you drift the bays with popping corks or site fish the shallows for cruising fish. Captain David can also accommodate fly fishing if you'd like to bring your own gear. Your captain will provide all rods, reels, tackle, and lures. He'll also provide water, although feel free to bring your drinks. On these trips he'll even provide a "captain's lunch" for you and your group! Make sure you bring a valid Texas saltwater fishing license, but otherwise Captain David will take care of the rest. Get ready for an exciting day of fishing with Captain David! Read More
Top Types of Trip in Baytown
Top Targeted Species in Baytown
Half Day and Full Day Fishing Trips in Baytown
Everything to Know About Booking a Fishing Charter in Baytown
What are the best fishing charters in Baytown?
Our guides in Baytown are rated a 4.91 out of 5 based on 9688 verified reviews on Captain Experiences.
All guides on Captain Experiences are licensed, insured, and vetted by our team. You can access their reviews, click through trip photos, read bios to get to know them, and preview trip details like species, techniques, group sizes, boat specs and more.
What types of fishing charters are common in Baytown?
Deep Sea fishing is the most popular in Baytown as well as inshore fishing, nearshore fishing, and jetty fishing.
The most commonly sought after species in Baytown are: 1. redfish, 2. speckled trout, 3. black drum, and 4. flounder.
The most common fishing techniques in Baytown are light tackle fishing, bottom fishing, and live bait fishing but heavy tackle fishing and artificial lure fishing are popular as well.
How much do Baytown fishing charters cost?
in Baytown prices can range anywhere from an affordable $90 to $3,000 and up, but the average price for a half day trip in Baytown is $819. The average price for a full day trip in Baytown is $1,384.
What month is best for fishing in Baytown?
The most popular season for fishing in Baytown is summer, and most anglers book their trips 4 days in advance.
Do I need a Baytown fishing license and what are the bag limits in Baytown?
See here for more information on fishing licenses in Baytown, bag limits for target species, and fishing season regulations in Baytown. When in doubt, your fishing guide will always know the right rules and regulations in Baytown.
Baytown Fishing Overview
Located where Buffalo Bayou and San Jacinto River feed into the Galveston Bay Complex, Baytown is an ideal spot for inshore species to flourish. This provides an awesome jumping-off point for bay fishing. Having plenty of bays and backwaters means there are limitless places to target inshore species including redfish, speckled trout, flounder, and sheepshead. With excellent fishing upriver from Baytown and down into the rest of the Galveston Bay Area, you can catch fish almost anywhere. With numerous nearby bays, plentiful fish, and multiple ways to hit the water you are sure to have a fishing experience like no other.
Fishing the Bay Complex Around Baytown
With nearby bays like Galveston Bay, Trinity Bay, and Burnet Bay finding fish will not be a problem. The bite kicks off every year with speckled trout in the spring while flounder come on strong from summer into fall. Bull redfish take things up a notch during their migration in the fall and provide your best shot at landing a giant. When things cool off going into winter sheepshead stack up near structure and can provide all the action you can handle.

Despite these seasons, Specks and reds can be caught here throughout the year but the odds of catching a monster are slightly lower. No matter what season it is, there is always at least one species biting in Baytown. If you are looking for a less conventional approach to bay fishing, a kayak fishing trip will let you sneak around skinny water and experience getting pulled around while fighting a bull red!
Offshore Fishing Near Baytown
Although Baytown has all the inshore action you can handle, Galveston is more well equipped for offshore fishing. A quick drive down to Galveston will get you on a charter that can take you to the vast and productive bluewaters off the Texas coast. This area is home to incredible billfish and tuna fishing that will excite anglers of all experience levels.

View All Baytown Deep Sea Fishing Charters
Things to Do in Baytown
With a variety of activities and places to check out in Baytown you definitely won't get bored. If you want to get out and have a look around, take a walk along Goose Creek Trail. Head to Sylvan Beach to take a load off and take in the view. With plenty of eateries and bars to choose from, there is no shortage of things to try in Baytown.
Recent Reviews of Captain Experiences
★★★★★

We had the best time with Captain David! He was so nice and fun to fish with. I had never saltwater fished and he was very patient with me. She showed me how to bait the hook and did it for me until I was comfortable doing it myself. No judgement. He was an all around good guy! Took us to several spots and put us in fish every spot. We caught black drum, croakers and red drum. He took me to his Hail Mary spot ( shhh it's a secret). And I caught a 15 pound Red Drum. He helped me step by step land it into the boat. It was so much fun and he was as excited as I was. We saw a mama and her baby dolphin and he took me as close as he could to them so I could get some pictures because he knew I was excited to see them. On the way back to the pier he told us some history and info about the things we were seeing. I will definitely book with Captain David next time we go down there.

Teresa L. with David R. of Baytown, Texas

★★★★★

Captain David was great. The weather and the tide was working hard against us and he worked harder to put us on fish. Great trip with a quality guide, I will be back.

Terry M. with David R. of Baytown, Texas
Baytown Fishing Calendar
| Species | January | February | March | April | May | June | July | August | September | October | November | December |
| --- | --- | --- | --- | --- | --- | --- | --- | --- | --- | --- | --- | --- |
| Black Drum | Good | Great | Ideal | Ideal | Ideal | Ideal | Ideal | Great | Good | Good | Good | Good |
| Blackfin Tuna | Good | Good | Good | Great | Great | Ideal | Ideal | Ideal | Ideal | Good | Good | Good |
| Blacktip Shark | Good | Good | Good | Good | Great | Ideal | Ideal | Ideal | Ideal | Great | Good | Good |
| Cobia | Good | Good | Good | Good | Great | Ideal | Ideal | Ideal | Great | Great | Good | Good |
| Hammerhead Shark | Good | Good | Good | Good | Great | Ideal | Ideal | Ideal | Ideal | Great | Good | Good |
| Kingfish | Good | Good | Good | Great | Great | Ideal | Ideal | Ideal | Great | Good | Good | Good |
| Mahi Mahi | Good | Good | Good | Great | Ideal | Ideal | Ideal | Ideal | Ideal | Great | Good | Good |
| Redfish | Great | Great | Great | Great | Great | Great | Great | Ideal | Ideal | Ideal | Great | Great |
| Spanish Mackerel | Good | Good | Great | Ideal | Ideal | Ideal | Ideal | Ideal | Great | Good | Good | Good |
| Speckled Trout | Great | Great | Great | Great | Great | Great | Great | Great | Ideal | Ideal | Great | Great |
| Tarpon | Good | Good | Good | Good | Great | Ideal | Ideal | Ideal | Ideal | Ideal | Great | Good |
| Tiger Shark | Good | Good | Good | Good | Great | Ideal | Ideal | Ideal | Ideal | Great | Good | Good |
Other Fishing Charter Locations near Baytown
Top Targeted Fishing Species in Baytown
Top Targeted Hunting Species in Baytown
Top Fishing Techniques in Baytown
Top Hunting Techniques in Baytown
Top Types of Hunting in Baytown
;