4.94 / 5 Average Review Score
Team of Experts Available 24/7
Licensed and Insured Guides
Recently Booked Fishing Charters Near Seabrook, Tx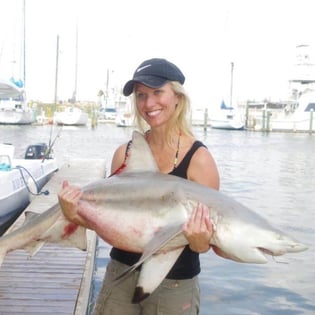 Climb aboard with Captain Jason and experience 6 hours of action-packed fishing! You'll be targeting Black Tips, Hammerhead, Spinner, Sandbar, Bull or Tiger Sharks, as well as Kingfish, Jackfish, Bull Red, and many other species on his 30' Sea Hunt. Captain Jason likes to fish out of the beachfront as well as rigs close to shore if shrimpers are gone. During shrimp season, though, he loves to fish behind shrimp boats. Captain Jason's 30' Sea Hunt can accommodate 6 people. He and his team will provide all rods/reels, bait, and tackle. All you need to bring is a Texas Fishing License (for those over 17 years of age), a Bull Red Tag, as well as food and drinks of your choice (no glass or bananas). Get ready for a monster day of fishing with Captain Jason! Read More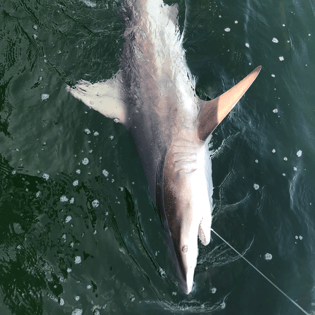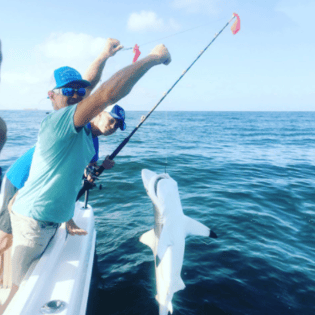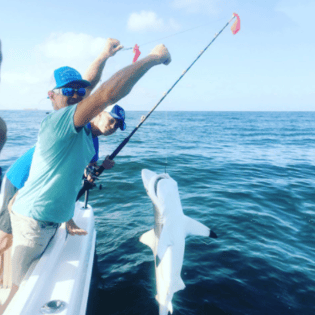 This trip is perfect for those who love some excitement while fishing. Trying to bring in one shark is an action packed sequence, but getting to do it for 4 hours straight is 100% pure adrenaline. It's not uncommon to catch 10-20 sharks on any given trip, so make sure you are well rested. If you are not looking for a super intense shark hunt, don't worry! Captain Shawn can tailor the trip based on your preferences. Some of the sharks you may catch include Blacktips, Bulls, spinners, Hammerheads, bonnet head, antlantic sharp nose, and sand bar but you truly never know what's looming below the surface. Book a trip to find out! Read More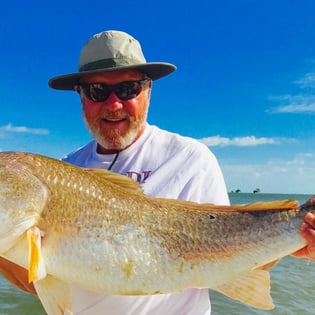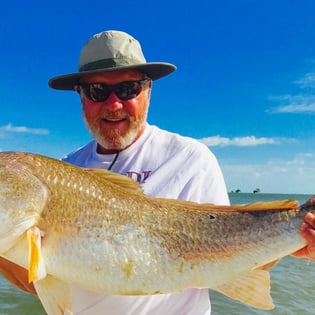 Join Captain Shawn in wrangling some of the biggest fish you'll ever see in real life! Redfish and shark mostly, but Some of the largest Tarpon found around the continental United States swim the waters off of Galveston Island you are going to want to get in on the action. To ensure you catch the biggest fish, the conditions have to be just right for the Tarpon, As a result, these trips are only offered from May through October. Don't miss out on this trip of a lifetime and book your's today! Read More
Top Types of Trip in Seabrook
Top Targeted Species in Seabrook
Half Day and Full Day Fishing Trips in Seabrook
Everything to Know About Booking a Fishing Charter in Seabrook
What are the best fishing charters in Seabrook?
Our guides in Seabrook are rated a 4.92 out of 5 based on 9637 verified reviews on Captain Experiences.
All guides on Captain Experiences are licensed, insured, and vetted by our team. You can access their reviews, click through trip photos, read bios to get to know them, and preview trip details like species, techniques, group sizes, boat specs and more.
What types of fishing charters are common in Seabrook?
Deep Sea fishing is the most popular in Seabrook as well as inshore fishing, nearshore fishing, and jetty fishing.
The most commonly sought after species in Seabrook are: 1. redfish, 2. speckled trout, 3. flounder, and 4. black drum.
The most common fishing techniques in Seabrook are light tackle fishing, bottom fishing, and live bait fishing but heavy tackle fishing and artificial lure fishing are popular as well.
How much do Seabrook fishing charters cost?
in Seabrook prices can range anywhere from an affordable $90 to $3,000 and up, but the average price for a half day trip in Seabrook is $815. The average price for a full day trip in Seabrook is $1,368.
What month is best for fishing in Seabrook?
The most popular season for fishing in Seabrook is summer, and most anglers book their trips 4 days in advance.
Do I need a Seabrook fishing license and what are the bag limits in Seabrook?
See here for more information on fishing licenses in Seabrook, bag limits for target species, and fishing season regulations in Seabrook. When in doubt, your fishing guide will always know the right rules and regulations in Seabrook.
Other Fishing Charter Locations near Seabrook
;