4.94 / 5 Average Review Score
Team of Experts Available 24/7
Licensed and Insured Guides
Recently Booked Fishing Guides Near Sardis, Ms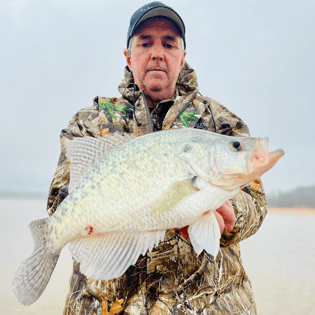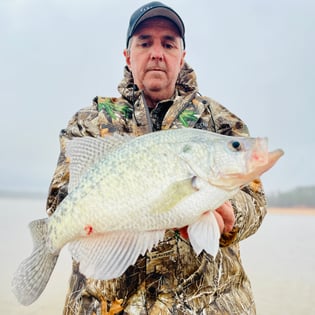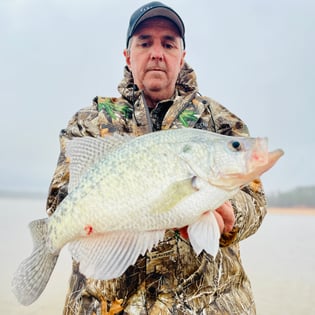 Guided crappie fishing adventures in North Mississippi (home of the 3lb crappie) offer you the chance to fish 3 of nations top crappie fisheries: Sardis Lake, Grenada Lake, and Enid Lake. We will pursue black and white (primarily) crappie using advanced electronics (LiveScope and Side Imaging) and a variety of techniques (pushing or pulling crankbaits, spider rigging, slow trolling, casting, jigging, and live bait). Mississippi offers the best crappie fishing on the planet: the world record white crappie was caught just below Enid Lake weighing in at an astonishing 5 plus pounds. Our trophy crappie fishing trips give you the chance to not only catch your personal best papermouth, white perch or sac-a-lait, but you will get plenty of action catching eating size fish (we must release all fish 12" and under, so legal fish will start at about 12.5", 15 crappie per angler, 40 per boat). Trips typically start at daylight and run 4, 6 or 8 hours. Everything you need to enjoy your day is included, guide, boat, bait, tackle, rods, fish cleaning, snacks and drinks. All you do is show up and fish! Read More
Top Types of Trip in Sardis
Everything to Know About Booking a Fishing Guide in Sardis
What are the best fishing trips in Sardis?
All guides on Captain Experiences are licensed, insured, and vetted by our team. You can access their reviews, click through trip photos, read bios to get to know them, and preview trip details like species, techniques, group sizes, boat specs and more.
What types of fishing trips are common in Sardis?
River fishing is the most popular in Sardis as well as lake fishing.
The most commonly sought after species in Sardis are: 1. white bass, 2. spotted bass, 3. largemouth bass, and 4. crappie.
The most common fishing techniques in Sardis are bottom fishing, wading, and trolling but sight casting and live bait fishing are popular as well.
How much does a Sardis fishing trip cost?
in Sardis prices can range anywhere from an affordable $250 to $625, but the average price for a half day trip in Sardis is $250. The average price for a full day trip in Sardis is $431.
What month is best for fishing in Sardis?
The most popular season for fishing in Sardis is summer, and most anglers book their trips 0 days in advance.
Do I need a Sardis fishing license and what are the bag limits in Sardis?

See here for more information on fishing licenses in Sardis, bag limits for target species, and fishing season regulations in Sardis. When in doubt, your fishing guide will always know the right rules and regulations in Sardis.

;