4.94 / 5 Average Review Score
Team of Experts Available 24/7
Licensed and Insured Guides
Recently Booked Fishing Charters Near Dorado, Puerto Rico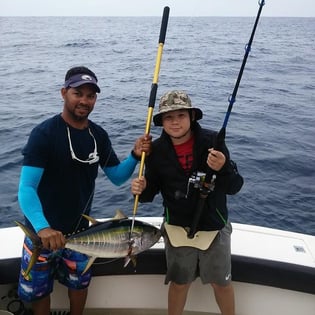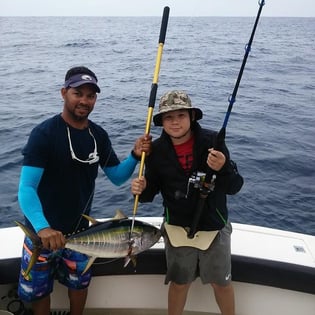 Fishing the Caribbean off the coast of Dorado, Puerto Rico is an amazing way to spend a day. The views are incredible, the fishing is great, and the overall experience is one that you'll never forget. With this highly experienced captain and crew, you can be assured that you'll have a safe, productive, and memorable day on the water. On this trip, you'll target classic pelagic predatos including Mahi Mahi, Sailfish, Wahoo, and Yellowfin Tuna! Every single one of these fish is a hard fighter that'll test your strength, skill, and stamind—plus, they make great table fare! Captain Luis and his crew will primarily be trolling for these lightning-fast sportfish, so watch those rods for when the bites start coming! No matter your experience level, this trip will be a blast for everyone. You'll be fishing from the deck of Captain Luis' beautiful 28' Albemarle Express sportfisher—a perfect vessel for this big-time offshore trip. She's equipped with top-of-the-line fishing gear, including Lee outriggers and rocket launcher, Garmin and Simrad electronics, and Shimano reels for reliable fish-fighting. In addition, she features a spacious cabin area and a full head for a comfortable trip. Captain Luis will provide everything you need for a great day; all you need to remember is proper clothing, sunscreen, and a cooler with ice for your snacks and drinks! Read More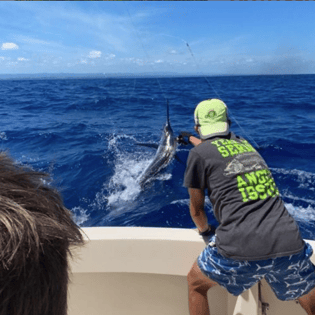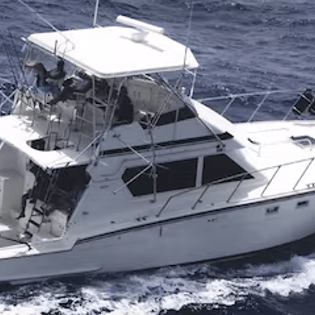 Looking for the best deep-sea fishing in San Juan? Captain Pedro and his team welcome you aboard their 48-foot Hatteras Sport Fisher, which is fully equipped for luxurious cruising and epic sport fishing in Puerto Rico. Within 25 minutes of departing dock at San Juan Bay, you'll find yourselves 1.5 to 5 miles offshore in waters 6,000 feet deep, better known as "Blue Marlin Alley"! Expect to use artificial teasers and naked rigged natural bait such as ballyhoo. You'll be catching these powerful pelagic predators on the troll, running a "spread" of different lines in order to attract bites from crushing Marlin. Once one of these fish hits your hook, you'll be in for a ride! Marlins are extremely strong and fast, and are known for big jumps and crazy, tail-walking action. In these rich waters, you'll also have the opportunity to fish for Mahi Mahi, Wahoo, Sailfish, and delicious Yellowfin Tuna (depending on fishing season). Come and experience the quality of service that 35 years in the charter business has to offer! Read More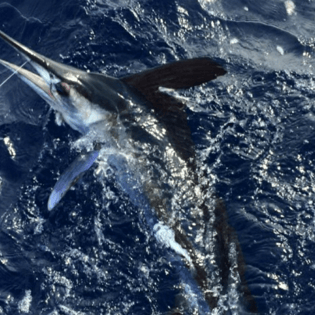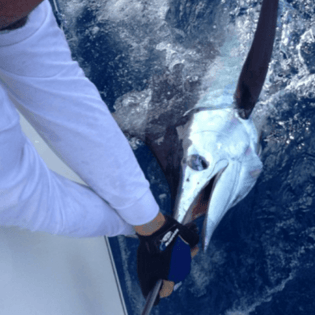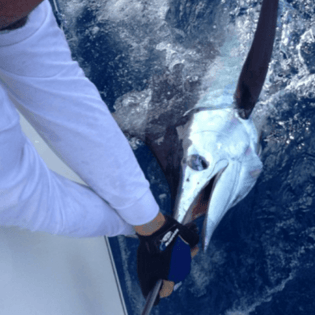 Hit the water with Captain Angel and go after monster fish off the coast of Punta Cana! On this 8-hour action-packed adventure, Captain Angel will help you target Blue Marlin, Mahi Mahi, Sailfish, Spearfish, Swordfish, Wahoo, White Marlin, and Yellowfin Tuna. Whether you want to go after these fish using Tackle, Trolling, Bottom Fishing, Deep Dropping or Jigging, this hefty boat will have you covered. Anything you reel in on this trip is guaranteed to be worthy of a picture, and the Blue Marlin is no exception. These fish are found in tropical and warm temperate oceanic waters. Growing to over 1,000 lbs, they are the true Apex sportfish of the Atlantic. Other catches like Wahoo, Yellowfin Tuna, Mahi-Mahi or Swordfish will be sure to provide an unforgettable at home meal. You'll be fishing aboard Captain Angel's Custom Ronin 50' sportfisher powered by 2 diesel engines for a total of 1150 HP. One of the flagship vessels in San Juan, she can accommodate 6 anglers and has its own generators, ac interiors, bathroom and Simrad electronics GPS/Fishfinders. This top-of-the-line boat is powerful and luxurious, and will have no problem getting you offshore and into the fighting chair. Captain Angel will provide everything you need for a productive day on the water. He will have all rods, reels, tackle, and live bait (included in the price). Trips also include bottled water, a variety of soft drinks, dry snacks, and lunch sandwiches. Read More
Top Types of Trip in Dorado
Top Targeted Species in Dorado
Half Day and Full Day Fishing Trips in Dorado
Everything to Know About Booking a Fishing Charter in Dorado
What are the best fishing charters in Dorado?
Our guides in Dorado are rated a 4.5 out of 5 based on 9688 verified reviews on Captain Experiences.
All guides on Captain Experiences are licensed, insured, and vetted by our team. You can access their reviews, click through trip photos, read bios to get to know them, and preview trip details like species, techniques, group sizes, boat specs and more.
What types of fishing charters are common in Dorado?
Deep Sea fishing is the most popular in Dorado as well as inshore fishing, flats fishing, and nearshore fishing.
The most commonly sought after species in Dorado are: 1. tarpon, 2. snook, 3. jack crevalle, and 4. sailfish.
The most common fishing techniques in Dorado are light tackle fishing, artificial lure fishing, and live bait fishing but fly fishing and trolling are popular as well.
How much do Dorado fishing charters cost?
in Dorado prices can range anywhere from an affordable $350 to $3,000 and up, but the average price for a half day trip in Dorado is $456. The average price for a full day trip in Dorado is $776.
What month is best for fishing in Dorado?
The most popular season for fishing in Dorado is summer, and most anglers book their trips 22 days in advance.
Do I need a Dorado fishing license and what are the bag limits in Dorado?
If you're thinking about a saltwater trip, you're in luck! Our saltwater fishing tours in Dorado don't require you to purchase a fishing license – your group is covered by your boat's captain. For freshwater trips, you'll still need to purchase a license. See here for more information on fishing licenses, bag limits, and fishing season regulations in Dorado. When in doubt, your fishing guide will always know the right rules and regulations.
Other Fishing Charter Locations near Dorado
;