4.94 / 5 Average Review Score
Team of Experts Available 24/7
Licensed and Insured Guides
Recently Booked Fishing Charters In Rhode Island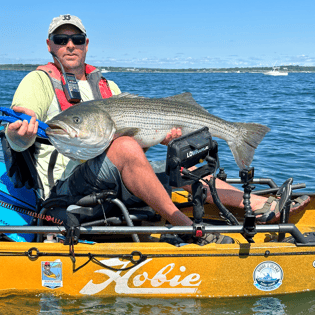 We are proud to be Rhode Island's first kayak fishing charter service! Anglers can choose a freshwater trip or a saltwater trip. Everything is included in the price of booking besides your fishing license. All trips are done in pedal driven kayaks so that you can keep your hands free! On saltwater trips you can expect to target striped bass, bluefish, false albacore, Bonito, Tautog, summer flounder, Black Sea bass, Weakfish, and a few more. While on freshwater trips you can expect to target largemouth bass, carp, crappie, and trout. Most trips start at first light however sometimes due to weather/water conditions a trip might need to start later in the day. While we can never guarantee fish quantity or size, what we will guarantee is that you'll get a great experience for what kayak fishing is all about, you will master the techniques used throughout the day, and you will have great knowledge of the fishery. We look forward to seeing you on the water! Read More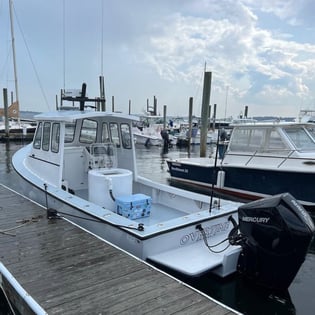 Experience the ultimate fishing adventure with Captain Chris and his charter fishing trips out of Newport, Rhode Island! This summer, prepare yourself for heart-pounding action as Captain Chris takes you on an exhilarating journey to chase down some of the most sought-after species in the Atlantic. Step aboard his state-of-the-art 23ft custom Down East cruiser, purposefully designed to provide both comfort and functionality. With ample space to accommodate you and your fellow anglers, you'll enjoy a smooth and comfortable ride as you set out to conquer the open waters. Captain Chris is a seasoned fishing expert who knows these waters like the back of his hand. He'll guide you to the prime spots where Bluefin Tuna, Seabass, Fluke, and Stripers abound. Whether you're a seasoned angler looking for a new challenge or a beginner eager to try your hand at fishing, Captain Chris will tailor the trip to suit your preferences and skill level. Prepare to be amazed as you witness the raw power and breathtaking beauty of the Bluefin Tuna, renowned for its incredible strength and acrobatic displays. Feel the thrill as you battle these mighty creatures, testing your skills and stamina to the limit. And when it's time to reel in your catch, you'll be rewarded with a sense of accomplishment like no other. But the adventure doesn't end there. Captain Chris knows the secret spots where Seabass, Fluke, and Stripers congregate, offering a diverse range of fishing experiences for you to enjoy. Whether you're targeting the delicious Seabass or the elusive Striper, you'll be treated to an unforgettable angling experience that will leave you wanting more. With Captain Chris' expertise and passion for fishing, you can trust that you're in capable hands. He provides all the necessary equipment, from top-quality rods and reels to the latest fish-finding technology, ensuring that your trip is as successful as it is enjoyable. Don't miss out on the opportunity to join Captain Chris on his charter fishing trips this summer. Book your adventure now and get ready to create lasting memories as you embark on an unforgettable fishing experience in the stunning waters of Newport, Rhode Island. Read More
Top Types of Trip in Rhode Island
Everything to Know About Booking a Fishing Charter in Rhode Island
What are the best fishing charters in Rhode Island?
All guides on Captain Experiences are licensed, insured, and vetted by our team. You can access their reviews, click through trip photos, read bios to get to know them, and preview trip details like species, techniques, group sizes, boat specs and more.
What types of fishing charters are common in Rhode Island?
Deep Sea fishing is the most popular in Rhode Island as well as nearshore fishing, river fishing, and lake fishing.
The most commonly sought after species in Rhode Island are: 1. striped bass, 2. fluke, 3. black seabass, and 4. tautog.
The most common fishing techniques in Rhode Island are sight casting, jigging, and trolling but bottom fishing and topwater fishing are popular as well.
How much do Rhode Island fishing charters cost?
in Rhode Island prices can range anywhere from an affordable $300 to $1,000, but the average price for a half day trip in Rhode Island is $700. The average price for a full day trip in Rhode Island is $1,000.
What month is best for fishing in Rhode Island?
The most popular season for fishing in Rhode Island is summer, and most anglers book their trips 0 days in advance.
Do I need a Rhode Island fishing license and what are the bag limits in Rhode Island?
You're in luck! Our fishing tours in Rhode Island don't require you to purchase a fishing license – your group is covered by your boat's captain. See here for more information on bag limits and fishing season regulations in Rhode Island.
Top Fishing Charter Locations in Rhode Island
The Best Places to Fish in Rhode Island
;