4.94 / 5 Average Review Score
Team of Experts Available 24/7
Licensed and Insured Guides
Recently Booked Fishing Charters
Lake Conroe is known as Houston's playground, and if fishing is your game, then this is the trip to take. Spend a morning or an afternoon with your guide Richard, on the beautiful lake, fishing for bass, crappie, and catfish, and making memories. Anglers of all ages and experience levels are welcome to come get on a boat, and learn various techniques and about the lake to not only help you catch fish on the trip, but to consistently catch them every time you come back to visit. Richard will cater this trip to your request, whether you would like to target black bass, hybrid striper, or something else, he will help put you on them. Lake Conroe is known for having some of the biggest and most productive freshwater fish within 50 miles of Houston. Come experience this well kept gem. Read More
Half Day Lake Conroe
25 ft
6 People
From $50 per person
Come join Captain Bryan on a thrilling fishing adventure at Calaveras Lake, Texas! Located just a short drive from San Antonio, Calaveras Lake is home to a diverse array of fish, including the coveted freshwater Redfish. These fish are stocked in the lake every year, providing a totally unique opportunity for Texas anglers to catch their state's most popular saltwater gamefish without heading to the coast! After you board Bryan's 21' Carolina center console, you'll be set to go. The boat is stocked with all the necessary gear, including top-of-the-line rods, reels, and lures, as well as plenty of ice-cold drinks and snacks to keep you energized throughout the day. As you set off onto the shimmering waters of Calaveras Lake, Captain Bryan will take you to the best fishing spots, using his years of experience and local knowledge to find the biggest and most elusive Redfish. The lake is known for its clear, shallow waters and abundant vegetation, providing the perfect habitat for these prized game fish. As you cast your line into the water, you'll feel the adrenaline rush as you wait patiently for a bite. When a Redfish takes the bait, the fight is on! These hard-fighting fish will put up a good fight, testing your strength and skill as you try to reel them in. In addition, you can hook up Catfish and Striped Bass, both of which are also a blast to catch and solid table fare as well. As the day draws to a close, you'll return to the dock with memories of a lifetime and, if you're lucky, a cooler full of delicious fish to take home and share with friends and family. Why wait? Book your fishing charter with Captain Bryan now and experience the thrill of freshwater Redfish fishing at Calaveras Lake, Texas! Read More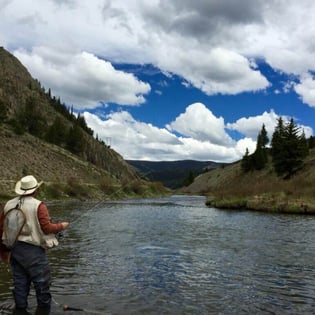 Come fish with Kit on the Lower Mountain Fork River inside Beaver's Bend State Park in Broken Bow, Oklahoma. Kit has been guiding trips in the Broken Bow area for years and knows the local waters like the back of his own hand! He can supply all gear needed to create a memorable experience on the water, tailored to your specific skill level. Read More
Top Types of Trip
Half Day and Full Day Striped Bass Fishing Trips
Everything to Know About Booking a striped bass fishing charter
What are the best striped bass fishing charters?
Our guides are rated a 4.96 out of 5 based on 9688 verified reviews on Captain Experiences.
All guides on Captain Experiences are licensed, insured, and vetted by our team. You can access their reviews, click through trip photos, read bios to get to know them, and preview trip details like species, techniques, group sizes, boat specs and more.
What types of striped bass fishing charters are common?
Deep Sea fishing is the most popular for striped bass as well as inshore fishing, nearshore fishing, and river fishing.
The most common fishing techniques are light tackle fishing, bottom fishing, and trolling but heavy tackle fishing and jigging are popular as well.
How much do striped bass fishing charters cost?
for striped bass prices can range anywhere from an affordable $150 to $3,000 and up, but the average price for a half day trip for striped bass is $640. The average price for a full day trip for striped bass is $1,260.
What month is best for striped bass fishing?
The most popular season for striped bass fishing is summer, and most anglers book their trips 30 days in advance.
Do I need a fishing license for striped bass and what are the bag limits for striped bass?
See here for more information on striped bass fishing licenses, striped bass bag limits, and fishing season regulations for striped bass. When in doubt, your fishing guide will always know the right striped bass rules and regulations.
What is a Striped Bass?
Striped bass (Morone saxatilis), which you may know by the name striper, linesider, or rockfish, are one of the most popular game fish in the United States found both in fresh and saltwater. So popular in fact, it is the state fish of Maryland, Rhode Island, and South Carolina.

Originally a saltwater fish, striped bass have been successfully stocked in freshwater lakes and rivers across the United States, beginning a rich history of fisheries as early as the Colonial Period. However, they do need to be restocked periodically, as it is rare for them to spawn in freshwater as they do in salt.

They have a streamlined, silvery body that is marked with longitudinal stripes that start at their gills and run to the base of their tail.
How big do Striped Bass get?
The average size of a striped bass is between 10 and 30 pounds, and 20 to 35 inches long. They can grow to this size after living for up to 30 years. Though in freshwater, they tend not to get as large as their saltwater relatives. Also, like many other fish species, their females are larger than the males.
What's the biggest Striped Bass ever caught?
On August 4th, 2011, Gregory Myerson landed a 81.88 pound, 54 inch striped bass near the Outer Southwest Reef off the coast of Westbrook, Connecticut. He fought the fish for 20 minutes after hooking it with a drifted live eel. This catch gave him the bragging rights of having both the All-Tackle Record as well as the Men's Line Class Record for striped bass from the International Game Fish Association.
Where is the best place to catch Striped Bass?
The striped bass is widely spread throughout the United States and Canada. In freshwater, they stretch from Canada to the Mississippi, as well as from coast to coast. In saltwater, they can be found on the Atlantic coastline, as well as in the Gulf of Mexico. Strong numbers can be found in Texas, Massachusetts, and Connecticut.

Within these areas, they thrive in water that is 55 to 68 degrees. Very warm or very cold water is not preferred, however they will go into warmer water to feed, and spend more time in cooler water where there is more oxygen.
When should I catch Striped Bass?
Stripers can be inconsistent on where to find them, depending on the time of year and where you are headed. Some will migrate upstream to fresh waters to spawn, others migrate to farther northern waters in the summer, and others still will stay in one environment.

Regardless, most of the year, the best time to fish is dawn and dusk. Essentially, two hours past sunrise, and two hours to sunset. However, closer to winter, midday tends to be the best time to wet your line.
How do you catch Striped Bass?
There are multiple ways to fish for striped bass. You can cast in the surf, fly or spin fish, troll, or jig with both artificial and natural baits. If using live or cut bait, squid, mullet, and worms will work best. For artificial lures, plugs, spoons, and plastic lures are great.

Stripers tend not to search below them for prey, so methods like using electronics or following surface boils and diving birds to locate them and then using topwater lures can be key.
Are Striped Bass good to eat? What are the best Striped Bass recipes?
Striped bass make for excellent table fare. With a mild flavored, white meat it is very versatile. It can be served pan-seared, grilled, steamed, poached, roasted, broiled, sautéed, deep fried, raw, or pickled.
Recent Reviews of Captain Experiences
More Fishing Charters
Showing 1 to 24 of 73 results
See all trips
---
Top Fishing Charter Locations for Striped Bass Fishing